There seems to be more visitors to the post office than anywhere else in Rovaniemi's Santa Claus Village – despite the risk of infection. Auli Sihvo has worked there for 20 years and seen how Santa has improved Lapland's commercial pulling-power.
The post office sends tourists' Christmas cards and receives letters to Santa from children around the world. The letters are still coming in in droves, but everything else stopped in 2020. 
Auli Sihvo became one of the many in the tourism industry who were furloughed long-term. She has spent seven months at home since the Corona pandemic struck. Sihvo calls herself a happy Santa grandmother who looks after her grandchildren. So it being at home is not that hard. 
It is better to be furloughed than being unemployed and forced to look for another job, she points out. Everyone knew the post office would reopen, and it is a safe, public employer.  
"Young people who don't get any experience from working life have it worst."
Most shops in the Santa Claus Village are privately owned. During the crisis, the owners are the ones trying to keep the wheels spinning, perhaps with the help of one employee. Many have been furloughed, but there are also many who now cannot get a job – young seasonal workers who would normally work during the Christmas high season. There was also hardly any need for extra summer staff this year. 
"People who want internships are also struggling," points out Auli Sihvo. The post office usually takes on five young workers, but now must settle with just a few extra. 
It has been worse, of course. Massive unemployment in the 1970s led many young Finns from Lapland to look for work in Sweden. A few hours away lay the Haparanda jobcentre, which dished out jobs across Sweden. Many never returned.
Auli Sihvo's own father worked in Stockholm for a while, but Auli herself has stuck to the Rovaniemi post office. She empties the post boxes of Christmas cards and sells stamps and souvenirs.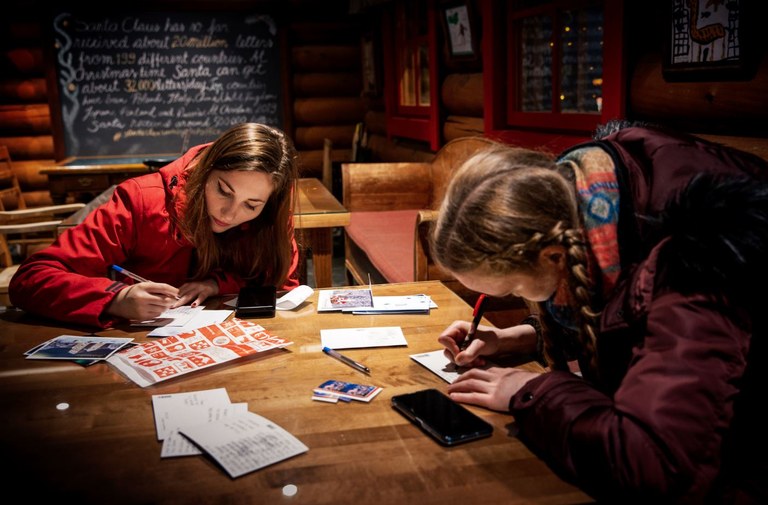 Saskia and Charlotte, from Germany and Belgium.
Foreign tourists are particularly popular
Rovaniemi's Santa Claus Village is open 365 days a year, including the Christmas holidays. Auli Sihvo believes she will have time off over Christmas. Many younger workers gladly work holidays, which pays double.
Two girls are sat at a table with mounds of Christmas cards to be written and sent. Christmas is near, so the cards can be sent straight away. But it is possible to put Christmas cards in the postbox all year round. They are saved and then sent in time for the next year's Christmas.  
Saskia and Charlotte, from Germany and Belgium, have been exchange students at the University of Oulu since September. They are on a day trip to Rovaniemi to see the famous Santa Claus Village. 
The two students have discovered that they are unusually popular customers in all of Rovaniemi's shops. There are not many foreign visitors buying souvenirs right now. 
They have not talked that much about the Corona pandemic at university. The virus has a devastating effect on business, marketing, HR and international trade – subjects which they both study. The issue has not been a big part of their studies, despite all their teaching having had to be done remotely this autumn.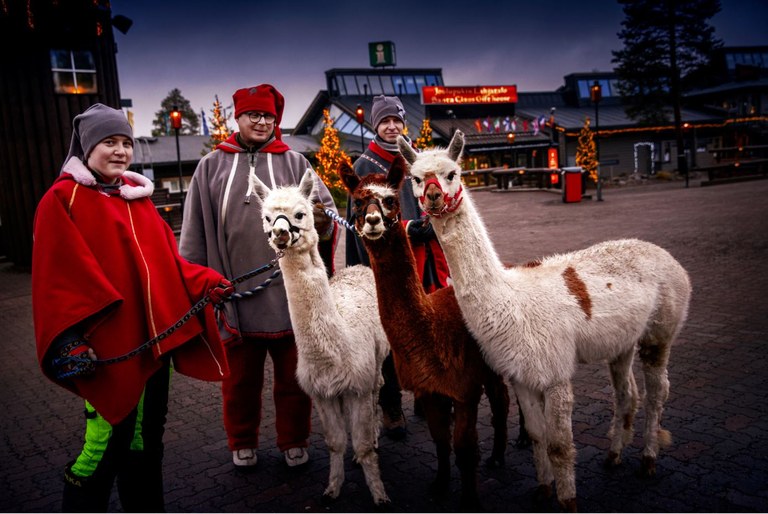 Popular alpacas, reindeer and dogs
Outside the post office, three alpacas are wandering around together with some tourists. They are part of the tourist bait together with other animals from the local animal farm.
Reindeer play an important role in the mythology surrounding Santa Claus, and they are also important to Lapland's Sami population. A reindeer sleigh-ride has been on the tourist schedule since the very beginning. It is an experience which fascinates tourists, in particular during winters with much snow. 
When not pulling sleighs, the reindeer wander around freely and drivers are asked to be cautious since the animals often walk along the roads in groups.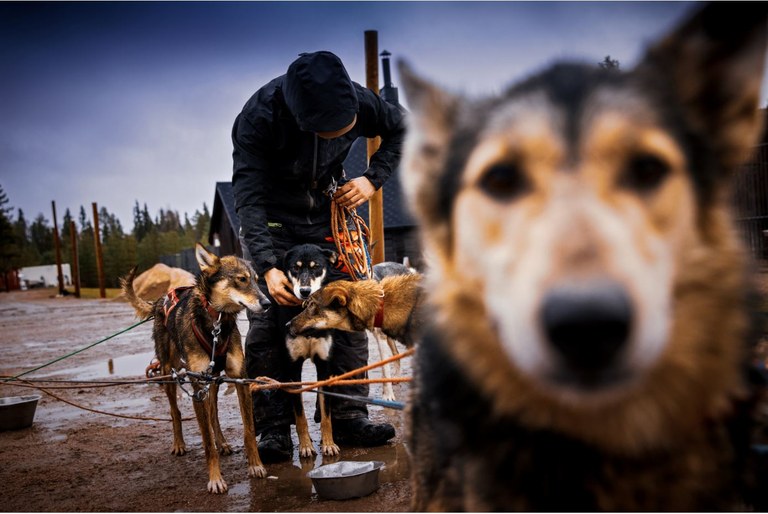 Dogs increasingly important
Dogs have also become increasingly important to the tourism industry. One hour's drive north of Rovaniemi, in the village of Sinettä, lies the Bearhill Husky kennel. Owner Valentijn Beets from the Netherlands has nearly 90 dogs roaming across 150 hectares. 
He rears dogs and offers adventures for tourists. They can go dog sledding or take a trip in specialised terrain vehicles along trails around the kennel. 
Right now, the problem is that no tourists can or dare travel to Lapland and Finland. And it is usually the foreign tourists who want to go on a dog safari. 
"A dog safari is always worth the money"
"Finnish tourists seem blasé and can't see the unique nature around them. They see the dog farm as my hobby. That's why many Finns also think it is too expensive to go out on a trip," says Beets.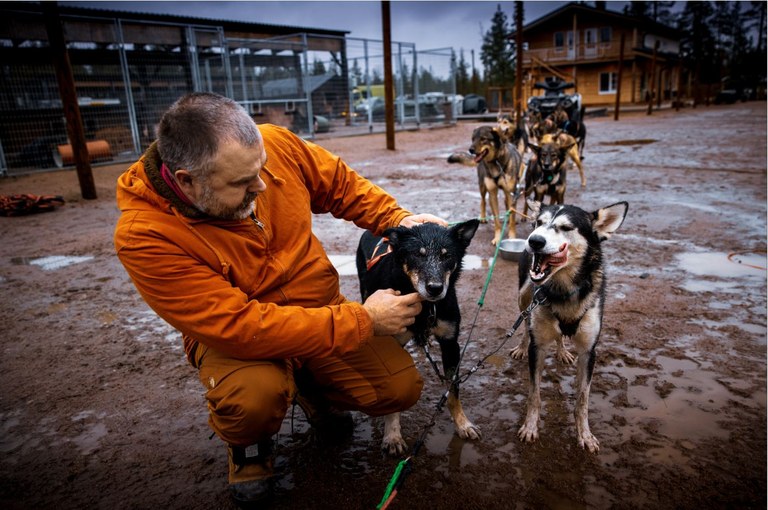 Valentijn Beets from the Netherlands owns nearly 90 dogs, and now he worries how he is going to be able to feed them all.
Foreign tourists might think so too. But they are willing to pay for an experience in unique nature which they will remember for the rest of their lives, believes Valentijn Beets. They also get to see the best sides of the Nordic right of public access. 
Valentijn Beets looks after his 90 dogs lovingly, together with his wife and two employees. They are now partly furloughed, but employees are needed. The dogs need time and attention, training and activation. 
"Right now we have no customers for neither short nor longer trips. And we cannot really afford to train the dogs either. You need a lot of expensive equipment."
Beets points to some small red rubber shoes which most of the dogs wear after their morning training. These protect their paws against icy surfaces. The shoes often break and new ones are needed after each training session for each of the 16 dogs in a sled. 1,000 little red dog shoes cost around 650 euro plus tax. Right now he cannot afford that.  
His business used to grow by around 40% year on year. Last year his turnover was nearly two million euro. Now he is lucky to reach 300 000 euro – and one-third of that is state aid and EU funding, explains Valentijn Beets.
Previously he could vary his products – long expeditions in the Arctic or shorter tips with day-tourists from Helsinki. He had Finnish and foreign tourists in both winter and summer. Now everything is going wrong.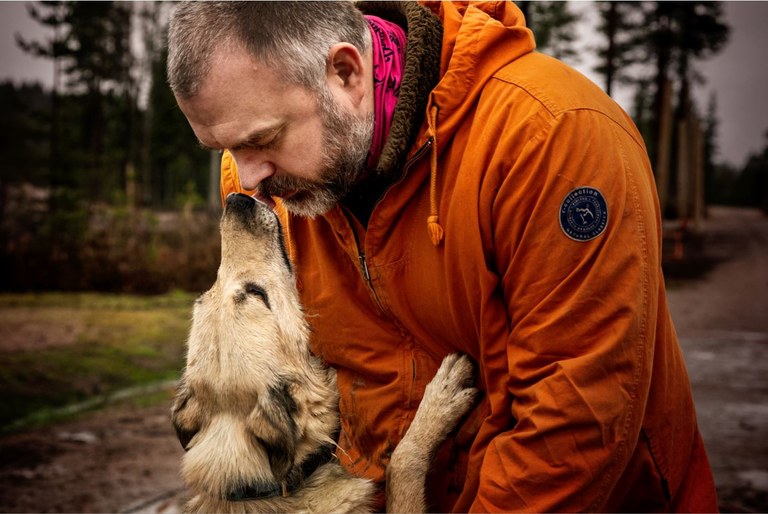 How will the dogs survive?
Bearhill Husky is a "no-kill-kennel", so no animals are put down, explains Valentijn Beets. But other businesses have been forced to take drastic action. 
All kennels in Scandinavia face problems, so all try to reduce their number of dogs. But when this happens everywhere, it is also impossible to sell dogs. There is a surplus of sledding dogs. Valentijn Beets share experiences with colleagues and competitors in Norway and Sweden. They are all lying low.
"Alaska, Canada – everyone has problems. It's the same for kennels across the whole of the Arctic, including around Lake Baikal, in Arkhangelsk and in Karelia." 
Political worry for 8,000 dogs
The kennels' struggle to feed their dogs has even been discussed in the Finnish parliament. Many politicians are worried for 8,000 huskies and around a hundred business owners in the trade. In this case, you cannot retrain people to do something else.
"It is inhumane and heartless to force the business owners to put their animals down. They are colleagues and family members," Leena Meri from the Finns Party said in a question to parliament. After the Corona crisis, they would have to start from scratch and train new animals.  
Valentijn Beets agrees. He loves his job and his animals. But he must also be able to feed and house his family.
The Coronavirus is causing a lot of stress right now. State support comes with complicated rules and will probably not be enough, reckons Valentijn. For now, he hopes to get by on loans and savings.
There is still a silver lining – the dogs will not starve to death. They are being given help from various people. There is now a network of adopters, indulging former tourist guests, who have taken on the responsibility for individual dogs while they wait to get out on safari again.
There is also a dog foodbank. At least one dog food producer has promised food donations for customers who need them. 50,000 portions of nutritious dog food have been secured. This might be an advertising stunt, and it might be new test products or food that would otherwise go off as no-one can afford to buy it. Nevertheless, it is welcome news when both dogs and business owners are struggling to survive the winter.
Read more about the Santa tourism in Rovaniemi:
Rovaniemi's Santa is on his own a lot this year
War destitution created Lapland's tourism boom. It began here.