Christmas music plays on speakers everywhere. The sun sets around 1.30 pm. Santa Claus Village in Finnish Lapland is like a wintery Las Vegas, but far less busy.
"I have not been completely on my own here," says the Finnish Santa Claus as he receives the Nordic Labour Journal.
There are usually long queues for a short meeting with Santa. It is free, but if you want to buy photos afterwards they are surprisingly expensive.
Santa's office is the highlight for most visitors to the Santa Claus Village in Rovaniemi, near the Arctic Circle and a city with some 50 shops and restaurants.
Many tourists from the UK, China and the Middle East arrive on charter flights for short visits. They want to go on sledging trips in the white wilderness, eat good local food, shop and meet Santa. But this autumn both Santa's office and the shopping paradise have been empty.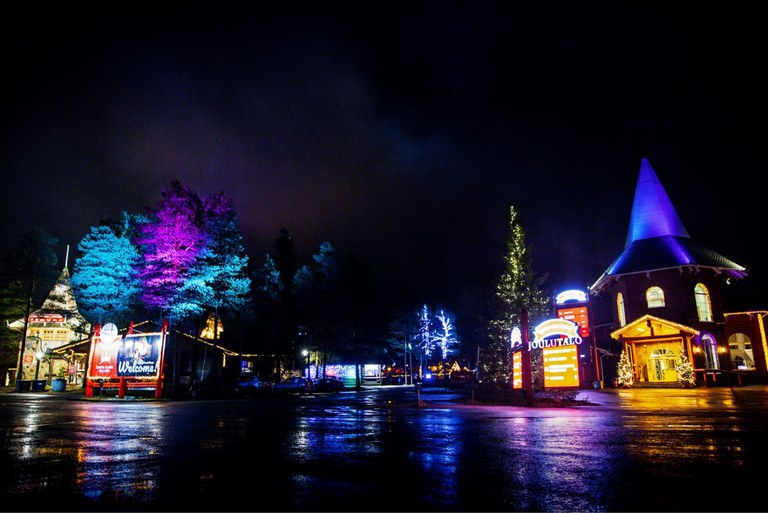 More than 500,000 tourists visited Santa Claus Village in 2019 to see the Christmas country. Lapland has seven airstrips to receive tourists who can choose between seven large ski resorts and more than 100,000 beds. 
The people of Rovaniemi are said to have an ambivalent attitude to the Christmas industry, and in particular "joulupukki" as Santa is known in Finland. 
The international guests are gone. Instead, the locals and their children now come. This year Santa will not let the children sit on his lap. He keeps his distance and talks to them through a sheet of plexiglass to reduce the risk of infection. He is not wearing a face mask over his large, white beard. 
To get any presents, at least the Finnish children must have been good this year. This year, "being good" means following rules to stop the spread of Corona. Wash your hands properly, keep your distance and do not cough on other people.  
"Good children do all that," says Santa.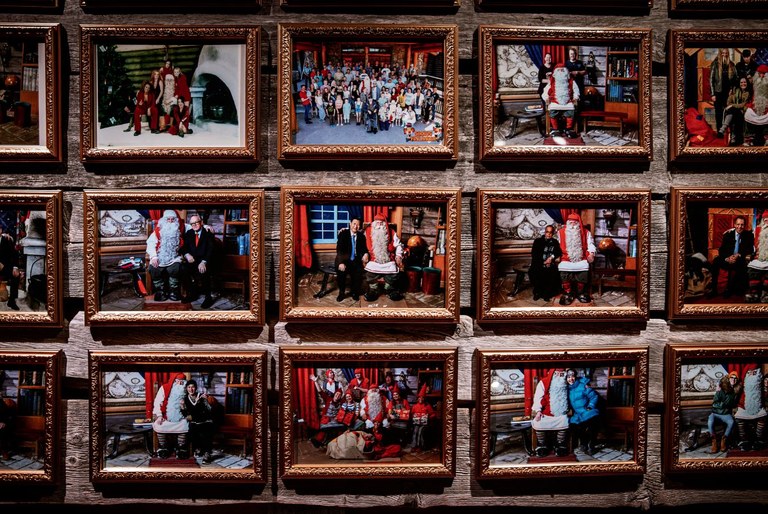 In the 1990s, the then Ministry of Trade and Industry looked at how to get the entire world to see Finland as Santa's real home. A Santa strategy was written, aimed at making Christmas a marketable asset globally. It was a success – right up to the Corona pandemic.
Now there is a feeling things might go downhill. The Santa Claus Village is very quiet. The area is adapted to accommodate large groups of tourists, but now there are only a few milling around. Worst of all, there are nearly no customers for all the shops and restaurants, despite promises of considerable discounts on all goods. 
At least a year with no income
The Corona pandemic reached Finland at the hight of the winter season when most people had their Easter holidays cancelled. Ski resorts were blamed for spreading the virus.
Since then, foreign travellers have not been allowed or have not dared to travel to Finland. Many in the hospitality industry will have lost around a year's income. That hurts.
Across Lapland, 700 million euro has been lost and 5,000 jobs are under threat. 
"Mass unemployment and the economy will remain a major problem for many families and municipalities with poor economy. Many are dependent on tourism. Lapland's industry is in danger," warns Sanna Kärkkäinen, CEO of Visit Rovaniemi.
"All Finns agree that Lapland is where Santa Claus comes from," says Sanna Kärkkäinen, CEO for Visit Rovaniemi. 
Right now, no-one can guarantee when the pandemic will be over. Travel agents need to know this with certainty, preferable a year in advance, before making big hotel reservations and bookings for planes and guided tours.  
This autumn there was at least hope Finnish tourists would come to Lapland, but this is not enough to keep the travel industry afloat, says Sanna Kärkkäinen.
State help needed to avoid bankruptcy
60% of Lapland's tourism companies say they cannot survive another empty winter. Trade will end if international tourism is not allowed. That would herald a wave of bankruptcies and many unemployed tourism workers, warns Kärkkäinen. Many have already been furloughed.
Legislation is needed so that hotels and restaurants can stay open, as well as enough stimulus measures and economic support to rebuild the tourism industry, argues the tourism boss. 
Testing must be improved so that tourists can move freely if they are healthy, argue Finnish tourism companies.
Hope remains until the winter of 2022
"Santa Claus will play an important role for Finnish tourism regardless, he has become a calling card for the whole of Finland. This makes Finland stand out on the international stage," says Sanna Kärkkäinen in Rovaniemi.
Many letters to Santa from children around the world also arrive in Rovaniemi.
"In these Corona times, the Finnish Santa Claus represents much longed-for playfulness. The past year has been hard for many people. They are worried about the health of their families and others, their lives and their future economies. We have definitely seen Santa Claus become more important," says Sanna Kärkkäinen at Visit Rovaniemi.
Santa Claus gets more and more requests, and now they are virtual. Many appreciate him and he has become a symbol on someone who listens and who you can talk to.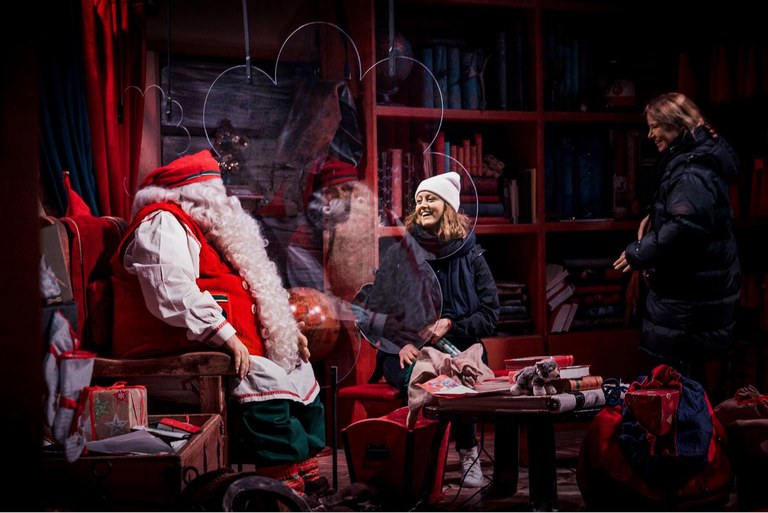 Julie from France was happy she could speak French with the friendly Santa. She is an exchange student with a Finnish family in Kittilä. Her visit to Santa Claus Village was a highlight of her year. 
"Corona has not been that scary in Finland. It was worse in France in the spring," she points out before her meeting with Santa.
And finally – if you want to hear a greeting from Santa Claus (in English), click on the picture which will take you to our Facebook page.