There is an urgent need to create new jobs in Greenland's mining and tourism industries. At the same time more foreign labour is needed, say the social partners.
Cutters and trawlers in Northern Greenland are catching fish and prawns in such numbers that the Greenlandic economy is close to overheating. The fisheries fairytale has triggered a veritable construction boom in the capital Nuuk, where cranes and new builds shoot into the sky everywhere, while house prices do the same. It has become difficult to live in the capital unless you earn a lot of money. Meanwhile, Greenland's fish processing plants, construction sites and service companies struggle to find labour.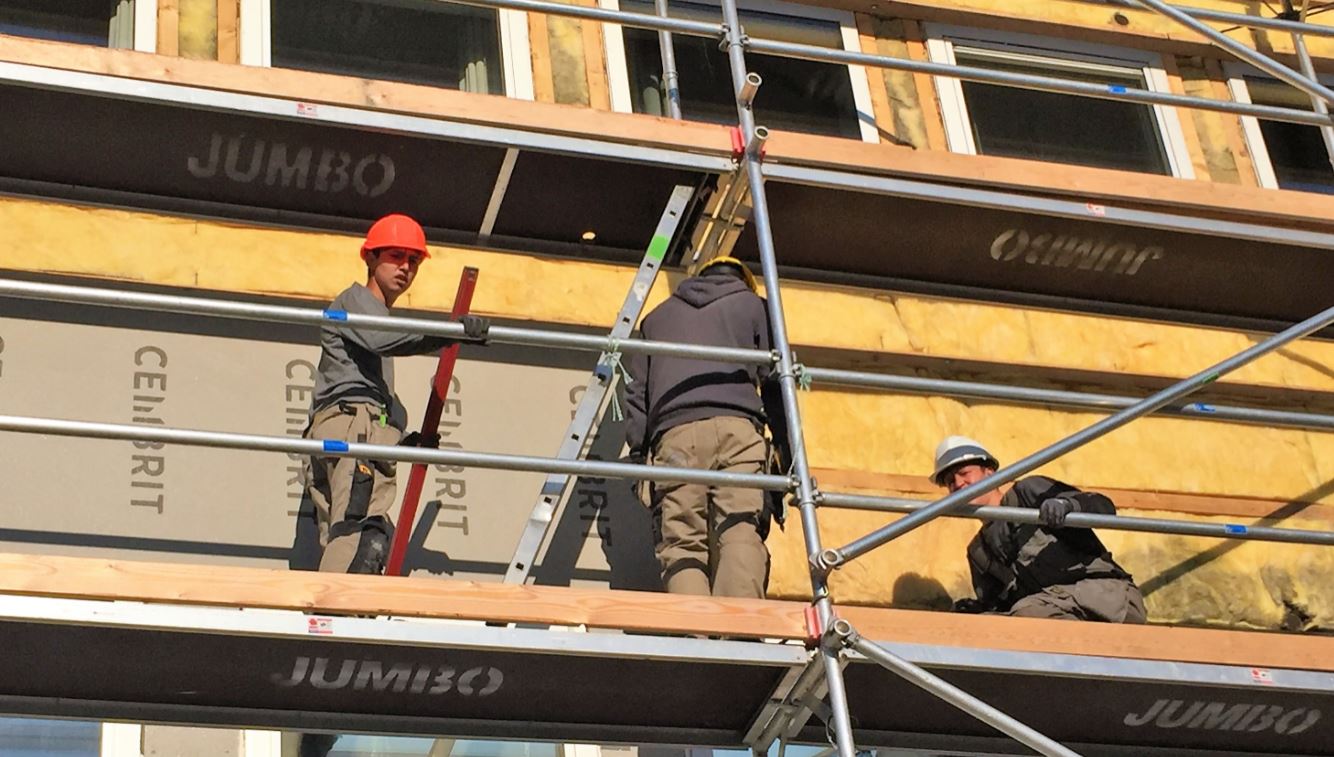 Construction workers in Nuuk, Greenland. Photo: Marie Preisler
The situation has caused serious concern both in Greenland's trade union movement and businesses, as well as in the offices of Erik Jensen, Greenland's Minister of Mineral Resources and Labour. 
"Greenland faces economic overheating, and we must prioritise wisely to prevent economic collapse. One of the things we must do is to find ways of importing more labour from non-European countries in order to solve the acute challenge of labour shortages in many sectors," the minister says.
Many sectors are struggling to fill positions, including the construction, service and fisheries industries. Fish processing plants in Northern Greenland have started importing labour from as far away as China and the Philippines in order to clean, pack and freeze the large amounts of fish that are being landed. 
"Many sectors are severely hit, so it is important that we think outside of the box in order to increase the import of foreign labour, especially from countries outside of Europe," says Erik Jensen.
The fisheries sector lacks people
Greenlandic legislation allows for jobs to be filled by foreign labour if there is not enough qualified native workers available. Greenland's health sector has so far routinely employed doctors and nurses from other Nordic countries for shorter or longer periods of time. But there are cheaper solutions, the minister says.
"Importing labour from Denmark and the rest of Europe will not solve the problem alone, and it is too expensive for us to for instance use Danish temporary workers on the scale we have been doing so far," says Erik Jensen.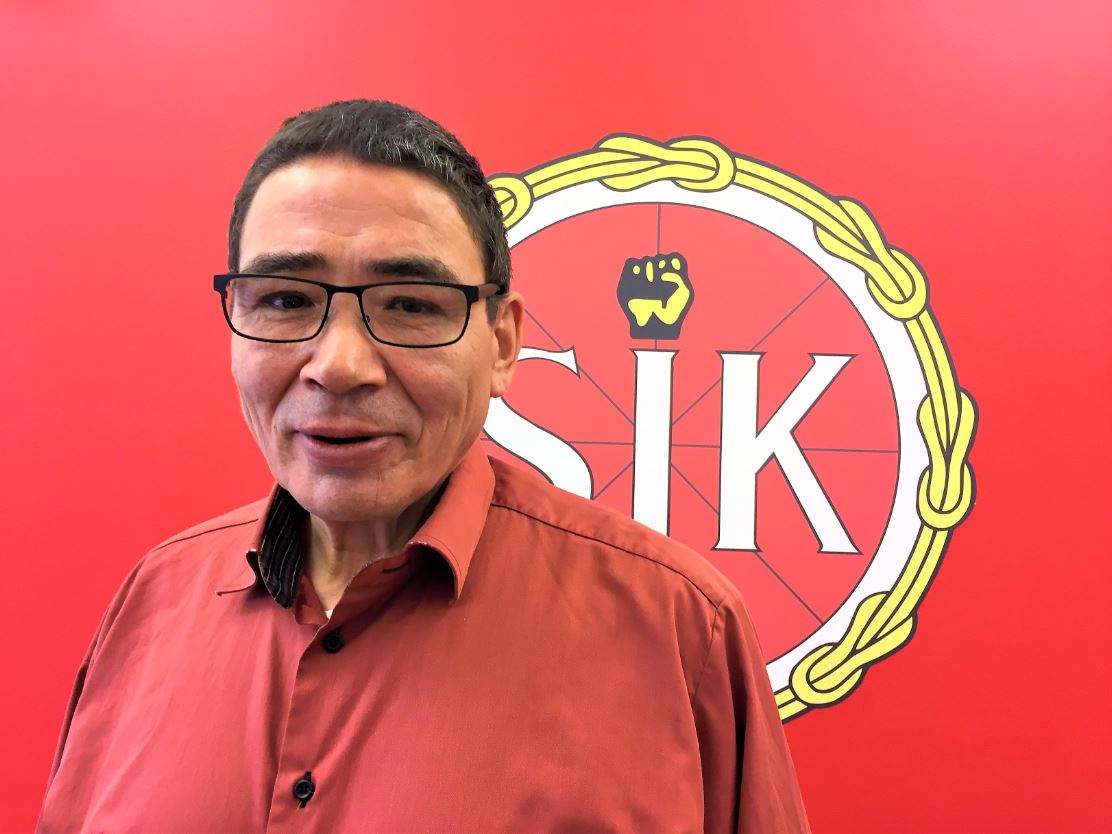 Jess G. Berthelsen, President of SIK. Photo Marie Preisler 
The political recognition of the need to increase the import of labour from low-cost countries is being welcomed by Jess G. Berthelsen, who has been the President for Greenland's largest trade union SIK for 29 years. Most of the members are unskilled workers, but the union also represents some skilled workers. 
"Fish is by far Greenland's most important export, and all of us [who don't work in fishing] have jobs that are supported by the vast income generated by Greenland's fisheries industry. That is why we cannot ignore the fisheries industry's acute labour shortages. That problem must and shall be solved."
He does not fear that Chinese labour, for instance, will take jobs from Greenlanders. 
"The Chinese are human beings like everyone else and they are welcome in Greenland. We just have to secure the correct framework."
A need for apprenticeships
To solve the labour shortages, effort must be made on several fronts, thinks Jess G. Berthelsen. Recruiting from abroad is only part of the solution. It is also necessary to make it more attractive for Greenlanders to work in fish processing plants. Fish processing workers are routinely sent home when there is no fish, making their income very unpredictable. 
Jess G. Berthelsen also believes that Greenland will have to make some structural changes in order to stop rural depopulation, a problem which has existed for 40-50 years now. Greenland's largest cities are growing, while the population in villages and smaller cities is falling. Some 60 % of Greenland's population today live in the five largest cities Nuuk, Sisimiut, Ilulissat, Aasiaat and Qaqortoq. The SIK President is very worried about this trend. 
"With no people in the northern cities there is no-one to make use of the fantastic fishing resources we now have access to in Northern Greenland. At the same time many skilled and unskilled workers cannot afford to live in Nuuk because of the housing bubble." 
He suggests turning 3-4 cities in Greenland into dynamos, where money will be invested to secure jobs and apprenticeships for young people who would like to take a vocational education. Many of Greenland's cities used to have shipyards, but now only one is active. It is in Nuuk, which means young people from smaller cities have to go there to get an apprenticeship, and the city suffers from a severe lack of student accommodation.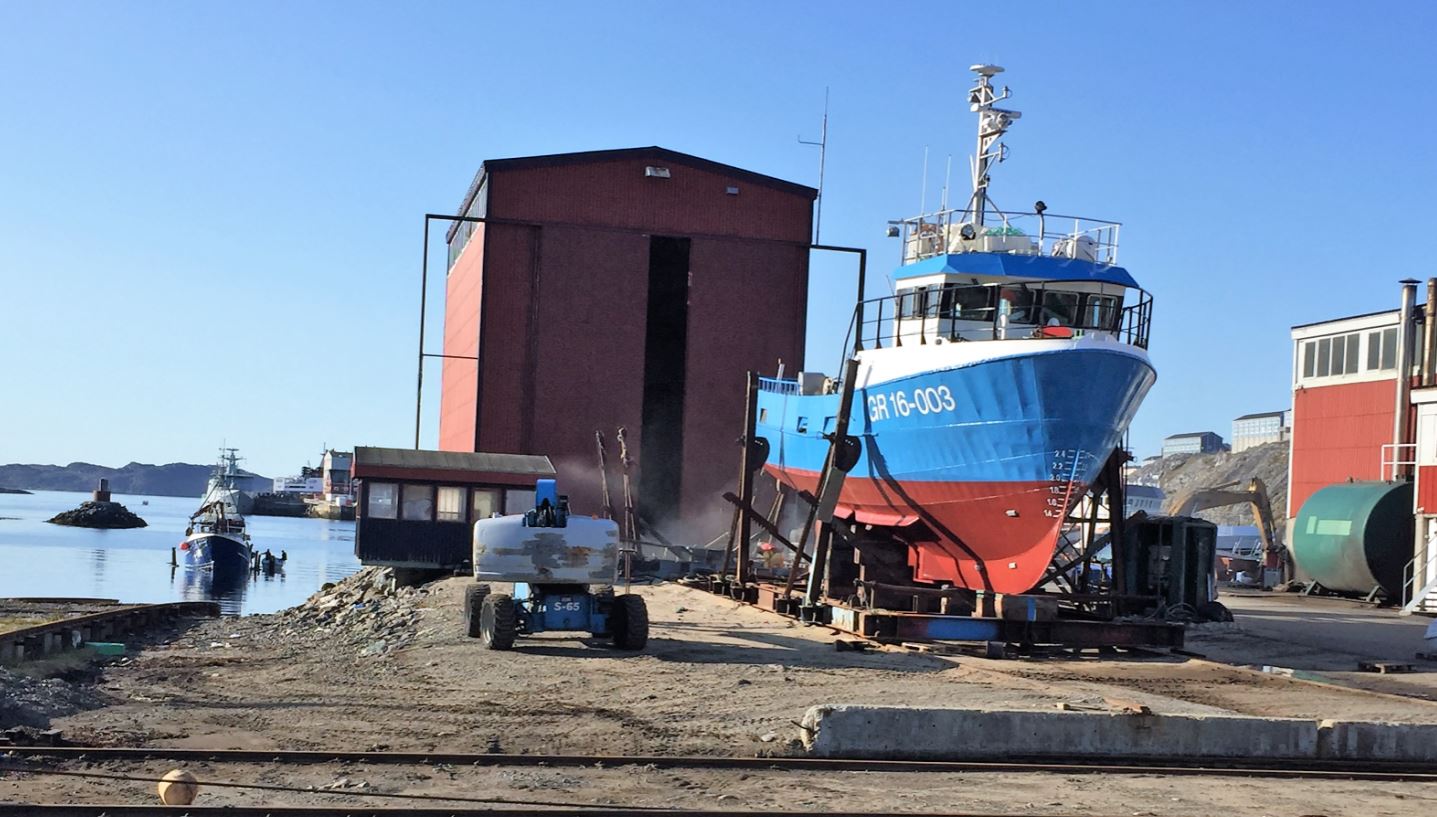 This shipyard in Nuuk is the only one still operating in Greenland. Photo: Marie Preisler
"The fact that it is so hard for young people to get a vocational education is a huge obstacle for the kind of development Greenland needs. It forces many young people to stay at home instead of getting an education. We must and will solve this," says Jess G. Berthelsen.
The trade union leader does see major employment opportunities if mining operations get going before the fisheries fairytale ends – and it will end, he predicts.
"Fishing has always been rising and falling in waves, and in a few years it will fall again. Before that happens we will have to have created new jobs, and one of my great dreams is to get the mining of raw materials up and running. Mining can create a lot of jobs, not only for Chinese mining companies but for Greenlanders too, if we manage to attract capital for the necessary investments and to provide the young generation with the necessary skills."
Mining can create jobs
The Minister of Mineral Resources and Labour Erik Jensen also sees great opportunities in the mining and export of a range of sought-after raw materials which are plentiful in Greenland. This will benefit the Greenlandic economy and create major new job opportunities for Greenlanders in the future, he believes.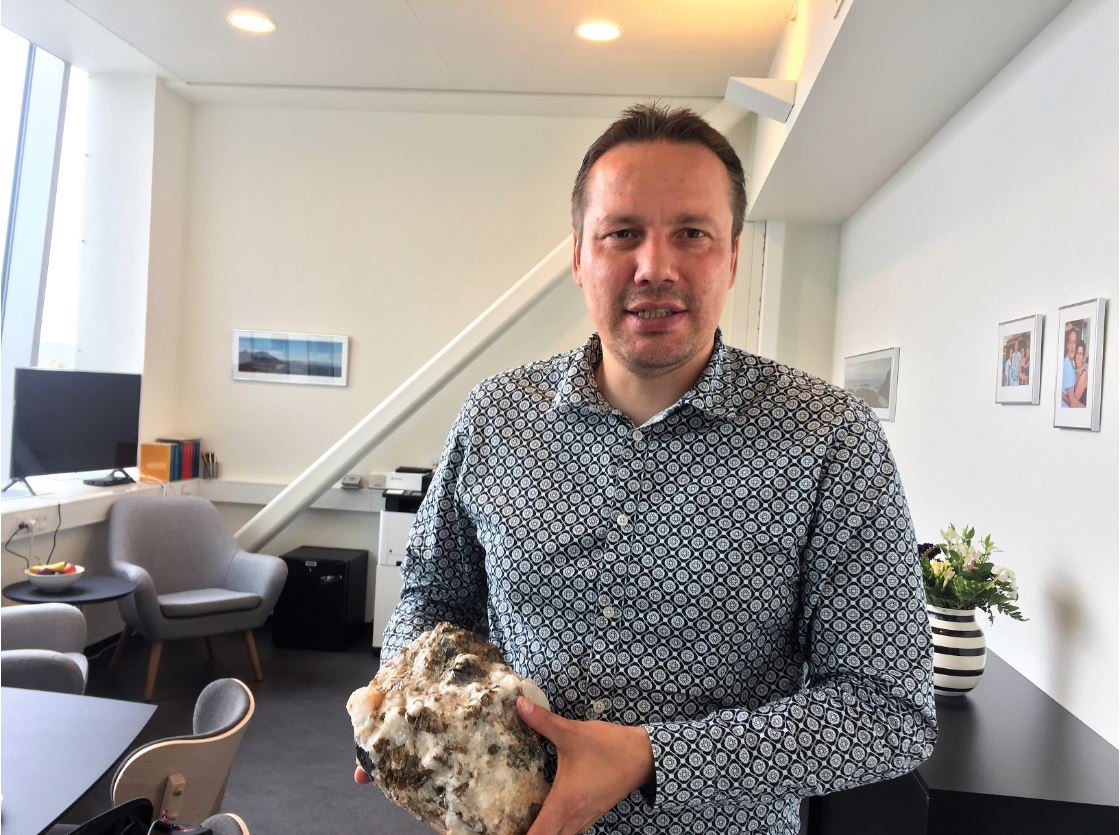 Erik Jensen, Minister of Mineral Resources and Labour, holds a rock containing one of the rare minerals that can be found in Greenland. Photo: Marie Preisler
"Mining has a lot of potential which we can exploit better than we have been doing since we took charge of all raw material explorations from Denmark in 2010. We have begun setting up the exploration framework, and the first mining jobs for Greenlanders have already been created. In the longer run there will be many more, if we do this the right way."
Opening a mine is a high-risk investment which Greenland cannot afford to do alone. Foreign companies are needed, and some highly skilled jobs will have to be staffed by foreigners, the minister predicts. But he is convinced mining will also create many jobs for Greenlanders.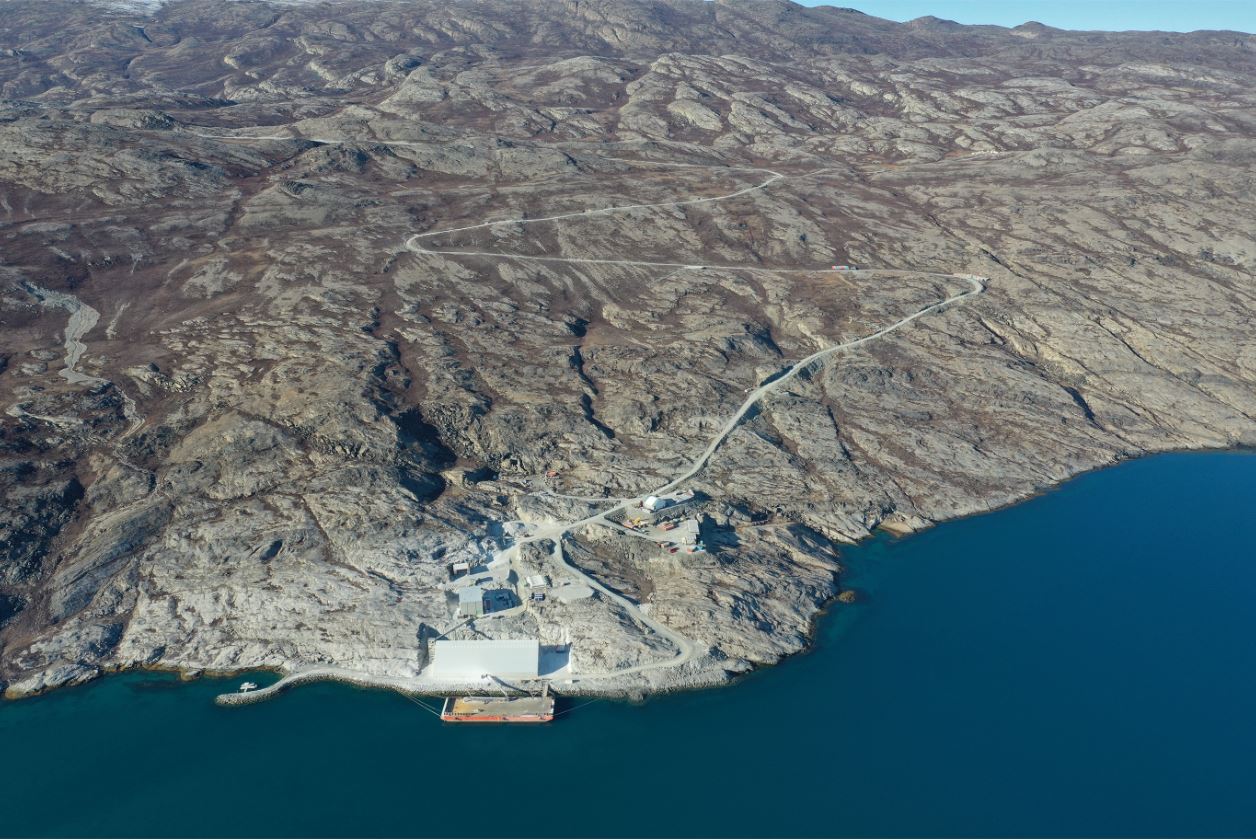 The latest mine to open is the White Mountain (Qaqortorsuaq) in West Greenland. Photo: Hudson Resouces.
The Greenland Business Association, GE, the employers' organisation for small and large private companies, also believes that raw material exploration can provide jobs and income for Greenland – as long as Greenland secures agreements that make foreign companies pay reasonable taxes and royalties to Greenland, says Lars Krogsgaard-Jensen, legal consultant at GE.
Better education for all
But it will take time before many people can find work in the mining industry. In the shorter term the most important thing for Greenlandic businesses is to solve the current major labour shortages, says Lars Krogsgaard-Jensen.
"Right now our members really need both skilled and unskilled labour, especially in the fisheries industry and in the cities of Nuuk and Ilulisaat, where the construction, cleaning, hotel and restaurant sectors all lack workers.
On top of that, the construction of three new airports in Greenland in the coming years will further exacerbate the labour shortages. The airports are being built to increase Greenland's job opportunities in the long term, but in the shorter term it will only turn up the heat on Greenland's economy and increase the labour shortage, while the actual construction will mainly be carried out by foreign labour, thinks Greenland's Economic Council.
That is one of the reasons why GE wants easier access to foreign labour from for instance the Philippines and other countries in Asia, from where people have already been recruited. GE believes it is necessary to speed up the work permit process.
At the same time it is important to make sure more young Greenlanders get an education, so that as many jobs as possible can be filled with Greenlandic labour, points out Lars Krogsgaard-Jensen.
"Right now there is a general understanding for why our members hire Chinese workers to work in a fish processing plant in Northern Greenland where there is a labour shortage, but this can become controversial in a future economic downturn. Our businesses must be given a much better chance of hiring Greenlandic workers, and for that you need better education."
He can well understand why some young Greenlanders are tempted to get jobs in the fisheries industry, because there is good money to be made in the short term. But future generations need an academic or vocational education to secure jobs, he says. 
Start in primary school
One of the sectors young Greenlanders could aim for when studying is tourism, believe both GE, SIK and the Minister of Mineral Resources and Labour Erik Jensen. They all expect to see tourism grow, partly because climate change leads to a longer and warmer tourist season, and more tourists will want to visit the Greenland ice sheet before it melts.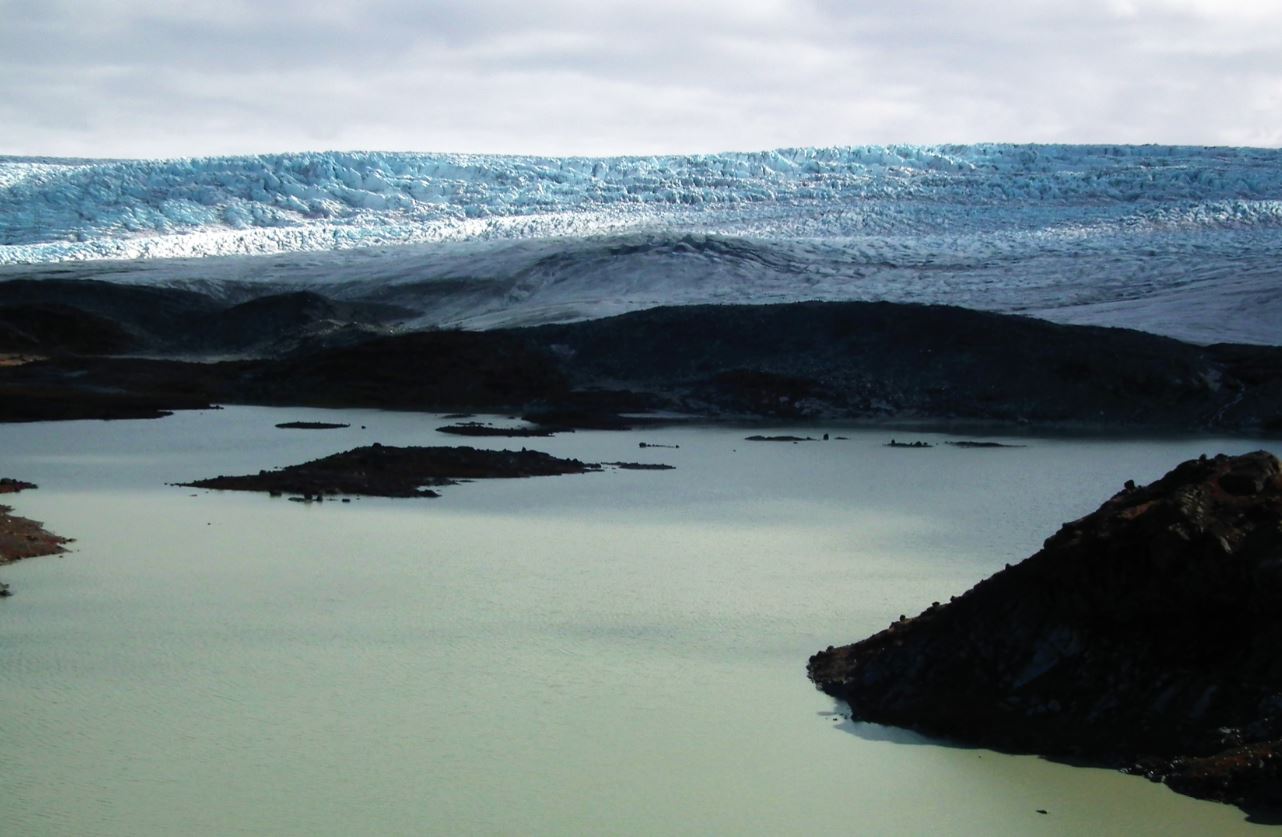 It will take time, however, to create the educational lift needed if jobs in tourism and mining are to be filled by Greenlandic labour in future, believes Linn Rastad Bjørst, associate professor and Ph.D. in Arctic studies at the Aalborg University, and head of the Centre for Innovation and Research in Culture and Living in the Arctic.
"Young, unskilled Greenlanders drift towards the fisheries sector because that is Greenland's lifeline. They dream less about becoming nature guides or working in a mine, partly because you need language and technical skills for the kinds of jobs found in those sectors," says Linn Rastad Bjørst.
So there is some way to go before Greenlandic labour can fill the majority of the jobs in mining and tourism that are expected to be created, and the education needed should start as early as in primary school, believes Danmarks Nationalbank. In its 2018 analysis The Greenland Economy it wrote: 
"The foundation for boosting the qualifications of the labour force must be laid in the schools. Greenland already spends many resources on its schools, so it is a question of ensuring a good return on the resources spent rather than increasing spending."