Greenland's natural resource fairytale must not come at the expense of Greenlanders' health, welfare and job opportunities. That was the clear signal from voters as they went to the polls to on 6 April 2021 and got a new coalition government.
The election marks a historic political power transfer in Greenland. The Social Democratic Siumut, which has held power nearly non-stop since 1979, had to hand over the government offices to eight new ministers from the left-wing Inuit Ataqatigiit (IA) and to two new ministers from the right of centre Naleraq party.
Together the two parties enjoy a slim majority of 16 out of 31 seats in parliament, and their coalition will build on a political agreement called "Solidarity, stability, growth" which was reached between the IA leader Múte B. Egede and Naleraq's leader Hans Enoksen. The Atassut party, which wants independence for Greenland, has agreed to support the two parties in government.
IA, which has now taken over from Siumut as Greenland's largest political party, had been campaigning on improved welfare and the protection of the environment, which also meant opposing uranium mining. These promises must now be turned into political decisions by the new government – a job for Naaja Nathanielsen from IA who is the new Minister for Housing, Infrastructure, Minerals and Gender Equality.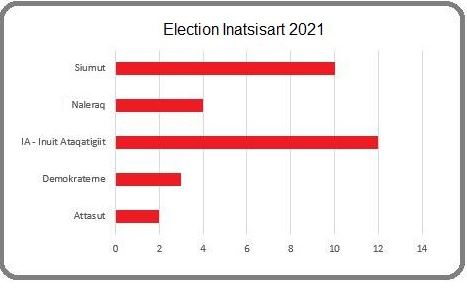 IA - Inuit Ataqatigiit – got 12 mandates out of 31 in Inatsisartut. By joining Naleraq in a coalition they got the 16 mandates needed for a majority.
Mining challenges
A central theme during the campaign was how to secure income and jobs by allowing foreign companies to mine for rich rare earth metal deposits, while also protecting Greenland's unique nature. This will also be a central issue for the newly elected parliament, Inatsisartut, and Greenland's new government.
Greenland is an autonomous region that belongs to Denmark, and natural resources have traditionally been one of the policy areas run by Denmark. But Greenland's government and parliament have been taking over more and more policy areas as part of the territory's move towards greater autonomy from Denmark.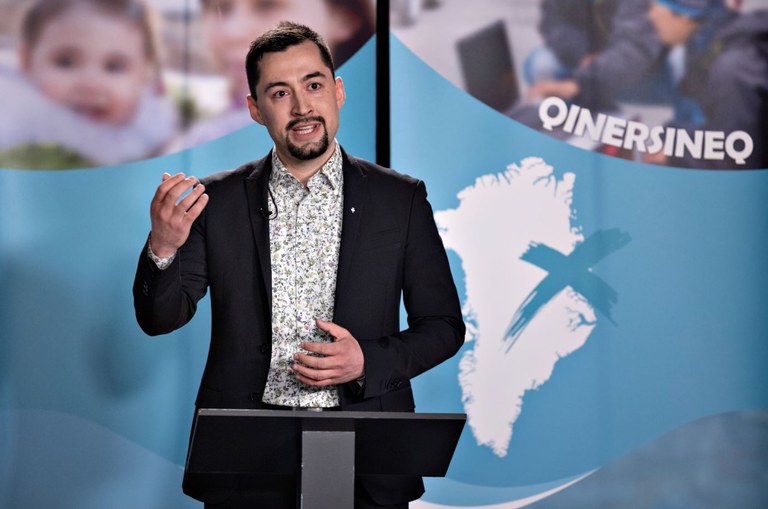 Inuit Ataqatigiit (IA) grew markedly and secured 36.6 % of the votes in Greenland. That means 34-year-old leader Múte B. Egede will try to form a government. Photo: Christian Klindt Sølbeck/Scanpix
Greenland took over responsibilities for its own natural resources in 2010. The local government has since entered into a range of negotiations and agreements with foreign companies about the mining of raw materials, because establishing and running mines demand far greater investments than Greenland can afford on its own.
There is broad cross-party agreement in Greenland to support raw material extraction as an important way of securing new income for the Greenlandic society. This in turn helps secure greater autonomy from Denmark and less reliance on the annual 3,9 billion Danish kroner (€524m) grant which the Danish state still provides so that Greenlanders get the same welfare benefits as people in Denmark.  
This strategy has been a difficult political tightrope to walk for the former Siumut-led government in Greenland, however. It will remain so for the new government. Because it is far from easy for Greenland to negotiate with foreign companies agreements that also secure the income from mining operations do not just end up on the bottom line of a foreign entity. These operators also bring with them their own specialists to a great degree, since there is a shortage of qualified Greenlandic labour.
Uranium mine creating unease
Big decisions must also be made about what environmental and health strains Greenland must be willing to accept as part of a natural resource fairytale. The mining takes place in vulnerable Arctic areas and could potentially be harmful to both nature, the climate and people's health. Much of the election campaign was centered on whether to give the go-ahead for the so-called Kuannersuit/Kvanefjord project – an open pit uranium mine near a city of 1,300 people in Southern Greenland.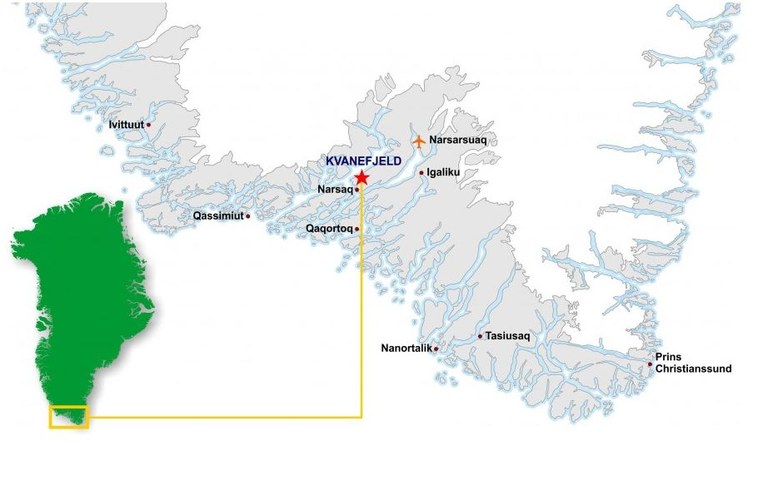 Illustration: Greenland Mining.
Yes to mining in general but no to uranium extraction, says Greenland's now largest political party, Inuit Ataqatigiit. This is a position which has been supported by many Greenlandic voters, explains Aaja Chemnitz Larsen, an MP for IA in the Danish parliament. 
"My party sees natural resources as an important part of securing broader economic development for Greenland, because today we are totally dependent on fisheries. This makes us far too vulnerable if the fish disappears. But you must take nature and human and animal health into consideration when you explore natural resources, and that is why we say no to a uranium mine which pretty much would be in people's back garden."
Siumut, the great election looser, has chosen not to take the same principled stand against a uranium mine, but campaigned for thorough and individual assessments of health and environment issues linked to any mining project.  
A focus on education
The Kvanefjord project is owned by an Australian company that says the area contains the world's second largest deposit of rare earth materials and uranium. The company wants to open a mine which would be the world's second largest open pit uranium mine. It would lie just six kilometres from the city of Narsaq and promises to create local jobs.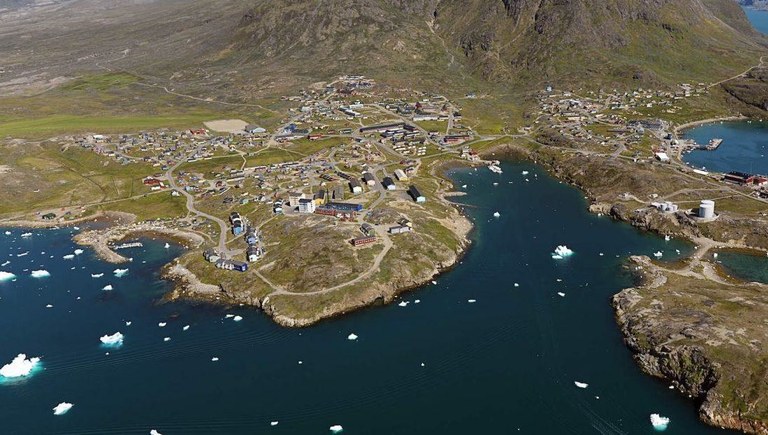 Narsaq in summer. Photo: Visit Greenland
But the IA's Aaja Chemnitz Larsen doubts the mining company would be able to live up to its aim of filling half of the expected jobs with Greenlandic labour, since a large part of the labour force there lacks both the language and technical skills needed to operate the mine.  
An important job for the new government will be to secure qualified labour from elsewhere as well ass increasing the skills levels in Greenland's labour force. The outgoing government had prioritised to increase the import of labour to avoid bottlenecks in Greenland's labour market and the overheating of Greenland's economy. 
In later years, the territory has experienced a deficit in skilled labour both in the construction, tourism and fisheries industries, and unemployment is low. Four out of five unemployed people only have ten years of elementary education, and many of them also face other challenges besides being unemployed. One in two jobseekers are not considered to be ready for the labour market. 
Meanwhile, the fisheries industry has been experiencing a boom, so it has been easy to find unskilled jobs there. For many young people, this has been more tempting than getting an education, which for many would mean moving far away from home to Nuuk where it is difficult and expensive to find a place to live. 
More than half of all Greenlanders between 25 and 64 only have elementary education, and finding a solution to this problem will sit high on the agenda of the new parliament and government, believes Aaja Chemnitz Larsen. 
Better welfare for children
AI also wants to focus far more on the differences in the Greenlandic society during this new parliamentary term, she explains.
"There will be a need to focus far more on the differences in Greenland's society. There are great gaps both in education, health and socially. We in the IA do not belive in quick fixes, so we want to secure long-term measures are in place to prevent children from having to grow up in poverty."
Among the IA's proposals are the introduction of a poverty line and a general strengthening of teacher training. Education measures should start in elementary school, as the quality of teaching can and should be improved. This has also been pointed out by the Danish Central Bank. 
In 2019, the former Greenlandic government asked the Danish government for help to strengthen measures to help vulnerable children and young people. Around one in three children in Greenland grow up with neglect and absent parents. Nearly one in five children born after 1995 have been the victim of sexual abuse. And the number of young people who commit suicide is high.
The Danish parliament has earmarked money to secure early intervention and prevention in Greenland, including strengthened municipal case handling, more offers for vulnerable children and better safety for children and young people who have been the victims of sexual abuse. 
In general, the IA wants to maintain Greenland's position as a Nordic welfare state, says Aaja Chemnitz Larsen. 
"Right now, Greenland is the most expensive Nordic country, and the most unequal Nordic country too, even though we get support form Denmark and the EU. We in the IA will be getting busy changing this. Our society is built on the Nordic welfare model, so we shall remember that we are a part of the Nordic region."
A long way from gender equality
Women are in a minority in Greenland's new parliament. Historically, far more women than men have run for election in both parliamentary and local elections, and the number of female candidates was lower than usual this time. Siumut and Inuit Ataqatigiit had the the most female candidates at the recent election, but here too there is a long way to go before you get full gender equality: Both parties had 16 female candidates among 43 and 60 candidates in total respectively. 
Aki-Matilda Høegh-Dam is a member of the Danish parliament for Siumut. She believes the reason is traditional Greenlandic gender roles.
According to the Danish constitution, Greenland has two representatives in the Danish parliament. Right now both of them are women. Aki-Matilda Høegh-Dam was elected in 2019 and Aaja Chemnitz Larsen has been an MP in Copenhagen since 2015.
Both feel they are "ambassadors" for Greenland in Denmark, and that there is a lack of knowledge about Greenland both among other parliamentarians and government ministers. This is a problem, as Denmark's parliament and government make decisions that have great consequences for Greenland.