70 people of varying ages, from different countries and different student or occupational backgrounds, have started a joint journey in Åland. They have been accepted to the brand new grit:lab education where they will learn how to become creative computer coders – a skill which is sought-after nearly everywhere in the world.
grit:lab has bright offices at the headquarters of gambling company Paf in Mariehamn. Students can come and go as they please, 24 hours a day, seven days a week.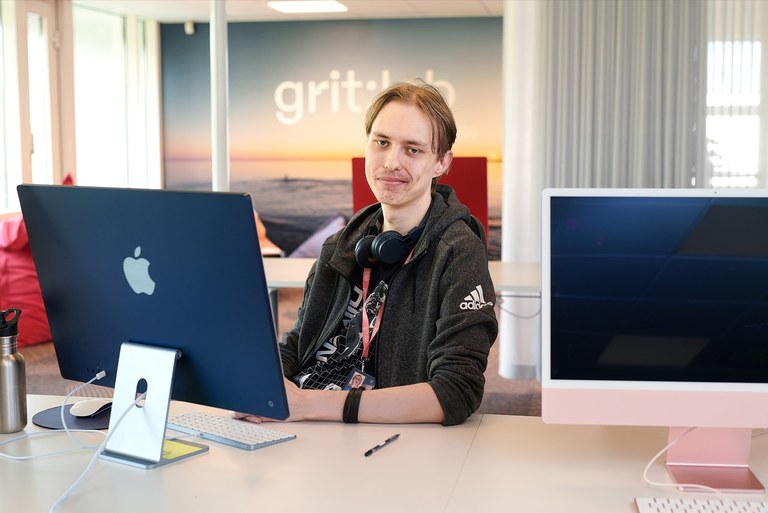 Christoffer Barreby knew Åland from holidays there, and did not think twice about swapping Stockholm for Mariehamn when he was accepted to grit:lab. The first online test included cognitive games testing applicants' logical reasoning and memory. They were given no instructions and had to figure out how to solve the problems themselves.
Christoffer Barreby from Stockholm is one of the 70 people who got through the selection process to secure a space. He sits in front of one of the computers trying to solve a problem. He has always been interested in the world of computers but has not been working with or studied anything linked to it before.  
"Everything is new to me. Including the way in which we learn. We have no teachers, and everything is based on self-learning and cooperation with others. It takes quite a bit of self-discipline but the programme suits me," he says, adding that he is looking forward to two interesting yet challenging years. 
"The selection tests were really tough and things are continuing in the same vein," he says. 
Big demand, small supply
Fredrik Karlström, Åland's Minister for Industry and Trade, was one of the movers behind the grit:lab project.
"In all my conversations with tech companies, one issue keeps coming up – the lack of people with different types of digital skills like system developers and coders. Demand far outstrips supply and traditional educational institutions do not train enough people.
"I also want to see higher immigration to Åland. We need and welcome more driven individuals from different backgrounds and with different experiences." he says.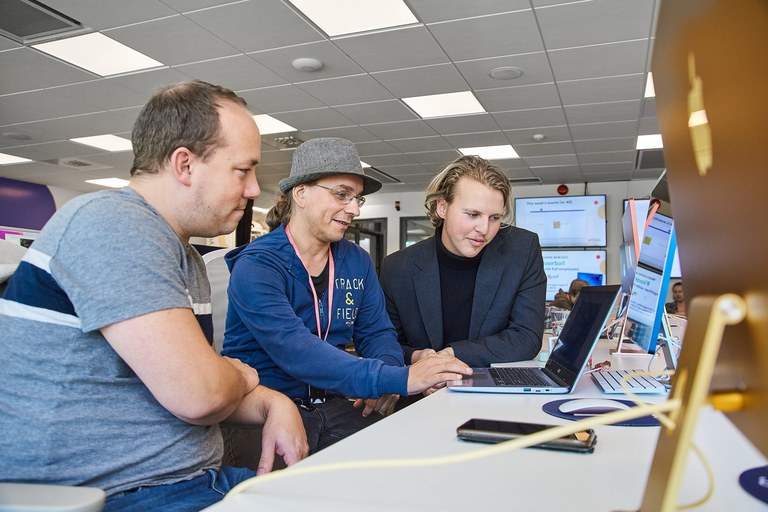 Learning how to cooperate and help each other is part of the grit:lab training. Richard Crauston, Tommy Mathisen and Wincent Westerback (right) passed all the initial tests and now face two  years with exciting challenges.
In other words: The grit:lab initiative will hopefully allow Åland to kill two birds with one stone!
The training is free for the participants. They have to be self-sufficient (some get support from their home countries) and they get help finding accommodation in Åland. 
Anna-Lena Svenblad, Corporate Development Director at Paf, is the course project leader.
"This sector is developing so fast that the most efficient way of doing things is not always 'learning what the teachers know'. At grit:lab we focus on how students can learn how to learn. The training is one hundred percent project-based. You get new challenges and the degree of difficulty increases," she says.
Helping each other
The word "grit" was chosen to show that you need passion, courage and stamina in order to get through the two-year programme. 
Cooperation is an important cornerstone. Students must help each other during their journey. Nobody should be alone in a corner, doing everything on their own. Nor should anyone rely on "everybody else" to solve the challenges.
"The start has been intensive with long days running into 12 hours. I have also been here at weekends," says Tommy Mathisen from Åland.
During the education, the students learn three coding languages and during the final six months, they can choose to specialise in one area, for instance app development. Mentors from Åland's tech industry are also involved at various stages during the two years.
The fact that participants come from different backgrounds in terms of qualifications and work experience, age and nationality is seen as an advantage. 
"They bring different perspectives and that is a great plus for the group's dynamics," says Anna-Lena Svenblad. 
Settle in Åland?
Minister for Industry and Trade Fredrik Karlström of course hopes that as many as possible will stay in Ålad after finishing grit:lab. 
"There are jobs! Companies in Åland have already said they want to hire grit:lab participants. I also believe some of them will choose to start their own companies and work remotely from Åland. But I am of course aware that this is a global labour market and competition for trained people is tough.
"It is obviously up to each individual to choose where to settle, but we will work even harder to make Åland one of the best places in the world to live so that they will want to stay. Those who do choose to move away after their time at grit:lab hopefully have had such a good time that they become good ambassadors for our autonomous region," he says.
Want to learn Swedish
Korin Lim from Singapore used to work in a business lounge at Helsinki Airport and saw the grit:lab education as an opportunity to launch a new career. Coding was completely new to her.
"It has been challenging working at least eight hours every weekday and five to six hours at weekends, but I like it. I also feel welcome in Åland and will start learning Swedish. We are being offered free lessons via grit:lab," she says and adds: 
"Åland feels like a quiet and safe society. I wouldn't mind moving here."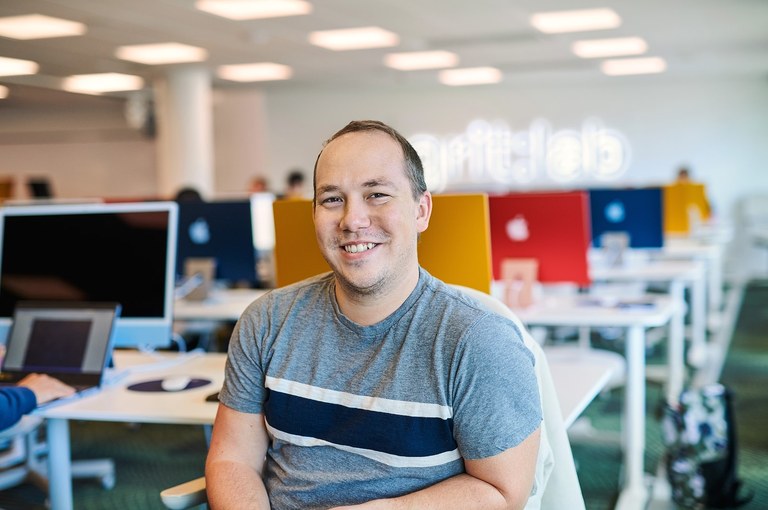 "We don't have a set schedule, but can go to grit:lab when is suits us – even in the middle of the night," says Richard Crauston who moved from the USA to Åland seven years ago.
Richard Crauston has roots in the USA and came to Åland seven years ago with a degree in economics in his luggage. He enjoys the way grit:lab is organised.
"We have no schedule and no fixed hours. Everything is based on taking responsibility for yourself and self-discipline. This suits me, as I have a family with small children and also a business that I run," he says.
Tommy Mathisen from Åland used to sell and fix computers. Now he is getting into coding.
"At grit:lab we focus on one thing, and don't spend time on a range of other subjects which is often the case on other courses. So far I have been working up to 12 hours a day, but I'm enjoying it," he says.   
A new group in 2024?
grit:lab has got attention beyond Åland and Anna-Lena Svenblad often gets asked about the concept. It might also be carried on into the future. In which case the selection process will begin towards the end of 2023 which would allow a new group to start in the autumn of 2024.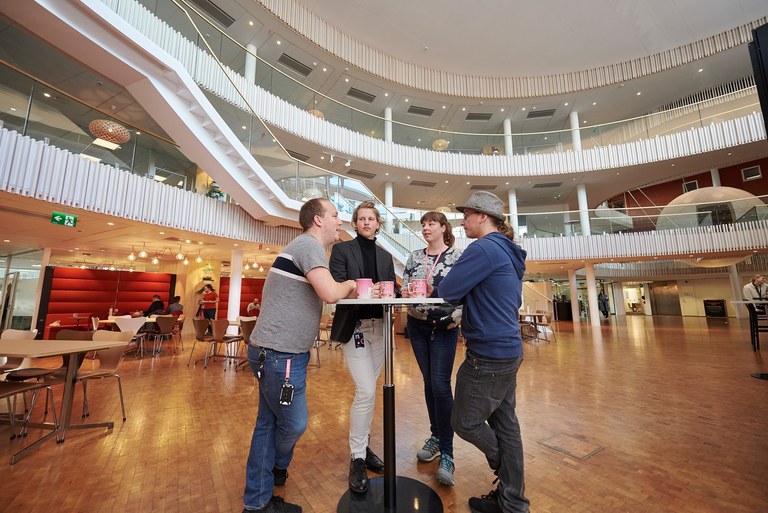 grit:lab participants are studying at the gambling company Paf's bright and airy headquarters in Mariehamn. They may come and go as they wish, 24 hours a day, seven days a week.