The Nordic Gender Effect at Work is one of the Nordic prime ministers' most important projects for the advancement of gender equality. It is considered to be an important prerequisite for a good labour market and for economic growth.
Grateful. Positive. Proud. The words of Bjarni Þór Guðmundsson, father of seven-months-old Sara Maídís, who has taken paternity leave from his job as a technician in Reykjavik, Iceland.
Bjarni Þór believes staying at home with her for three months gives Sara Maídís a better chance to get to know her father and to bond with him as a parent. The father is delighted to look after his daughter.
He is also a living example of what the Nordic countries have been working with for decades, leading the way globally. Gender equality politics have brought increased employment, improved family life and economic growth in the Nordic region.
Parental leave is generally seen as a good thing in the Nordics, but can appear completely new and foreign in other parts of the world. When Danish Line Christmas Møller was hired as project leader for The Nordic Gender Effect at Work in 2017, the aim was to highlight gender equality internationally, and paternal leave in particular.
A request from the UN
During the 2017 UN general assembly, the Executive Director for UN Women contacted the Nordics to ask them to help focus on gender equality at work, and in particular parental leave. As a result of the focus on this issue, the Nordic countries have now published the report State of Nordic Fathers, which details paternity leave in the Nordic region and its effect on fathers and families as a whole.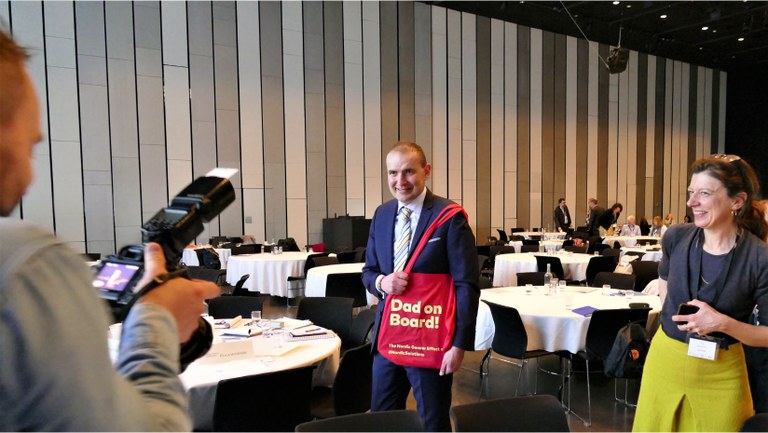 The campaign to elevate the fight to get fathers to take their share of parental leave enjoys support from the Nordic region's highest echelons. Here Iceland's President Guðni Jóhannesson is being photographed for the campaign"Dad on Board". Anna Rosenberg, communications advisor, to the left. Photo: Björn Lindahl
"We began work on this report as a direct result of the UN's request, but also because of what our own government ministers have wanted," says Line Christmas Møller.
The report shows that in Iceland and Sweden, fathers take roughly 30% of the total available leave. In Norway, the figure is 20% and Denmark and Finland stand at 11%. It also shows that fathers who take paternity leave consider themselves to be equally competent at looking after the children as the mothers. Longer periods of leave mean they rely less on the mothers for help, and identify to a lesser degree with traditional male stereotypes. Parents are happier in their relationship when the children are looked after by the father and the mother in equal measures.   

Bjarni Þór Guðmundsson (30), the father of seven-moths-old Sara Maídís, met his girlfriend Ástríður Rós Gísladóttir, a psychology student, two years ago. When Sara Maídís was born, Bjarni Þór decided to enjoy as much time as possible with the baby. He had noticed that if he for whatever reason had not been giving Sara Maídís her bottle for a while, she stopped wanting to accept it from him.
"This has changed. She now wakes up in the morning laughing. I feel a connection which I think I would otherwise have missed," he says.
Bjarni Þór is a typical Icelandic father. When Sara Maídís was born, he had just started a new job as a technician in a team fixing professional photo printers. He was a bit worried about taking three months off since he was relatively new, and it was a workplace he really enjoyed.
"This is possibly something everyone goes through," he says.
But his employer proved to be understanding and did not put any obstacles in his way.
Most take paternity leave 
Icelandic men regularly use their right to take parental leave, but there are of course some who do not. Most of Bjarni Þór's friends have taken parental leave, but he also knows men who have not, or who have cut their leave short because they feel they are that important to their workplace. This is not the way it should be.
"A good workplace will give all fathers the opportunity to enjoy paternal leave with their baby," he says.
Wants the leave to be shared equally
Fathers' interest in parental leave can be influenced by various issues. Paternal leave usually means a temporary reduction in the fathers' income, as they are only paid 80% of their monthly pay in Iceland. But some fathers prepare for a cut in their income, to enjoy a more comfortable economy during their leave.    
Three months parental leave is earmarked fathers, which means the mother cannot use the father's leave. Bjarni Þór took one month off right after the birth, then he was off during December and will take May off too. 
"I would like to see all parents share the leave equally," says Bjarni Þór.
Different effects
Paternal leave works as part of the gender equality policy in the workplaces. After its introduction, it has had various effects on fathers, mothers and children, but also on workplaces. Møller believes that paternal leave can lead to great advantages in the future, and for the rest of families' lives.
"The longer fathers can stay at home with their babies, the less job-related stress they feel. They do not feel the need to work while they are at home, and when they return to work they experience that the workplace is positive to their decision to take paternal leave," she explains. 
"Longer periods of paternal leave can also be linked to a new kind of manliness and a caring role which is beneficial to the father's identity and health, while their relationship to the mothers is strengthened," says Møller.
A lot of attention
Paternal leave has had a lot of attention internationally. It is considered to strengthen gender equality in the labour market, since it is no longer only the women who take care of the children and family matters. This has created a lot of interest in international organisations and in other countries. Møller gets a lot of attention from other countries. There is always much positive feedback, and other countries also want to know how the Nordics aim to achieve full gender equality in the future.