Nordic Talks is the Nordic Council of Ministers's own podcast series aimed at highlighting Nordic values to a global audience. The idea is also to create a lasting dialogue with the rest of the world.
Nordic Talks is inspired by TED Talks, which is designed to spread ideas through relatively short and concentrated presentations by people who have a passion for their particular field.
"Nordic Talks is built around our shared Nordic values, so the podcast series will be both democratic and seeking to create a dialogue. We want to get the rest of the world to talk with the Nordics about a given topic," says Tobias Grut, Project Manager at the Nordic Council of Ministers' Communications Department in Copenhagen. 
Universal ideas that are worth sharing
Nordic Talks is part of the Council of Ministers' profiling plan, which aims to inspire dialogue and cooperation with the rest of the world by shedding light on Nordic values which the Council of Ministers feels are universal and worth sharing. 
"The podcast format is fundamentally a debate with two to three participants and one moderator. We want at least one of the participants to be from a non-Nordic country, which allows us to have both a Nordic and international perspective on the issues at hand. We are good at many things in the Nordic region, but there are definitely many things we can learn from others. This dialogue is precisely what we want to strengthen through Nordic Talks," says Grut.
The first pilot episode is soon ready for publication, and will easily be found on the most common podcast platforms like Apple Podcasts, Spotify and Google Podcasts, explains Grut. 
First episode from California
The pilot episode was recorded in November 2019 at Berkeley University in California with Professor Robert as moderator. He does research on the differences between American and Nordic capitalism, while also working on his latest book project called "Sustainable Vikings".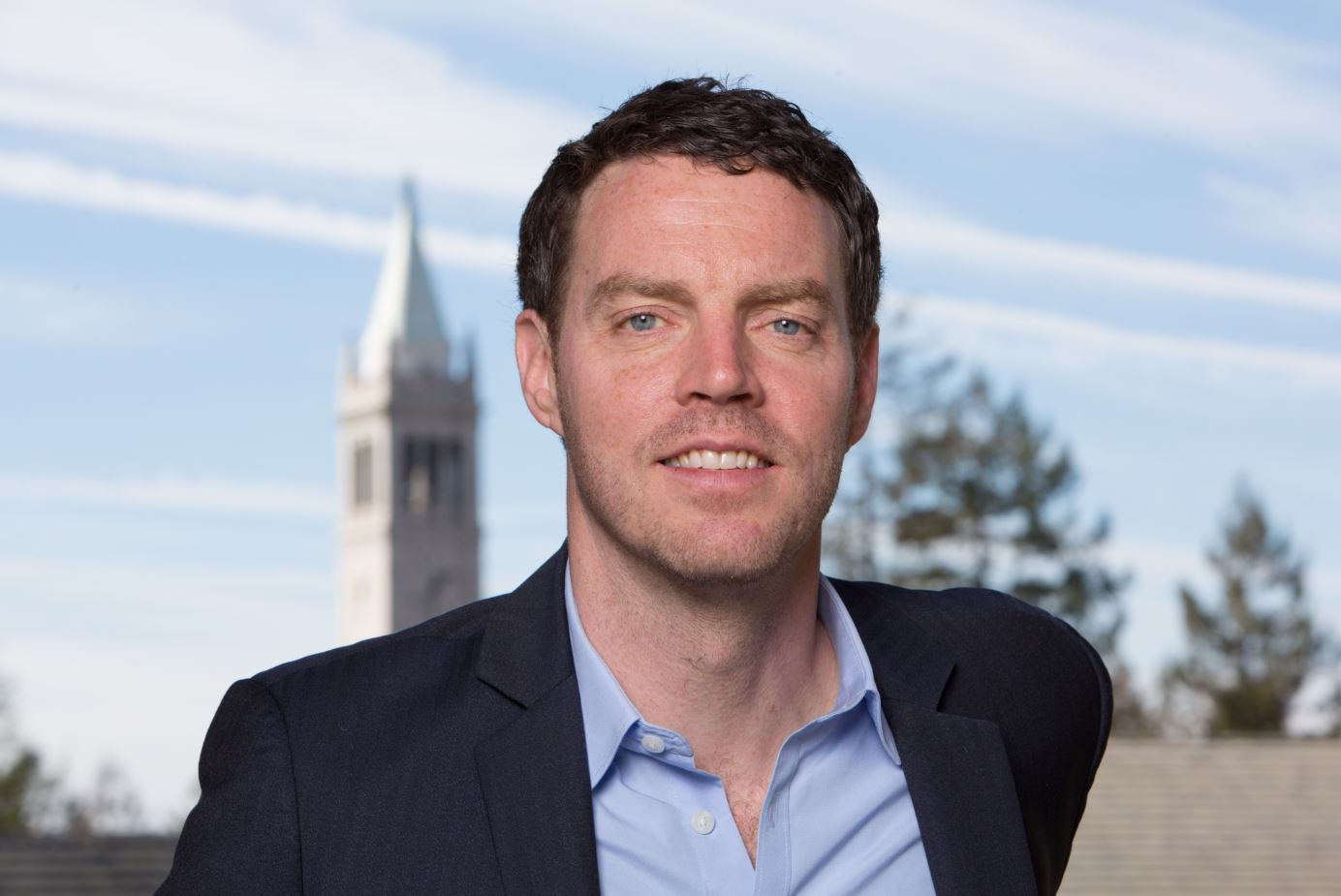 Professor Robert Strand from Berkeley University moderated the first episode of Nordic Talks
"Strand led a conversation with Anu Partanen, the Finnish author of "The Nordic Theory of Everything: In Search of a Better Life", and American Professor of Sociology Caitlyn Collins who recently wrote the book "Making Motherhood Work". The theme was parental leave and what California can learn from the Nordics," says Grut.
From 150 people to worldwide
The result was precisely what Tobias Grut and his colleagues at the Communications Department had hoped the Nordic Talks podcast might become, he explains.
"We managed to highlight the two different systems, while also creating a debate around whether the way in which we solve things in the Nordics might be an inspiration for other parts of the world. There were 150 people at the event, but when we edit this into a podcast we can spread the message worldwide."
This is exactly what makes the podcast format such a useful tool, according to Grut. 
"Our Nordic embassies around the world often organise debates and meetings which are interesting to those who are physically present. With Nordic Talks, these events can suddenly get a global audience," he explains.
An easy-to-use template 
The Nordic Council of Ministers has developed a template which all embassies and other Nordic actors can use to adapt their events to become a Nordic Talk podcast.
"So if you are passionate about an issue and want to make a Nordic Talks, we are able to offer a brief, a template for everything you need. It is also possible to apply for support to organise the physical event. We are cooperating with a production company here in Copenhagen which edits the send from each event into a Nordic Talks podcast," says Grut.
The Nordic Council of Ministers is also open for different podcast episodes having slightly different formats. 
"We've been thinking that the podcast can be produced in "small", "medium" and "large" editions. You could make an episode from a big symposium, but a Nordic Talks podcast could also be three people in dialogue over an interesting theme, recorded in a forest somewhere in Finland – as long as it ends up with good material that we can use to make a good podcast," says Grut.
From children's climate questions to ugly vegetables
So far, three episodes of Nordic Talks are in production and will be published as soon as they are ready.
In addition to the California pilot, episodes have been recorded in Sweden and China. Podcast number to was made during the Nordic Climate Actions Weeks in Stockholm, which were held parallel with the Madrid climate summit in December 2019. It was a debate between Swedish actress Lena Endre, Norwegian snowboard ace Terje Håkonsen and Head of Sustainability at Hennes & Mauritz Anna Gedda, about how they as parents talk to their children about climate change.
"Episode number three was recorded in Beijing, and it focuses on the environmental advantages of buying "ugly" vegetables. You could say that this illustrates the fact that a Nordic Talk podcast can cover pretty much anything, as long as it helps create conversations about the Nordics and our region's values are focus areas," says Tobias Grut.