There was no overall change in the distribution for Nordic women in the past year. But the Nordic Labour Journal's gender equality barometer shows that there has been a further polarisation between the countries.
On 8 March each year we look at 24 different powerful jobs to see whether they are filled by a man or a woman. 200 points are distributed, and 100 points to women means full equality. This year they got 64.
That is the same sum as for 8 March 2016. The highest number, 67 points, came on 8 March 2015. Things have been changing in both directions in the different countries, and this has led to a polarisation.
Norway strengthened its position as the most gender equal out of the Nordic countries when you look at 13 government ministers, five positions of power among the social partners and five symbolically important positions (see the fact box for how the points are measured).
The Nordic Region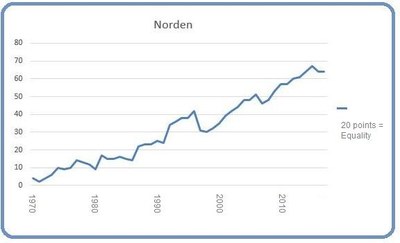 This year Norway gains another two points because Kari Sollien became the President of the Federation of Norwegian Professional Associations. As a result, the country gets 24 points. 20 points means full gender equality in each country. 
Finland remains bottom with only four points. In Sweden and Iceland women loose one point but in Denmark they win one. That leave the Nordic share of points looking like this:
| Country | Change | Points |
| --- | --- | --- |
| Denmark | +1 | 12 |
| Finland | - | 4 |
| Iceland | +1 | 9 |
| Norway | +2 | 24 |
| Sweden | -1 | 15 |
| Nordic region | +1 | 64 |
Despite what might look like stagnation, there have been some victories for women. For the first time ever there is a female minister of fisheries in Iceland, a country where that government post is considered to be one of the most important.
The clearest tendency, however, is that labour market issues are about to be controlled by the women. The clearest example of this is Norway, where both the President of the Confederation of Trade Unions (LO) and the Director General of the Confederation of Norwegian Enterprise are women. 
The service union and the two unions for professionals are also led by women. A woman is also leading the Employers' Association Spekter, counting 200,000 members in private and public companies. 
Finally, the Minister of Labour is also a woman, Anniken Hauglie.
The development has taken time. It is now 16 years since Wanja-Lundby Wedin became the first female leader of the Swedish Trade Union Confederation, LO, since it was founded 102 years ago. Six months later she was followed by Gerd-Liv Valla in Norway. It then took until 2015 before Lizette Risgaard was elected President of LO-Denmark. There is also change afoot in Finland, as our reporter there reports (Out with the trade union sauna – in with gender equality!)
In Iceland Ólafía B. Rafnsdóttir became the first female President in 122 years of Iceland's trade union for commercial workers, VR in 2013. One year later she became the first deputy leader of ASÍ, the equivalent of LO in the Scandinavian countries.
There are also female leaders on the employers' side now. Carola Lemne is Director General at The Confederation of Swedish Enterprise, and that country's Minister for Employment is Ylva Johansson. Kristin Skogen Lund has been Director General for the Confederation of Norwegian Enterprise (NHO) for five years.
If you widen the selection to look at all of the 16 Nordic trade unions and the three autonomous areas that make up the Council of Nordic Trade Unions (NFS), eight of them are led by women and eight by men (see fact box). Altogether the unions have nine million members.
In the past year Denmark got a new government when Lars Løkke Rasmussen formed his third on 28 November 2016. There was also a new government in Iceland on 11 January this year, after ten weeks of long negotiations. 
It is not an easy task to compare positions of power within different government ministry posts. The number of ministers varies between different governments. Sweden has the most with 24 ministers, Denmark has 22 and Norway 19. Then there is a big leap down to Finland, where there are only 14 ministers. The New Icelandic government has 11 ministers, compared to nine in the previous government. 
Political power also comes from experience.
"Lavrov is a political fox, very experienced and so am I, actually," Sweden's Minister for Foreign Affairs, Margot Wallström, said recently after meeting her Russian colleague, Sergej Lavrov, for the first time since the EU imposed sanctions on Russia.
She has also become known for introducing a feminist foreign policy.
Over the period we have looked at the division of power in the Nordic region, 1970 to 2017, this has happened:
Sweden has had eight prime ministers leading 13 governments

Denmark has had nine prime minister leading 24 governments 

Norway has had 11 prime minister leading 16 governments

Finland has had 16 prime minister leading 24 governments

Iceland has had 15 prime minister leading 16 governments
When our barometer shows Finland with only four points while Norway has 24 points, it should not be interpreted as saying Norway is six times more gender equal than Finland. But it allows us to reflect over how gender issues are being dealt with in a government where all of the heavy ministerial posts are being held by men, or where the gender balance is the opposite.
Denmark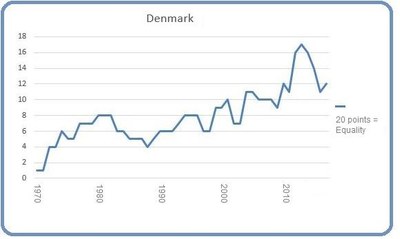 The fact that the new Danish Minister for Culture is a woman, Mette Bock, means one more government ministry is run by a woman compared to Lars Løkke Rasmussen's last government. Nine out of the 22 government ministers are women, which means Denmark has reached what has become a minimum standard in the Nordics – having at least 40 percent female ministers. But the fact that they only get three points in the gender equality barometer shows that they do not have any heavy positions of power. 
Finland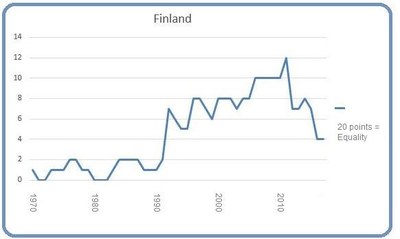 Finland takes bottom place again this year. There are few ministers in the Finnish government, only 14. We give Sanni Grahn-Lassonen two points since she is both Minister of Education and Culture. Five of the 14 ministers are women, which means there is only 35.7 percent women in the government. There are still no women in leadership positions at any of the trade unions or employers' unions. After Pauliine Koskelo left her job as President of the Supreme Court of Finland there is also no woman to be found in the symbolically important posts. 
Iceland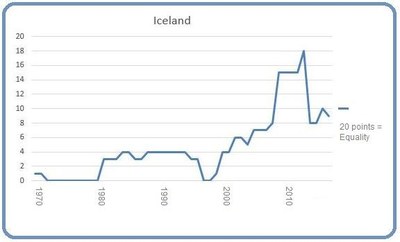 In Iceland the number of government ministers increased from 10 to 11. Four out of them are women, which is 36 percent.
Þorgerður Katrín Gunnarsdóttir is Minister of Fisheries and Agriculture. This is the first time in Icelandic history a woman has been responsible for fisheries and agriculture policies.
Thordís Kolbrún R. Gylfadóttir also beats a record. The 29 year old is the youngest female minister ever in Iceland. She will have the responsibility for tourism, innovation and industry. Over the past two years she has been a deputy for Ólöf Nordal. Prime Minister Bjarni Benediktsson had reserved a seat for Ólöf Nordal in his government, but she died from cancer on 8 February.
Norway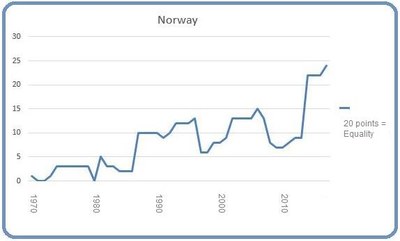 The only change is that Kari Sollien became the President of The Federation of Norwegian Professional Associations (Akademikerne) on 28 October 2016. Even if we counted the other major trade union for professionals, Unit, the result would have been the same. It has been led by Ranghild Lied since 2016, who is also President of the NFS this year.
Sweden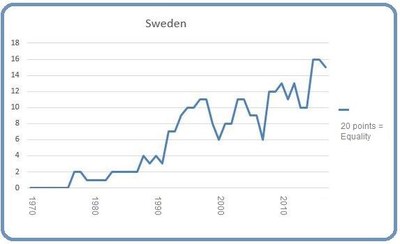 There have been few changes in Sweden. The government has only seen a reshuffle, which does not influence our barometer. 
On 1 May 2016 Marianne Lundius left after six years as Chairwoman of the Supreme Court of Sweden. She was followed by Stefan Lindskog, so Sweden looses one point here.