For the first time ever a Nordic country has reached full gender equality in the Nordic Labour Journal's gender equality barometer. The barometer reflects the gender balance in 24 different positions of power in the Nordic societies. After a change of government last autumn, Norway has now reached 22 points. 20 points is needed for full gender equality.
There are many ways of measuring gender equality. A female government minister does not necessarily pursue policies which improve equality between the sexes. Yet it is not irrelevant. It influences our perception of society and the opportunities it offers. In a Nordic first, Norway now has a female Prime Minister, a female Minister of Finance and female heads of both the Confederation of Trade Unions and the Confederation of Norwegian Enterprise. 
Other countries have gone backwards - mainly Iceland, which was only two points away from full gender equality in our 2013 barometer. As a new government came to power in 2013, Iceland plummeted down to eight points. That is the same level as Finland.
| Country | Points  2014 | Change |
| --- | --- | --- |
| Denmark | 16 |  - 1 |
| Finland | 8 |  +1 |
| Iceland | 8 | - 10 |
| Norway | 22 | +13 |
| Sweden | 10 |   - |
| The Nordic region | 64 |  +3 |
Thanks to Norway the figure for the entire Nordic region reached 64 points, up three points on 2013. Since each country has a maximum of 40 points, or 200 points for all of the Nordic countries, 100 points would mean full gender equality. This means there is still some way to go. At the current speed the entire Nordic region will only reach full gender equality - measured by the NLJ's barometer - in 2035.
We measure the state of affairs at 8am on 8 March every year. There are still three days to go, so barring any last-minute changes here is an overview of what has happened over the past year.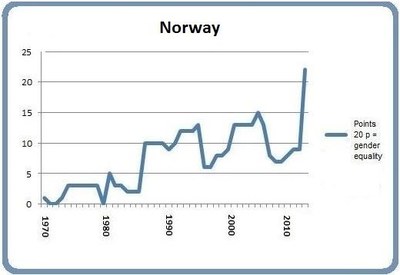 Norway
Not many days after the 2013 international women's day the Confederation of Vocational Unions (YS) chose Jorunn Berland as its new leader. That was on 10 March, and it gave Norway two points. Then followed Gerd Kristiansen as new head of the Confederation of Trade Unions, a heavyweight position which in our barometer is worth four points.
The grand slam came with the September general elections. Erna Solberg from the Conservative Party became Prime Minister (five points) and the Progress Party's Siv Jensen became Minister of Finance (three points). The new government also has five ministers in positions which count towards the gender equality barometer. 
That is how Norway rose from nine to 22 points (20 points equals full gender equality). Does that mean the entire country has reached gender equality? No, that would be overstating it, because equality still has some way to go in other areas.
The NLJ's gender equality barometer does not measure equality within industry and commerce. There are still only a few female CEOs. But Norway and Iceland have passed legislation saying public company boards must include at least 40 percent women.
Several of the most challenging issues facing the new Norwegian government have long been priority issues among feminists, like prostitution and abortion. The government wants to abolish the ban on buying sex, and it wants to give GPs the right to refuse hospital referrals to women who seek an abortion. This has been met with strong criticism form the political opposition and from women's groups.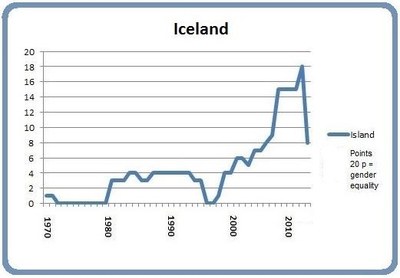 Iceland
Last year's number one, Iceland, was just two points away from full gender equality in 2013. But general elections in the spring saw a new government come to power on 23 May. This led to Iceland plummeting on the barometer. Prime Minister Johanna Sigurðardóttir stepped down after five years in the post. The new Prime Minister is Sigmundur Davíð Gunnlaugsson from the Progressive Party (Framsóknarflokkurinn - a centrist party).
Iceland's government consists of seven ministries, including the Prime Minister's office, but there are more than one government minister in some of them. Ragnheiður Elín Árnadóttir is the new Minister of Industry and Commerce, Eygló Harðardóttir is Minister of Social Affairs and Hanna Birna Kristjánsdóttir is the new Minister of the Interior. The latter post does not get any points in our barometer. Since Iceland has no ministries of labour, defence of culture, we have given one extra point to government ministers in charge of those portfolios. As a result, the Minister of Social Affairs, who also oversees labour issues, gets one point. Culture comes under the Minister of Education, while defence is the responsibility of the Minister for Foreign Affairs. The two latter positions are held by men.
Iceland also gets four points for its female leaders of both the Confederation of State and Municipal Employees and the Association of Academics. On 24 June 2012 Agnes M. Sigurðardóttir became Iceland's first female bishop. Since Iceland only has one bishop, this earns the country one point. All in all Iceland gets eight points - half of what it got last year.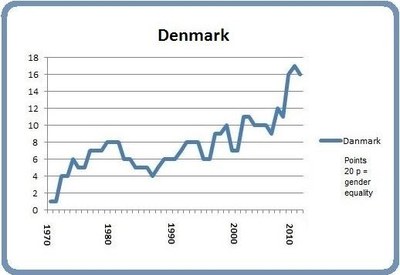 Denmark
Denmark has had a change in government as the Socialist People's Party left the red-green coalition formed by Helle Thorning-Schmidt in 2011. This had no major effect on our barometer.
Changes were also being made in September 2013. The new female Minister for Transport, Pia Olsen Dyhr, could not compensate on the barometer for two new male government ministers for agriculture and the environment. This means Denmark looses one point on last year.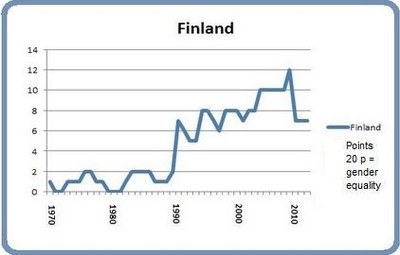 Finland
Finland's political situation has been more stable. A small change in the government was made May 24 2013. Pia Viitanen then became the Minister of Communication and Finland gained one point. That leaves it wit eight points. The only woman in a symbolically important position is Pauliine Koskelo, President of the Supreme Court.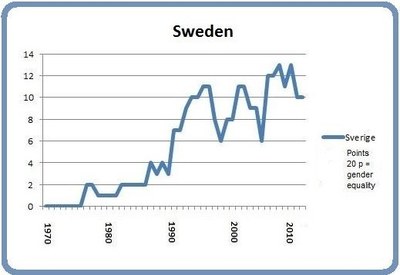 Sweden 
Sweden has a new Minister for Employment in Elisabeth Svantesson, but her predecessor was also a woman. That is the only change in Sweden, which therefore remains at 10 points. 
However, the Confederation of Swedish Enterprise will get a new female Director General, Carola Lemne. She takes up her post in May, after having held several leading positions within pharmaceutical companies and within the health service. There are general elections in Sweden this autumn.