At the Solbjerg nursing home, new digital solutions have freed up more time for employees to spend with the residents, and this is just the first phase in a digital revolution. In ten years from now, all of the home's offices will be gone, predicts the nursing home's coordinator.
It used to take Jette Hejlskov a lot of time every day to get an overview over what needed to be done at the Solbjerg nursing home in Aarhus, Denmark's second city. Since the summer, however, much of the daily planning and communication has been carried out digitally, and it has freed up a lot of time, she says.
"Our new digital planning and communication platform has really been a bonus both for employees, residents and relatives," says Jette Hejlskov.
The new digital solution – EG Sensum carePlan – creates a better overview and strengthens communication both among staff and between staff and the residents and their relatives. Jette Hejlskov can now easily plan and change rotas and move tasks between employees. 
"With the new system I can make both ends meet. It allows me to swiftly and easily change the plan which was laid in the morning if there is an emergency, like a resident falling ill."
EG Sensum carePlan also makes it easier for the 40 residents and their relatives to find out what is going on. They can find out about meals and the day's activities via tablets which the residents have been given. 90 year-old Tove Inge Jensen is happy about this.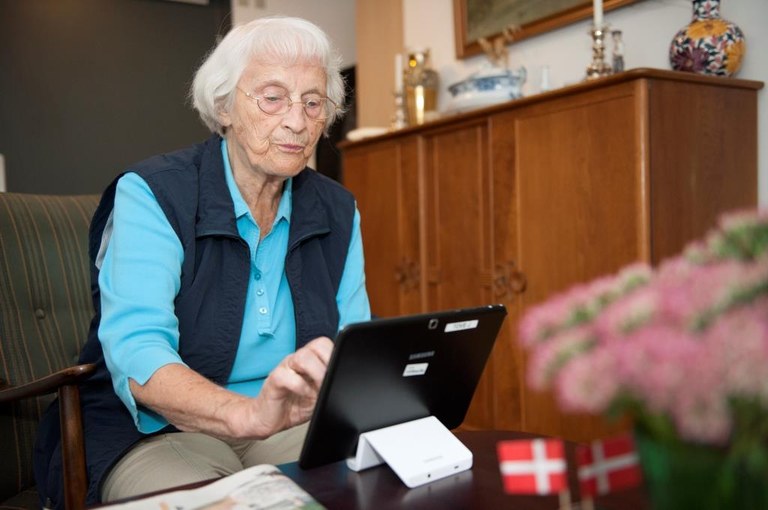 "You just stroke your finger here, and you get a meal planner, activities and news. There is quite a lot of useful stuff here if you can figure out how to use it. It is nice to be able to keep track of developments, and you do when you get into this," she says.
Residents and their relatives can also use a large digital information board which hangs in the administrative unit near the nursing home entrance. It shows who is working and what activities are going on. It also gives Jette Hejlskov a useful visual overview over the more than 40 employees and students and the many tasks they are busy solving for the residents.



More time with residents
Many employees in the public health sector feel they spend too much time on patient journals and other documentation. It ties them to a computer away from their core job of spending time with the people they are caring for. This is also the case at the Solbjerg nursing home, but Jette Hejlskov reckons the answer is digitalisation. 
"We spend a lot of time on the computer to keep the residents' journals up to date. We would much rather spend that time together with them, and this is where digitalisation can help a lot. Our new system allows us to access journals via a tablet, while we are still together with the residents," she says.
So far there are limits to that functionality, however. Staff still need to move to an office with a computer in order to write in the residents journals, but this is going to change. Jette Hejlskov believes there will be no offices at all in the nursing home in ten years time
"In ten years from now we won't be spending time in front of the computer, and the offices will be closed because we can write the journals on the tablets while spending time with the residents and their families. It is also an advantage that each resident knows what we are writing about them in the journal."
Easy to use
Many of her colleagues are not experienced IT users, and some of them were not sure whether they would be able to use the new system. But that was all laid to rest and very quickly replaced by excitement, explains Jette Hejlskov.
"It has been important that the system should not be difficult to learn, since many of the staff are not part of the IT generation. The system is very intuitive and even the most sceptical of our staff have loved it from day one."
Neither has there been any concern among employees or union representatives over the fact that the system allows staff to follow what others are doing in detail. The system has a built-in log which shows when and for how long an individual employee has been in a certain place. But no staff have expressed concern that they were being observed, and when the union representative got a demonstration the reaction was that this should be introduced everywhere, says Jette Hejlskov.
More warm hands
She is convinced that the digitalisation will result in much improved welfare – both at the Solbjerg nursing home and in the public sector in general. 
"Digitalisation is here to stay, and we have only seen the start of it. This is really a way of freeing up warm hands which can provide even better care," she says.