Social entrepreneurship and social innovation could help develop the Nordic welfare models, says Norway's Minister of Labour and Social Inclusion Anniken Hauglie. These are issues she would like to promote when Norway takes on the presidency of the Nordic Council of Ministers in 2017.
"Authorities do not always reach the people they want to reach. The public sector has a responsibility when it comes to helping people, but it is a good thing to have social entrepreneurs as a supplement," the Minister of Labour and Social Inclusion, Anniken Hauglie, told the Nordic Labour Journal during a recent Nordic conference in Malmø on social entrepreneurship and social innovation.
"I will make sure we focus on entrepreneurship within the labour and social sectors during our 2017 presidency, and the Nordic Council of Ministers will initiate work to examine the possibilities for developing Nordic cooperation on social issues," the minister underlined.
The backdrop for the conference was the report 'Social entrepreneurship and social innovation', which maps Nordic measures. It was produced by a Nordic committee appointed by the Nordic Council of Ministers in 2013. The conference saw social entrepreneurs, researchers, authorities and representatives from the voluntary sector come together to discuss the results and to find a way forward.  
The future of the Nordic welfare state is hotly debated these days, not least because of the high number of refugees and immigrants seeking asylum in Nordic countries during the autumn of 2015. Meanwhile many young people are not in work or education, and others are struggling to enter the labour market. Nordic countries share challenges which could benefit from a debate on a Nordic level.
"This is about developing the Nordic welfare societies and the Nordic welfare solutions. This is a core task for Nordic cooperation," says Dagfinn Høybråten, the Secretary General of the Nordic Council of Ministers.
Nordic traditions
He thinks the report on social entrepreneurship and social innovation points to exciting opportunities which are in line with Nordic traditions.
"The welfare society rests on the citizens' broad social involvement, and to organise this we have partly chosen cooperative solutions, partly commercial solutions and partly non-profit solutions. What we are seeing now is that these solutions are taking on new shapes. That is why it is interesting to analyse this complex picture both to get an overview and to discuss what constitutes good policies, in order to promote solutions to social issues where different actors cooperate."  
Is there a risk that authorities shift the responsibility to private actors and others operating in these waters? 
"It is obviously an important debate to be had looking at how the public sector maintains its control, creating the frameworks, and there will be different answers to this. What is important is to highlight the issues so that we get an idea of the potentials. Then the countries' elected officials must make the political decisions."
Dagfinn Høybråten uses words like 'exciting opportunities' and 'exciting perspectives'. The question is what this means in practice.
"I believe we need different tools in order to develop a society which provides opportunities for all, based on a common platform. Right now we cannot afford to not investigate and look into other ways of solving these broad social undertakings."
Many possibilities
How can social innovation and social entrepreneurship promote inclusion in working life for people who are on the margins or completely outside of society?
Yalla Trappan was one of the examples presented at the Malmø conference. They are a female collective for those who find themselves far removed from the labour market, explained Christina Merker-Siesjö, one of Yalla Trappan's founders. 
Yalla Trappan began as a labour market project in the Rosengård neighbourhood in Malmø in 2009, and has developed into an independent work integration social female cooperative comprising a cafe, a catering business, cleaning services, a sewing room and workplace language training. They started out with eight employees, and have grown to employ 30 people – nearly all working full time, says Christina Merker-Siesjö.
"Many who come to Sweden are short of 'luggage'. One method which works is therefore to build on the skills each woman already has," she says. 
"Not everyone can become Zlatan or get the Nobel Price like Nelly Sachs (a Jewish author who fled Hitler's Germany in 1940 with the help of Selma Lagerlöf and who won the Nobel Prize for Literature in 1966). But you shouldn't stop singing because you are not going to be a soloist or a global star," writes author Susanna Alakoski in her prologue to the book about Yalla Trappan.
A sewing room at IKEA
On the same day as the conference on social entrepreneurship was held in Malmø, Yalla Trappan opened their own sewing room at IKEA in Malmø. Hanna Köhl, the IKEA warehouse manager, is excited about the cooperation, where IKEA provides the venue and materials while Yalla Trappan workers take orders and sew curtains and table cloths out of IKEA materials, or whatever the customers might want. 
"We have saved society 80 million Swedish kronor (€8.7m) over six years while giving happiness and health to individuals," says Christina Merker-Siesjö, who hopes the book about Yalla Trappan can help inspire others to start something new.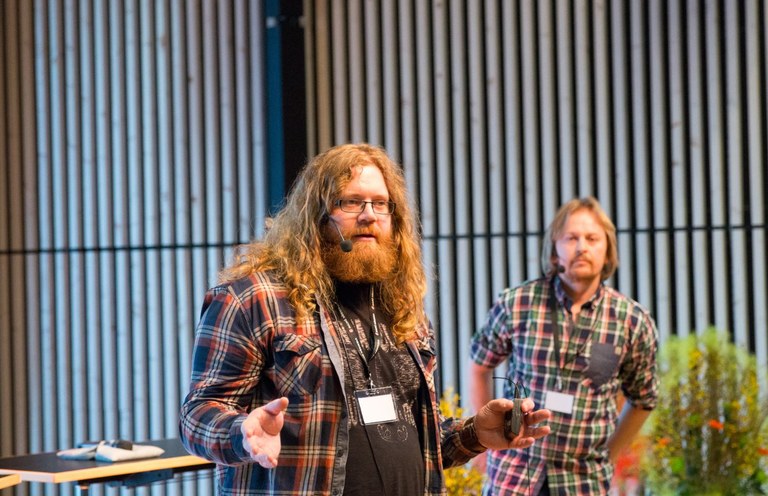 Employees from prisons
Monsterbedriften AS (the Monster Company) was another example highlighted during the conference on social entrepreneurship. Monsterbedriften AS won the social entrepreneur award of the year in Norway in 2014. Monsterbedriften employs more than 40 people and carries out building and demolition jobs like bathroom demolition, asbestos removal, core drilling, concrete sawing and other tough physical work 
"This is extremely tough work," says spokesperson Håvard Martinsen (above right), who says they hire former prison inmates and others who face serious problems entering the labour market, and who like to use their physical strength.
He and partner entrepreneur and managing director Thomas Doull presented the company which is now part of Ferd social entrepreneurs.
All Ears Telemarking is a Danish company selling telemarketing services and building workplaces for blind or partially sighted people. Through All Ears Academy, the company runs competency mapping and training in sales and customer service. 
"Blind and partially sighted people represent the one group with he highest level of unemployment. After spending time with us, six in eight people go straight into jobs," says Connie Hasemann. She is the founder and CEO at All Ears, and has made the double bottom line her life mission: She wants to make a difference and create value.
Thea Emilie Dalen Dille is 23. She wanted to create a job for herself, and now she wants to help more young people find work. Thea Emilie Dalen Dille is the managing director for MERK Norge AS, a company employing four people who work with signage and decor. 
Money to be saved
"The future worth of getting a young person into work or education until they are 35 years old is 11.6 million kroner (€1.25m) in today's money. You can afford to use a lot of money if you stand a great chance of making a change. Today a lot of money is being spent not to make this transition," says Johan H. Andresen, owner of Ferd, Norge, a family-owned Norwegian investment company which in addition to its commercial operations focuses a lot on social entrepreneurship.  
"Our vision makes it possible to create value in other areas than the purely commercial ones," says Andresen.
His main message is that if you want to develop a business, social entrepreneurs must be judged in the same way as other companies. 
"I feel that we can make a real difference, because these companies are a lot like other companies. We look for the scope for innovation – someone who brings new solutions to an existing problem, based on sustainable development."
Ferd's role is to contribute with business related methods. 
"When there is not a lot of money it is necessary, anything else would be irresponsible. Values must be measured and solutions must be measured," is his message. 
Norway needs a cookbook, he says, for how municipalities and the public sector should approach social entrepreneurs.
"It must not only contain ingredients, but also courses which we know taste good and which people are willing to pay for. This will be social entrepreneurs which will be worthy of investments even for a broader group of investors than what we have seen so far," he argues. 
A cookbook it is
"The government is doing quite a lot," says the Minister of Labour and Social Inclusion Anniken Hauglie 
"In Norway this is an area which several government departments are responsible for. The Ministry of Labour and Social Inclusion has its own budget for these things. There is also a separate cross-departmental working group. Social entrepreneurship is part of the government's entrepreneur strategy, and the Minister of Local Government is now working on a cookbook which will be a guide for the public sector for how to use social entrepreneurship as part of their service provisions. I am also open for doing more going forward. We will use our 2017 presidency of the Nordic Council of Ministers to promote social entrepreneurship.
"Network cooperation and conferences like this one are important. We need to create contacts between actors and countries as well as between private and public sectors. We will then see how to develop this further, but I think this is in our interest across the Nordic region. If we want to keep the Nordic model, we need to solve the challenges in a new and better way.
"Social entrepreneurship is a new way of doing things. We still haven't quite figured out how to place it and how to finance it. It is, after all, important to be able to demonstrate good results."
What are the perspectives?
"The perspectives going forward is that we can make more use of social entrepreneurs. It will be important to find social entrepreneurs who manage to solve the tasks at hand, because it is a big responsibility for those who are now going out to try to help people. That they can be used more in state service provision and to develop services and challenge us in how to solve tasks, how we can think differently, how to make systems more flexible and how to think more across sectors. I believe we need to break down some of the borders between sectors in order to increase state service provision," the Minister of Labour and Social Inclusion Anniken Hauglie tells the Nordic Labour Journal.