A high employment rate for women is crucial to the future of the Nordic model. This was the main message from the OECD's Mark Pearson as the report 'The Nordic Model – challenged but capable of reform', was being discussed at the meeting of Nordic labour ministers.
The research report was launched in Iceland in May to coincide with the 60 year anniversary of a common Nordic Labour market, and has been debated in various fora over the past six months. It also received a lot of attention during the meeting of the Council of Ministers for Labour in Copenhagen on 20 November.
"Let's be clear. The analyses show that the Nordic model has managed to face the challenges in the wake of the economic crisis better than any other model," said Mark Pearson.
The OECD's Deputy-Director for Employment, Labour and Social Affairs was among the many guests who contributed to the debate on the future of the Nordic model at the Council of Ministers. The social partners were also present, represented by Chief Economist Helle Stensbak from The Norwegian Confederation of Vocational Unions (YS) and Deputy Director Erik Simonsen from The Confederation of Danish Employers (DA).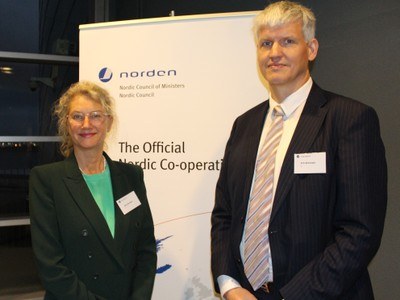 The ministers heard three speeches with three different angles. Mark Pearson said women were the most important reason for why the Nordic model is doing as well as it is.
"I believe the most important element for preserving a dynamic economy is to maintain a high female labour force participation rate. If you loose out here I cannot see how the Nordic model can survive," he said.
Helle Stensbak said wage formation plays a key role in the Nordic model, where cooperation between strong social partners has led to an equitable salary system.
"It has given us small wage differences, and that is a feat. Not many countries have managed that," said Helle Stensbak.
Erik Simonsen highlighted the need for reforms, and also questioned whether it was right to talk about the Nordic model.
"We tend to talk about the Nordic model as if it was one single entity. There are many similarities but also many differences between the Nordic countries. This is seen as positive, and means we have a great potential for learning," said Erik Simonsen from DA, who felt the differences had increased over the past decade.
"This is evident when you look at the different welfare systems," he pointed out, referring to the ETLA report 'The Nordic Model – challenged but capable of reform', which also questions whether the Nordic Model is in fact a model.
The report, which is financed by the Nordic Council of Ministers on commission from Nordic employer organisations, has been written by a group of Nordic economists under the leadership of the Research Institute of the Finnish Economy, ETLA.
A need for reforms
The economic crisis has also had a different impact on different Nordic countries, said Erik Simonsen.
"Sweden and Norway have been less affected than Iceland, Finland and Denmark, so the challenges vary a lot. I believe this will remain the case in the time to come. Norway is a special case, so Danish employers are most interested in looking to Sweden and what they have achieved there," he said, and argued there was a need for reforms.
"The ETLA report demonstrates that the Nordic economies are under more pressure than many other developed economies, partly because of a large public sector. In Denmark, for instance, public finances will be facing a considerable deficit in ten years time. In 20 years time the deficit will represent 2.5 percent of GDP, which is far beyond limits stipulated by Denmark as well as the EU. So these are big challenges for a country like Denmark. I think this applies to the other Nordic countries," Erik Simonsen said, adding that the reforms should be introduced immediately.
"The ETLA report underlines the need for reforms to make the Nordic welfare models more economically sustainable for the future. I believe this to be a very important conclusion, underpinned by the example of Denmark's public finances. The report also points out that the Nordic countries have managed to carry out necessary reforms in the past. This will hopefully also be the case in the future, said Erik Simonsen from The Confederation of Danish Employers.
A key role for wage formation
"Even though there are some differences between the Nordic models, we have managed to establish small salary differences, high welfare levels and high productivity. These three economic markers represent the core of the Nordic model," said workers' representative Helle Stensbak, and argued for this: 
"The fact that these three are all present is not a coincident. One of these markers, small differences in income, support the other two, high welfare and high productivity.
"Small differences in income means the productivity gain is shared more evenly among the population, and this increases the overall economic welfare level. Small differences in income also means those on the lowest pay still enjoy relatively high wages. This attracts investment and increases productivity, and high productivity promotes high welfare, as long as we keep employment rates up.
In this setting wage formation plays a key role.
"In the Nordic region important parts of the wage formation has been taking place on a nationally coordinated level with strong social partners. It is necessary to have strong parties representing both employees and employers to achieve a nationally coordinated wage formation, because this allows you to take into account both real wage growth and employment levels.
"The ETLA a report expresses concerns that high wage levels can have a negative impact on employment levels, but in the Nordic region we have managed to achieve high employment and a compact wage structure, and we have managed to do this better than most of the countries we can compare ourselves to."
This is why it is also important to include immigrants into the organised labour market, in 'the legal, white market'.
"The increase in access to labour which follows immigration must not reduce local wage levels to the extent that we see a new class of poor workers. That's exactly what we managed to avoid with the Nordic model," said Helle Stensbak, and called for the effective implementation and follow-up of measures aimed at fighting social dumping.
Female employment crucial
The report takes female employment for granted, yet this is an element which is essential for why the Nordic model has been so successful, argued the OECD's Mark Pearson, who called the ETLA report "wonderful".
"The fact that it even exists is very unusual. This would not have happened in many other countries. After the crisis most countries have not been willing to look at the challenges they are facing, and tend to be more concerned with PR.
"You also have some wonderful economists who talk about political issues based on real life experiences, which I'm afraid is not very common either in other countries.
"What really has surprised us at the OECD is how little focus there is on gender in this report, especially female employment levels. Looking at the Nordic model from the outside, trying to identify something which could explain why you have a dynamic economy and a high degree of equality, we feel female employment is at the very core of this. That's why we are surprised that there is not more of a debate around this issue in the report.
"Another pressing question going forward will be how to maintain a high level of employment among women and increase the pensionable age while you also need to relate to the fact that many will want to look after their elderly relatives."
Mads Pearson believes it is necessary to maintain continuous focus on this issue in order to secure political support for female employment.
"Only in the Nordic region do you see such a high employment rate among women. This is not a God-given fact."
He also feels that high levels of female employment could hide the fact that Nordic countries are actually not doing equally well in other areas.
"The employment rate is not extraordinary when it comes to men, or for people over 65, with Iceland being the exception. The same goes for employment rates among immigrants. Yet the weakest link is the rate at which people with physical handicaps are included in working life," said the OECD's Mark Pearson, whose conclusion was that in order to maintain a dynamic economy you need a high level of female participation in the labour market.
"If you loose out here I cannot see how the Nordic model can survive.
He also subscribed to Helle Stenbek's view on the importance of equal wage distribution in society and added:
"Centralised wage formation means you are better prepared to deal with shocks. The model is doing better than others because of high levels of employment and a high level of women in work."
Nordic countries are adapting
"The fact that so many women are participating in the labour market is an important part of the Nordic welfare model," said the Danish Minister for Labour Henrik Dam Kristensen.
"This has been an important aim for us, so we have made sure we build enough nurseries and provide sufficient childcare.
"Our great challenge right now is the number of immigrants and refugees coming to Denmark. So we have initiated reforms in order to better include immigrants into working life," he commented, and pointed to the irony that the Nordic model is predicted to die a certain death every time the region faces a crisis.
"The truth is that every time we have faced that crisis the Nordic welfare model emerges even stronger. I don't think any of the countries that we can compare ourselves to have emerged from an economic crisis which has been unlike anything we've seen for 30 years with unemployment figures as low as the ones we have the Nordic countries. And there aren't many countries either which have emerged from this crisis with their welfare society pretty much intact."
Henrik Dam Kristensen therefore concluded that the Nordic welfare model in practice has proven to be strong and sustainable.
Iceland's Minister Eyglo Hardardòttir has headed the Presidency of the Nordic cooperation in 2014. She said that even though Iceland's economy still did not have a very high rating, there had been broad agreement throughout the crisis to protect the welfare society and the Nordic model.
One of Finland's challenges is a far too low employment rate.
"Although there are many unemployed and many jobs, businesses aren't able to find the skilled workers they need. The youth guarantee is also an education guarantee, but not enough people know about it and it is necessary to do more to educate people from all age groups. The ETLA report does not highlight this well enough," said Finland's representative, State Secretary Tuire Santamäki-Vuori.
Norway's Minister of Labour Robert Ericsson said Norway faces a major challenge including immigrants into working life. He also said that more women who work part time involuntarily in many female-dominated workplaces should be offered full time employment.
Sweden's minister Ylva Johansson picked up the lead from the OECD and said that care for the elderly is the great challenge going forward, and she underlined the need for more people.
"One reason we have such a high employment rate amongst women is the expansion of childcare in the 1970s.
"The challenge now is care for the elderly. Some 100,000 women have cut their working hours because they say they need to look after older relatives. This is a challenge we need to face in order to keep women working.
"We need skills and people, and we need to invest right now. The challenge is to figure out how The Nordic region can continue being in the lead while dealing with new challenges."
She felt that in Sweden there had been no downward trend when it came to wages, but working conditions had been deteriorating.
"There is less job security now," said Ylva Johansson and warned against the kind of precariat which is emerging in the European labour market.