What will the Faroese live off when there is no more fish? Is the answer oil or tourism? The important thing is to create jobs for women in the archipelago which is more patriarchal than other parts of the Nordic region.
Questioning the future of fish is like swearing in the Tórshavn Cathedral. The EU has just lifted its sanctions against the archipelago after a long-running dispute over mackerel. Salmon farmers are benefiting from the fact that their toughest competitor, Norway, is facing a boycott both from China and Russia. 
The Faroe Islands are part of Denmark, but has autonomy in most areas except foreign and defence policies. Like Greenland, the archipelago is not a member of the EU. With 49,000 citizens, only Åland is smaller within the Nordic region. 
The Faroe Islands are part of the Nordic Atlantic Cooperation Nora, together with western Norway, Iceland and Greenland. Out of all the members, the fishing industry employs a far larger percentage of the Faroe Islands' labour force:
| Region | Percentage fisheries |
| --- | --- |
|  Norway (coast) | 2.0%  |
| Iceland | 4.1% |
| Greenland | 13.8% |
|  Faroe Islands | 15.4% |
Figures from the OECD: Nora Region, 2008. Greenland from Statistics Greenland 2012, the figure also includes agriculture.
An annual catch of 600,000 tonnes and salmon farms producing 60,000 tonnes a year shows there is no danger of the fish disappearing anytime soon. But employment within the sector is falling along with an increase in vessel size and improvements in processing efficiency. In the year 2000, 23.4 percent of the Faroe Islands' total labour force was employed within fisheries and the processing of catches.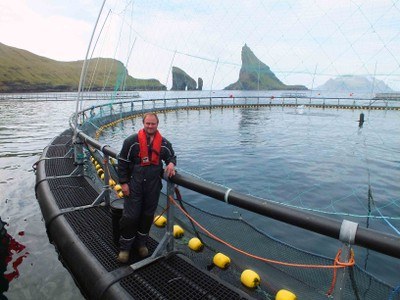 Helgi Leonson on one of the many ponds at the Hiddenfjord salmon farm
Tourism important — oil is coming?
Iceland's tourism industry recently outgrew fishing as the country's biggest sector, while Greenland is focusing on the mining industry.
There has been drilling for oil in the economic zones of both Greenland and the Faroe Islands. So far nothing has been found, but the number of wells is still small. In the Greenlandic sector 11 wells have been drilled and off the Faroe Islands the ninth hole is being drilled by Statoil. Iceland has granted three licenses, but no drilling will take place there until 2017.
Oil companies began drilling for oil in the Norwegian parts of the Barents Sea as early as 1980, but did not see any major finds until they had drilled over 90 wells. Comparing the four areas also serves as a reminder of the distances involved. Several thousands of kilometres separate the wells west of Greenland from the Barents Sea. Oil companies do move rigs from one sector to the other, however, so countries and regions compete with each other and make up a joint labour market offshore.
"1,800 Faroese already work in the oil sector, and only some of them are employed because of drilling in the Faroese sector," points out Runi M Hansen, head of Statoil's Arctic drilling unit, himself a Faroese.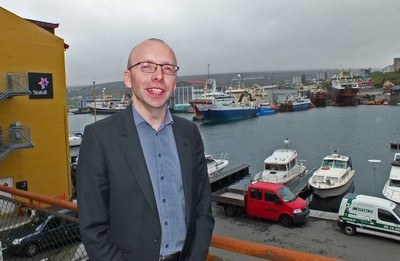 We meet him in a yellow warehouse in the harbour where Statoil has set up base. 
"All drilling activity must go via Faroese harbours and airports. Drilling for oil is a major operation that employs hundreds of people on drilling rigs, supply and standby vessels, in equipment manufacturing, helicopter transport and so on," says Runi M Hansen.
Many wells before finding oil
Earlier this summer well number eight was drilled, and it was dry. Right now Statoil are drilling well number nine, close to the British sector, not far from where a find has been made. 
Runi M Hansen says the Faroe Islands have prepared well for a potential find.
"All legislation is in place and we are also happy with the amount of skilled labour we have. Attitudes to the oil industry are positive, also within the fisheries sector," he says. 
If a major find actually happens, much will change in the Faroe Islands. 
"If we find oil it will become easier to stand on our own feet. I believe a lot will happen politically in that case. There is a certain unease when it comes to the issue of independence. Personally I hope we would get full independence from Denmark," says Annika Olsen, the Deputy Prime Minister and Minister of Social Affairs in the Faroese government.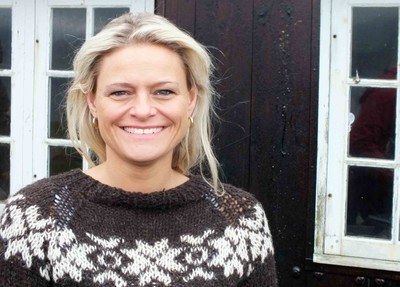 She is part of the Faroese People's Party Fólkaflokkurin, while Prime Minister Kaj Leo Johannesen is from the Faroese Unionist Party, who wants to maintain the current relationship with Denmark. On the left of Faroese politics there is a similar situation; one party supporting independence and one opposing it.
Bigger airport gave more tourists
In order to maintain the Faroese population level it is important to have good jobs for women too, however. It is mainly young women who remain in Denmark when they finish their studies there. 
Like Iceland, the Faroe Islands are putting their trust in tourism. The airport used to be a bottleneck since it could only receive smaller aircraft with no more than 92 passengers. This summer the runway has been expanded and a new terminal has been built, allowing aircraft with up to 144 passengers to land. 
"Even more importantly we have been able to improve the frequency of flights. More aircraft can land now during the month of July, when we have a lot of fog," says the airport CEO Jákup Sverri Kass. 
We visit the Faroe Islands as work to expand the airport is at its most hectic. You notice a major difference from the rest of the Nordic countries right away: there is not a single Polish construction worker. Current rules only allow for the import of labour from outside of the Nordic region if unemployment falls below 3.5 percent. Icelanders and Greenlanders have boosted local labour instead, since many Faroese work abroad — mainly in Norway because of high salaries there. 
"No Disneyland"
The tourism industry employs some 400-500 people. The short season is a real challenge. In the high season hotel rooms are 70 percent full, but this falls to 10 to 20 percent in the low season. The airport expansion is crucial for the tourism industry, which has an annual turnover of 400 million Danish kroner (€53.7m)
"We have 100,000 visitors every year, and 65,000 of them arrive on cruise ships. Last year we had 50 vessels. We aim to double the turnover by 2020 to one billion Danish kroner (€134.3m)," says Gudrid Højgaard, Director of Visit Faroe Islands.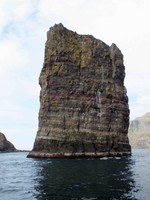 The archipelago is being marketed as something special and different. 
"We are the opposite of Disneyland. Nothing is fake, there are no fences. Nobody tells you how to experience our nature, there aren't any no-go signs. People are tired of Iceland," she claims. 
She admits that the Faroe Islands have one problem — the annual slaughter of pilot whales who are hunted towards the coast. There have been various attempts at informing the world about the ancient tradition, and recently 100 journalists were invited in an attempt at spreading some counter information. The whale hunt used to be an important protein source.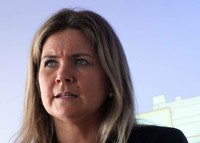 "The meat is shared in an incredibly democratic fashion. Widows and orphans are first in the queue. I don't know how many tourists who choose not to come because of the whale hunt. But it is a sensitive issue. The world has become alienated," she says. 
During our visit we see several times how the closeness to food production, meat and fisheries is still a major factor. 
"There are limits for what you can communicate — we get emails which are nothing but hate - hate - hate. 
"Social media and media geeks make it worse. But we are getting some positive emails too. Yet we're a small destination. When Norway was in the spotlight because of whaling, we got 400,000 postcards in one year," says Gudrid Højgaard.
Patriarchal society
Others, like Deputy Prime Minister Annika Olsen, are worried the Faroe Islands are too dependent on hunting and fisheries. 
"The big question is why do women not thrive?"
"We are a patriarchal society There aren't enough jobs for women. The big infrastructure projects linked to the construction of two subsea tunnels worth two billion Danish kroner will not result in many jobs for women. But they do mean the two largest islands will get stronger links. Travel times between Tórshavn and the second biggest town, Klaksvik, will be halved when the two tunnels are ready in 2019 and 2021." 
They will make things easier for those who want to shop or experience culture too. And that includes the young women who often end up staying in Denmark after graduating. Copenhagen is often called the city with the most Faroese — 20,000 compared to Tórshavn's 17,000.
Annika Olsen is therefore proud to show us the shop Guðrun & Guðrun which sells knitted jumpers and other clothing. It is run by Guðrun Ludvig and Guðrun Rógvadóttir, who have 30 women who knit for them. Their major breakthrough came via the Danish TV series "The Killing" where Sofie Gråbøl wore a jumper designed by Guðrun Ludvig.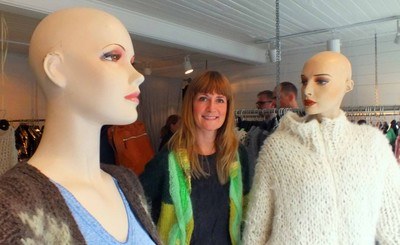 Guðrun Ludvig is the designer at Guðrun & Guðrun
The university is important
The University of the Faroe Islands also helps young people stay put by offering more degrees.
"But the university does not have a shared campus; it is spread over five different sites. Those who study in Denmark get a 5,000 kroner grant. Here they only get 3,700. And it is more expensive to live here," says Headmaster Sigurð í Jákupsstovu.
When the OECD was commissioned to study the Nora region, one of its main recommendations was increased cooperation between the universities and colleges in the region. But everything does, of course, come down to the availability of jobs also for those with a university degree. 
"There are no quick fixes. The Faroese government recently presented 37 different initiatives to attract newly educated women," says Johan Dahl, the Minister of Industry and Equality.
One initiative was to extend parental leave by four weeks. Compared to the rest of the Nordic region the Faroe Islands have a considerably higher number of women working part-time. The Nordic average is 35 percent, in Finland only 19 percent of women work part-time yet in the Faroe Islands the number is 64 percent.