A new centre-right government started governing in Finland on 20 June after winning April's elections, and there is now talk of an historic paradigm change. Petteri Orpo's four party coalition wants to make major changes in the labour market.
Trade unions warn against lasting damage both to many Finns' economy and to the organised labour negotiation system.
The Nordic model is being talked about more and more often by Finnish politicians. The new government's programme mentions Nordic models and customs several times, especially in relation to the labour market, social politics, economy, defence and immigration politics.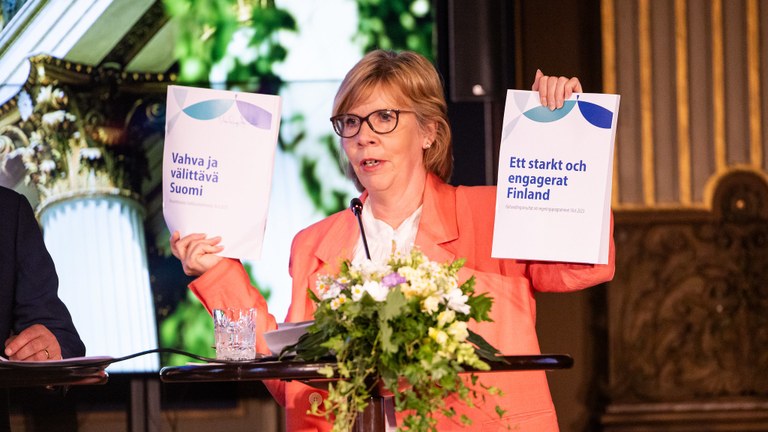 Anna-Maja Henriksson, Minister of Education and leader of the Swedish People's Party of Finland, presenting the new government's programme.
Many critics
The opposition has protested against continued high borrowing, numerous economic austerity measures and a lack of interest in climate issues.
Trade unions have criticised the government's programme for being imbalanced. While it will become easier to sack workers, the government wants to cut unemployment benefits.   
Antti Palola, head of the Finnish Confederation of Professionals (STTK), wonders whether the tripartite dialogue is nothing but a charade. Normally, the government programme only outlines the goals, and then the parties negotiate how to reach them. But this government's programme already details which measures and end results it wants to see.  
Motivating people to work in a safe welfare society
The Finnish government's starting point is to protect the welfare society, but it argues that future generations should not be burdened with Finland's debt. It wants to turn the debt situation around in a way that is fair to all generations. The government believes it will take several parliamentary terms to achieve this.
It aims to use different structural measures to increase employment numbers by 100,000. This should result in more than two billion euro extra in the state coffers.  
The government says there are different ways of eliminating what in Finland is known as "incentive traps" –  where it no longer makes financial sense to accept employment because the social safety net provides a sufficiently good income. That is why it wants to lower certain taxes and phase out various benefits. 
The aim is to halve the number of people who are dependent on basic income support (seven per cent of the population). By doing this, the government says it can save 100 billion euro. This money can be used to improve conditions for families with children and students.
Looking at i

ndustrial peace 

The government wants to steer the labour market in a more flexible direction. It wants to support employment levels, economic growth, competitiveness and productivity.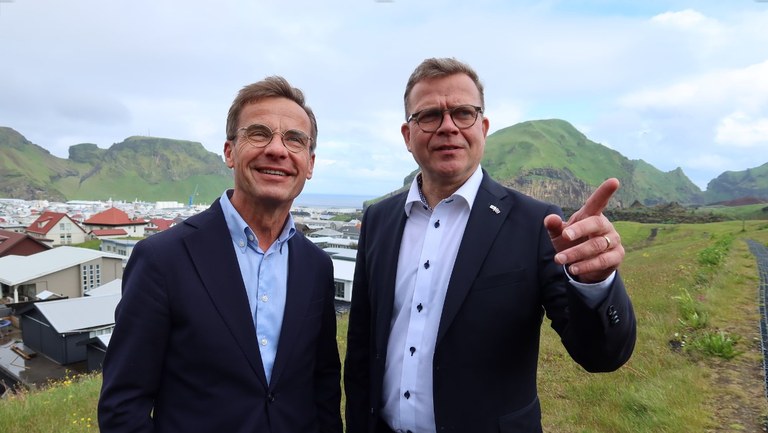 Prime Minister Petteri Orpo has found inspiration in Sweden for several of the reforms he wants to introduce to the labour market. Here he greets his Swedish counterpart Ulf Kristersson in Iceland in June this year. Photo: Anna Sjöholm.
The reforms are being prepared through tripartite cooperation with input from the business sector and trade unions. Two working groups at the Ministry of Employment are already looking at issues concerning industrial peace and local agreements. 
Limiting sympathy action
The government aims to amend legislation so that sympathetic actions during labour disputes are subject to a proportionality assessment and must be reported. The government program restricts "legal sympathetic actions" to those considered reasonable in light of their objectives and whose effects only affect the disputing parties.
In relation to this, the government program refers to Nordic legislation and precedence. This has been met with criticism. Professor Niklas Bruun has told the Helsingin Sanomat newspaper that Nordic precedence is not as straightforward as the government claims. It is the courts that have established precedent in the Nordic countries, not the legislation, he points out.
In Norway, strike action lasting a few days is considered acceptable, but two weeks is seen as too long. A week-long harbour blockade in Sweden was seen as legal political industrial action, while another strike lasting a full month was considered to be beyond acceptable political industrial action. Trade unions have also taken this into account. 
200 euro in strike fines
From now on, both workers and their trade unions can be forced to pay fines for launching illegal industrial action. It has been pointed out that 200 euro is a significant fine for a lone provider in a low-paid job who wants to defend their rights.
The trade unions would have to pay considerably more for strike actions that are deemed to be illegal.
The reform has been criticised as an attack on the right to industrial action, the negotiation systems and the entire trade union movement.  
The government sees local agreements as an important tool to develop companies and improve their competitiveness. Trade unions believe there is a risk that employers will dictate conditions which will lead to an erosion of rights and wages. 
Trade unions accept local agreements through collective agreements. The parties in the workplace must be in an equal bargaining position where negotiations are genuine. 
"Un-Nordic"
The President of the Central Organisation of Finnish Trade Unions, Jarkko Eloranta, believes the government's definitions are wrong.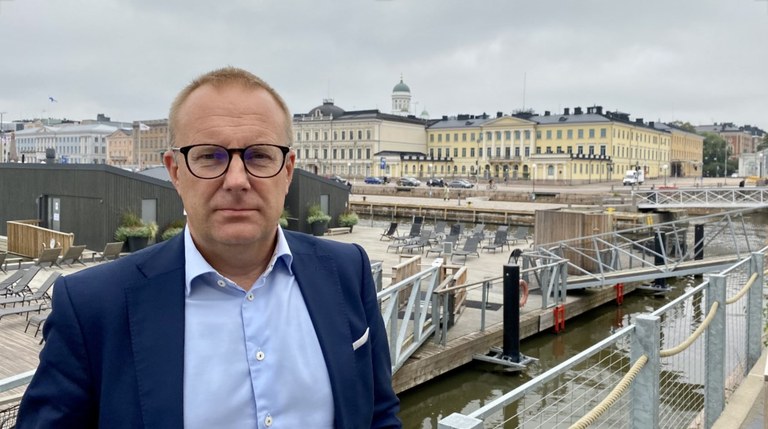 Jarkko Eloranta, photo: Bengt Östling
"In the Nordic model, the social partners negotiate – in good spirit – and there is a high union membership level. You have codetermination and governments stay out of labour market negotiations." 
But this government does the exact opposite, argues Jarkko Eloranta. It prioritises employers' aims and ideas. The political right sees a momentum for major changes that are irreversible.  
Swedish example
The Minister of Employment Arto Satonen from the National Coalition Party has several times rejected critics who say these are major changes. He calls them small adjustments to labour market policies. And most of the reforms are already on the books in Sweden, he says.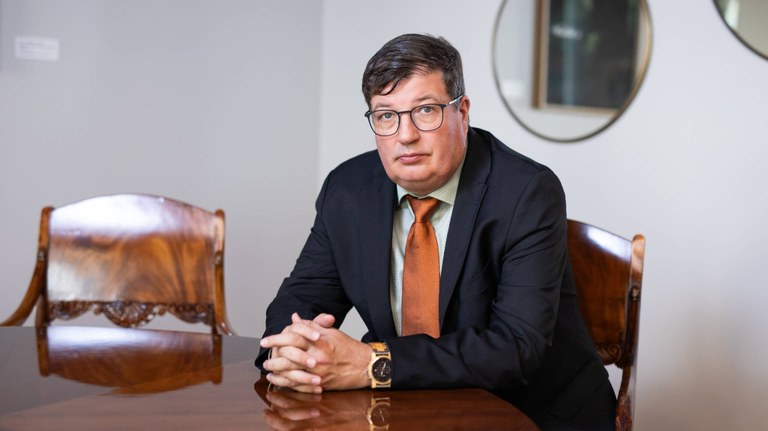 Arto Satonen, Finland's new Minister of Employment, has invited the social partners to discuss the Finnish model .Photo: Laura Heikkinen
Arto Satonen's first foreign trip as Minister of Employment took him to Sweden to see his counterpart, Johan Pehrson. The ministers were said to have discussed labour market reforms and ways of attracting international experts.  
During his visit, Satonen also met Irene Wennemo, Director General of the Swedish National Mediation Office.
Export-driven model
One of the key points in the Finnish government's programme is to use an export-driven labour market model to increase competitiveness.
The government also plans to change the law covering mediation in labour disputes. The National Conciliator Office or a conciliation board should not be able to issue a mediation proposal that exceeds the general guideline for wage adjustments. So the Swedish example of using export sector wages as the basis for wage agreements will be adopted instead.
A concerned Nordic region
Jarkko Eloranta says other countries have expressed concern over what is happening in Finland. 
"Finland has been seen as a country with a strong labour market and good relations between employers and employees. Now, things are looking very different. This is also somewhat surprising for the Nordic region and other European countries and trade unions," says Jarkko Eloranta. 
Both from a Nordic and European perspective there are concerns over attempts to limit the right to industrial action and to restrict the influence of trade unions. There is a sense that the Nordic model might not be facing threats from the EU, but from the inside.
Trade union movement wakes up
Trade unions mobilised and strengthened their organisation at the start of September. They are already prepared for activities that may involve strikes, even a general strike. 
The Service Union United PAM, the Finnish Transport Workers' Union AKT, the Trade Union for the Public and Welfare Sectors JHL, the Industrial Union and the Central Organisation of Finnish Trade Unions SAK have decided to take joint action.
It will start on Tuesday 26 September and last for three weeks initially. This could involve marches and demonstrations.
The tone has hardened. Eloranta refers to the new Finnish government as a "reverse Robin Hood government," which takes from the poor and gives to the rich.