Just a lovers' spat. A common explanation in Latvia for domestic violence, although legislation has been considerably tightened in recent years. The country's Marta Centre, with support from Norway, is working to reduce stereotypical perceptions among Latvian government officials.
The Istanbul Convention. That is the name of the European Council's convention on preventing and combating violence against women and domestic violence.
Signed but not ratified
In a press release from 10 May this year, the European Parliament urges the six countries that so far have not ratified the Istanbul Convention to do so "without delay, so that it can protect women to the full extent of the Convention's intended scope". 
Latvia signed the convention when it was published in 2011, but is one of the six countries that still have not ratified it.
A few weeks before the emphatic press release, Iluta Lace was on her way to the Latvia's Radio building in Riga for an interview about yet another woman who had been killed by her ex-partner. Lace is the founder and leader of the Latvian women's support organisation and resource network Centrs Marta.
"Poor, poor man who was forced to kill his awful wife. I feel so sorry for him," says the male taxi driver.
The murder happened in Jēkabpils, a city some 140 kilometres east of Riga. The man had earlier been married to the woman and killed her in front of their child – a very young child. He had physically and mentally abused her many times. She was hounded and threatened. He had told her he would kill her. He also threatened people who supported her, Iluta Lace tells the Nordic Labour Journal when we meet her at the Marta Centre office in central Riga.
"He had been reported to the police several times and the woman had also written to a prosecutor and to the Latvian Ombudsman to tell them what was going on. Still, he was not in prison."
What were the prosecutor and judge doing? wonders Iluta Lace. 
Temporary protection against violence
It is a relevant question, as this tragic event took place despite the fact that Latvia has had "temporary protection against violence" legislation since 2014. The murdered woman had sought help through this legislation.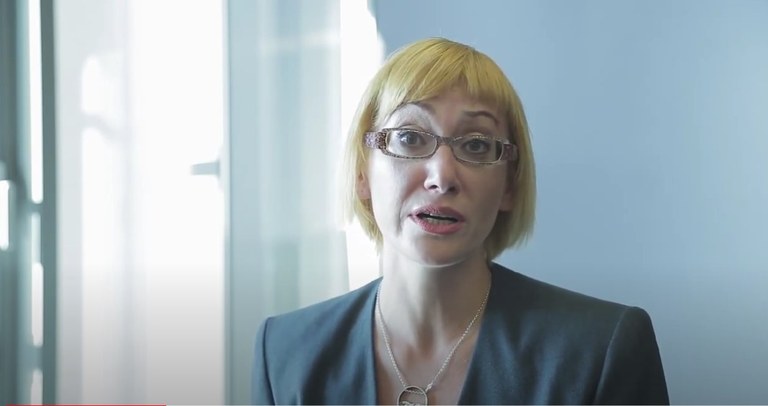 Iluta Lace heads the Latvian organisation Centrs Marta. Photo: Screenshot Frontline Women's Fund/YouTube.
"It means that a woman who is the victim of violence can report this to a judge and describe her situation. That is enough. No evidence is necessary," says Iluta Lace and explains the legislation briefly:
Within 24 hours after the judge receives the woman's report, they can decide that the perpetrator of violence should leave the residence – for a month if it is his residence, permanently if it is her residence. This applies if the man does not contest the woman's report.

If the man harasses or visits the woman during this period, a legal process is initiated.
Women in Latvia seek help using this law. Around 1,000 reports are filed every year, and last year the number was even higher. Right now, Latvian police are overseeing 3,808 protection cases of this kind, explains Iluta Lace.
"This is good as long as the man follows the law, but every year, we see between 500 and 600 cases where he does not. That's when problems arise."
She points out that Latvian legislation dealing with violence against women and domestic violence has improved. Often the Marta Centre has been a driver for this change, either through lobbying different stakeholders or in meetings with decision-makers.
"I have met President Egils Levits and Minister for the Interior Māris Kučinskis, and next week I will be meeting the chief prosecutor to talk about teaching gender equality in elementary school and what the gender perspective means, something that needs improvement."
The fight for a more equal society never ends, points out Iluta Lace. 
"Right now, Marta representatives are part of three working groups looking at both the criminal and civil legal processes in Latvia." 
Exchanging experiences in order to progress
The country has legislation aimed at protecting women from violence. But legislation is often not enough. In order to make the best use of the laws, changing attitudes are needed – not only among the general public but also among professionals who meet victims of violence. 
"Over the years we have seen problems linked to how the Latvian police deal with violence in close relationships," Inge Engeland Johansen tells the Nordic Labour Journal. He is a social worker from Arendal in Norway who for many years has served voluntarily on Centrs Marta's board. Today he is the chair.
Torstein Pihlman is a retired Norwegian police officer whose work as head of department included working with domestic violence. In May, he and Inge Engeland Johansen met representatives from Latvian police, municipal social services and the city's Marta office in Rēzekne, a city in the eastern part of the country that houses many Ukrainian refugees.
"We want to improve the knowledge, priorities and attitudes of the Latvian police and social services," says Inge Engeland Johansen. 
During the meeting, police and social services from both countries described their working methods and experiences in combating and preventing human trafficking, sexual offences, and violence. 
The Norwegian police officers presented their agenda for discussions related to family conflicts, with a specific focus on protecting children's rights.
The group also discussed the importance of getting the general public, governmental and non-governmental organisations to collaborate to investigate acts of violence and prevent new ones from occurring. 
The meeting took place within the framework of the project "Hand in hand to protect," which receives financial support from the Nordic Council of Ministers and aims to foster collaboration among multiple parties. 
This was not the first Latvian-Nordic exchange, explains Inge Engeland Johansen.
"A few years ago, a Norwegian judge hosted a seminar for Latvian judges and police. Since then, quite a few things have happened, much thanks to the Marta Centre's influence and campaigns." 
More exchanges are planned. This August a delegation from Rēzekne will meet in Norway, comprising people from the same organisations that met in May. This meeting's aims are:
getting to know each other better

enhancing local collaboration when working with victims of violence

sharing knowledge of methods linked to the work with violence in close relationships
There are also plans for a study visit to a regional crisis centre for women and men who have been victims of violence, and another visit to Alternativ til vold (Alternative to violence), a Norwegian foundation offering treatment for adults who use violence.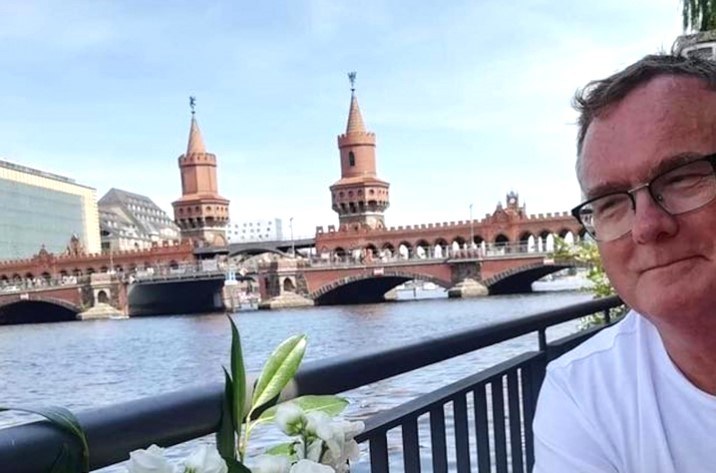 Inge Engeland Johansen is a workers' representative at the Norwegian Union of Social Educators and Social Workers. He is also the chair at the Marta Centre. Photo: Centrs Marta.
"We will also visit a joint operations centre for firefighting, emergency medical services and police to see how emergency services can work together in different situations, including violence in close relationships," says Engeland Johansen. 
Finally, there will be a visit to the local police station in Arendal, where guests and hosts will discuss how Norwegian police work with these challenges.
Reading from dead woman's letter at protest
The murder in Jēkabpils last spring got a lot of attention. Other media beyond Latvia's Radio wanted to talk to Iluta Lace.
But it did not end there. On 25 April, several hundred people gathered in a protest outside the Riga government offices. Iluta Lace read aloud from a letter written by the murdered woman to the Ombudsman where she asked: "How many letters do I have to write?"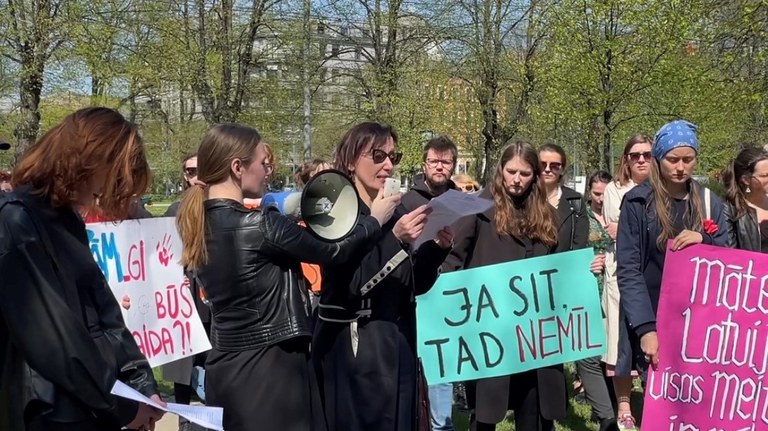 Iluta Lace reads aloud from the letter that the murdered woman wrote to the Ombudsman. Photo:
"There are still a lot of stereotypical perceptions about domestic violence, as this case demonstrates. But people protest against them too," says Iluta Lace, who holds up the Nordic region as a role model in terms of gender equality.
Thanks to the Nordics
"I don't know what my life would be like without my contacts in the Nordic countries. Here in Latvia, nobody understood the notion of gender equality when I wanted to set up a gender equality centre," says Iluta Lace.
In order to reach her goal, she spent the 1990s applying for support for a range of projects and got the backing of friends and others who believed in her initiatives. Her connection with Inge Engeland Johansen was fruitful right from the start. 
"He helped me with contacts and knowledge, and he created the friends of Marta in Arendal, who helped raise money for us." 
In Finland too
Latvia's Marta Centre became a reality in 2000 thanks to a joint project with Finland's Swedish Martha Association, and last year the Centre was able to open protected accommodation for female victims of threats and violence. 
"We were able to buy the flat where women can seek shelter thanks to fundraising from our Norwegian friends," says Iluta Lace.
Finland has consistently supported the Latvian Marta Centre. When the economic crisis hit Latvia in 2008, Centrs Marta struggled. So Iluta Lace and her sister started writing and performing their own music, along with other Latvian songs, at various events. 
This led to an invitation to perform on Finnish television, and that again led to a tour in Finland. Thanks to that tour, the sisters raised 10,000 euro. Along with support from the Finnish Martha Association, it secured the organisation's survival. 
An ongoing fight
The abuse of women is widespread in our part of the world. This is what the European Parliament writes:
"One in three women in the EU has experienced physical and/or sexual violence." 
But Iluta Lace does not see any difference between the situation for women in Latvia and that of women in other European countries. 
She does, however, believe the Nordic countries have done more to put in place mechanisms to create a more gender-equal society.
"Historically, the discrimination is the same whatever the country. There are people in the Nordics and in Latvia with discriminatory attitudes," she says and points to what could be the crux of the matter. 
"Violence against women is not always taken seriously. It is considered to be a private problem, like a lovers' spat for which the state should have no responsibility. This is what we are here to change."