Norway is tightening the rules on hired labour. Trade unions are cheering while staffing agencies rage and have reported Norway to ESA for being in breach of the EEA agreement.
There is also a new ban on hiring construction workers from staffing agencies for construction work in Oslo, Viken and the former county of Vestfold.
The new rules came into force on 1 April. An extension period for agreements that are already in place ends on 1 July.
Trade unions cheering
"The government hopes the new rules will strengthen the serious, organised labour market which is what Norway should be known for. Providing secure and steady jobs will also strengthen recruitment to certain occupations and trades," said the Minister of Labour and Social Inclusion Marte Mjøs Persen (Labour) on the day the new rules came into force. 
The trade union movement was also happy on that day. The Norwegian Confederation of Trade Unions LO believes the new rules will benefit working environments, safety, productivity and not least recruitment. 
"We will definitely see more permanent jobs. The alternative to hired labour is permanent full-time positions," said LO President Peggy Hessen Følsvik on LO's own website. 
Some hire, others fire
And yes, stories have already emerged about entrepreneurs who hire when they can no longer get agency workers or temps, but there are at least as many stories – if not more – about staffing agencies that are firing staff. 
"We are very apprehensive about what will happen on 1 July when the extension period ends. We will only see how the new rules work in the autumn," believes Rune Ask, leader of Byggfag Drammen-Bærum, a construction union that is part of Norway's United Federation of Trade Unions.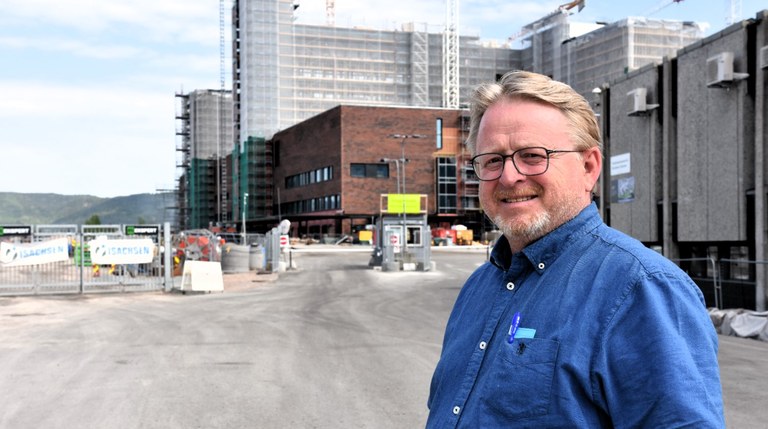 Rune Ask from Norway's United Federation of Trade Unions thinks it was absolutely necessary to tighten rules on hired labour in the construction industry.
He is visiting LO coordinator Jens Eriksen, who has been hired by the Norwegian Hospital Construction Agency in relation to the construction of a new hospital in Drammen outside of Oslo. The hospital is due to be ready in 2025.
On a normal day, some 800 people work on the construction site for around 120 companies. Around 20 of these are staffing agencies.
Part of the LO coordinator's job is to make sure the construction site is operating in accordance with Norwegian rules on wages and working conditions.
Big differences in
scope
Hired labour represents less than 2 per cent of the total number of full-time positions in the Norwegian labour market. Yet in parts of the construction industry around 15 per cent of workers are hired from agencies. There are regional differences too, which is partly why a ban has been introduced in the Oslofjord area. 
Many companies have become dependent on hired labour, including most of those involved in building the new hospital in Drammen. The scope varies from only a few per cent to nearly 50 per cent of hired workers out of the total workforce. 
LO coordinator Jens Eriksen's job is to make sure big construction projects adhere to Norwegian rules on wages and working conditions. He is apprehensive about how the new rules will work.
Faced with the new rules on hired labour, employers must find other ways of covering their staffing needs. So far it seems many are holding back while considering how to handle the situation. 
"If there is a need to hire people from agencies there is also a need to employ people," says Ask.
He argues that the need to hire workers is in many cases a sign of bad planning and which results in lower productivity. Hiring agency staff has no doubt also been economically motivated.
Trying to circumvent the rules
Some employers have already been found to be trying to exploit loopholes in the new rules, which say you can only hire agency workers when your company is covered by a collective agreement and a written, time-limited agreement with a workers' representative.
But what is a workers' representative? And what is a trade union? The LO-affiliated online publication Frifagbevegelse recently wrote about a company that had signed a hired workers agreement with the safety representative and not the workers' representative for the United Federation of Trade Unions.
That is an obvious example of someone trying to avoid the rules, argues the LO union, but the company disagrees. And that is where the case stands as of today.
There have also been instances of staffing agencies transitioning into "production companies", without actually changing what they have always been doing. The reason behind the change of name: While access to hired labour from a staffing agency has been strictly limited/banned, you can hire labour as before from a production company. 
"Limits access dramatically"
The Confederation of Norwegian Enterprise NHO strongly opposes the new rules on hired labour.
"This dramatically limits access to hired labour and hurts many companies across the country.  This was predictable, and NHO issued strong warnings against the changes before they were introduced. We are now getting a lot of feedback from companies across a range of sectors about the new agency worker rules. There is, on the whole, a lot of frustration and uncertainty," Nina Melsom, NHO's director of labour relations, tells the Nordic Labour Journal.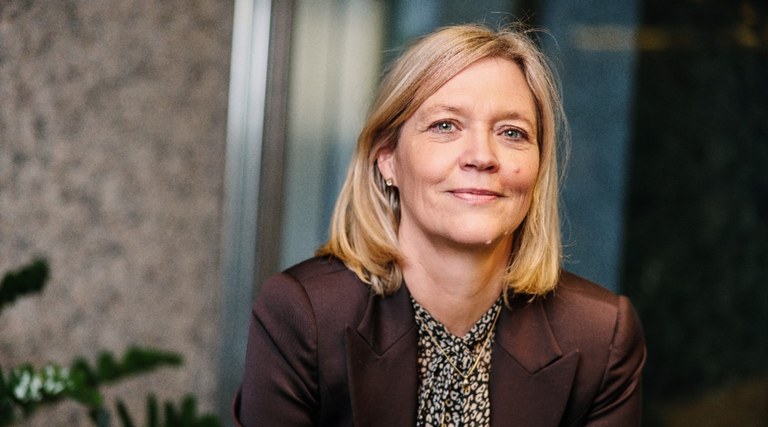 NHO believes there is no need for new rules for hired labour, says Nina Melsom, director of labour relations. Photo: Moment Studio.
"The changes will make it harder to find the necessary labour and therefore make life harder for many companies that are already struggling in today's market. We are already seeing signs of this," she says. 
Melsom points out that even before the new restrictions were introduced in April, Norway had some of the strictest regulations on the use of temporary workers and other short-term forms of employment.
"Norway stands out from the other Nordic countries especially when it comes to having stricter rules on temporary employment and hired labour," points out Melsom.
ESA will investigate
Even before the new rules came into force, Norway had been reported to the EFTA Surveillance Authority (ESA) for being in breach of EEA law. The organisation Små og mellomstore bedrifter SMB (Small and medium-sized enterprises) and several staffing agencies were among those reporting Norway to ESA.
ESA said in February that it would investigate whether the new rules are compatible with EEA law. 
One of the things ESA questioned was whether Norway had been in breach of the EU posted workers directive, which says Norway must facilitate the freedom of movement of services between EEA countries. According to EU law, staffing agencies providing labour across national borders with the EEA constitute a delivery of services.
Says Norway is not in breach of EEA law 
Yet the posted workers directive also says that if there is a need to safeguard a functioning labour market, governments can restrict the use of hired labour. And in its answer to ESA in May, the Norwegian government said the new rules on hired labour were not in breach of EEA law.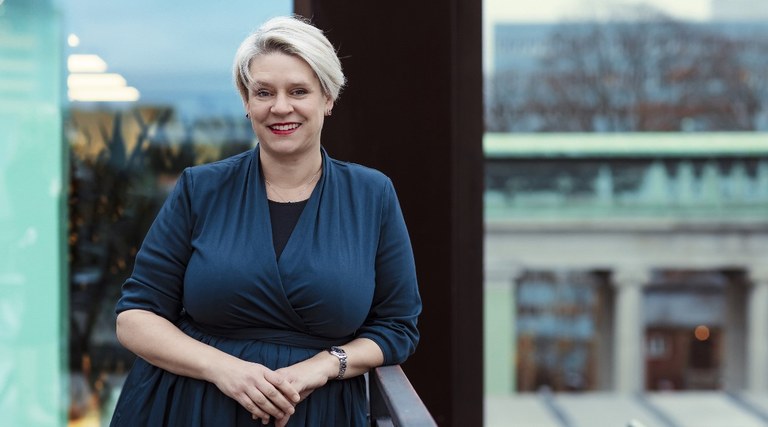 Arbeids- og inkluderingsminister Marte Mjøs Persen (Ap) mener Norge ikke bryter EØS-avtalen. (Photo: Astrid Waller)
"The adopted amendments in the legislation on temporary agency work are based on a desire to protect the fundamental principle of Norwegian working life and the Norwegian labour market model, where permanent and direct employment remains central.
"EEA law allows for interpretation and hence we have the opportunity to strengthen and protect the Norwegian model," said the Minister of Labour and Social Inclusion Marte Mjøs Persen in a press release from the Ministry of Labour and Social Inclusion.
"Must be postponed"
The Conservative Party argues the rules on temporary agency work must be postponed until a conclusion is reached on whether they are in breach of EEA law. 
"The ban and tightening of rules have been red-listed by ESA and could be in breach of the EEA agreement. The government has so far sent a 50-page-long answer to ESA in defence of its policy, but it says nothing about what is needed to lift the ban.
"We know that the government will evaluate this, but the construction industry in this area has no idea when it can hire labour again. Instead, companies are employing people whom they might have to let go in a few months, or else they are entering into enterprise agreements with foreign hired labour," Anna Molberg (Conservative Party), a member of the Standing Committee on Labour and Social Affairs, told parliament in mid-May.
The research foundation Fafo and the analytical group Economics Norway have been tasked with evaluating the consequences of the ban on the use of temporary agency work in the construction industry in Oslo.