In 2022, both Norway, Sweden and Denmark got new labour ministers. Here is your chance to get to know them better.
Two ministers sharing the responsibility in Sweden
When Nordic labour ministers met in Oslo in November last year, Sweden's Johan Pehrson joked during their lunch that he ought to carry a sign reading "new employee". This was his first ever meeting with Nordic colleagues, but he was not the only fresh face there.
Pehrson shares his Ministry of Employment portfolio with Deputy Minister for Employment Paulina Brandberg, who started alongside him on 18 October 2022. Hosting the lunch was Marte Mjøs Persen, herself only eight months into her ministerial posting.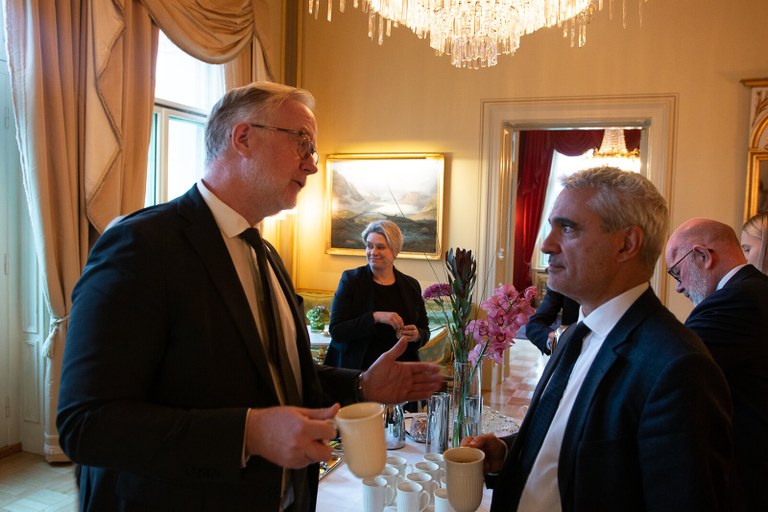 Pehrson and Persen. In November, Oslo hosted the Nordic labour ministers' meeting. Here Johan Pehrson is in conversation with Stefano Scarpetta, the OECD's Director of  Employment. In the background: Norway's labour minister Marte Mjøs Persen. Photo: Simen Gald/AID
After the Danish election a few weeks later, and an unusually long period of negotiations, a new broad three-party coalition government was formed on 15 December. Social Democrat Ane Halsboe-Jørgensen is its Minister for Employment. That leaves Tuula Haatainen as the veteran among the Nordic labour ministers with her more than three years in the job, while Iceland's Guðmundur Ingi Guðbrandsson has been Minister of Social Affairs and the Labour Market for one year and two months.
Johan Pehrson is also responsible for integration in the Swedish government. During a press conference on 14 December, he identified long-term unemployment as the country's most pressing issue. Foreign-born women from outside of the EU are hardest hit, he explained.
"We have failed to reduce long-term unemployment. While the EU is seeing lower unemployment figures, Sweden has not succeeded with this, despite economic progress and a massive post-Covid recovery," he said.
To illustrate his point, he showed a list ranking EU countries according to unemployment figures, where those with the highest numbers top of the table. Ten years ago, Sweden would have been far down the list, but in 2019, Sweden overtook the EU27 for the first time. In late 2022, only four EU countries had higher unemployment than Sweden.
Meanwhile, Sweden does have a high employment rate and more people might be in work compared to other countries – "complex but not so strange", as Johan Pehrson put it.
"Unemployment represents a large and important challenge because it is very painful for the individual not to be in work. It robs you of freedom and is bad for integration," said Johan Pehrson. 
He was relatively unknown in Sweden before becoming leader of the Liberal Party on 8 April 2022. Before that, he was an MP and served two terms as the Liberals' party secretary.
When Nyamko Sabuni stepped down as party leader, it also meant a change of direction for the Liberals who until then had refused to negotiate with the Sweden Democrats. The party moved closer to the other centre-right parties.
The Nordic Labour Journal wants to know whether Johan Pehrson himself asked to be Minister for Employment in the centre-right coalition, or whether this was just a result of the government negotiations.
"I chose it. If we can create a functioning labour market, we have the answer to most of Sweden's social challenges. It would give us resources for our welfare state, we protect our wealth, we empower ourselves. This means we can adapt to all the ambitions we have to make Sweden greener and an even better place to live," says Johan Pehrson.
As Deputy Minister for Employment, Paulina Brandberg is responsible for labour law and work environment issues. She is also Minister for Gender Equality. She too is from the Liberal Party, where she was the legal policy expert before becoming a government minister.
She was born in Lund and studied law at the university there. She has been a senior prosecutor and has worked on several high-profile gang crime cases. Her main focus since becoming politically active in 2020 has been legal policy.
Through frequent TV interviews, Twitter and opinion pieces, she has tried to shape opinions on stricter legislation and other crime-fighting measures.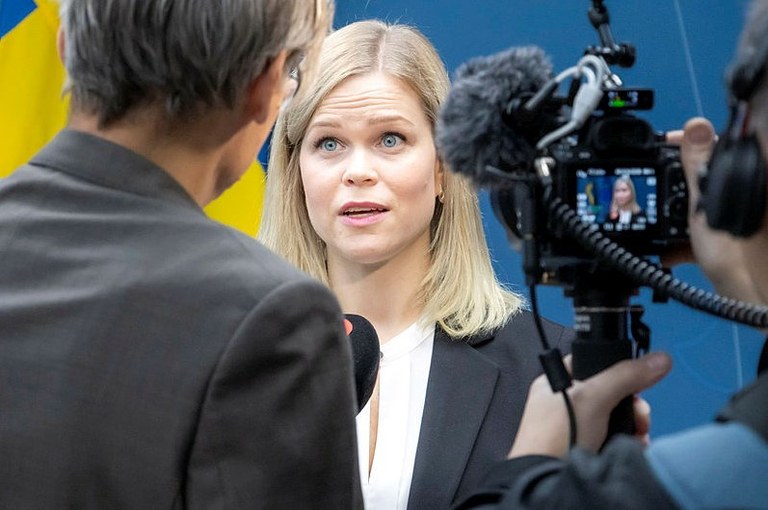 Paulina Brandberg is responsible for how Sweden will handle the EU Commission's directive on minimum wages and platform work. Photo: Niklas Forsström/Swedish Government Office.
The Fokus news magazine voted her Swede of the year in January 2022, and she ran for a parliamentary seat for the Liberal Party in the same year. She failed but was immediately recruited to the government, which had identified fighting gang crime as one of its main priorities. Brandberg has also had to grapple with the EU Commission's directive on minimum wages and platform work early on.
Norway's new labour minister wants a generous welfare agency
Marte Mjøs Persen began her career pretty far out on the left of Norwegian politics. Perhaps it will help the Minister of Labour and Social Inclusion when she sets out to help people who have it particularly tough.
When the Labour Party gained power in 2021, Prime Minister Jonas Gahr Støre made Marte Mjøs Persen Minister of Petroleum and Energy. She was new to the Norwegian parliament, but not to politics. 
Before becoming an MP, she was an elected representative to the Bergen city council for 18 years – six of them as mayor – representing the Labour Party.
Her political career started on the far left, however, in the Red Electoral Alliance party (RV).
"When RV in my opinion took a big step to the left and merged with The Workers' Communist Party AKP (m-l) to form the Red Party, I soon realised that this was not the place for me. So I left," she told national broadcaster NRK in 2021.  
Mjøs Persen became a Labour Party member in 2008.
From one ministerial post to another
As Minister of Petroleum and Energy, her first big challenge was the energy price crisis. She had time to help develop the electricity price support system before being given a new portfolio by the Prime Minister in March 2022. 
Mjøs Persen took over as Minster of Labour and Social Inclusion from Hadia Tajik. Tajik stepped down as a government minister and deputy leader for the Labour Party after it emerged she had failed to pay tax for a commuter flat.
Like many labour ministers before her, Mjøs Persen has been criticised for her lack of "real world" work experience. She worked for a few years as a waiter and has also worked for the Norwegian Humanist Association. She is a trade union member and has held several roles within LO – the Norwegian trade union confederation. 
Tidying up
Many are interested in seeing how Mjøs Persen plans to tidy up after the 2019 "benefits scandal" involving the Norwegian welfare agency NAV.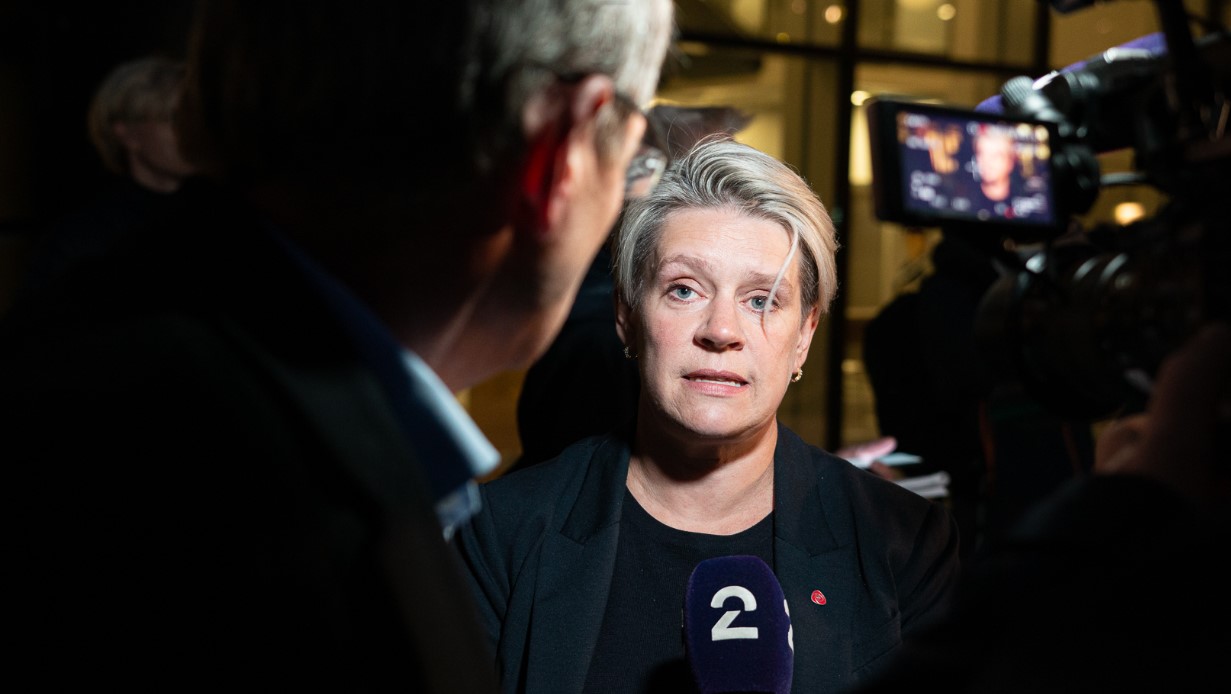 It has been unbelievably hectic for Marte Mjøs Persen on several occasions after she became labour minister. Here she is ending a teachers' strike in September. Photo: Simen Gald.
Thousands of people were wrongly accused of cheating the benefits system when accepting unemployment allowance and other support while living abroad.  
However, as we enter 2023, what most Norwegians want to know is how to handle high electricity bills, increased food prices and more expensive mortgages. The number of people seeking financial assistance is skyrocketing according to the daily Dagsavisen. 
Mjøs Persen wants NAV to be generous to people who are seeking help.
"I believe it is very important that people who now really feel they need help because of their financial circumstances seek help from NAV, because [the agency] is able to help them with advice and economic support," Mjøs Persen told the VG newspaper.
Danish Minister for Employment faces busy spring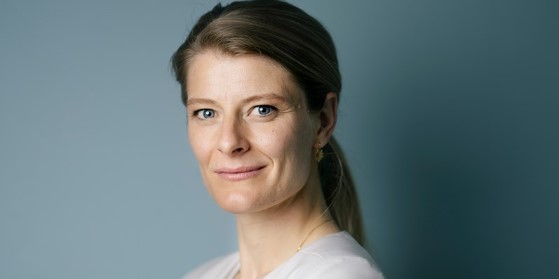 Ane Halsboe-Jørgensen will probably not get many days off during her first months as Denmark's Minister for Employment. Several central and controversial issues from the new broad coalition government have landed on her table.
Depriving the Danes of one day off is the first political headache facing the Social Democrat Minister for Employment, and she already has the trade unions up in arms. They are incensed that one of the first jobs of the new broad coalition government will be to remove a holiday in order to finance increased defence spending.
The trade union movement considers it a breach of the Danish labour market model if the government as announced by Halsboe-Jørgensen passes legislation to introduce one extra working day without involving the social partners in the decision-making process.
She was the Minister of Higher Education and Science and then Minister for Culture and Ecclesiastical Affairs in Prime Minister Mette Frederiksen's first government, and has been an MP since 2011. 
She will also need her solid political experience when she sets out to reform Denmark's entire employment policy arena – another task the new government's programme has promised to tackle.
The government is looking to cut three billion kroner (€403.3m) in 2030 in the employment measures while also getting more people into the labour market. Part of the plan is to shut down municipal job centres and give the municipalities themselves more freedom to implement measures. 
The social partners and experts alike predict it will be extraordinarily difficult to make such deep cuts to employment measures while also getting more of the vulnerable unemployed into the labour market.