A new government in Iceland was announced on 28 November, over two months after the parliamentary elections. The new labour minister is Guðmundur Ingi Guðbrandsson from the Left-Green Movement.
There never really was another option to the three parties tyhat has governed Iceland the last four years would continue their coalition. Before the elections, the parties held 35 of 63 seats, but now they have 37 mainly because of the Progressive party's big gain of five extra seats  ending up with 13 seats. The Independence Party retained their 16 seats. The Left-Green Movement has 8, down three.  
Even though the Left-Green Movement lost seats, Prime Minister Katrín Jakobsdóttir's personal popularity has been so strong that there never was any doubt that she would keep her position.
Another perhaps smaller reason why the government formation took so long was numerous ministerial changes. New ministries were formed and portfolios moved from one ministry to another. 
The Progressive Party was in a strong position to have more ministers after their election victory so they gained one ministry. They have now four instead of three. The other two have the same number of ministers as before (The Independence Party has five and the Left-Green Movement has three), so there are now 12 rather than 11 government ministers. The cabinet has never been larger and only once before has there been this many ministers. 
Environmentalist is the new labour minister
Guðmundur Ingi Guðbrandsson takes over as new Labour minister and will  also serve as Minister for Nordic Cooperation.
Guðbrandsson was born in 1977 and was raised on a farm with sheep and cows. Back then, his intention was to be a sheep farmer. While in secondary school in Akureyri, he started acting and thought about becoming an actor. He gave that up when he failed to secure a part in the musical Beauty and the Beast because he didn't sing well enough. 
After graduation, he also did a lot of unusual things for a young man. First, he went to the Reykjavik home economics school, before going to Germany to stay in a convent for a few months. He found out eventually that his faith was not strong enough to be a monk. 
So he started his university studies. He secured a bachelor's degree in biology from the University of Iceland and then a master's degree in environmental science from Yale University. After that, he worked in environmental research and as a ranger before taking over as CEO of the NGO Landvernd – The Icelandic Environmental Association, in 2011.
In that position, he became one of the best known environmental spokesmen and lobbyists in Iceland. However, politics did not seem to be part of his plans at the time.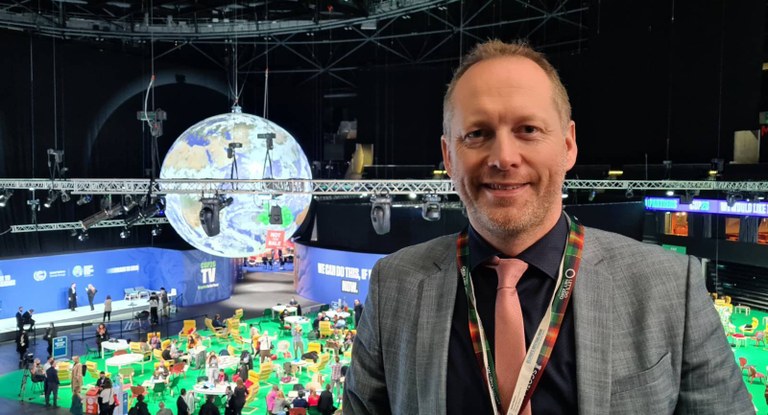 Guðmundur Ingi Guðbrandsson at COP 26 i Glasgow.
In 2017, when the current coalition first came together, Guðbrandsson was appointed Minister for the Environment and Natural Resources. He had been a member of the party for a long time – he was even a board member between 2007 and 2009 – but nevertheless, it is not common that a minister is appointed from outside the parliament. 
There were two reasons for his appointment: his uncanny knowledge of environmental issues, and that two of the Left-Green MPs had voted against party leader Katrin Jakobsdottir's coalition, although this would be a wise move to strengthen the party in parliament.  
First a minister, then party vice-chairman
It was not necessarily obvious that this would be the start of a political career for Guðbrandsson – that has not always been the case when a minister is appointed from outside the parliament.  
But it is safe to say that Guðbrandsson remained very firm in his stance on protecting the environment during his time as Minister for the Environment. When he opposed the construction of a power plant in the Western fjords which would have submerged a nature site, one of the locals called him "the main enemy of the Western fjords" in a newspaper article. 
Climate change has of course been a huge task for his ministry and during his tenure, Iceland introduced legislation to make the country carbon neutral before 2040 – all with good support from his Left-Green Movent of course.
As a minister, he has also been speaking out for gay rights, being gay himself. He says he considers it to be his moral duty as a gay government minister. During a visit from a Russian politician to Iceland, Guðbrandsson wore a rainbow colour face mask and he has twice sent a letter to the Pope on these issues.
In 2019 it was clear that he was ready to pursue his political career when he was elected vice-chairman of the Left-Green Movement. And in the last elections, he was voted in as an MP, making this his first term in parliament, even though it will be his second one as a government minister. 
His new role as Minister of Social Affairs and the Labour Market might seem a bit far from his background. But he was clear on his first intentions: 
"We need to improve conditions for people with disabilities," he told journalists after the government was announced, and he also wanted to make the benefits system more transparent.
In the coalition agreement, there are, however, other things that will probably be Guðbrandsson's job to follow through. It says: 
"The participation and return of individuals with reduced work capacity to the labour market will be facilitated so that individuals can benefit financially from employment and be offered opportunities in the labour market without jeopardising their financial security." 
And also: "Older people will be able to actively participate in the labour market, e.g. by increasing flexibility in retirement age in the public sector." 
A short chapter on the labour market itself suggest measures for reducing the gender pay gap, improving procedures in wage negotiations and measures to strengthen the fight against serial bankruptcies.
First female Minister of Fisheries
The new Minister of Fisheries and Agriculture is also from the Left-Green Movement. Svandís Svavarsdóttir was Minister of Healthcare in the previous coalition, and as such had a very busy time because of the pandemic. She is Iceland's first female Minister of Fisheries and Agriculture.
She has been an MP since 2009 however, and before that, she sat on the Reykjavik city council, so she has a lot of political experience. Tourism will be in the hands of the Progressive Party's vice chairman Lilja Alfreðsdóttir, previously the Minister of Education. She has been the party's vice chair since 2016. 
When the government was formed four years ago, political scientists were interested in seeing how a coalition with the party furthest to the right (the Independence Party) and the one furthest to the left (the Left-Green Movement) on the Icelandic political scale would work out.  
Judging from the elections, neither party benefitted that much from it but the Left-Green Movement lost more. They even lost two of their seats to other parties during the last term. Their coalition partners, the Progressive Party, benefitted the most, which perhaps was not expected at the start of the coalition four years ago. What effect this term will have on the parties remains to be seen.