Åland is marking 100 years of autonomy from Finland with year-long celebrations. Not everyone wanted the autonomy solution at first, but it has turned out to be a winning ticket allowing Ålanders to create a prosperous island society. Yet Åland with its shipping and tourism industries has been hard hit by the pandemic.
The numbers for 2020 say it all. As the border with Sweden was closed to leisure travellers, the number of visitors to Åland from the neighbouring country fell by 90% compared to 2019. 
Harbour traffic in the capital Mariehamn was halved. Two ferries that had been running daily between Stockholm and Mariehamn were retired, and the Helsinki-Mariehamn-Stockholm route was cancelled. Seamen were furloughed or let go, along with hotel and restaurant workers. Other smaller businesses in the service sector were hit too. 
According to Statistics and Research Åland, the island's GDP fell by 15% last year, and the economy can only recover when passenger ferry companies can return to normal operations.   
Unemployment in Åland stood at a record-high 13.4% in May 2020. In May 2019 it was 3.2%. Things have improved somewhat, and in May this year unemployment had fallen to 7.1%.
Light at the end of the tunnel
Fredrik Karlström, Minister for Industry and Trade in Åland's government, is still optimistic about the future.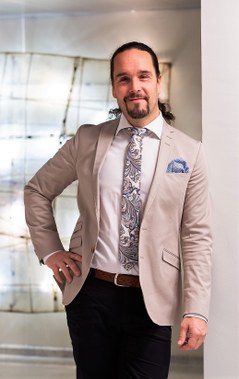 "Our IT cluster is doing well and there is increased demand for their products. The banking and insurance sector is healthy and becomes more and more important every year. We also see enormous potential for offshore wind power which is one of the government's focus areas for the reboot of Åland," he says.
Ten large wind power plants come on stream in April next year, meaning wind power will cover 65% of Åland's energy needs. Karlström also points out that Åland is a desirable place that attracts new people.
"The important cornerstones that are necessary for a modern and well-functioning society are in place. You would be hard-pressed to find better schooling and healthcare anywhere else. Add to that the safety and closeness we enjoy in Åland society. Nearly 1,000 people chose to move here during the year of the pandemic, and more are welcome."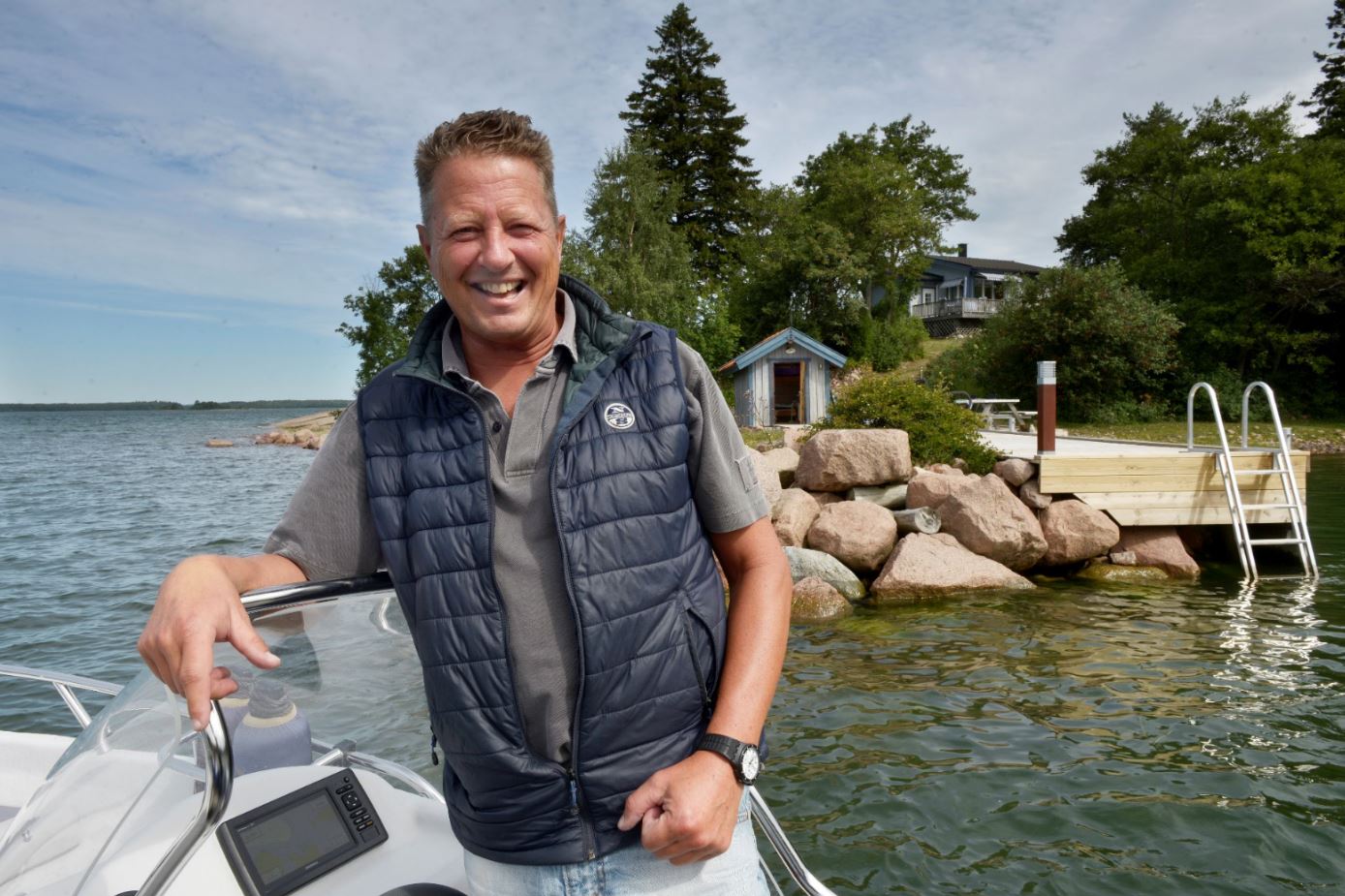 The glory days of conferences and leisure travel at sea might be gone for good, says Jan-Erik Rask, the Åland Chamber of Commerce CEO. Photo: Erkki Santamala/Nya Åland
Jan-Erik Rask, the Åland Chamber of Commerce CEO, says several trades managed better than usual during the pandemic – both in the IT sector and among home improvement companies.
"So far no bankruptcies have been caused by the pandemic. This has of course a lot to do with different support measures offered to the companies," he says. 
Several new companies have started up, often by people who lost their jobs. It remains to be seen whether they will succeed in the longer term.
Finnish visitors
Another positive sign is the increase in visitors from Finland. Two ferry companies have set up special routes between Helsinki and Mariehamn this summer and passengers have time to spend several hours ashore.  
When the Finnish government announced the easing of restrictions on visitors from 21 June, the shipowners responded quickly. The Helsingfors-Mariehamn-Stockholm routes will be back this summer, albeit with fewer departures than normal.
"But we have reason to believe there will be a lasting restructuring of ferry crossings to Åland. The best days of conferences and pure leisure trips might be gone for good," says Jan-Erik Rask
"A sense of grief"
The pandemic aftermath has not put the breaks on the celebrations of 100 years of autonomy – which will go on for a whole year. Yet back in 1921, when the League of Nations announced the deal securing autonomy from Finland, there was much disappointment. "There was a sense of grief resting over the beautiful, summery landscape," as one history book puts it.  
"The decision was after all a major defeat for the activists in the Åland Movement, who had been fighting for reunification with Sweden. But the movement's main leaders swallowed their disappointment and took the lead to make autonomy a reality," says Dan Nordman, a senior history lecturer at the Åland upper secondary school.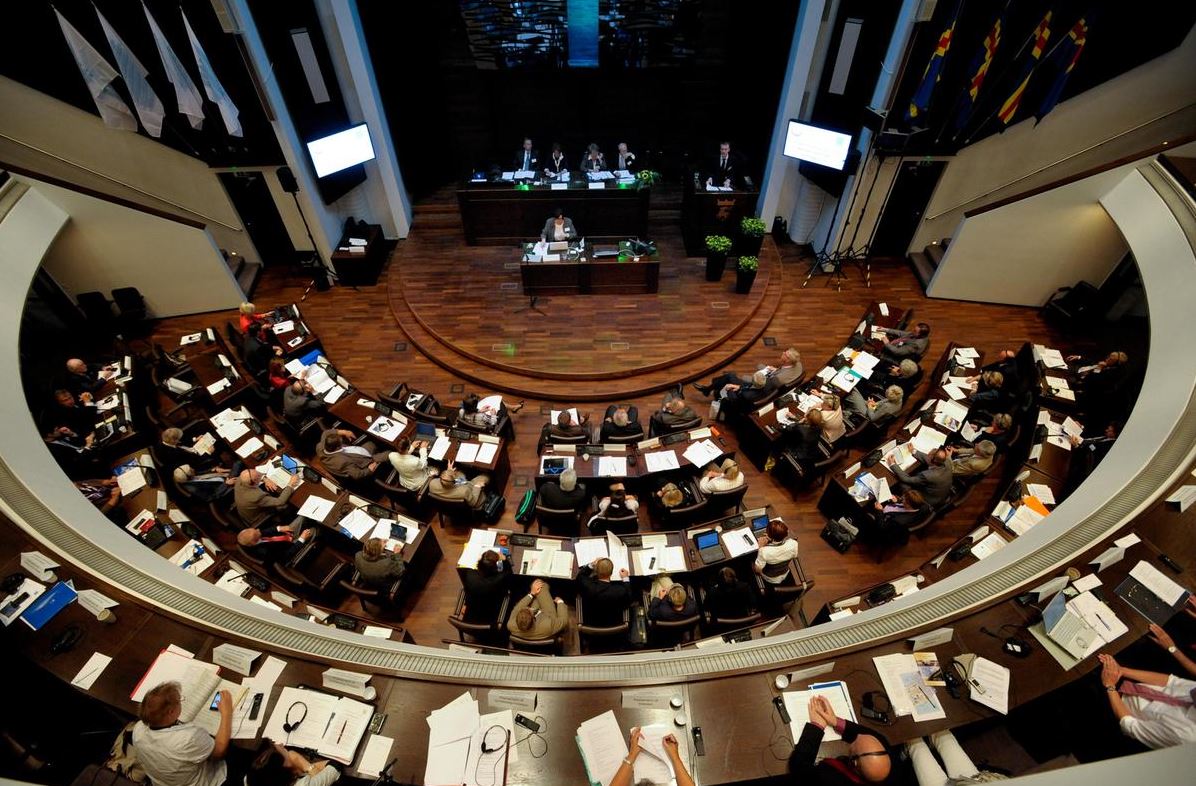 Åland's parliament has 30 elected representatives and meet in the parliament building's main chamber. Photo: Johannes Jansson/Norden.org
On 8 May 1922, Åland's first parliament was elected and it met on 9 June that year.
Building up pride
Autonomy did not get properly off the ground until the 1950s. In 1951, Åland got a new autonomy act which secured more legislative rights. The Right of Domicile on Åland was introduced, granting people who lived there certain rights. Åland also secured the right to use its own flag.
"This is when you can start to talk about "a time of nation-building". You begin to build up pride in autonomy; you are no longer simply a left-over people that ended up on the wrong side of the border, no longer a child kidnapped by an evil stepmother. You start to create your own identity," says Dan Nordman. 
Developed further
Since then, autonomy has taken several steps forwards. The autonomy act has been revised and given Åland more room for manoeuvre and a parliament building with space for the parliament and government has been built. Åland is now part of the Nordic cooperation and has its own postal service. 
After a referendum in 1994, the government approved EU membership for Åland, but the island remained outside the European Customs Union.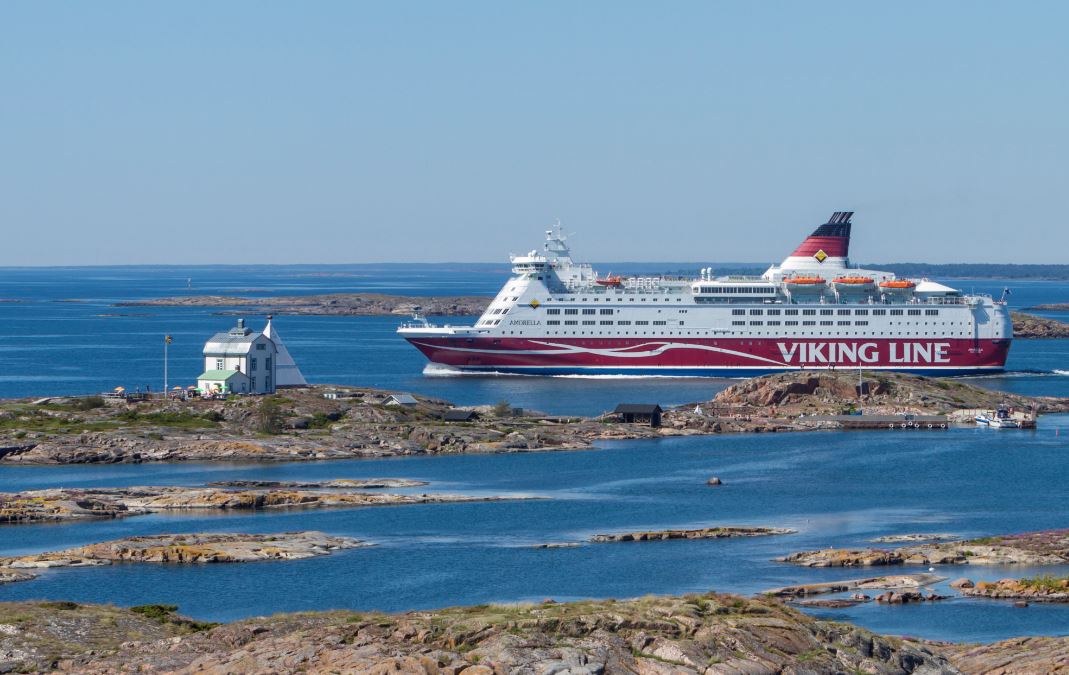 Viking Line's Amorella ferry has, despite the pandemic, been operating the Åbo-Mariehamn-Stockholm route. Photo: Viking Line.
This meant duty-free sales on passenger ferries to and from Åland could continue, but Åland would retain a customs border with the rest of the EU. This means more administrative work for the trade of goods between Åland and the rest of the Union. 
Nearly a micro-state
How would Åland have looked today if it had become a part of Sweden?
This is a question that historians do not want to answer. Many things can happen in a hundred years, and today it is impossible to say anything certain about which direction Åland would have taken if it had been part of Sweden.
"Åland would probably not have enjoyed the language protection we have today," says Dan Nordman. 
"There has been enormous change since the early 1900s when Åland was a neglected part of Åbo and Björneborgs county. Today, Åland is nearly a micro-state and a prosperous part of Finland. Our local democracy means we get more responsibility and can influence the direction our society takes. Autonomy, which was considered to be a losing ticket, turned into a winning one!"