In Sweden, the talk was about Finland "closing the border to Sweden". In Finland, it was called "necessary domestic border controls". It has been more than a year since the Corona pandemic changed everyday life in the most integrated region of the Nordics – the twin cities of Tornio and Haparanda.
Freedom of movement in the Nordic region has been limited for more than a year. This freedom came particularly naturally to the Northern districts where borders have hardly been visible at all. 
"But the border has never been completely closed," points out first grade lieutenant Jari Rantala. If that were the case, the border region would look quite different. What has been introduced is internal border controls, and movement is limited for foreign citizens. 
He has seen the whole thing since the start in March 2020 and has been a border guard where twin cities Tornio and Haparanda are split in two. There are three border posts for the national border, most are on the E4 artery.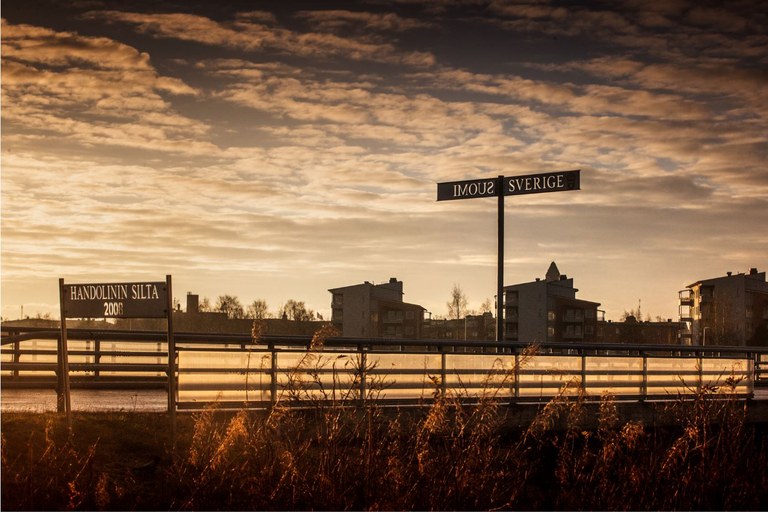 During the first few weeks, the number of border crossings fell dramatically to around 1,200 a day. When the border reopened a little bit more during the autumn, 20,000 people were crossing every day. 
In normal times there can be more than 40,000 daily border crossings between Tornio and Haparanda.
Now that Sweden has introduced border controls too, border traffic has fallen by an estimated 90%.
"In the beginning, there was a lot of squabbling and grumpy people wanting to cross. This was completely understandable," says Jari Rantala. But he understands that the Finnish government wanted to take rapid action.
Finnish citizens are free to leave Finland and to return. To begin with, this was not quite clear. Since then, the border authorities have faced criticism for failing to explain to travellers the difference between orders and recommendations.
"We have not stopped anyone here in Tornio, but we have sometimes questioned the necessity of certain journeys. Some people might have experienced this as a ban on entering the country," says Rantala.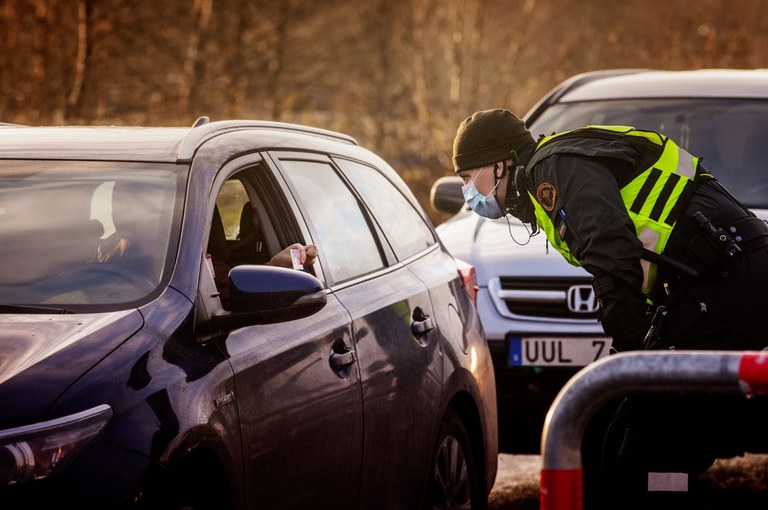 Finnish border authorities did not have the time or the opportunity to explain everybody's rights, according to Jari Rantala. Today, all Finns know their right to travel and return across Finland's borders. But border guards can still appeal to people's fear of transmission in order to prevent unnecessary journeys.
From sea to land borders
Finnish border guard Jari Rantala has worked for the coast guard along the entire Finnish west coast. The job is border control, but in normal times it is more about sea rescue and keeping an eye on leisure vessel activity in the summer.
The Finnish coast guard's pension system is generous with a low retirement age. People who start their career in the coast guard now, can retire at 57, but Rantala was able to retire at 52. That is why he could step in with a few days' notice when the Finnish government needed extra personnel along the border with Sweden. 
For the past year, Rantala has been head of a weekly rota system and commutes from his home town further south in Finland. Many other border guards do the same for longer or shorter periods. 
More than 600 Finnish border guards have now been staffing the temporary border posts in the north.
Some of them are retired personnel, but many have been moved here from other posts, especially from the Russian border. It has been closed on the Russian side and the need for Finnish border guards has been less than normal.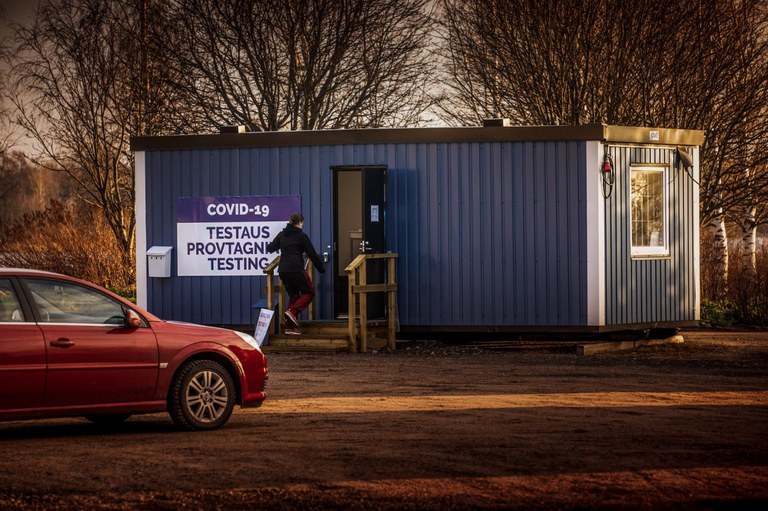 None of the guards who have served at this border control have contracted Covid 19. Rantala is somewhat surprised. The border traffic has been reduced, but it is still possible for Finnish border guards to meet thousands of travellers every day. 
A very busy shopping centre on the border
The border crossings between Tornio and Haparanda are the busiest of all the six crossings into Sweden. As long as ice covers the Torne river, many unofficial crossings are taking place, and there are usually also some winter roads in operation. 
The current recommendation is to cross the border only via the official posts. Preferably you should not cross at all. 
Tornio's main shopping centre is called, somewhat fittingly, Rajalla – På gränsen ("On the border"). This is also a much calmer place than usual these days. It can be accessed from Sweden across bridges on either side of the building complex.
The border to Sweden runs right outside the shopping centre's doors. Crowd control barriers have been erected in the courtyard to mark the border. This is the road pedestrians and cyclists use to go to and from Sweden.  
On the Swedish side, there is a newly built travel centre for both cities' citizens and several shopping centres. One of them houses a specialist shop for snus tobacco products, which are forbidden from sale in Finland. 
There are people on both sides of the border who gladly cross over to shop. It feels cheaper, better or closer and it also offers a bit of change as you find different products in foreign shops.  
But right now it is wise to settle for your own country's products, argues Jari Rantala. He tells us about a Swede who tried to convince border guards that he needed to go across to Finland to buy a comb. 
Healthcare commute to avoid a catastrophe
Tiina Patokoski is one of those who commute daily between Tornio to her job in Kalix on the Swedish side. She has been a nurse there since 1998. Today, she heads the healthcare unit with some 30 staff.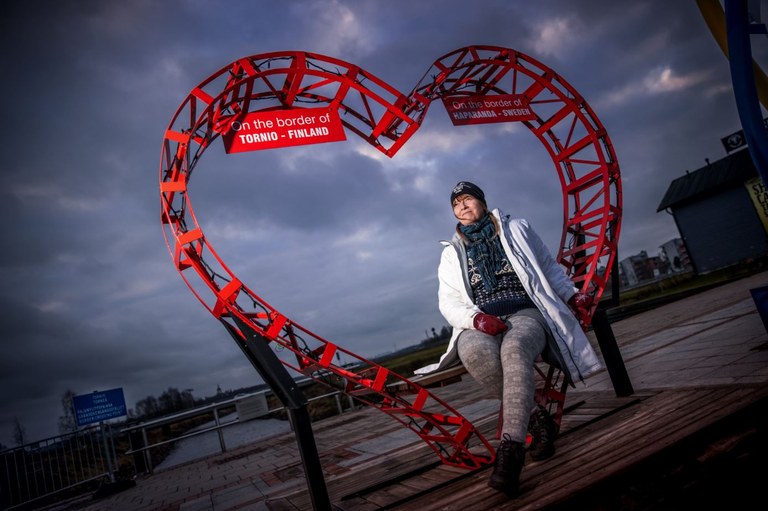 At the beginning of the pandemic, Finland sought to completely close the border, but Sweden protested. It would not be possible to operate without healthcare staff from Finland, especially with the increased strain Corona patients put on intensive care.
Five of the 30 staff at Patokoski's unit in Kalix come from the Finnish side. Like her, they have a 50 kilometres daily commute to their work in Sweden. Haparanda would have seen an even larger shortfall in healthcare staff.
Sweden promised to organise tests and accommodation at the Swedish healthcare institutions for personnel who could still work but did not want to commute.
Tempting wages in border-less Meänmaa
The flow of commuters goes mainly from Finland to Sweden. Healthcare sector jobs are paid quite a bit better there, and working conditions are better too. 
Patokoski enjoys her work both as a nurse and now also in her "career". Kalix municipality is a good employer, she says. It has never occurred to her to change jobs to one in Finland.  
"We who were born here in the border region don't even see a border. Now it has reemerged in quite a concrete way, but before that you never thought about it at all."
There is not much waving of national flags either unless one country wins important ice hockey matches. This used to be one and the same country until 1809. People feel they come from Meänmaa – or Tornedalen in Swedish – first and foremost, and the mentality has never changed, says Tiina Patokoski. 
A tough year with Corona 24/7
"It has been a tough year with the virus impacting on everything," says Tiina Patokoski. She remembers the unease across all of Norrbotten County's health service in the beginning, which was already stretched. A closed border would have spelt catastrophe.  
She could have worked partly online if the border really had been closed, but work on the wards can only be done where the wards are. 
It was particularly hard at work in January, when the Coronavirus hit Kalix municipality's care homes. Care home deaths have become a national political issue in Sweden too, but Tiina Patokoski no longer has the energy to watch the news about Corona. 
11 months later: Sweden closed the borders
It took a long time before Sweden closed the border in the same way as Finland had. But now job commuters need to provide new tests each week on the Swedish side of the border. There is, however, no need for healthcare staff to quarantine. 
Healthcare staff and older citizens have had their Corona vaccines. The situation has calmed down in Kalix, but there is still infection in the population, says Tiina Patokoski.
The situation has varied. To begin with, Finland feared the widespread infection in Sweden. Then Tornio became one of the hardest-hit cities in Finland. Now the disease is found on both sides of the border, so a complete closure of the border would probably not change the situation.
Patokoski is very worried about the Coronavirus and the associated risks. Health authorities work hard to keep the virus from spreading on wards. 
However, Swedish care homes allowed visitors for a long time, while in Finland the doors remained firmly shut to all outsiders and families. Face masks and visors were obligatory in Finnish institutions, not in Swedish ones. 
The passport union and freedom of movement 
The 1954 Nordic passport union has benefited both the labour market and business and has improved social contact and the lives of common people across the borders. In the north, joint cross-border measures have saved money. In Haparanda there is a shared fire and rescue station for both cities.  
Only now, as the border is in focus and the freedom of movement has been limited, people realise how painless and borderless life in the north has been.
It is said this is the first time since 1995 that Sweden is monitoring the Finnish border. This monitoring could get tricky if it turns into a long-term thing. The region has few settlements and not many police. The police's new border duties could impact on their other tasks and crime prevention. 
On the other hand, notes Jari Rantala, border monitoring and identity controls have led to more criminals being captured. That is the positive aspect of border checks, while the Schengen system offers other advantages.