Could education or jobs be to blame for women and girls not choosing science, technology, engineering or mathematics – known as STEM – occupations? Or is it the women and girls themselves who need to change?
These pointed questions are explored in the report Gender perspective on the high-tech future labour market, commissioned by the Nordic Council of Ministers and written by NIKK - Nordic Information on Gender. The report has gone through 199 different research articles and complemented these with new information from national stakeholders in the Nordics, in order to find out how they try to influence gender-stereotypical STEM education choices. 
What becomes clear is that the latter perspective dominates.
"Women are perceived as being the ones who should change since they are considered to lack self-belief, networks and experience. This is to a large degree about 'fixing the women' and less about 'fixing the organisations' or 'fixing the knowledge'," write the report's two authors Ulrika Jansson and Jimmy Sand. 
A focus on role models
The focus of the proposed measures is on role models, mentorships and networks as well as practical experience and aims at women. 
"To a large degree, the measures are about women helping other women by being role models or mentors. Certain measures probably help to get girls and women into educations and occupations that are traditionally male-dominated. Yet they probably do not challenge established privileges and norms or lead to comprehensive changes to the everyday running of things and how work is organised."
The report was initiated as the Nordic labour ministers met in Reykjavik in 2019. Analyses of the future of work show that digitalisation and automation will lead to the disappearance of certain traditional occupations. Meanwhile, there will be more STEM jobs. Women risk being hit by these developments and miss their chance to enter new occupations if there are no changes to existing inequalities.
"I am a maths and physics teacher myself. I know that many girls are interested in these subjects. Yet many young people have a far too narrow understanding of what the subjects can lead to, and what you might actually end up working with," said Sweden's then Minister for Employment Ylva Johansson, as she explained the need to investigate what it is that is keeping girls and women away from STEM jobs. 
Women in OECD countries generally have higher education than men, but the number of girls and women who study STEM subjects is still low. This is how it looks across all higher education: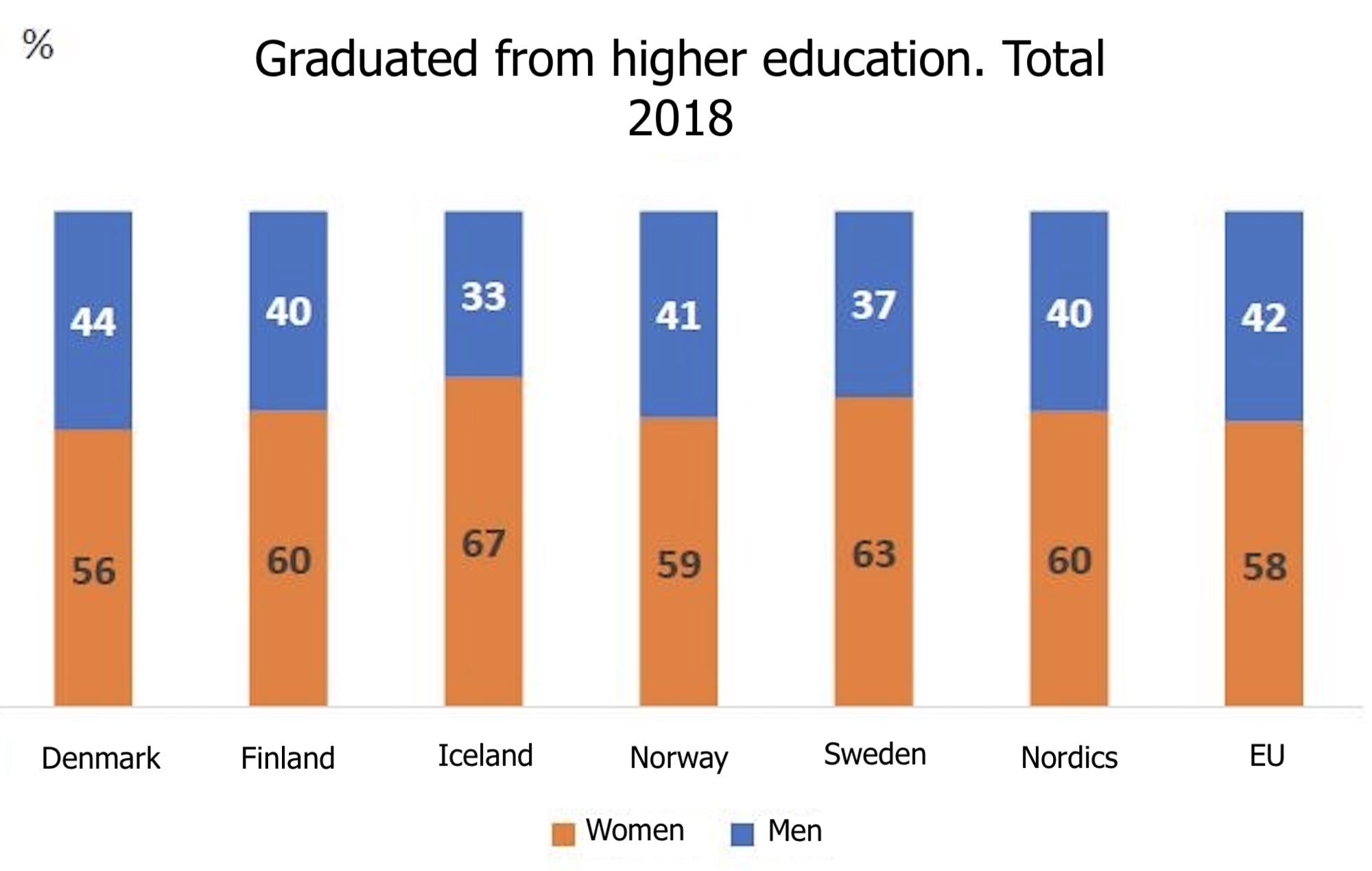 The numbers in these graphs come from the Nordic Council of Ministers' analysis department and the Nordic Statistics database. The information is from 2018 and comes from Eurostat.
But figures for STEM education look like this: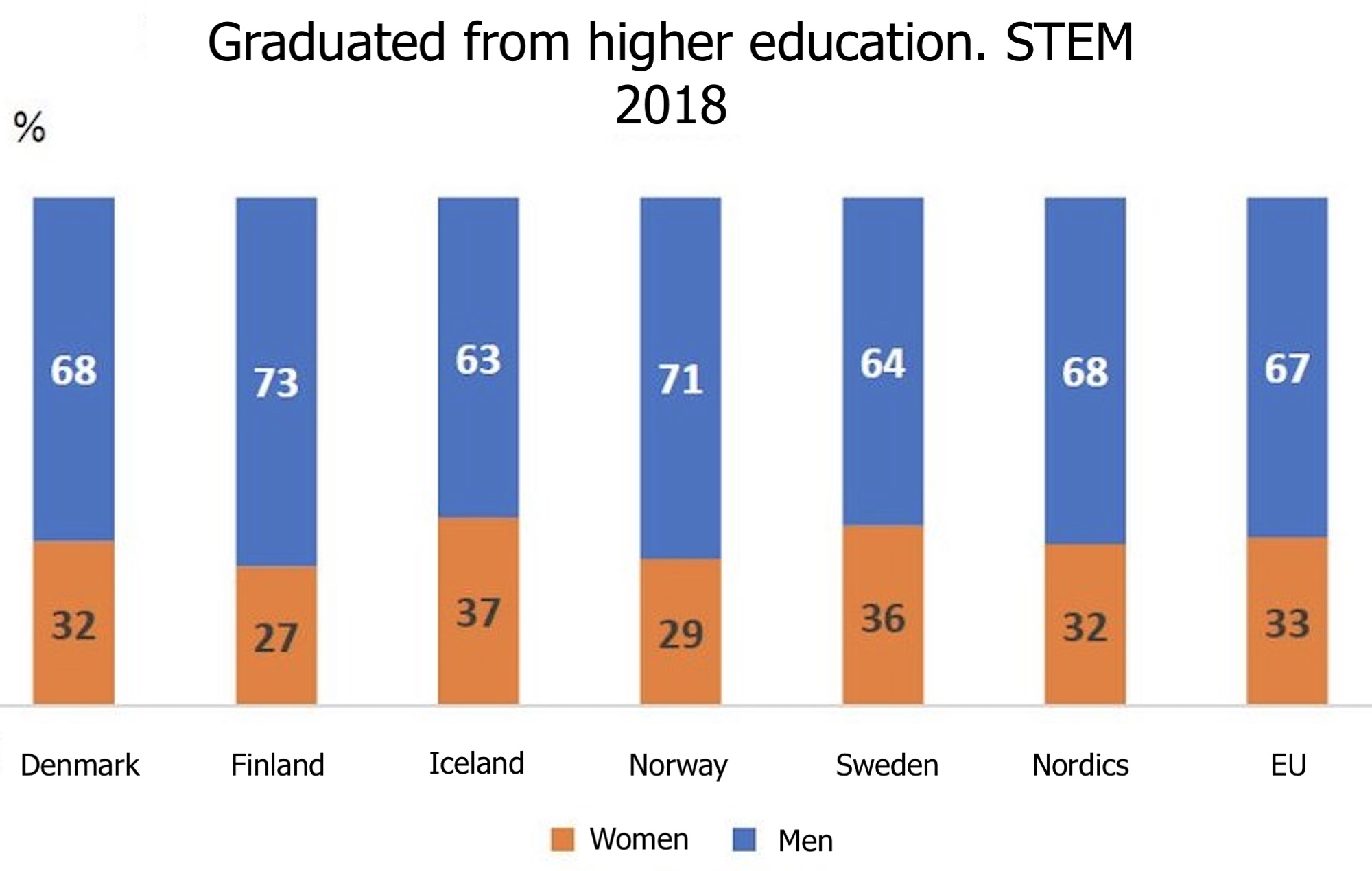 The statistics hide even bigger gaps. Within natural sciences, there is a high number of women in subjects related to biology and medicine. The number of men is even higher in computer sciences and in subjects related to mathematics and physics.  
There is no "natural" explanation. Research shows that gender differences in skills are small, and girls also sometimes have the upper edge. Still, they do not seek further education within STEM occupations as much as boys do. This, in turn, has consequences. 
"According to the European Institute for Gender Equality EIGE, the Union's economic growth would increase by an additional €610-820m by 2050 if women were as active as men in STEM occupations, both because of increased productivity and bigger labour forces."