2020 became a bit of a gap year for gender equality, according to the Nordic Labour Journal barometer. It measures whether 24 positions of power in each of the Nordic countries are being held by a woman or man on 8 March. Like last year, women got 83 points. 100 points equals total equality.
It seems the Corona pandemic has helped maintain the status quo, more or less, in politics across the Nordics. There have been no elections in the past 12 months and few government reshuffles. There are also few new names in other positions of power. 
This is the development across the Nordic region: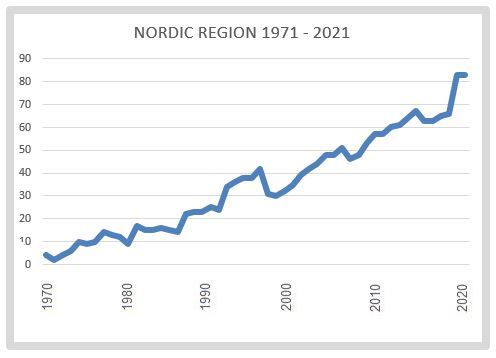 The NLJ's gender equality barometer shows the gender division across 24 different positions of power in each country. Each position gets between one and five points. 200 points are handed out altogether. This year, women get 81 points. 100 points would mean complete gender equality. 
The biggest change was Susanna Gideonsson becoming LO leader in Sweden and Katri Kulmuni's retirement from her position as Minister of Finance in Finland. The LO Presidency carries four points in the barometer and finance ministers get three points. 
These are the points for the whole of the Nordic region: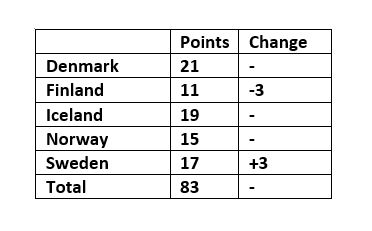 In Sweden, the most recent government reshuffle happened on 5 February this year, when the Green Party's Isabella Lövin stepped down as Minister for the Environment. That means Sweden loses one point. This is more than compensated by Susanne Gideonsson's ascent to become Sweden's second female LO President on 15 June 2020.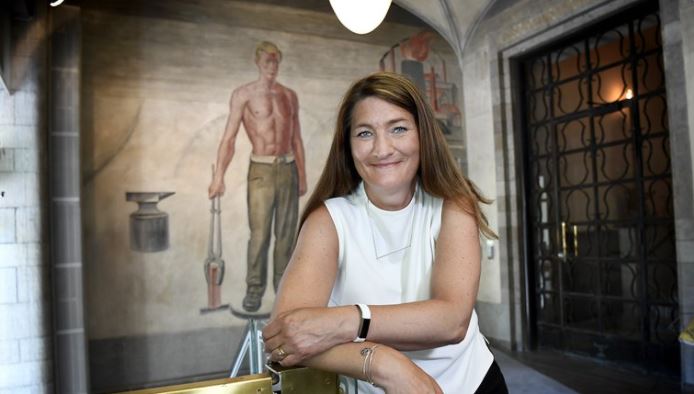 Susanna Gideonsson (Photo: Björn Lindahl/Scanpix). Read our portrait of her here:
Sweden therefore gets an extra three points and reaches 17 points – the highest number ever for this country. 
In Denmark, Prime Minister Mette Frederiksen's position remains safe. The only change in her government since she came to power on 27 June 2019 has been the retirement of Minister for Agriculture Mogens Jensen on 18 November 2020. 
That came as a result of the decision to cull all the country's minks to reduce the risk of a Covid-19 mutation spreading from minks to humans. But the decision turned out to be illegal – a government minister can decide to cull sick animals but not healthy ones. 
Minister for Development Rasmus Prehn became the new Minister for Agriculture, while Flemming Møller Mortensen took over the development portfolio.
At the same time, the Ministry of Environment was separated from the Ministry of Agriculture. Lea Hermelin was already a minister but now got her own ministry too. None of these changes changed the number of points, which at 21 is still the highest of the Nordics. 
In Finland, Sanna Marin has been Prime Minister not quite as long as Frederiksen – she took the helm on 10 December 2019. On 9 June 2020, Matti Vanhanen took over as Minister of Finance after Katri Kulmuni. Finland therefore loses three points and ends up with 11. 
In Iceland, Prime Minister Katrín Jakobsdottír has been in power since 30 November 2017. There were no changes to her government in 2020, nor were there any in the other positions of power. As a result, Iceland ends on 19 points.
In Norway, Just a few days after 8 March 2020, the former leader of the Venstre party, Trine Skei Grande, left her government position. She had been the Minister of Culture for two years and Minister of  Education for two months. Venstre's new leader, Guri Melby, became Minister of Education. This led to no changes to points in the barometer. Norway ended up with 15 points.  
Year ten
This is the tenth year in a row we publish our gender equality barometer.
This year, the Nordic governments can celebrate 50 years of cooperation in the Nordic Council of Ministers. The decision to establish the Council was made during the Nordic Council's session in Helsinki in February 1971. The agreement was signed by the five prime ministers – Hilmar Baunsgaard from Denmark, Ahti Karjalainen from Finland, Jóhann Hafstein from Iceland, Per Borten from Norway and Olof Palme from Sweden. 
Across these five governments, there were only three women in the policy areas that are measured in our barometer: Danish Minister of Social Affairs Nathalie Lind, Finnish Minister of Social Affairs Anna-Liisa Tiekso (later Korpinen) and Icelandic Minister of Justice Auður Auðuns.
Here we delve deep into how gender equality has developed since the establishment of the Council of Ministers.  
The cooperation does not include all government ministers, but there are ten permanent policy areas in addition to the prime ministers. There is also a council of ministers that deals with issues that are considered to be particularly topical. In 2017, for instance, there was a council of ministers for digitalisation.
We measure the distribution of men and women in the councils of ministers, but we also include foreign and defence ministers. The latter are on their way into the Nordic cooperation after Finland and Sweden have been moving closer to Nato. We have not included the ministries of equality, since they are fairly new additions. In total, we look at 13 ministry posts, including the position of prime minister.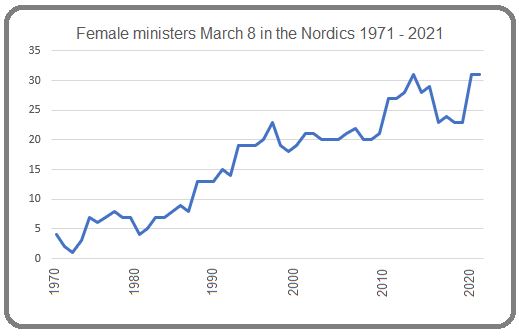 The graph shows the number of people, not points in the gender equality barometer. There are 5 x 13 = 65 positions. Full gender equality is reached at 32.5. This year, women reached 31.
This year's measurement includes 31 female government ministers. Because there are 13 positions in each country, we count 65 positions. The female share is now at 47.6%. The means only one or two changes of ministers are needed to reach full equality. (65 is an odd number, so we will never reach exactly 50%). 
Four in five Nordic prime ministers are also women.
The result is less impressive if you look at the entire period between 1971 and 2021. If we count "a year's work" for each minister post, there have been 50 x 65 = 3 250 years of work over these 50 years. Women have carried out 852 of these, or just over a quarter. (The total number of years of work is slightly lower because Iceland does not have a defence minister and because of some other issues). 
Here is a graphic presentation of this: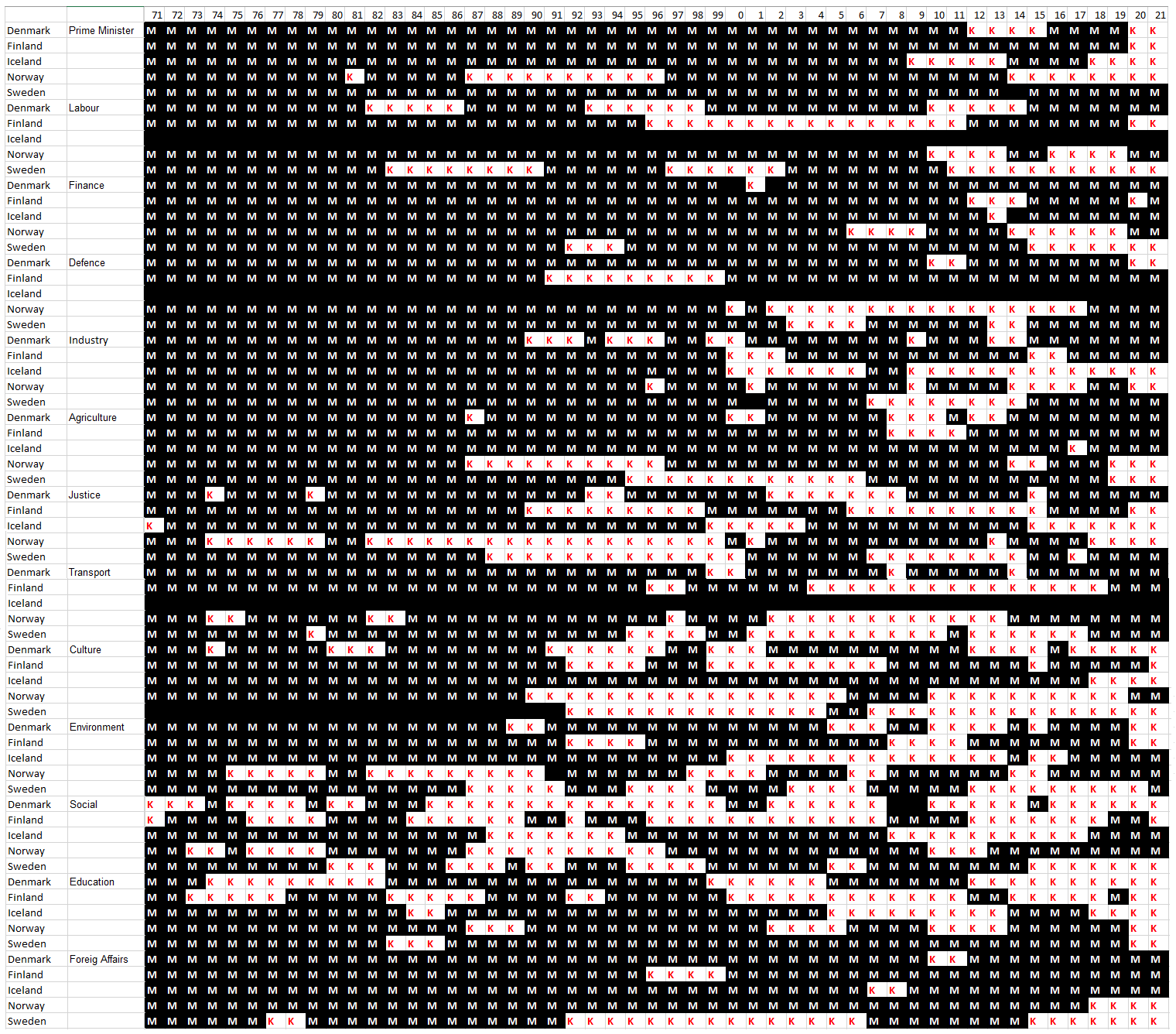 A black square with a white M means a man has held the position. A white square with a red K means a woman has been leading the government ministry. Completely black squares mean the minister post did not exist – like the defence minister post in Iceland – or that a ministry has been in charge of two policy areas which in other Nordic countries had their own ministries. You can view a larger version (on PCs) here: 
No female Swedish prime minister
There are big differences between which ministry posts women have held. Sweden has yet to have its first female prime minister. The most common post held by women has been minister of social affairs. In 41 of the past 50 years, Denmark has had a female minister of social affairs on 8 March.
In total during this 50 year period, only the position as minister of social affairs has been held by women more often than by men. If you consider the five ministries of social affairs in the Nordics, they represent 250 years of work. 129 of these were carried out by a woman.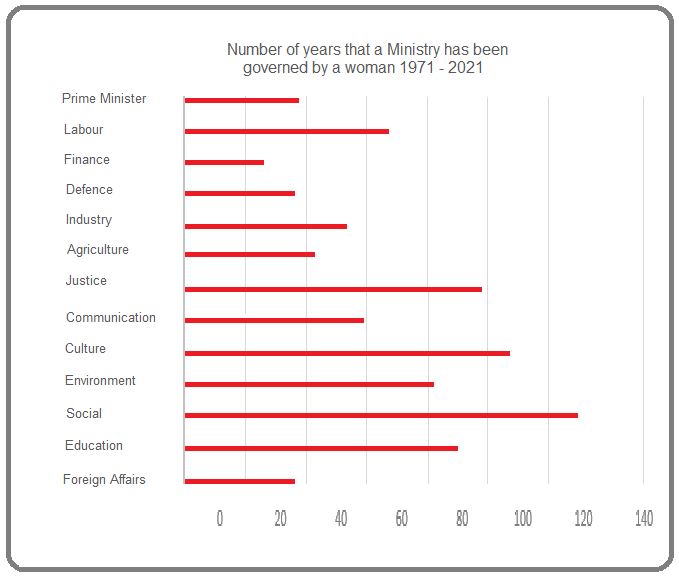 The ministry least likely to be run by a woman is the ministry of finance. Women have controlled these just over 10% of the time, or 26 our of the 250 years of work. Denmark and Iceland have had a female finance minister for less than one year in each country: Pia Gjellerup, 21 December 2000 to 27 November 2001 in Denmark and Katrín Júlíusdóttir 1 October 2012 to 23 May 2013 in Iceland.
Women have held these positions for the shortest amount of time: prime minister (37 years), foreign minister (36 years) and defence minister (36 years).
Positions women have held the longest, except in ministries of social affairs, are in culture (107), justice (98) and education (90).