The last time the Scots went to the polls to vote for or against independence from the United Kingdom, there was speculation whether an independent Scotland would seek to link up with the Nordic region. Next year things might get serious.
As the United Kingdom enters what could be the last week of negotiations with the EU, it still looks like the country might crash out of the union without a trade deal on 1 January 2021. 
In Scotland, where 62 % voted against Brexit, those who want independence for the nation have even more reason to agitate for separation.
Certain of victory
"Scotland is ready to take our place in the global family of independent nations. Scotland is now a nation on the brink of making history. Independence is in clear sight, I have never been so certain that we will deliver it," said Scotland's First Minister Nicola Sturgeon as she opened her governing Scottish National Party congress last weekend.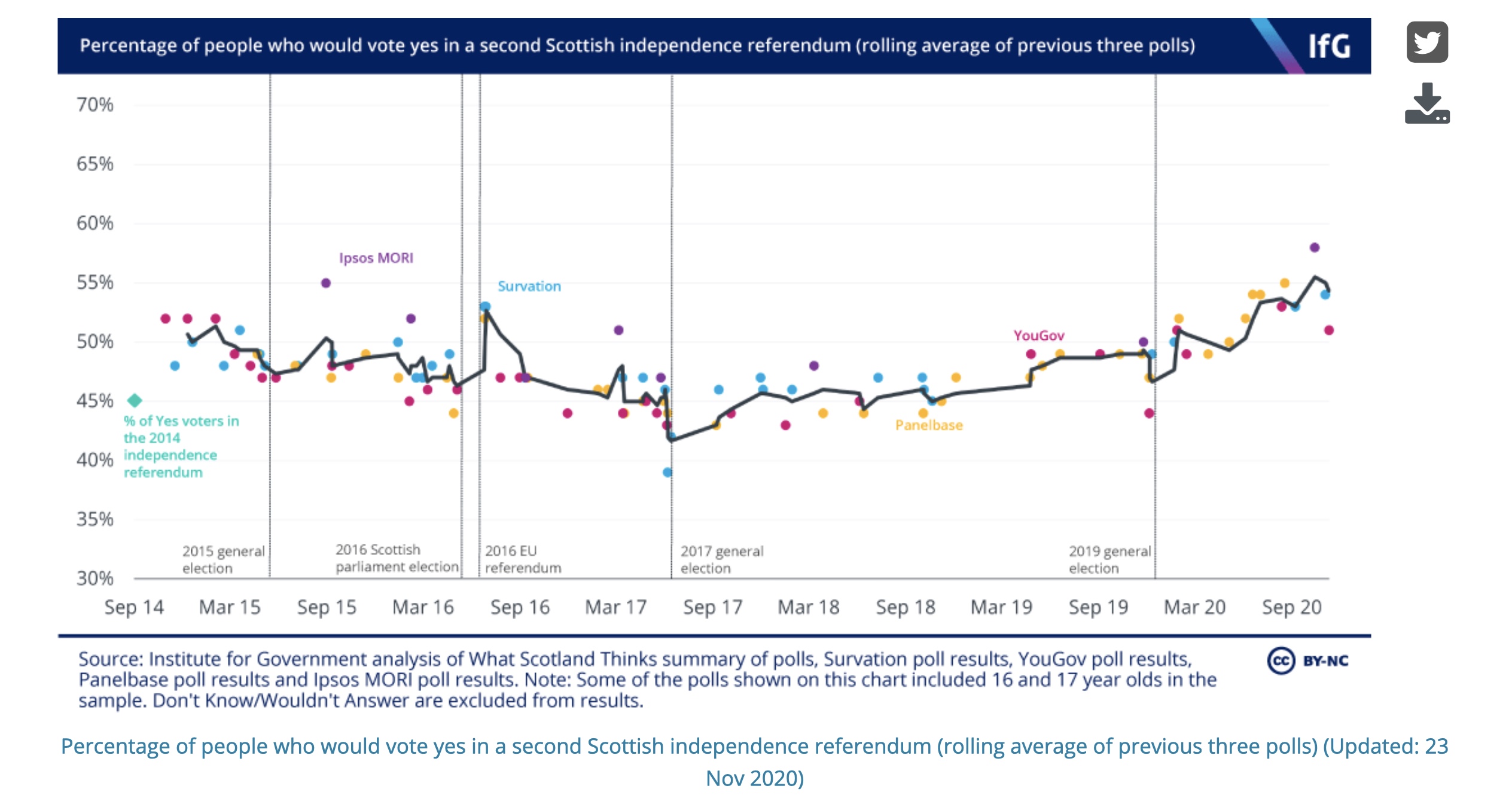 Percentage of people who would vote yes in a second Scottish independence referendum (rolling average of previous three polls) Updated: 23 Nov 2020
In 2014, 55.3% of Scots voted no to independence. The referendum was supposed to be a once-in-a-generation vote, but after Brexit the Scottish government believes it is time to ask one more time.
And since March this year, the yes side has enjoyed a several percentage point lead over the no to independence camp.
Cast off and drift north?
A new referendum could happen as early as next year. But a newly independent Scotland would not be able to automatically return to the EU as a member state. The country would have to apply again, and after negotiations, all 27 member states would have to agree to let it in.
So it might be easier to "become a part of" the Nordic region. On 30 January this year, the day before Brexit became reality, a delegation from the Nordic Council of Ministers' presidium visited the Scottish parliament. Both sides highlighted the close historic and cultural links between Scotland and the Nordics.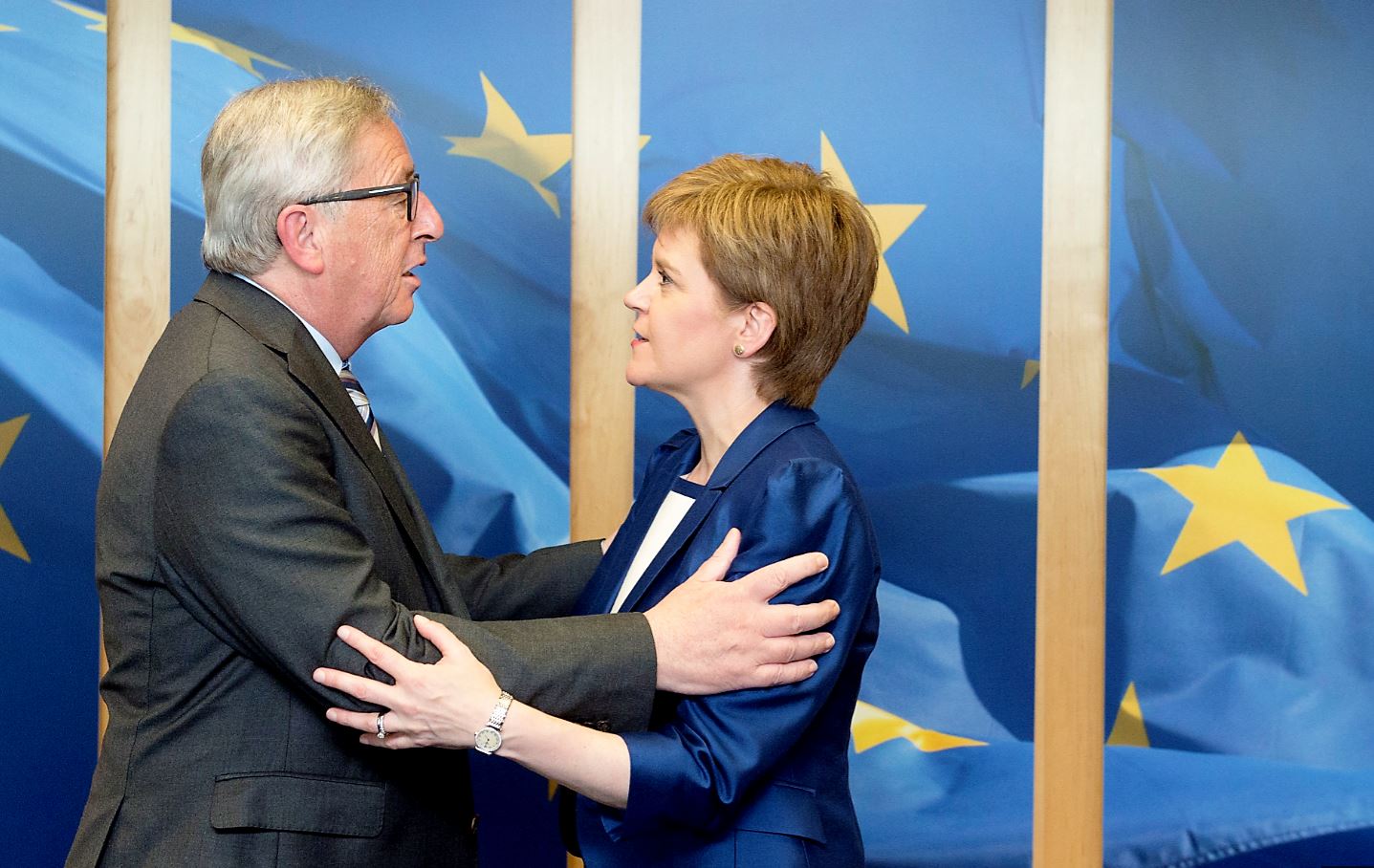 Nicola Sturgeon has always been a friend of the EU. Here with former EU Commission President Jean-Claude Juncker. Photo: Etienne Ansotte/EU
"Historically, there have always been close ties between the Nordic countries, Scotland and the rest of Britain. The Nordic Council will do everything in its power to ensure that this close co-operation continues," said Silja Dögg Gunnarsdóttir, the President of the Nordic Council in 2020.
"Despite Brexit, we want Scotland to know that she will always have friends in the Nordic countries."
A big enough region as it is
But could Scotland really apply for membership of the Nordic Council if the country were to become independent from the rest of the United Kingdom? Swedish Radio put that question to the Nordic Council's Director Britt Bohlin in 2017.
"It is a long journey to get there, and not something that could happen overnight. It is a big step to make the Nordic region bigger than it is today," Bohlin said back then.
The Nordic countries will also need to continue to cultivate their close relationship to the UK after Brexit – with or without Scotland as part of the Kingdom.
Looking north regardless
What is certain is that the Scottish government has already started looking in other directions to position the country in a world undergoing major geopolitical change.  
Last year the government in Edinburgh launched a new political framework called "Arctic Connections" which it says will build a new platform for policy and knowledge exchange.
"The Scottish Government intends to strengthen the foundations of a long-standing two-way discussion with its Arctic partners. We want to share Scottish expertise while underlining our desire to learn from others," writes Cabinet Secretary for Culture, Tourism and External Affairs Fiona Hyslop in the introduction.