The Finnish city of Vaasa was at the very start of a campaign to make it the happiest city on Earth. Then corona hit. Now it remains to be seen whether the city and its inhabitants can create greater happiness in the depths of a crisis and a pandemic.
Finland was named the happiest country in the world for the third time last March. As usual, Sweden, Norway, Denmark and Iceland were also featuring near the top of the list. 
The World Happiness Report is published by the UN's Sustainable Development Solutions Network. More than 150 countries are ranked depending on how happy their citizens consider themselves to be. People's subjective well-being is the most important parameter. 
When the UN ranks happy cities around the world, most often the larger ones are in the running. Now Vaasa wants to beat places like Helsinki, Copenhagen, Oslo and Århus. High up are also Bergen, Stockholm and Reykjavik.
Based on the Gallup survey mapping happiness in 186 cities you can also find the least happy. Bottom three are Gaza, Sanaa and Kabul. 
Not only hard values
Vaasa's city council politicians and civil servants were in the middle of reevaluating the city's strategy when they realised the happiest citizens do not necessarily live in the capital Helsinki. Previous surveys have shown many happy people live in the surrounding Ostrobothnia region. Vaasa decided to follow up locally.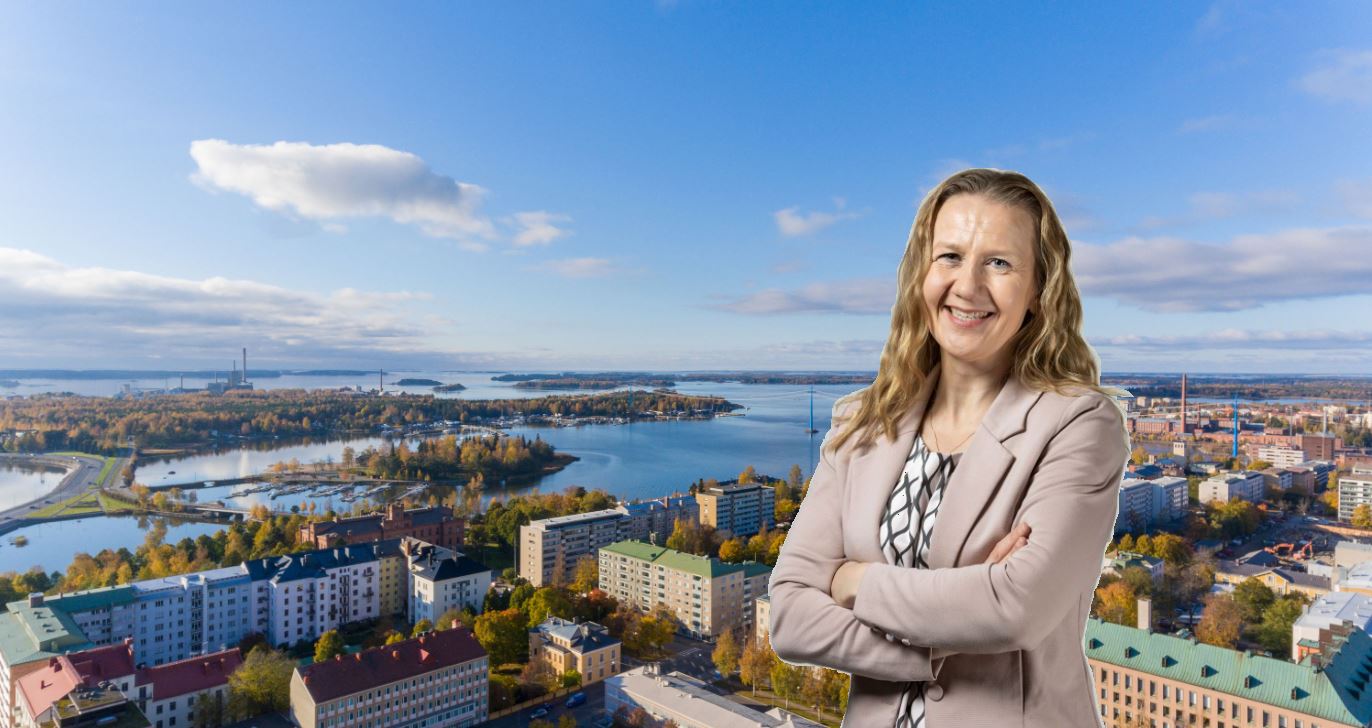 The City of Vaasa's Head of Communication Leena Forsén. In this NLJ montage, the background is Vaasa in autumn colours.
"We had pretty hard targets for population growth and for balancing the city economy," says Head of Communications at the City of Vaasa, Leena Forsén. Making Vaasa "the Nordic hub for energy technology" is also an aim. 
They also wanted to include some softer values. The city aimed high: to have Finland's happiest citizens.
Improving happiness and well-being can be done through the city's existing services, says Leena Forsén. She mentions some sectors that all contribute: culture, sport, leisure activities, social services, health care and education. All this can help people feel good and be happy.
A happy city attracts new people
The Vaasa City Head of Communications is well aware that a happy city can tempt more people to move there. The aim is to increase Vaasa's population. Experts and highly skilled people for the city's energy sector are particularly desirable.
"That is obvious. Who would not want to live in a city where we really care about our citizens, not just for economic reasons. This is part of our message," says Leena Forsén.
Most cities and municipalities probably want to make their citizens happy. Well-being is important and it is part of the city's responsibilities to aim for it. But Leena Forsén has not heard of any other place that has had an expressed aim of making their citizens the happiest in the world. 
The city's "customer service promise" undertakes to deliver an international and multilingual city, a safe and easy life with good welfare and a rich cultural life. Vaasa also wants to be a "logistical flagship" and "Europe's energy locomotive" thanks to its technology industry. Closeness to nature and the archipelago is also mentioned.
Apart from having Finland's happiest citizens, the city strives for population growth, more jobs, improved economy and in the long term to become a carbon-neutral city on the coast of the Gulf of Bothnia.
The pandemic interfered 
The new strategy was adopted in the autumn of 2019. A major campaign was due to be launched in March. This has now been scuppered by the corona pandemic.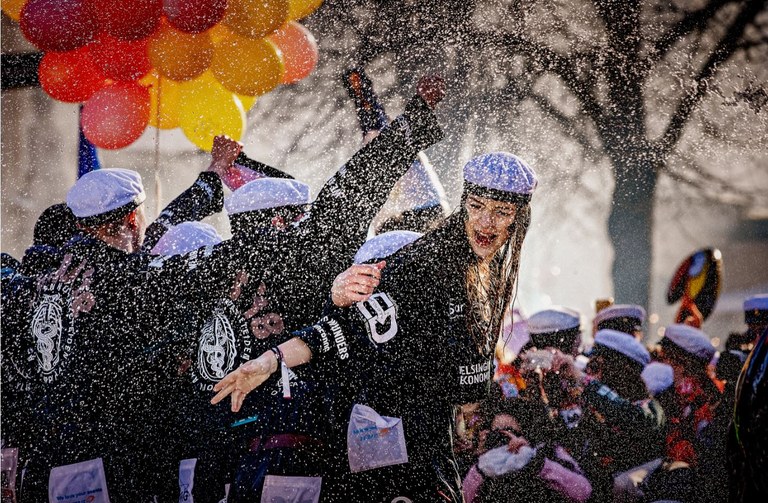 Happiness can have a dark side. In October, Vaasa got the nickname "The involuntary corona capital of Finland". Covid-19 is mainly spread through student parties at the city's universities and colleges. The photo above is from Helsinki.
It was decided to lie low and wait for the pandemic to ease off, and then try again this autumn. 
"We have put some breaks on the campaign. The message of making everyone happy is perhaps not as easy to get through during the corona pandemic," says Leena Forsén.
This autumn, Vaasa became the involuntary corona capital of Finland as the second wave of the pandemic arrived. The city had Finland's highest rate of Covid-19 cases. Strict quarantine rules have since helped stop the rapid spread.
At the start of November, the city region had recorded just over one thousand cases of Covid-19. The cases are still not increasing exponentially. Finland has had around 350 deaths from Covid-19, and a handful has occurred in the Vaasa area. Yet the happiness aim remains and the city continues to work towards it.
"Right now people are perhaps less happy. Yet we must also show that the City of Vaasa cares about people's happiness. It is important to measure this now and later too so that we have something to compare this with," says Leena Forsén.
Being the happiest city in the world is an ambitious goal, agrees the city's Head of Communication. But during the exceptional corona period with people working from home and voluntary isolation, many have discovered that happiness is close at hand, in their own city. 
Nordics often in the lead
The UN report notes that the Nordic countries often rank top both when it comes to happiness and other issues. This includes democracy, political rights, low corruption, gender and economic equality – as well as human rights. 
The question is whether the tax-funded welfare state keeps crime low or whether people's trust in authorities and each other is key.
The UN survey tries to explain which factors lead to happiness or unhappiness. In the Nordics, rough weather, small-scale societies and long distances, a homogenous population and relatively high suicide rates might challenge the image of the Nordics – or Finland – being the happiest place in the world.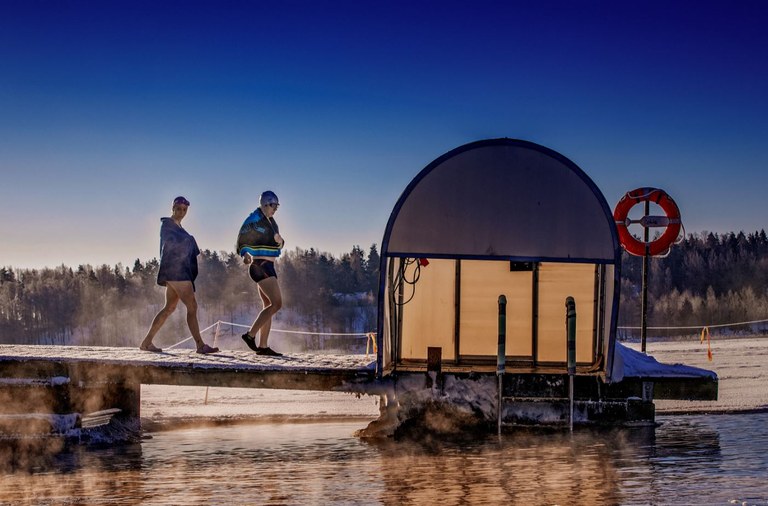 Happiness can mean different things in different countries. An ice bath after a sauna does not necessarily give you the same feeling of happiness as the Finns get. 
Not everyone in Finland believes the statistics showing Finland to be the world's happiest country.
Unemployment, alcohol abuse and domestic economic challenges during the corona pandemic have hardly made pessimistic thinking less prevalent. The largest cause of early retirement due to ill health is now said to be caused by mental health issues. It is easy to find ways in which Finland could become even happier. The City of Vaasa is exploring these too.
Happiness professor will teach Vaasa's citizens
The City of Vaasa has hired their own "happiness researcher" in Professor Emeritus Markku Ojanen. He has spent decades researching happiness as a professor of psychology at the University of Tampere. Now, he is going to help the people of Vaasa find happiness. 
He points out what people can do themselves, and the plan is to help Vaasa citizens find out how they can influence their own happiness. This will happen as soon as the corona pandemic eases off. 
One of Vaasa's projects has been to plant trees together in what is known in Finland as "talko". Sometimes small measures are enough, and some have been possible to carry out while keeping a safe corona distance. Leena Forsén quotes happiness professor Markku Ojanen several times during our short interview.
"Happiness is not to long for the past. Nor can you simply wait for things to get better. The point is to enjoy, be grateful, and to be happy with what you have right now. This is the message that will be spread among Vaasa's population. 
"This idea is actually very suitable during the corona crisis. It is hard to plan for the future, as you don't know how it will pan out."
Choirs also bring happiness 
Different people enjoy different things – be it being able to enjoy and be thankful for family, nature, hobbies or leisure time. But it is all-important these days.
Leena Forsén admits that the project has come in for some criticism.
"A successful marketing campaign creates emotions, and this one is no exception. You get both positive and negative emotions. But if you create no emotions at all, the message has failed."
Happiness as a term has also been discussed in Vaasa. Some say happiness can be linked to language. There is a large Swedish-speaking minority in the region.
Finland-Swedes are said to have a bigger network and they sing in choirs – two factors which have improved psychological well-being in addition to being economically comfortable.
The conclusion is that happiness is not some American version based on owning a big house with many things in it. Nor is it being so content that you stop working to improve society or demand your rights.
The second corona wave makes for a sad situation. It makes it hard to talk about happiness right now in the way that the City of Vaasa had planned.
But the project has not faced a lot of criticism. Quite the contrary, says Leena Forsén. A city that cares about its citizens is exactly what is needed.