Few countries have seen a more rapid tourism growth than Iceland. For many years, the number of tourists rose by 20 to 25% every year. This led to a debate over whether Iceland was a victim of "overtourism" like Barcelona and Venice.
Now, Covid-19 has toppled what had become Iceland's biggest industry, and the debate has become more nuanced.  
A graph used by three Icelandic researchers in an article for the magazine Environment shows that, from a long-term perspective, the rise in the number of tourists has been spectacular.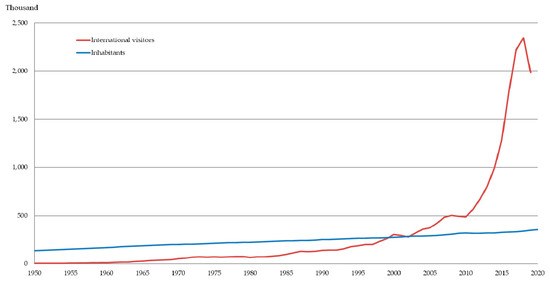 The blue line represents the number of citizens in Iceland, the red represents foreign visitors. In the 50 years until the year 2000, tourists (the largest group of foreign visitors) made up a small fraction of the total number of people on the island. But that year the number of visitors overtook the number of citizens for the first time ever. After 2010 the numbers started shooting up, and by 2018 the number of tourists and other visitors reached nearly 2.5 million people – eight times more than the population of Iceland.
Overtourism or not?
Then the increase stopped. In 2019, the airline Wow went bust. In 2020 the coronavirus arrived. This has led to a collapse in tourism but is not part of the graph. People had started using the term overtourism in Iceland, but was there actually overtourism there?
Jóhannes Þór Skúlason, the managing director at the Icelandic Travel Industry Association (SAF), is sceptical. 
"There has hardly been overtourism in Iceland. But we have had the same problem as other tourist destinations often have, what is known as overcrowding. Most tourists visit the same destinations at the same time – for instance the Eiffel Tower in Paris. In Iceland it's the Golden Circle," he says.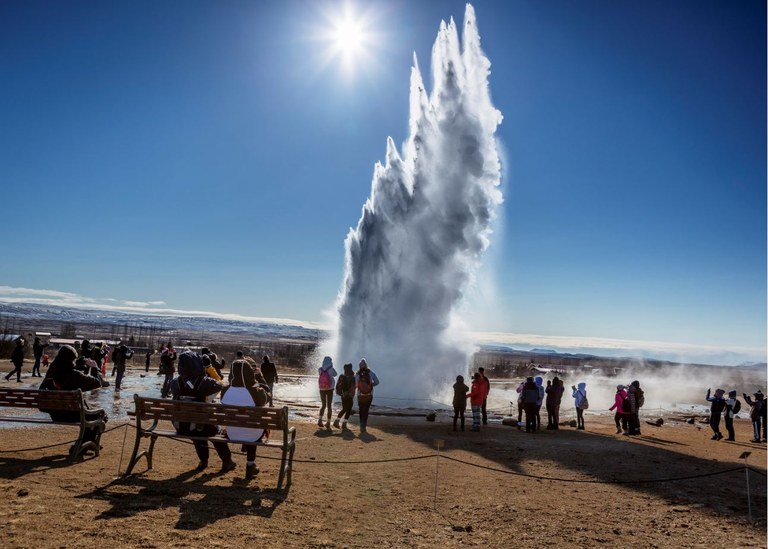 The Strokkur geyser is one of Iceland's main tourist attractions. It is situated in the thermal area  Geysir, which has given its name to this kind of erupting water holes in most languages.
The Golden Circle is a 250 kilometre long tourist road leading to three of the largest attractions: the Gullfoss waterfall, the Geysir thermal area and Þingvellir, where you can see the continental plates move apart. It was also the seat of the first political meetings in Iceland.
The term overtourism is a limited one since it simplifies things a lot, according to Professor Gunnar Þór Jóhannesson at the University of Iceland. Academics warn against simplifications like this, and want to delve deeper to see what is really going on. Jóhannesson believes it is a gross simplification to say that Iceland is a victim of overtourism.
"We have to look at the context in order to determine whether or not we have a problem, and what we should do if that is the case," he says.
A worse situation statistically speaking
Gunnar Þór Jóhannesson points out that if you look at the number of foreign visitors versus the number of citizens, Iceland – like other islands and city-states – are in a worse situation statistically speaking because the population is very small. Iceland is almost always high on lists over places with many tourists per population, alongside other smaller entities like Monaco and Macao.  
"But this does not present a realistic picture of how things really are," says Gunnar Þór Jóhannesson.
Tourism in Iceland reached a peak already in 2018, before Covid-19 hit. It is not entirely clear why, since no research has been done around this. We also do not know whether the market had been saturated or if Iceland simply had fallen on people's lists over interesting destinations. There is simply no research or analysis which could provide more knowledge of what has been behind this.
"Tourism is very sensitive to external influence," points out Jóhannes Þór Skúlason at SAF.
Expensive flights
The collapse of the Wow airline could be one major reason why tourism peaked. This made Iceland less accessible as a destination. Economic developments in several markets like the USA and the UK could also have played a role. Fewer Americans arrived in Iceland in 2019 than earlier, for instance. Iceland's currency was volatile. Flights had been cheap, but now became more expensive. Boeing's MAX aircraft were grounded after two crashes, oil prices rose and more airlines faced economic problems. 
"This too had an effect on what happened in Iceland," says Gunnar Þór Jóhannesson.
"We could also speculate whether tourism in Iceland is undergoing a change. There is a change in who wants to travel to Iceland, but those with the greatest purchasing power will always remain top.
"Then there's the corona pandemic which completely skewers the picture. You cannot compare it to anything else. We don't know what would have happened had we not been hit by Covid-19," says Jóhannes Þór Skúlason.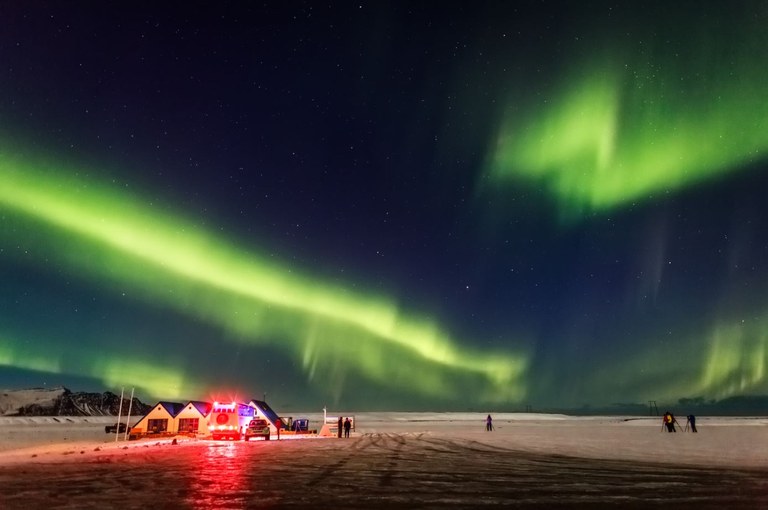 Northern lights at Jökulsárlón glacial lagoon, South-East Iceland. 
Northern Norway, northern Finland and the northern parts of Sweden are popular destinations alongside Iceland. These regions have all seen a large growth in tourism. Many now also travel in winter to experience the northern lights, both to Iceland and to elsewhere in the Nordics. All these regions are easily accessible by plane and that helps, according to Gunnar Þór Jóhannesson.
Overcrowding calls for investment
Iceland struggled with its infrastructure at the start of the tourism boom, but had focused on improving its infrastructure in recent years. The so-called overcrowding effect is the reason. Tourists visit the same destination at the same time, so Iceland's government and private investors poured money into infrastructure.
But tourism has not been problematic across the board. It has created more than one in three jobs in recent years and given Iceland an enormous economic boom. There are plenty of examples of gold diggers, as they say in Iceland – people who only want to make as much money in as short a time as possible. Then you have other businesses who have invested in knowledge and infrastructure. These are the ones Jóhannes Þór Skúlason believes will survive the current crisis.
"The overtourism debate is only a bubble which will pop and disappear," he says.
Iceland now has the opportunity to continue developing its infrastructure, carry out research and keep an eye on overcrowding at certain tourist destinations. Jóhannes Þór points out that Iceland can limit the number of tourists if it wants to. It does not have to welcome even more tourists.
"We control this development. We must decide what kind of tourism we want in the future. But that means the state and the destinations must be prepared to make unpopular decisions. Tourism is no natural catastrophe, it is something we can control ourselves," he says.