Sexual harassment in the workplace must end, say the government and the social partners. Clearer rules for psychological work environments came into force on 1 November 2020.
Nearly every week there is a new scandal involving Danish workers who have been sexually harassed at work. Several prominent decision-makers have lost their jobs over this, the latest being Frank Jensen – a leading member of the governing Social Democrats and the Lord Mayor of Denmark's largest municipality, Copenhagen. 
Frank Jensen chose to step down after new allegations emerged from female coworkers and political colleagues who said they had been harassed at several Christmas parties.
The allegations against the former Mayor got massive attention in Danish media, where the debate about sexual harassment really got off the ground when Danish TV presenter Sofie Linde, from the stage during a gala show in August 2020, shared her experiences of sexual harassment at her job at Danmark's Radio.
"I was 18 years old and had just started working at Danmark's Radio. We were going to a Christmas party and I had been looking forward to it. This big TV personality comes up to me, takes me by the arm and says: 'If you don't come outside to suck my dick, I will fucking ruin your career. Then I will ruin you'," recalled Sofie Linde.
The trade union movement also hit
Not long before Frank Jensen stepped down, the metoo movement also disclosed another top politician, Morten Østergaard. He had to step down from the Danish Social Liberal Party. Since then, the trade union has also been hit. 284 trade union workers and volunteers have written a joint protest letter to the Politiken broadsheet newspaper in which they disclose how there is a harassment culture in parts of the trade union movement too.
21 of the signatories have anonymously talked about sexual harassment from top leaders and colleagues in the trade union movement, the Politiken wrote. The newspaper published the complaints without investigating them further.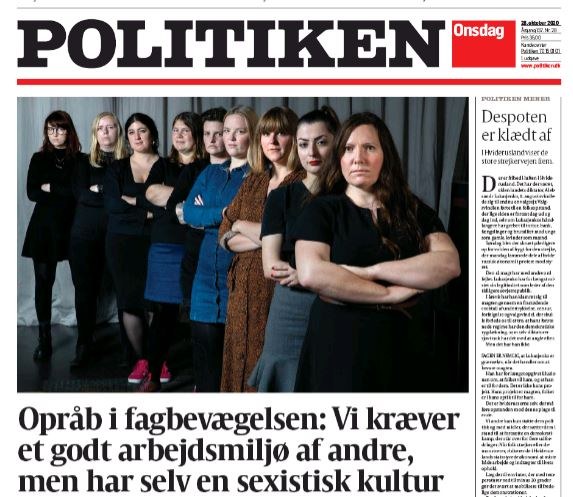 The letter of protest came just a few days after the trade union movement had sent an open letter about how it would lead the fight against sexual harassment in the workplace. The open letter was signed by the heads of 53 trade unions under the Danish Trade Union Confederation FH. 
"Of course we should be able to have fun at work and have an informal tone, this is part of a good work environment. But it should be absolutely clear to everyone that we will not tolerate harassment of any kind in our workplaces," said the FH President Lizette Risgaard in a comment to the open letter. 
FH looks at prevention as a crucial tool to stop harassment in the workplace and Risgaard says employers carry the main responsibility. She has suggested introducing "an indirect objective employer's responsibility" so that employers will be held responsible in cases where they are found not to have taken appropriate action to prevent harassment.
Employees and employee representatives are also responsible for creating an environment where it is easy to speak up straight away if a line is being crossed, argues Lizette Risgaard.
"We must dare to take responsibility for each other and not hang colleagues or others out to dry."
In an important landmark in the middle of the metoo storm, all central Danish rules on psychological work environments have for the first time ever been gathered in one executive order which came into force on 1 November 2020. The new order was passed by a large majority in the Danish parliament as part of an agreement on work environments back in 2019, aimed at clarifying rules for employers and employees, making it easier to work systematically to prevent bad psychological work environments.
Since coming into force, the new order has been welcomed by all the social partners. The order does not come with any new legal bindings. Nevertheless, trade unions have said it is "historic" and "a landmark" that Denmark now has gathered all rules on psychological work environments in one place.
The Confederation of Danish Employers DA expects it will also help clarify relevant rules and hope that the order can also help put in place shared terminology in the dialogue about psychological work environments.  
Minister of Employment Peter Hummelgaard sees the new order as an important first step towards better psychological work environments.
"It makes me very happy that we now have an order which all parties support. It is important to have a shared platform and this is an important step in the right direction. The government will continue to focus on the psychological work environment," the Minister said in a press release. 
A demand for clear leadership
The order comes with comprehensive guides which describe in great detail what employers and employees should do to prevent bad psychological work environments and how to solve challenges. One order addresses actions which are considered to be harassment, and here sexual harassment in the workplace is defined as "all kinds of unwanted sexual attention". 
The guide also provides the following examples of harassment of a sexual kind:
Unwanted touching

Unwanted verbal encouragement to sexual intercourse

Crude jokes and comments

Un-called for questions about sexual issues

Showing of pornographic material
The guide also says employers have a duty to make sure no work leads to a risk of physical or psychological ill-health as a result of harassment, and that management should have a clear policy when it comes to harassment.  
The workplace can for instance formulate a clear policy on prevention and action, including clear guidelines for what employees should do if they suspect harassment in the workplace.
Young women hardest hit
So do management act clearly and consistently when workplace harassment is brought to light? No, says one of Denmark's leading work environment experts, Tage Søndergaard Kristensen. In an interview with the trade magazine Magisteren, published by the DM trade union, he said he wished leaders would act decisively against those behind workplace harassment. When they do not, it can appear harassment is accepted, he argues.
Tage Søndergaard Kristen is a work environment consultant and a former Professor at the National Research Centre for Work Environment NFA, which for years has documented the scale of sexual harassment in the Danish labour market. The latest survey from 2016 showed that 3.7% of workers in Denmark had experienced sexual harassment in the workplace in the last year. The number was even higher among young women.