What are students most and least happy with in 10 Nordic student cities? Statistics Norway have used data from the Eurostudent VI survey to compare students' situations in different countries.
Eurostudent is a major European survey which is carried out every three years in 30 countries. It includes statistics for 26 Nordic student cities. Researchers Daniel Albertsen and Anna-Lena Keut at Statistics Norway have looked at conditions in the following cities: Aalborg and Aarhus (Denmark). Tampere and Turku (Finland). Oslo, Bergen and Trondheim (Norway). Stockholm, Linköping and Lund (Sweden).
Some of the conclusions include:
It is far more common to live together with other students in Norwegian cities compared to the other student cities. 58.9% of students in Trondheim live with friends or other students. In Turku and Stockholm, the number is 11.6%. 

The Finnish student cities of Tampere and Turku stand out by having the largest number of students who are happy about different aspects linked to their accommodation.

Monthly student support in several of the Swedish cities

is higher than the median monthly cost of living. Oslo has the highest median cost of living, at more than 10,000 kroner (€8,450).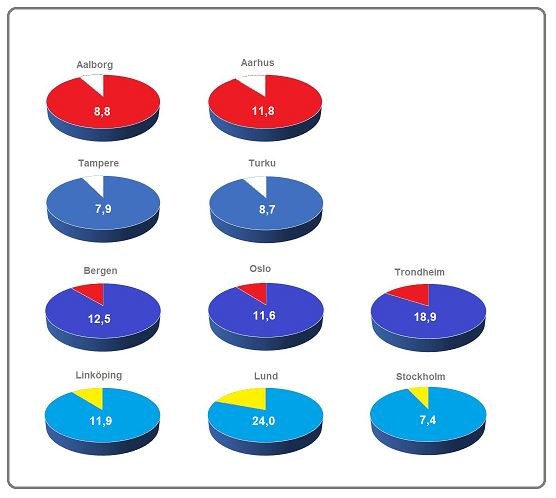 Oslo has the highest number of students out of the ten cities with 76,793, but students make up the largest proportion of the total population in Lund and Trondheim with 28,433 and 36,595 students respectively. This means Lund's population is made up of 24% students and the figure for Trondheim is 18.9%. Graph by NLJ, based on figures from Statistics Norway.
"In terms of how students experience their student lives, we found differences between the cities when it comes to how happy students are with both the quality of teaching and with how courses are organised. Norwegian cities have the lowest number of students who are content with the quality of teaching," write the two researchers. 
On average, more master degree students are happy with the quality of teaching compared to bachelor degree students. Across all of the cities, more students are content with the quality of teaching than are happy with how courses are organised.  
Linköping stands out as eight in ten students there consider their job prospects to be good in their home country at the end of their studies. Only half of students in Bergen say the same. Linköping also stands out, together with Tampere and Turku, in terms of how many students see their job prospects abroad as good. More than half of students in these cities consider job prospects to be good.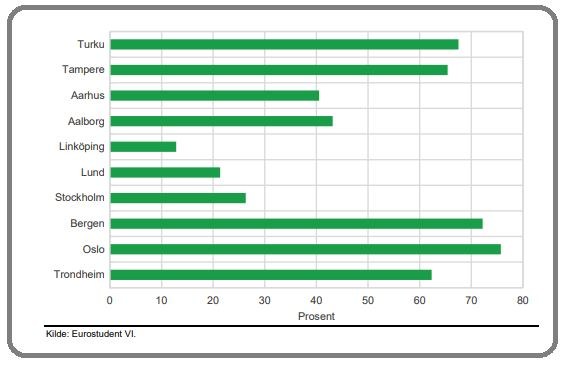 One of the greatest differences in the survey is how many of the students have not been able to afford not having a job while studying. 70% of students in Oslo said they had to work, while the figure for Linköping was less than 15%.