Improved gender equality, less stress and more people who feel they have a meaningful job with positive challenges. Those are some of the surprising results found in the 2020 Norwegian working life barometer.
The answers to the main question – whether Norwegian workers are satisfied with life – show a negative trend, however. More now say they are somewhat satisfied with life than those who say they are very satisfied. People with a looser connection to the labour market are less satisfied than those who have the safest jobs. The trend is unusually sharp and is a result of the corona crisis, the researchers behind the barometer say.
The Norwegian Work Research Institute, WRI, has performed this survey for twelve years in a row now, on commission from the YS trade union. There were 2,900 respondents. Several corona-related questions were added to this year's survey, and there were many pessimistic answers to these – especially from those in low education/low-wage jobs. The Nordic Labour Journal has written about that part of the survey here: Interim Norwegian study of the corona epidemic's effect on workers. 
But answers to many of the usual, annual questions are also coloured by the corona crisis.
No high anxiety level
The survey's most general question is "how satisfied are you with life today?". 
"The lack of change in the lower part of the scale is interesting. It does not look like workers have entered into a state of depression or high anxiety level. But there has clearly been a mood change," write the three researchers Mari Holm Ingelsrud, Dag Ellingsen and Arild Steen.
The researchers believe the following to be some of the changes linked to corona:
Trade union support has increased, especially within trades that have seen the highest furlough numbers because of corona. On a scale from one to ten, school and kindergarten workers put trade unions' importance at 8.3 on average, while IT workers say 7.10. The average for all other workers is 7.7, while last year this number was 7.59.

The fear of losing one's job has increased. Those who are the least worried are naturally people working in the health care sector. They put themselves at 7.8 on the scale for how safe they felt, with 10 as the highest number. Restaurant and tourism workers are the least secure, putting themselves at 3.6 on the same scale.
There is no overall significant increase in the level of fear for change and redundancies. But the numbers for the vulnerable trades are very high compared to in previous years. The sense of security within the restaurant and tourism sectors has fallen from 6.0 to 3.6.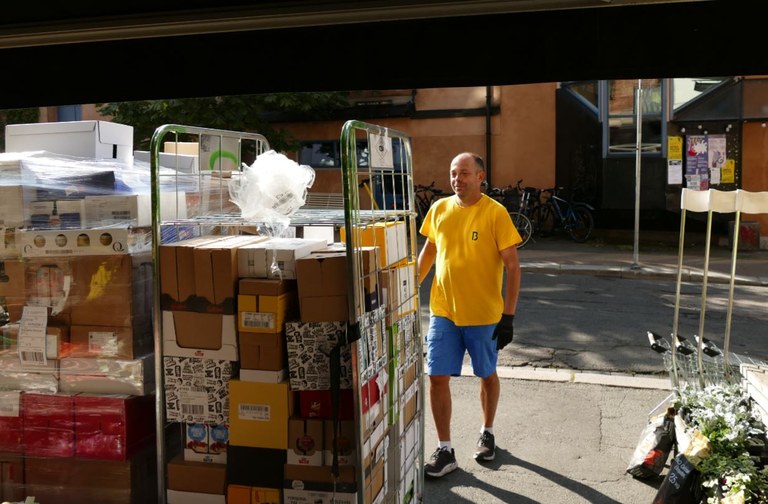 Retail is one of the trades that has had a lot of attention of the positive kind during the corona pandemic. Here Stein Bakken has just received the morning delivery. 
Not only negative
The corona crisis has not had purely negative consequences, however. Gender equality has improved during the months when many have been working from home. The number of women and men who share the responsibility for housework and childcare has risen. The barometer's total gender equality number is now 5.35, up from 5.05 last year.
All of Norway's schools and kindergartens had to close on 13 March. The survey was performed between 24 March and 20 April, one week before the lower school classes and kindergartens reopened.
Fewer people have experienced workplace stress during the corona period compared to last year. Workers are less exhausted and more of them experience a better work/life balance. 
Hailed as heroes
"Many did not have to travel to work – in Oslo this can take an hour – and they got more time as a result. But the corona period led to more than just a reduction in demands put on workers – organised activities closed down, it was not easy to go out, be social outside of the home or travel to somewhere else. All this meant people had less of a programme in their spare time," says Mari Holm Ingelsrud.
More people also feel they have a meaningful job with positive challenges.
"The biggest differences are seen among retail workers. They were hailed as heroes for going to work and stacking shelves with food. It helps to have your job recognised."
On a scale from one to ten for how meaningful people's jobs felt, food and other retail increased from 6.7 in 2019 to 7.3 this year.