The taxi platform company Uber spent little time getting four Nordic countries to change their legislation to better suit the company's business model. Despite this, the number of people working for Uber remains low, according to a report on the platform economy commissioned by the Nordic Council of Ministers.
The American company Uber, founded in 2009, has now expanded to more than 800 cities across the globe. In the autumn of 2014, Uber set up shop in Denmark, Sweden, Norway and Finland. Apart from in Sweden, the company faced regulated markets everywhere that only allowed a certain number of licensed taxi companies to operate, with strict regulations for drivers and for the cars.
According to researchers Sigurd M. N. Oppegaard, Tiina Saari and Antti Saloniemi, Uber operated just like it does in the USA. The company simply did not care about existing legislation:
"After initiating its services, without concern for their illegality, Uber gained a foothold by building a coalition with its consumers – who enjoyed the cheaper rides – and presenting itself as the future of transportation, thus prompting politicians to create a taxi market regulation adjusted to the company's business model," the three researchers write.
Uber faced serious opposition from trade unions and some political parties, but the company also enjoyed support from other parties and business organisations. 
Several business models
Uber uses several business models and have also started food and goods delivery services. The five most common models for personal transport are:
Uber Pop is the largest model, open for private individuals who have signed up themselves and their car to Uber's booking system and apps. The company calls it a car-sharing service, and drivers and cars are unlicensed.
Uber X: Drivers hold a taxi license but are considered to be self-employed, own their own cars and pay taxes, fuel, insurance and road tax themselves.
Uber Black is a more expensive variation, where drivers can be employed by an intermediary – often a limousine company.
Uber Lux is a more expensive version of Black, using more exclusive cars.
Uber XXL operates 16-seater minibuses. 
In three of the four countries, Uber started up in the capital cities. In Sweden, they started up in the three largest cities all at once. Sweden had already deregulated its taxi market in the early 1990s, and the researchers write that Uber might have seen the Swedish market as the one where they were most likely to succeed. 
Uber was sued quickly
So how did the American company do, pushing a business model which goes against the grain of the Nordic labour market model in so many ways? Things soon came to a head, and Uber drivers, as well as the company itself, were sued in several countries.
DENMARK
Uber had only just launched in Denmark in November 2014 when the Danish Transport, Building and Housing Authority reported the company to the police for being in breach of legislation preventing the transport of passengers without a license. Uber lost in court.
Meanwhile, 1,500 Uber drivers were reported for similar violations of the rules. They were also told to pay outstanding taxes. This created a debate which led to Denmark deregulating its taxi market in January 2018. The deregulation did not, however, go as far as Uber had wanted. Both drivers and cars would still have to be licensed. As a result, Uber pulled out of the Danish market in April 2017, as the conditions for the deregulation became known. At its peak, Uber had 2,000 drivers and 300,000 customers in Denmark.
FINLAND
Uber was taken to court in Finland too. Drivers were forced to pay back income considered to have been earned illegally. Here too a debate led to deregulation. And this time it was more in line with what Uber had wanted. Metres were no longer required in cars, unlike in Denmark, as long as there was alternative technology which served the same purpose. Uber is now running a relatively small operation in Finland, with 500 drivers linked to the company.
NORWAY
Norwegian courts also reacted quickly to Uber's operations. Drivers were fined, some lost their driving licences and many had earnings withdrawn. Uber's Dutch daughter company was also fined five million Norwegian kroner (€470,000). The debate around deregulation took longer in Norway. It will not happen until 1 July this year. Uber keeps running some of its more expensive versions, like Uber Lux. The company has not said when it might resume some of its other business models in Norway.
SWEDEN
When Uber entered Sweden in September 2014, the country had a taxi market which was more deregulated than the one in the USA at that time. Limits on the numbers of taxi licenses had for instance been removed as early as in 1990. 
Despite this, the launch in Stockholm, Gothenburg and Malmö was not unproblematic for Uber –, especially for the metre-free Uber Pop. In 2018 new rules came into force which allows a new type of taxis to be operated if the distance driven can be measured by other means. 
Some of the changes will come into force in September 2020, others not until January 2021. Uber says that is too far into the future and has therefore closed down its Pop business. The tax issue has been more central in Sweden. Controls show that 83% of Uber drivers have not been using their metres or recorded payments that were lower than the actual ones. Only 68 % of earnings were reported to the tax authorities.
The researchers conclude that there are no major attempts to organise Uber drivers, partly because the business was considered to be illegal before deregulation happened, and partly because it was a group that was difficult to organise.
Attempts to organise drivers have been made in other countries, however. The report does not look at this, only Nordic conditions. But just before the Corona crisis hit, Yaseen Aslam – the most prominent trade union activist within Uber in the UK – was invited to Oslo to talk about his experiences.
He has recently called for the creation of an international organisation for platform workers, called the International Alliance of App-based Transport Workers.
Dawn Gearhart, an American trade union activist who was among the first to try to organise American Uber drivers, has been living in Oslo for a few years.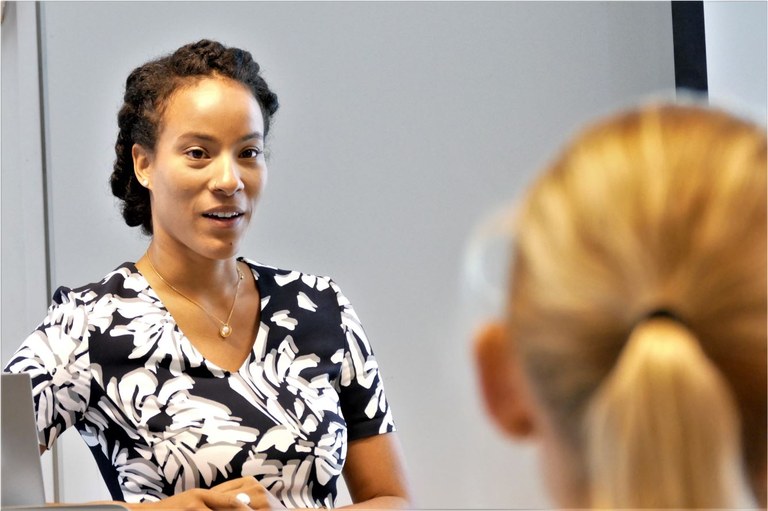 Dawn Gearhart was one of the first to try to organise Uber drivers in Seattle, USA. Here she is talking at the Nordic Work Life Conference, Photo: Björn Lindahl
She was one of three employees at the Teamsters 117 trade union in Seattle who in October 2015 succeeded in getting state-wide regulation forcing Uber to disclose information about the drivers working for the company – needed so that the trade union could contact them.
At the Nordic Work Life Conference, held at the Oslo Metropolitan University a couple of years ago, she said Uber's strategy is to first tempt as many as possible to sign up as Uber drivers. In the end, some 15,000 people had done so over a five year period in Seattle – 2% of the city's population!
 "They were tempting people with 90,000 dollar annual salaries and 35 dollars hourly pay. Those without their own car, or who had credit to borrow money, could get a car on the day. But what many drivers failed to understand was that the interest on that Uber loan was 23%," said Dawn Gearhart. 
"One of the people we spoke to had a job at the airport where he made 9.50 dollars an hour. He quit and started driving for Uber instead. When he got an accountant to calculate how much tax he needed to pay, he learned that he was making 2.64 dollars an hour."
According to Dawn Gearhart, 20% of Uber drivers were behind 80% of trips in Seattle. While she and her two colleagues and the local Teamster office managed to increase the number of drivers the were in touch with from 139 to 3251 between 2012 and 2017, the trade union faced some less than traditional methods from Uber. 
"One of the things they did was to launch a podcast with 36 episodes interviewing 'drivers' about how bad things would get if they were organised. It was easy to hear that the interviewees were reading from a script they had been given," she says.
While Teamsters is the oldest trade union in the USA, none of the major UK trade unions showed an interest in Uber.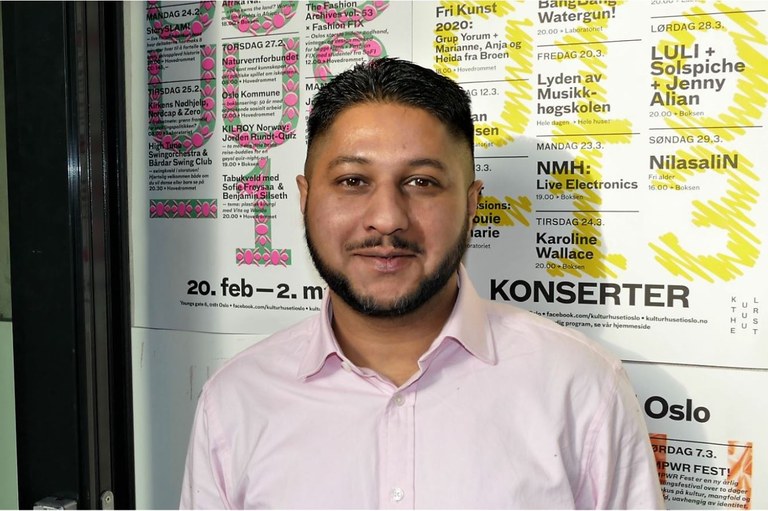 Despite having only some 3,000 members, Yaseen Aslam's trade union has become a major threat to Uber's UK operations. Here at the Kulturhuset in Oslo where he addressed a meeting of Norsk arbeidlivsforum (Norwegian working life forum). Photo: Björn Lindahl.
When Yaseen Aslam started the first trade union for Uber drivers, he got help from the larger Independent Workers Union. Since he was not totally satisfied with the help he got from them, he set up an independent union, United Private Hire Drivers (UPDH), for which he is now the secretary-general. The trade union has 1,300 members who work for Uber, Lyft and other platform-based taxi companies. That is only a small fraction of the 250,000 platform drivers who operate in the UK today.
Yaseen Aslam and UPDH took Uber to court to force the company to recognise their members as employees and not contractors. Assan and UPDH have won three times against Uber in various courts. In July, the UK Supreme Court will hear Uber's appeal of the case now known as Uber BV vs Aslam. If the Supreme Court follows the lower courts, Uber would have to pay minimum wages, holiday and sickness pay for all of their drivers. Or close down Uber Pop in the UK.