Sedentary work has become one of the main challenges identified in the third major study of European work environments from the European Agency for Health and Safety at Work.
The ESENER-3 survey includes telephone interviews carried out in 2019, and the report compares the answers to those given in ESENER-2 from 2014.
A total of 45,000 workplaces with more than five employees in 33 European countries have been answering questions about their work environment. The questions were put to those 'who know best about health and safety in the establishments' about the way health and safety risks are managed at their workplace. 
The same amount or more risk factors are seen in most areas compared to five years ago. It is difficult to identify any good news, despite the fact that Nordic countries largely treat work environment issues as a priority. The answers tell us more about how common the risks are perceived to be, rather than the severity of them. 
The report states that:
"The most frequently identified risk factors in the EU28 are repetitive hand or arm movements (65% of establishments, up from 52% in 2014), having to deal with difficult customers, pupils, patients (61%, up from 58%) and lifting or moving people or heavy loads (54%, up from 47%).
Prolonged sitting 
59% of establishments consider prolonged sitting as a risk factor for their employees. That means this is considered the third most serious risk when establishments chose between various alternatives. Each establishment might have more than one health and safety risk at any one time. 
Repetitive movements and psychosocial risks come out on top if you look at establishments across all 28 EU countries. Prolonged sitting is seen as a risk which is considerably higher in some establishments than in others. 93% of companies in the financial and insurance sector see this as a problem, as do 91% of public administration establishments. 
Earlier reports included a question regarding "tiring or painful positions" which did touch on prolonged sitting. Five years ago, 56% of establishments saw this as a health and safety risk.
Three out of four of the most common health and safety risks seen among the establishments concerns musculoskeletal disorders. The fourth group concerns psychosocial risk factors. This is a particular problem in service sector jobs, where people might have to deal with difficult customers, patients and students.  
Time pressure
Like in ESENER-2, time pressure is still cited as a top risk factor in the Nordic countries. 74% of establishments in both Finland and Sweden say this, while in Denmark the figure is slightly lower at 73%. There is a fairly big step down to countries outside of the Nordic region that see this as a problem, with the Netherlands highest on the scale. 64% of establishments in that country have ranked this risk as number two.  
The survey points out that it is difficult to know whether this is down to a higher level of awareness of the problem among the Nordics, or whether the risk really is higher. But there has been no improvement in the Nordic countries for five years. 
Out of the twelve different risk factors the survey deals with in both 2014 and 2019, a major improvement can be seen in only one: long or irregular working hours are seen as less of a problem compared to five years ago.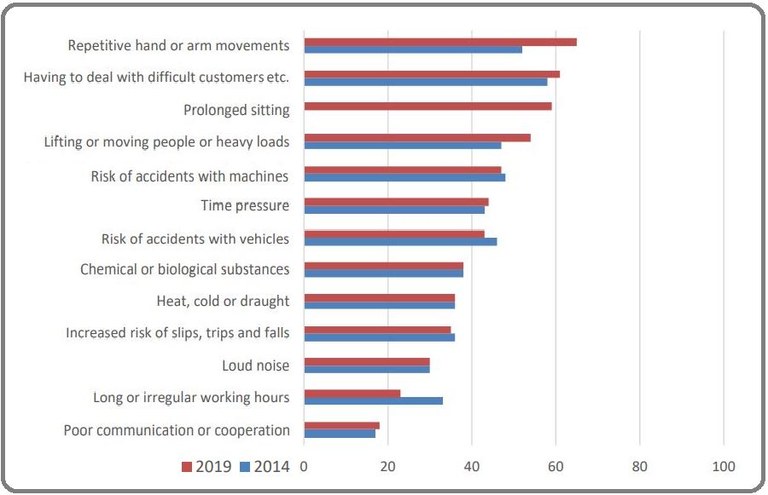 The European Agency for Health and Safety at Work has asked 45,000 establishments in Europe with more than five employees to answer which factors they consider to represent the greatest risk to their work environment. Several consider there has been an increase in risks compared to five years ago, but it is difficult to know whether this is due to an increase in awareness or an increase in real risk.
ESENER-3 demonstrates that there has been a reduction in labour inspections in nearly all European countries, including the Nordic ones. Asked whether inspections had been carried out, nearly 60% of establishments in Denmark, Finland and Iceland said they had, while 35% of establishments in Sweden and fewer than 30% of Norwegian ones had seen an inspection. Compared with five years ago, the fall was biggest in Denmark and Norway.
Digitalisation
Changes linked to digitalisation represent another major risk factor. This involves everything from computers, smartphones and surveillance cameras to robots. Only 6% of European establishments say they do not use any such tools as part of their work. Discussions about digitalisation are most common in Hungary and Romania, where 58% and 42% respectively said such discussions had been had, compared to 24% for the whole of Europe.