The Faroe Islands are doing very well. But things are also going very badly. One survey shows the Faroes had the greatest economic growth in Europe last year. At the same time, the number of Faroese at risk of poverty rose from 9 to 10.7 %. "A worrying trend," says trade union coordinator Sonja Jógvansdóttir.
The Faroe Islands are doing well, and have done well for many years. This is particularly evident in the capital Thorshavn. Road tunnels, schools, hospitals and a string of other big public and private buildings are being constructed. A Nordic Council of Ministers survey supports what all Faroese can see every day, which made the Faroese newspaper Dimmalætting conclude last year: 
"The Nordics are doing well, but the Faroe Islands are doing best."
Great Nordic economic growth
The State of the Nordic Region 2018 survey was published last year. It points out that the Faroe Island's BNP has grown with 10.3 %. Iceland, at number two, has seen a 6.3 %  growth.
The good times also manifest themselves in other areas.
"With fewer than 50,000 inhabitants in an isolated spot in the North Atlantic it is pretty self-evident you won't find lots of billionaires on the 1,399 square kilometre islands society. But there are some," wrote the Danish publication Finans in 2017.
It alluded to Regin Jacobsen and Oddvør Jacobsen, who in 2016 became the Faroese Islands' first billionaires. The Berlingske newspaper called Regin Jacobsen the salmon king, and the salmon king told the newspaper: 
"Things have been very good."
This really does describe how things have been going for Bakkafrost, the company that has Regin Jacobsen and Oddvør Jacobsen as main shareholders. It also quite precisely describes how the Faroese GDP has been developing. Yet trade union coordinator  Sonja Jógvansdóttir is still concerned about how things are developing on the Faroe Islands.
"In the past few years we have seen how society has become incredibly richer, but wages have failed to keep up," she said. And she is right, according to the Faroe Islands National Bank's 2018 annual report.
It says that while Thorshavn house prices rose by 14 % from 2015 to 2016, wages only rose by 5 %. 
More at risk of poverty
While house prices are rising, the number of people at risk of poverty has grown. "At the risk of poverty" is an international term which is used by Eurostat among others. Statistics Faroe Islands first issued these numbers in 2009. That year the number was 8.9 %. This has risen nearly every year since, and the most recent measurement from 2017 shows 10.5 % of people at risk of poverty. This is not OK, says Sonja Jógvansdóttir.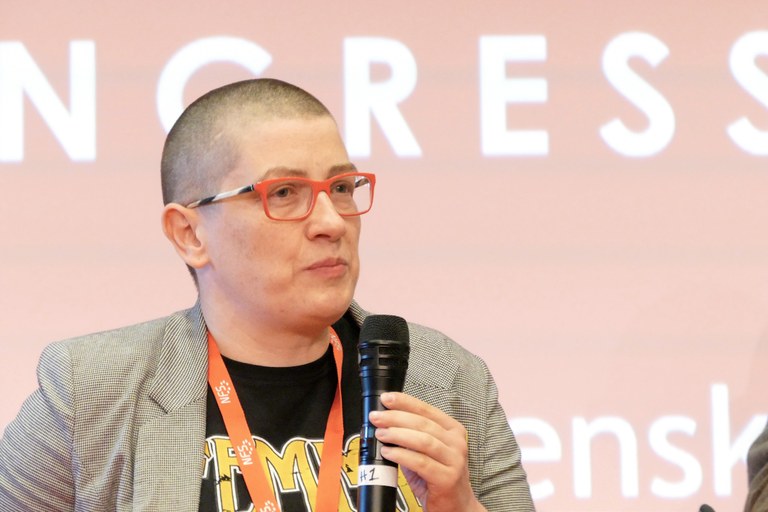 Sónja Jógvansdóttir. Photo: Björn Lindahl
"A normal job should be enough to lead a normal life. But this is not the case for everyone," she says.
Social workers Siri Joensen and Barbara Olsen are two of those who work with people who struggle economically. Last year, they told Faroese radio Kringvarp Føroya that they have met several people who are in real trouble, even suffering from hunger.
"Parents have told us how they give their children food but have to go hungry themselves. They might not have to experience this if they approach the right authorities, but these people are vulnerable," the said.
One of the challenges is that it is difficult for authorities to reach people who need help. Heri Petersen from the Faroese social service has co-authored a report on poverty on the islands, and has said that poverty in the Faroe Islands is not visible in the same way as in other countries.
"You cannot tell that people are poor by looking at them. They don't live in certain areas and they are not of a particular heritage. Several other Nordic countries have city neighbourhoods where the majority of people are immigrants or refugees, we have socially challenged areas where poorly paid and socially challenged people live. 
"On the Faroe Islands, you'll find people at risk of poverty across the whole of society. That's what makes it hard to find broad enough solutions," Heri Petersen told the radio programme Radarin. 
This is also something the social workers can confirm.
"When we visit people at home, we see that they live in very poor conditions. Some of them know of nothing else. They might have grown up in similar circumstances. If nobody has noticed, it can be difficult to know how to seek help."
A fragile and beautiful society
There are no concrete figures for how many people find themselves in this situation on the Faroes. But the 10.5 % who live at risk of poverty make up some 5,000 people. That is 10.5 % less than in the rest of the Nordics, but it is still too many says Sonja Jógvansdóttir.
"When you have such a small society, it is also very fragile. That's why each individual person means so much. But such a small society s also beautiful, because when we see something that needs addressing it is easier to do it than in a larger society. That has to be our advantage."
One step in the right direction would be a wage increase for ordinary workers. Sonja Jógvansdóttir is working on that right now, because 1 May 2020 marks the end of the current contract for the members of the trade union confederation where she is the coordinator.