Families need decent wages in order to afford all the essentials. But high wages do not necessarily make families happy. There is no direct correlation between money and happiness, unless the family has real economic problems. The key to happiness is mainly spending time with family and friends.
Icelanders are considered to be the world's happiest people, along with their Nordic neighbours. Iceland has been ranked among the five happiest countries in the world for many years now. Researcher Dóra Guðrún Guðmundsdóttir at Iceland's Directorate of Health says happiness is what is left when you have experienced both joy and sorrow. 
"Happiness is about more than laughing and having a good time. It is necessary for us to experience difficult emotions, sorrow and sadness. We have to go through tough times in order to experience happiness. We cannot become happy by shutting out other feelings," explains Dóra.
Research into happiness started way back in the 1960s. To begin with, American researchers presented the hypothesis that the happiest people were those who had not experienced any setbacks. But that is not at all the case. Surveys showed that the happiest 10 % of people had all experienced real setbacks and had worked through their experiences in a constructive manner. 
Important how setbacks are handled
Researcher Dóra Guðrún Guðmundsdóttir has spent the past 15 years finding out just how happy Icelanders in general consider themselves to be. She points out that the most important thing is how you handle setbacks and that you do it in a constructive manner. That way, individual people will find a higher and deeper meaning with life, and end up happier. 
"Today's generation is often criticised for being over-protective of their children. But we must learn the children how to handle difficult things in life. If the children fail to face setbacks in a constructive way, they are less likely to be happy later in life," says Dóra.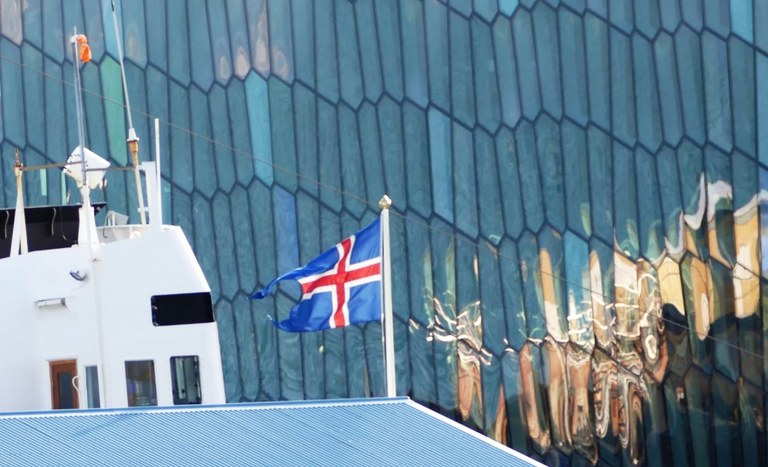 The economy has always been rising and falling with the fisheries and shipping. In the background is Harpa, the opera house which was finished during the crisis.
During the economic crisis just over 10 years ago, Icelanders proved that money is not as important as many seem to think. 40 % of the adult population remained as happy as ever, 30 % were happier than before and 30 % were less happy than before. Young people, however, became happier because they got to spend more time with their parents and families after the finance crash.  
"Those who enjoy meaningful relations have something that is stronger than whatever happens in society," says Dóra.
The US Constitution says everyone has the right to the pursuit of happiness. There is nothing in the Icelandic constitution about the right to experience happiness. But if many people are unhappy, Dóra points out, you have to take a closer look at the unfair distribution of wealth in order to develop a system that leads to an increase in wellbeing. It is worrying if many consider themselves to be unhappy.
"At the Directorate we are interested in everybody's wellbeing. We want to develop a society where everyone has it good. Despite occasional setbacks, you ought to be able to generally live a happy life," she thinks.
Social contacts are important
Iceland is a small society where most family members live close to each other. Links between family and friends are usually strong. Dóra says it is easy for Icelanders to maintain good social contacts. She believes this is the main reason why Icelanders are so happy.
But loneliness is an increasing problem for public health, possibly also in Iceland. According to Dóra, loneliness is worse for our physical health than smoking. Loneliness is less of a problem in the Nordic region than in many other places in the world. The reason is the Nordic tradition of prioritising the family, not working too much and giving the family the opportunity to spend time together. 
"That is the explanation for why young people became happier after the finance crisis here in Iceland. They got attention and more time together with their parents," says Dóra. 
In control of their own lives
Iceland is a peaceful nation with a high level of trust among the population. Icelandic children play freely in parks without parents being worried about kidnappings or other crime. Icelanders also feel they have many opportunities to develop and influence their own lives.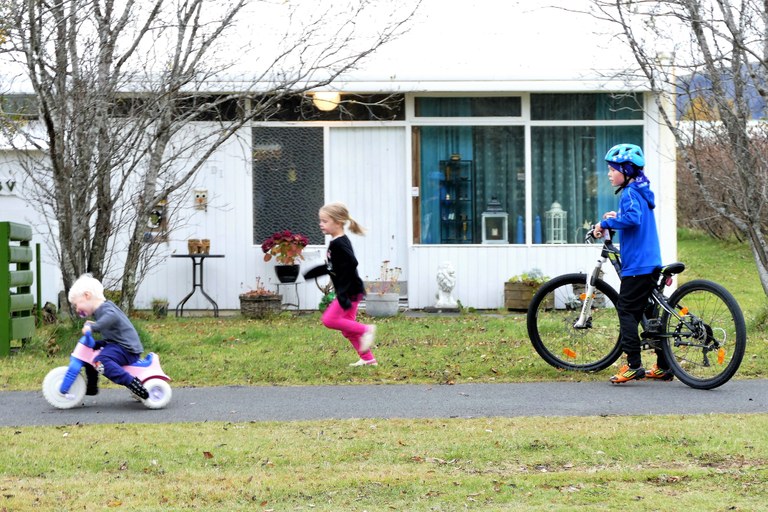 Most have access to education. The system supports all those who are interested in getting an education, so it is not the case that only certain families can get one. If someone chooses to change their lives in a major way, it is seen as positive and productive.  
"Icelanders feel they have a good life in Iceland, and that they can are in control of their own lives," says Dóra.
"Icelanders have every chance of being a happy people. They succeed in dealing with setbacks in a constructive way, and are close to the people they love and care for," she continues.
Surveys show that income only represents 1 % of the reason for Icelanders' happiness. In Iceland it does not matter so much if you earn a lot – what matters is what you do with your money. Income levels naturally play an important role when it comes to leading a happy life, but it is real economic problems that have a direct negative impact on family happiness, according to happiness researcher Dóra Guðrún Guðmundsdóttir.