It has become an increasingly common sight in many cities: Foodora's bike riders home-delivering restaurant food. But right now in Oslo, hundreds of striking riders are cycling around to gather support for their demand for a collective agreement. Other countries are taking note.
The strike is being followed with great interest from abroad, because this is the first major strike among so-called platform workers.
"There has already been contact between riders on a European level. The strike has been a boost to trade unions, since it has proven that it is possible to organise even those who work in the new economy," says Kristin Jesnes, who is a platform economy researcher at the Norwegian Fafo research foundation. 
Foodora is a German company operating in 15 countries, using bicycles to deliver food from 36,000 restaurants. The company started operating in Norway in 2015, making their riders employees from the very beginning – although most are on part-time contracts. The company now has 600 employees. Their average age is 25, and they work on average 16 hours a week. After one year they disappear into other occupations. There are many immigrants among them. In other words, not an easy group to organise.
"But Foodora's riders meet each other more often than other platform workers. They wait outside restaurants and work within a restricted geographical area. This allows them to build up a shared identity," says Kristin Jesnes.
Workers in other platform companies, where jobs are shared out via apps, sit isolated in front of a computer, or – as is the case in Uber – drive around in a car. Platform workers are also often considered to be self-employed.
But the striking workers have also shown great imagination. Every day, they meet at Oslo's Youngstorget square. They have put up a bike repair shop in front of the headquarters of the Norwegian Confederation of Trade Unions LO, helping Oslo citizen fix and trim their bikes.
"There is a lot of knowledge about bikes among the striking riders, so it would be a shame not to use this for something," says Espen Utne Landgraff, one of those who initiated the strike. It began on 20 August as talks stalled.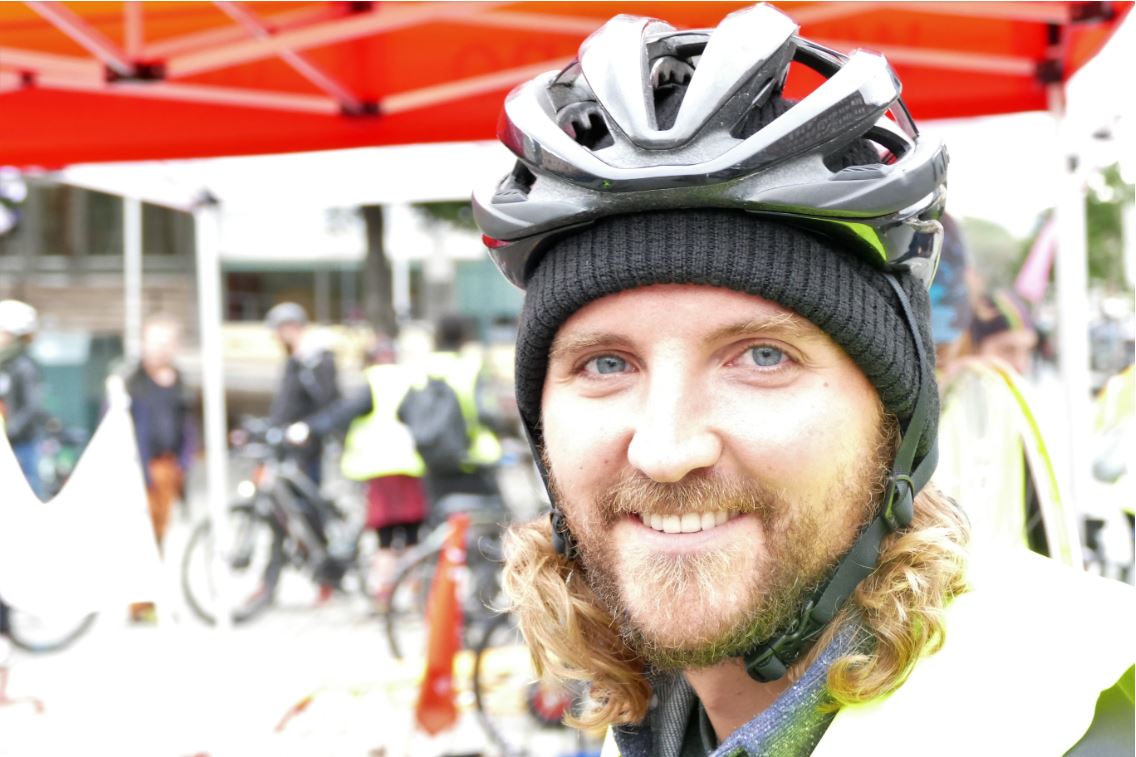 Espen Utne Landgraff says they have had a lot of support from LO. "But maybe they can learn something from us too," he says.
"There are 142 of us on strike now, but the number of new members increases every day, which means we can step up the strike with a further 53 people in two weeks from now. The strike will probably be expanded to include Trondheim and Bergen too," says Espen Utne Landgraff.
The striking riders are organised in what used to be the Norwegian Transport Workers' Union, which is now part of Fellesforbundet. According to Foodora, they earn 174 Norwegian kroner (€17.60) an hour. With tips, that could rise to 185 kroner (€18.70) an hour. 
The strike has already had consequences for Foodora. The company's CEO for the Nordics, Carl Tengberg, has said the union demands would dramatically increase the company's expenditure, and make it very difficult to keep operating in Norway using employed labour.
The employees demand higher salaries and compensation for expenses incurred using their own private bikes at work.
The striking riders cycle around Oslo every day in what they call Critical Mass, something that demonstrates the strike is ongoing and that it is growing day by day.
"It is incredibly exciting to follow this group, since they work in a different way from what we in the trade union movement are used to. They are incredibly active in social media, and they cycle through the city with their yellow and green jerseys and cycle bells and draw applause from people in the street," says Peggy Hessen Følsvik, deputy leader in LO Norway.
"It is an incredibly enthusiastic group of people who are now taking up the fight for a completely new group of workers."
At Youngstorget the bikers gather in front of a big statue of a worker, dedicated to the trade union movement's pioneers, before they slowly cycle up towards the Karl Johan main street and disappear around the corner just before an even larger group of demonstrators against India's occupation of Kashmir walk up the street.
Can the Norwegian Foodora strike lead to a new movement – "cyclists of the world, unite"?
That partly depends on whether or not the striking riders manage to secure an agreement. According to Espen Utne Landgraff, the support from LO is "very big".
"Even if the strike means Foodora goes bust, the trade union can claim that this proves the business concept is not viable, and that it is better if people seek out more profitable occupations," says Kristin Jesnes.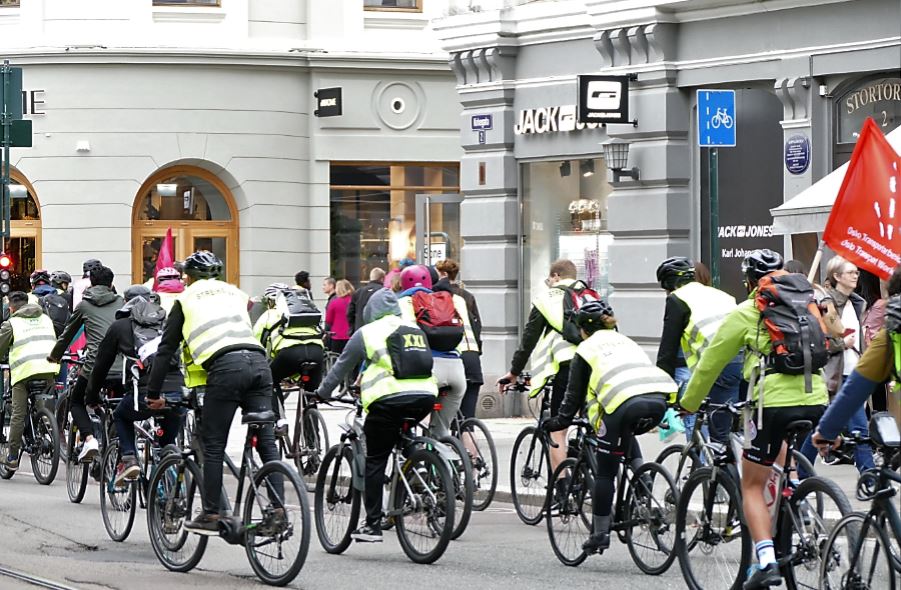 Read more about the platform economy: Cycling into the future