A considerable proportion of girls choose not to study sciences and technology. The Norwegian University of Science and Technology NTNU in Trondheim has chosen to hold several fairs to recruit girls. The rest of the Nordics will follow, the "girl agents" say.
"A recruitment fair helps us see opportunities we did not know about before, and we are inspired. I am not quite sure what I want to study. I have become more interested in sciences now, because I like mathematics, biology, physics and chemistry. This makes us motivated and more keen to go for it," says secondary school student Maja Stenøien (15).
She is participating at the 'Jentekonferansen 2018' (the girls' conference) at the Norwegian University of Science and Technology NTNU, which provides information and motivation for young people about to choose what to study.
"This is very topical as we are about to choose topics at secondary school, and later we must choose university courses. I think I will be choosing more sciences going forward," says Oda Groth Brodtkorb (15).
The friends agree that the role models presented at Jentekonferansen 2018 have inspired them both.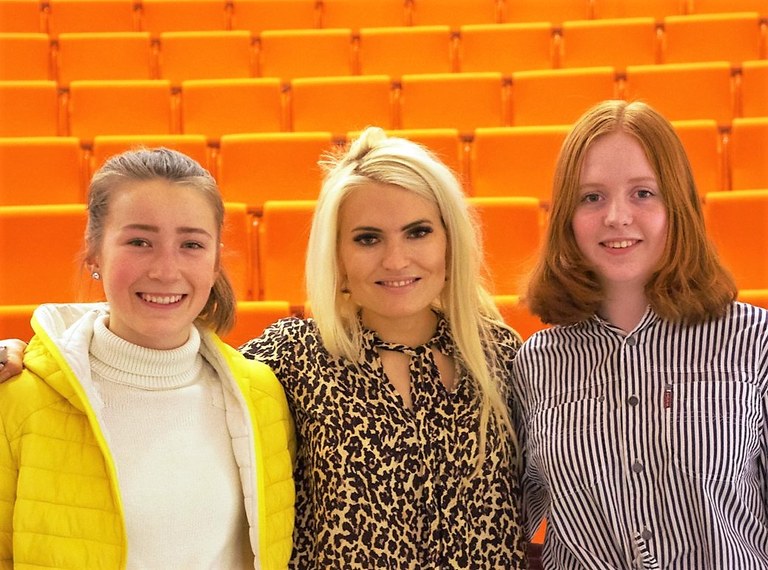 Oda Groth Brodtkorb, Isabelle Ringnes and Maja Stenøien
A need for role models
At Jentekonferansen 2018, young women talk about their good experiences from working life and from university, passing on their motivation and skills to the 350 girls from schools in and around Trondheim who listen in the auditorium.
One of the role models is Isabelle Ringnes, who heads the TENK network. They aim to inspire women to study technology and find jobs in the sector.
"It is very important to use Jentekonferansen 2018 to showcase the scope of opportunities which technology presents. A technical education is not for everyone. But we will all be using more technology in one way or other. Young women who choose technology will be part of creating things which will influence many generations to come.
"Especially when it comes to artificial intelligence, which I believe will become a bit like electricity used to be. AI will soon open up for an amazing numbers of services and products. Women need to help shape this development," says Ringnes.
Camilla Haaheim Larsen is one of the other role models. She is studying computer engineering, and pointed out that you do not have to worry about being a girl studying topics dominated by men.
"I started studying this myself after an event for girls. People are young when they choose what to study. It can be hard to get enough information. That's why I believe conferences like this inspire, and push more girls into choosing science and technology," says Larsen.
She has also been talking about her experiences in front of the girls in the auditorium, alongside Kari Vatne Eide. She is head of construction and a quality control engineer at the Norwegian Public Roads Administration. Student of engineering Kristin Pettersen talked about her experiences from her machining course.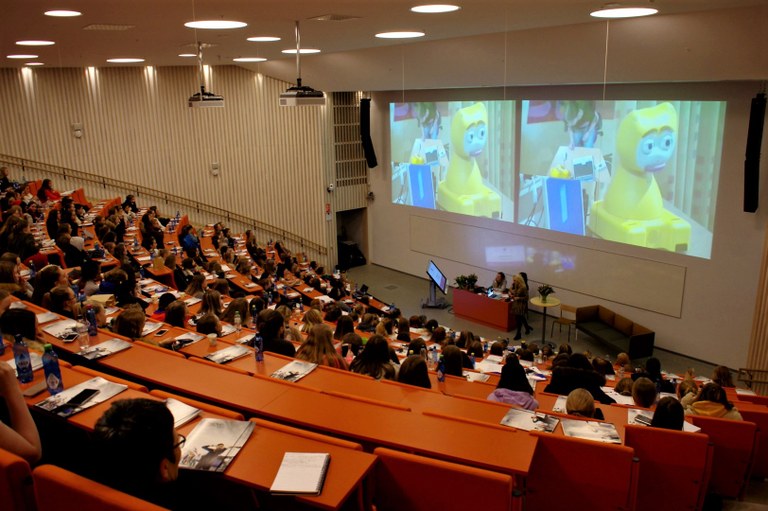 Jentekonferansen 2018 was held at three other universities on the same day as the NTNU event.
Other Nordic countries are copying Norway
Line Berg heads 'Ada', one of several similar NTNU recruitment projects aimed at girls. Other Nordic universities have copied 'Ada'. The Aalto University in Finland, KTH in Stockholm, Chalmers in Gothenburg, the Luleå University of Technology, the Technical University of Denmark and Aarhus University have all visited NTNU to learn about the recruitment of girls.
"The visitors have been looking at our technology camp for girls, and have been learning about our recruitment practices."
The exchanges have been followed up with meetings. Several of the universities have arranged similar events. The number of girls have risen at two of the universities in the wake of such events. These measures are needed if you want to increase the number of female students.