19 year old Marcus Brask Nielsen spent four weeks in London studying and in an internship as part of his vocational education. It boosted his self-confidence and gave him courage to work abroad. Many other students in vocational training stay at home, and this worries schools and the social partners.
Vocational school student Marcus Brask Nielsen was an introvert and shy young man when he was given the opportunity to study and an internship period in London in 2017. On his return he was far more extrovert and had gained a lot of self-confidence. That is why he encourages all vocational school students to dare take a step out into the wider world.
"I was very shy before this, and not very good at talking to people I didn't know. I am much more self-sufficient now, because I have crossed some borders and discovered that I can manage more than I thought," says Marcus Brask Nielsen.
He has just finished the theoretical part of the basic course for the vocational education EUX handel, a basic education for sales, purchasing and logistics, which he is studying at Tietgen, one of Denmark's largest educational institutions with more than 3,000 students and 350 employees.
Tietgen, situated in Denmark's third city Odense, offers a range of vocational courses and pushes hard to make their vocational students spend time abroad during their studies, explains Bo Ravn, headmaster at Tietgen Business:
"We seriously encourage our students to travel abroad, and we take an active part in European educational cooperation. Globalisation is here to stay, and all of our students are preparing for jobs were you need a global vision," says Bo Ravn.
Out of their comfort zone
Tietgen has partnered with several educational institutions and businesses in other European countries. This means Tietgen Business students have the opportunity to study and spend time doing internships with businesses abroad. A stay typically lasts for four weeks, and the students get much of their expenses covered by the EU programme Erasmus+. Yet it is still difficult to get students to go, says Bo Ravn:
"It is challenging to convince our students to travel, even though they can do so without paying much themselves. Some vocational students are unwilling to leave their comfort zone, which is unfortunate because a foreign stay inspires and provides a greater vision and edification."
Bo Ravn believes a lack of self-confidence and less support from home prevents some students in vocational education from daring to go for a stay abroad, unlike students in general upper secondary education.
Marcus Brask Nielsen agrees that it is difficult to leave your comfort zone as a student in vocational education. He initially said no thank you when Tietgen Business offered him the London stay. But both his teacher and parents managed to convince him to go, which he is happy about today:
"I was not crazy about the idea to have to face something foreign and being forced to look after myself, and I didn't think my English was up to it. But my parents saw it as a good way of forcing myself out of my comfort zone  – and they were right."
Broadening his vision
He and two friends lived privately with a British host family and had to manage everything themselves. That was both fun and instructive, says Marcus Brask Nielsen. The best experience was perhaps a one week internship for a British company.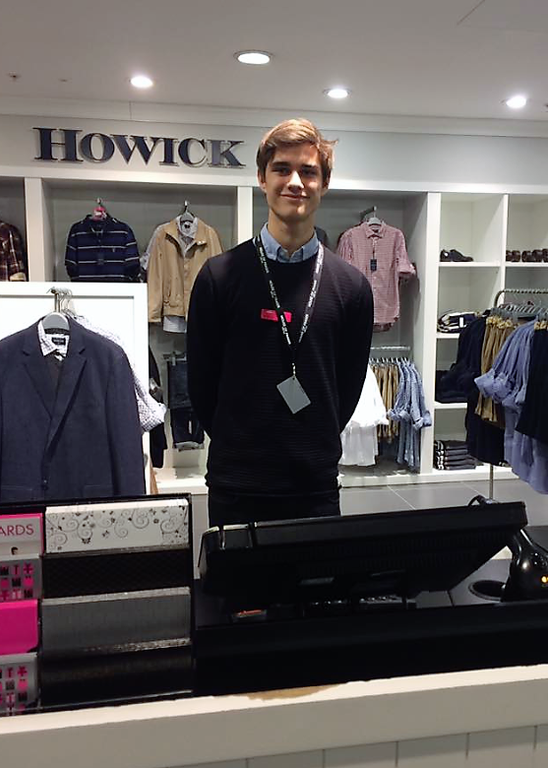 Markus Brask Nielsen really got to exercise his English skills and was forced to talk to people he did not know. The workplace was a department store, where he was expected to talk to both staff and customers.
Several of Marcus Brask Nielsen's fellow students said no to a foreign stay, and they have missed something important, he believes. For him, the world has become smaller, and job opportunities more plentiful:
"I have broadened my vision and perhaps improved my chances of finding a job. Everyone says that employers prefer job seekers who have been working abroad, and it is also no longer impossible for me to look for work abroad when I finish my studies. So I now have more opportunities."
The next phase of Marcus Brask Nielsen's vocational education is a traineeship, so right now he is looking for a company that might take him on – preferably one that is selling clothes, as this is something he is interested in.
Educate for the future
The Tietgen vocational students are far from the only ones who hesitate to leave the country. It is a common phenomenon in many Danish vocational educational institutions and in some general upper secondary schools. The Danish Ministry of Higher Education and Science says only a small percentage of students in vocational schools spend time abroad during their education. Students in general upper secondary education and in higher education are far more likely to make use of the opportunities of studying elsewhere in Europe.  
This inequality is problematic, according to the Advisory Council for Initial Vocational Education and Training (REU). Students gain important competencies by taking internships in companies in different European countries, or during stays at a vocational school in a different country. This benefits both students themselves and the companies that hire them, REU says.
REU advices the Danish ministry of education on vocational educations and works to improve the desire among vocational students to travel – including appealing to vocational schools to do more to encourage students to spend time abroad.
Bo Ravn, head teacher at Tietgen Business, agrees: More needs to be done in order to get more vocational education students to travel. Schools, businesses and the social partners all believe this to be important. It is not good enough the way it is.
"There is a certain conservatism. Businesses focus on which competencies their employees should have today and tomorrow, but not next week. Both businesses, vocational schools and the social partners must be alert enough to try to define what an employee needs to know in the future global labour market."