Big numbers were presented during the Digital North conference in Oslo on 25 April, where digitalisation ministers from the Nordic and Baltic countries signed a comprehensive cooperation agreement. Digitalisation can create 500,000 new jobs in Europe, and the new 5G networks which are already being rolled out in the Nordic region are 100,000 faster that the first ever mobile network was 20 years ago.
Digitalisation brings opportunities, but is also a bit frightening for many people. During one of the conference panel debates, the moderator asked what is the most important thing you can do to facilitate digitalisation:
"Making people feel safe," said Alf Karlsson, state secretary for digital development in Sweden.
The unease is found both among people who wonder if they have the technological skills to keep up with developments and among those whose jobs might disappear. Previous periods of digitalisation have mostly been about simpler working tasks. Now it is all about algorithms which help diagnose illness, calculate insurance premiums, robots which construct cars and computer programs which drive those cars.
"You have to be able to show that digitalisation will benefit ordinary citizens in their everyday life," said Gerard de Graaf, head of the EU directorate responsible for introducing a European digital single market.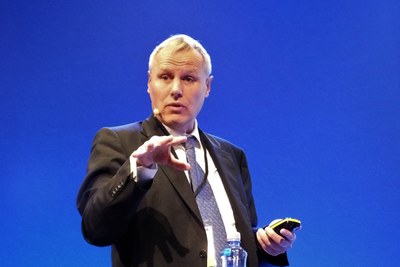 He provided two examples of such improvements:
From 15 June roaming costs will disappear for mobile telephony in the EU. That means you can use your mobile telephone, tablet or laptop wherever you are within the Union without the risk of running up huge bills.

The EU wants to ban geoblocking, i.e. internet services which you have paid for but which do not work abroad.
"Will this change the world?" asked Gerard de Graaf rhetorically.
"No, but it is important to people's everyday lives," he said.
The EU aims to introduce a Digital Single Market. This could lead to efficiency savings of 415 billion euro a year for the European economy – another big number. The Digital Single Market includes removing national obstacles for online transactions.
"It's all to do with economies of scale. Look at Google, Facebook or Alibaba. When the Swedish company Spotify launched in 2009, it went straight to the USA," said Gerard de Graaf. According to him, the EU is too fragmented, which is why none of the major companies in the so-called platform economy have been born in Europe.
The EU has its own index to measure how far member nations (and Norway) have come in the digital economy, known as DESI. Denmark, Norway, Finland and Sweden come out top four, while Estonia is number 10.
Estonia is top in the EU when it comes to online access to public services, however, and the country also plays a key role in the coming six months as it will be holding the Presidency of the EU Council from 1 July.
"Nearly 90 percent of our citizens use the internet and everybody has a digital ID which they use to pay taxes, in the health service and for a range of other public services. We can even vote digitally and the number of people who do so is increasing," Urve Palo, IT and entrepreneurship minister in Estonia, tells the Nordic Labour Journal.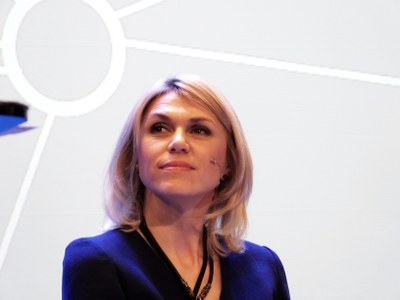 "As I told a Nordic colleague: He should get a flat in Tallinn since so many meetings and conferences will be held there in the next six months."
Digitalisation is also a high priority for the Nordic Council of Ministers, where Norway holds the Presidency in 2017. Sweden has already promised to carry this forward when the country takes the helm next year.
Even though the agreement between the eight Nordic and Baltic countries did not include any earmarked funds or changes to legislation – or what diplomats would call "solid measures" – Norway's minister for digitalisation Jan Tore Sanner was very happy.
"The agreement shows a very strong commitment from all the Nordic and Baltic states. We are all front runners as individual countries, but together we can become even better. We are a well-integrated region, but not integrated enough when it comes to digital strategies."
The Nordic and Baltic regions have similar government structures, but very different industry structures. The region could therefore work well as a 'digital sandbox'.
According to the agreement the countries will:
facilitate the use of personal ID numbers and electronic ID to make it easier to use services across national borders

facilitate movement and exchange of ICT knowledge

promote the construction of 5G networks in both cities and rural areas to prepare the ground for innovative services
The two main Nordic telecoms companies, Telia Sonera and Telenor, both welcomed the agreement.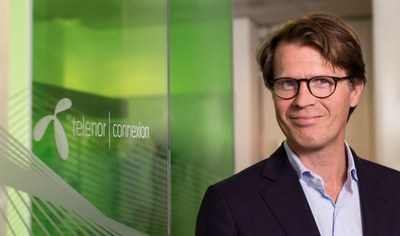 Mats Lundquist, photo: Camilla Svensk
"The advantage in the Nordic and Baltic regions is that companies, authorities and researchers work well together. But the Nordics must pick up some pace. A lot is happening in countries like Korea and the USA. Japan will stage the 2020 summer Olympics, and is working hard to develop the most advanced solutions in time for that," says Mats Lundquist, CEO of Telenor Connexion, the part of the company responsible for connected business solutions.
Henriette Wendt from Telia Sonera, Head of Group Corporate Development, was one of the speakers at the Digital North conference:
"Data-driven company models will continue to provide fantastic growth, generate new companies and tax revenues and they will create new jobs. The problem is that most of these companies have been created outside of our own region, and even outside of Europe," she said.