Suddenly Finland is about to become known as a car making nation. There is already talk about "the west coast miracle". Valmet Automotive is recruiting one thousand new car workers in addition to the ones they already employ. More and more Mercedes models are being ordered from their Uusikaupunki car plant, which is growing at record speed.
As the company reported new investments at the plant, the President of the Pro trade union Jorma Malinen said in a press release that there is demand for Finnish industrial know-how.
According to Valmet Automotive 1,000 new jobs will be created when they start producing a new Mercedes-Benz model. The investment runs to tens of millions of euro. The project starts immediately and production begins in late 2018, lasting for several years. There are no firm figures to be had for now, nor information of exactly which model this will be, apart from the fact that it is a "new generation private compact car"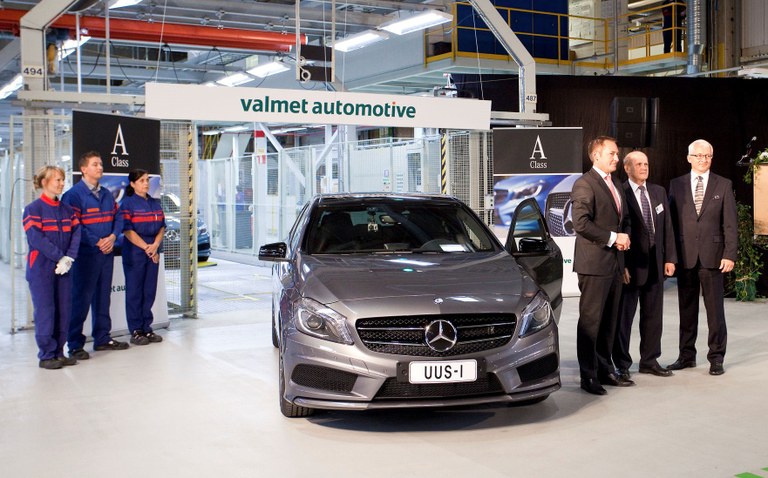 Since 2013 the Uusikaupunki plant has been building the Mercedes A series, but before that it had been struggling with layoffs and redundancies.
"Collective agreement brings stability"
Jorma Malinen from Pro sees a clear signal in the investment news; collective agreements with generally applicable provisions represent no obstacle to growth in Finland. On the contrary, the generally applicable collective agreements support Finnish economic growth and productivity.
Companies invest in Finland because there is a stable business environment, high levels of education and a predictable cost development, according to Jorma Malinen, whose trade union represent workers in car manufacturing.
Desirable jobs
Valmet Automotive has already employed more workers to build the Mercedes GLC model, and production started in February. In the autumn of 2017 there will be an estimated 3,700 people working at the plant, plus an unknown number of subcontractors. From the Turku market square there have been reports of queues of interested people stretching around the long-haul trailer which has been used as a temporary hiring office.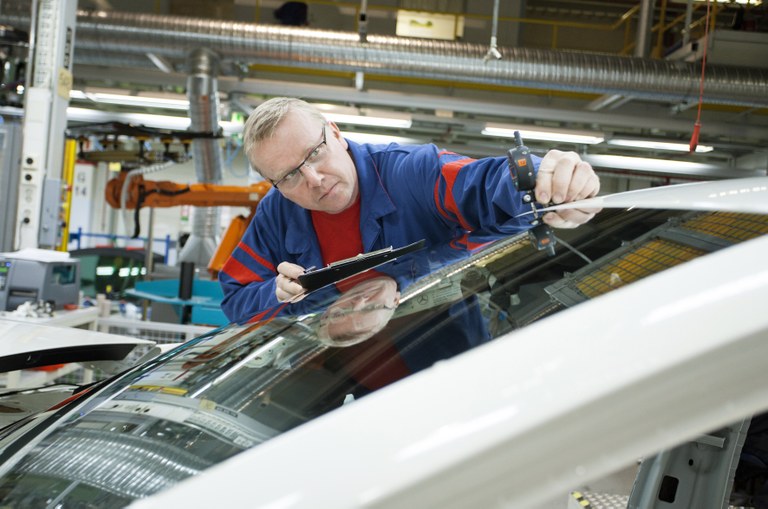 Despite all the robots, humans are still best at certain tasks – like gluing the windshield in place
Long car manufacturing tradition
It is not a complete surprise that car production has become so big in Uusikaupunki. Over the past 40 years more than one million cars have been made there, according to the Finnish TV channel MTV3. The first car to be produced here was the Saab 96 in 1969, mainly to serve the Finnish market. Since then the plant has also built cars for Porsche, PSA Chrysler, General Motors and Fisker.
Valmet Automotive also makes car parts, like roof constructions for Lamborghini, Bentley and BMW. Valmet Automotive has plants in Poland and several places in Germany as well.
An electric car next?
The company is owned by the state investment company Suomen Teollisuussijoitus and the privately owned Finnish Pontos Group. At the beginning of this year a new Chinese owner appeared on the scene, Contemporary Amperex Technology Limited (CATL). The company is said to have a lot of expertise on battery solutions for electric cars, which are believed to be the next big area of development for Valmet Automotive.
It has been said that the automation of car production has brought the jobs to Uusikaupunki. The company has invested in automation, which is now bearing fruit. Finland's first car building robots are found in Uusikaupunki.

Robots working on a car chassis
Concentration of industry in the Southwest
There is other industry besides car manufacturing in Southwest Finland. In Eurajoki, north of Uusikaupunki, lies the Swedish-built Olkiluoto nuclear power plant. A third reactor was supposed to be ready by 2009, but will now open in 2018. The French Areva company is delivering the reactor, which can produce 10 percent of Finland's electricity.
Rauma has shipbuilding, and outside of Turku is the Meyer shipyard which manufactures one tenth of the world's cruise ships. The shipyard has contracts lasting until 2022 and also creates jobs for several subcontractors in the marine sector across Finland.
Norwegian companies Aker and Kvaerner were big owners within Finnish shipbuilding industry until 2007, but then sold their shares to South Korea. Today a German company is benefitting from the progress.
Positive structural change could lead to problems
Former Finnish Prime Minister Esko Aho has now been asked to map Finland's positive structural changes in Southwest Finland. Aho was asked to carry out the job by the Minister of Economic Affairs Mika Lintilä (Centre Party), and will look at the so-called positive structural change taking place within the maritime sector and the car industry.
"There is a positive development in Southwest Finland which means the maritime and car industries in particular are in need of more labour. This has brought a need to evaluate measures to make it easier to recruit people and ease the labour force's mobility," says Minister Lintilä in a press release.
In some places there is already a lack of labour, a sign of a matching problem in the labour market. The Finnish government plans to use Aho's inquiry in relation to other, similar cases too.
Uusikaupunki also needs more housing for the many new car workers. New bus routes from nearby towns are being planned to prevent too many cars clogging up the roads to the car manufacturing plant in Uusikaupunki.