Two new international agreements trying to improve conditions for workers in the construction and textile industries, as well as oil workers' more traditional but still difficult trade union fight. Those were the issues up for debate during a Fafo seminar in Oslo on globalisation, precarious work and trust.
Broad agreements between major clothing brands, trade unions and textile companies across the industry would be the only way to really improve the conditions of textile workers in Asia and Africa, argued two of the participants.
"A clothing company might know exactly which field the cotton in a garment comes from. But they often know nothing at all about the worker who created the item," said Frances House, Deputy Chief Executive at the Institute for Human Rights and Business.
Together with Jenny Holdcroft from the global trade union IndustriALL and the researcher Camilla Houeland she took part at the Norwegian research foundation Fafo's annual conference in Oslo on 24 February.
Can consumers put pressure on clothing companies?
The debate started with a video in which people were asked whether they believed clothes they bought had been produced under proper conditions.
But can consumers really put pressure on companies like H&M so that Bangladeshi textile workers are paid more?
"Hardly," answered Jenny Holdcroft, who is Assistant General Secretary of the global trade union IndustriALL.
"One of the problems we have in the textile trade is that it is very difficult, even for major companies like H&M, to change conditions in their distribution chain. If one company raises wages, it will soon loose in competition with other companies."
She illustrated this by pointing out how the labour cost has been pushed down to become just a small fraction of the garment's high street price. In this case the narrow yellow line on the T-shirt below: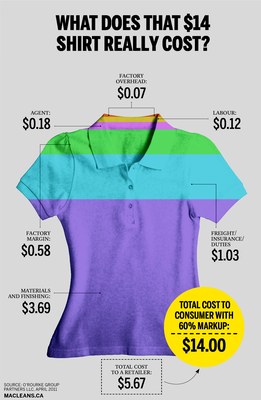 Illustration: O´Rourke
1,100 died when Rana Plaza collapsed
Jenny Holdcroft says the collapse of the eight story high Rana Plaza building in Dhaka, Bangladesh on 24 April 2013 was a crucial event in the trade union fight. The building housed several textile factories employing a total of 5,000 people, in addition to one bank and several shops. More than 1,100 people died in what was the largest textile industry accident ever.
Many clothing brands hurriedly put out press releases stating they had no contracts with the companies that were hit. But since textile firms in Bangladesh often outsource ordres to subcontractors, it turned out the victims had been sewing clothes for brands like Benetton and Mango, or that the clothes were to be sold in department stores like El Corte Inglés in Spain and by the world's largest retail chain, American Walmart.
H&M is one of the companies with the best control over where their garments are being made, but since they buy clothes from 820 providers (who in turn buy clothes from many different factories), and directly from 1,882 factories, there are 1.6 million people in H&M's production chain.
"The Rana Plaza accident made many clothing companies think again," says Jenny Holdcroft.
Global trade unions, 200 multinational clothing companies and 1,600 textile factories in Bangladesh entered into a broad agreement – the Bangladesh Accord on Fire and Building Safety – just a few weeks after the accident.
A similar process
"We are now working with a similar process which we call ACT, which has the potential to revolutionise the entire textile industry production chain. The aim is to introduce changes in countries with the largest textile industries, in order to get agreements which cover the entire industry," says Jenny Holdcroft.
H&M has for instance signed up to an agreement which means there will be democratically elected trade union representatives in all of the factories which the company call strategic – approximately one third of the 1,882 sites.  
Equally bad in the construction industry
Just like the textile industry knows little about their own workers, things are equally bad within the construction industry.
Construction workers employed outside of their home countries are among the very weakest groups, and are exploited by reckless recruitment companies.
"It is not uncommon that when a worker from a remote village in Nepal arrives to work for an employer somewhere in the Middle East, he has already run up debts of 6,000 dollars, or the equivalent of three annual wages," said Frances House.
The workers find themselves in a kind of modern slavery. According to the International Labour Organisation 21 million people are victims of forced labour. The number includes those who are forced to work under the threat of violence, or because of debts incurred. Some also have their passports withdrawn by their employer and are threatened with being reported to the authorities.
Frances House from the Institute for Human Rights and Business talked about the campaign they launched in May 2016, where companies including IKEA, Marks & Spencer and Coca-Cola signed up to the principle that the employer pays. They promise that:
'No worker should pay for a job – the cost of recruiting workers should be met by the employer, not the employee.'
"The aim is to remove all tariffs paid by the workers to the recruitment companies within ten years," said Frances House.
Oil workers in Nigeria
The Norwegian researcher Camilla Houeland has studied Nigerian oil workers, who ought to have an easier trade union fight. 
"Nigerian oil workers have power: There are only 35,000 of them, but they can stop 70 percent of the total state revenue," she pointed out.
Yet even the oil workers are fighting an uphill battle, constantly risking loosing influence over their own wages and working conditions. 
"This happens when companies are being nationalised, since Nigerian companies on the whole are more hostile to trade unions than international oil companies are."
However, multinational companies outsource work to companies with weak or no trade unions, which also weakens the power of the unions.