This is the book which has created an uproar among Finnish trade unions. The former President and Nobel Peace Prize laureate Martti Ahtisaari distances himself from both the trade union movement and his former political party SDP (the Social Democratic Party). Who would vote for them? he asks. Because they are ruining the welfare state…
The book 'Miten tästä eteenpäin' ('How do we move forward?') paints a bleak picture. In it are gathered 60 conversations which Martti Ahtisaari has had with his advisor from his time as President, Jaakko Iloniemi, and with Tapani Ruokanen, former editor-in-chief for the Suomen Kuvalehti magazine and a priest.
They have been friends for a long time. Now they have reached mature middle age. All of them have already published their memoirs, but have more to say.
The three men been meeting over a year of taped and typed conversations, ending in late summer 2016. The result is out, and the book has caused a stir among many on the left of Finnish politics. 
Critical discussions with the President centre stage
The discussions keep returning to the SDP and trade unions, Finland's economic crisis and the centre-right government's incompetence and inability to act. The trade union movement's inability for fresh thinking is completely exhausting the country's economy, according to President Martti Ahtisaari. 
The three of them want to put Finland in the West, both in spirit and militarily. They discuss security policy, immigration, overseas aid and Russia. But it is the final chapters on the SDP and the trade union movement which have created the most debate in Finland.
"The left hinders integration – to the detriment of trade unions"
How can an ageing population come as a surprise, the debaters wonder. President Ahtisaari argues for a universal duty to work. If people carried on working, instead of drawing benefits, you would also be able to employ newly arrived immigrants and refugees. At lower pay, he reckons. 
It would see useful work being done, immigrants getting work experience and knowledge – and then little by little wages from which they would pay taxes.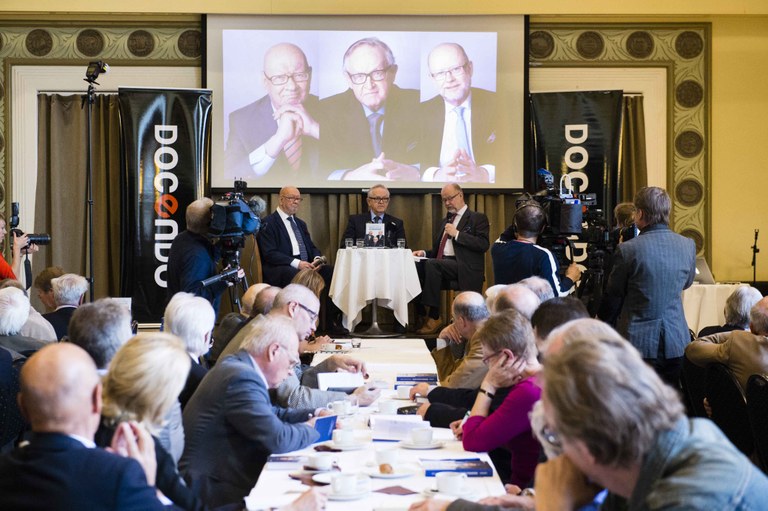 The other two point out the political left would never accept the idea. Immigrants should not be organised or pay membership fees to The Congress of the Central Organisation of Finnish Trade Unions (SAK). And the trade unions only represent people with regular income, like an interest organisation for the employed, adds Ahtisaari. 
"Who would vote for the Social Democrats…"
The Social Democrats have come in for a lot of criticism, also in parliament.
Martti Ahtisaari joins in:
"Who would vote for a gang like that? Why did they allow the trade union movement to seize power? Amazingly the Social Democrats and the trade union movement are now about to ruin the welfare state," continues Ahtisaari.
He defends Jutta Urpilainen who narrowly lost the party leadership against Antti Rinne during the 2014 party conference. It has been called SAK's revolution in the SDP.
"I think she should run for president for the Social Democrats," says Ahtisaari. 
"I told her that I cannot vote for the Social Democrats after what was done to her."
Politicians cannot run the welfare state on borrowed money
The Nordic welfare society's principles are challenged when you do not manage to deliver a big enough budget surplus. The trade unions have become a movement for the employed. An interest organisation for those who have a salary to defend, says Ahtisaari in one of the discussions quoted in the book.
Earlier, economic growth was shared, that is what gave the trade unions legitimacy. Now there is no growth, but the policy of sharing continues with borrowed money, which leads to an economic crisis, according to Ahtisaari and his discussion partners. 
We must not overvalue ourselves
Jaakko Iloniemi, a former civil servant at the Foreign Ministry among other things, talks about power games in the book.
"In the trade unions there are for instance old communists who fight for power and oppose all sensible change."
Globalisation has changed the world to a far greater extent than what the common citizen has understood. There are many things Finland can no longer decide, say Iloniemi and Ruokanen.
Martti Ahtisaari agrees: Trade has totally changed in the past 30 years. We used to be linked to trade with the Soviet Union. You reached an agreement on price regardless of the quality. But then you got international competition.
"Do we once again have to go through a phase when industry stops caring about people and move production to new places, like Bangladesh?" wonders Ahtisaari.
If there was any sense among workers and employers, negotiations would be completely different. You should know that we cannot survive if we overvalue ourselves. If you can produce at a cheaper rate, you set the price. If you share what has been saved, we can pull through. 
Tough criticism, tough answers
One reason behind the tough words directed at trade unions and the SDP is thought to be that Ahtisaari is still bitter over having had the chance to serve as President for only six years, between 1994 and 2000. After that he was challenged by candidates from his own party, the SDP, and chose not to run.
He got the Nobel Peace Prize in 2008 for his work as a peace negotiator in Indonesia. SDP leader Antti Rinne does not believe that the SDP's former President Martti Ahtisaari really thinks employees are overvaluing their work. Many Finns already struggle to get by, he told the daily Demokraatti.