Iceland is already dealing with several strikes and more trade unions are threatening industrial action. There will be a general strike in June if the parties fail to reach a collective agreement. The strikes have already become the largest labour market conflict in Iceland in 25 years.
Iceland's labour market is under a riotous spell. Workers are unhappy with their wage agreements. In the past six years, collective agreements have only led to a rise in the  minimum wage. It now stands at 201,000 Icelandic kronor (€1,350) a month. 
Private sector workers with no vocational training are demanding a monthly minimum wage of at least 300,000 Icelandic kronor (€2,000). That would mean a 30 percent pay increase. 
Academics in the public sector are demanding that employers reward an education so that it will pay to go to university. They also demand local wage agreements between unions and authorities, according to the deputy leader for Iceland's Association of Academics (BHM), Páll Halldórsson.
Not enough
The workforce has run out of patience. There has been strike action since 20 April. There are negotiations, but a general strike will take place in early June if the negotiating parties fail to reach an agreement. Employers have offered a 12 percent pay increase over the next three years. The trade unions say this is not enough.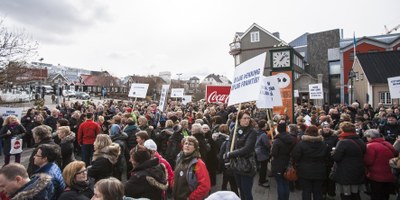 But Iceland's Minister of Finance Bjarni Benediktsson has told Icelandic media that the workers' demands are completely unrealistic. Iceland has been fighting inflation for several years. The Minister of Finance says inflation would rise quickly if salaries were to be increased by 30 percent now. He says this would mean the return of Iceland's economic problems.
Surprised employers
The deputy leader for the Confederation of Icelandic Employers, Hannes G. Sigurðsson, agrees. He is surprised by the workers' high demands and believes this will make it even harder for the parties to reach an agreement.
"I am also surprised that we have managed to get good results when it comes to reducing prices and improving the purchasing power in recent agreements," says Hannes G. Sigurðsson. 
He believes most people have lost their patience and does not rule out that the economic crash plays a role in what is happening. 
"Workers have been encouraged to believe it is possible to increase salaries so much without causing a negative effect on prices and the economic balance in Iceland," he says.
Better to stay put
The strikes are having an impact already. There is reduced capacity at the Landspítalinn university hospital. The hospital management is talking about lives being put at risk, that patients are not receiving proper care. 
The strikes are also being felt elsewhere. There is a lack of fresh meat in shops because pork and poultry abattoir shipments have been halted. Veterinarians have been striking for over four weeks already.
"The salary and employment conditions are bad. As a vet I receive the same salary now as I had when I worked as a cleaner in Denmark while I was studying for my veterinary degree eight years ago," says district veterinarian Jón Kolbeinn Jónsson who lives in North-western Iceland.
He is wondering whether it would have been better to stay in Iceland rather than going to study in Denmark. Jón Kolbeinn is unhappy that he has been forced to stop working. Farmers can continue producing and sending animals to abattoirs.
"There is a lot of discontent among veterinarians. They would like to negotiate, but the state never comes up with any solutions to the conflict," says Jón Kolbeinn Jónsson.
Working day and night
Jón Kolbeinn's colleague in North-western Iceland, inspection veterinarian Einar Otti Gudmundsson, says veterinarian wages have been trailing while working hours have increased in recent years. He says many of his colleagues need to work day and night in order to survive on the current wages.
There is a lack of veterinarians in rural areas of Iceland. They are not interested in working in the countryside because of the poor working terms. Jón Kolbeinn and Einar Otti fears veterinarians will move abroad. Icelanders study to become veterinarians in Denmark, Norway, Hungary, Slovenia and Scotland. They are offered good jobs abroad, especially those who have just finished their education.
"Veterinarians are being contacted from abroad. My colleague was offered three different jobs, for instance. He is quitting his job in the end of May," explains Jón Kolbeinn.
Nearly half on strike in June
There is discontent also in the general jobs market in Iceland. The General Secretary of the Federation of General and Special Workers in Iceland (SGS), Drífa Snædal, says that if the general strike goes ahead in June, nearly half of Iceland's 170,000 to 180,000 workers will go on strike: 70,000 workers will take industrial action on 8 June if there is no collective agreement by then.
Drífa Snædal thinks the government must help find solutions to reach a collective agreement. She also feels everybody sees that the government must contribute. 
But the government has not been interested in presenting measures which would help the parties reach an agreement, she says. The government thinks the trade unions must reach an agreement before it can contribute economically.
The Minister of Finance, Bjarni Benediktsson, recommends the trade unions to coordinate their demands.