The number of asylum seekers in the whole of the OECD topped 400,000 for the first time in eight years in 2011. Preliminary figures shows this trend carrying on in 2012. There are large differences within the Nordic region. In Sweden last year nearly twice as many people sought asylum as in Denmark, Finland and Norway combined.
Last year 30,000 people sought asylum in Sweden, 9,800 in Norway and only 3,000 in Finland and 2,600 in Denmark. Despite this Norway has seen the hottest immigration debate after Statistics Norway published a controversial report which calculated the costs of a 'non-Western' immigrant to be 4.1 million Norwegian kroner (€530,000) over a lifetime.  
This led the business daily Finansavisen to calculate that immigration will have cost Norway 4,000 billion kroner (€520bn) by 2100 – more than the entire oil fund and the state's shares in oil company Statoil. When the daily Aftenposten opened a debate on Statistics Norway's prognosis, 1,994 comments poured in over five hours. Comments were then suspended as they became racist and abusive. 
When we visit the Vadsø asylum centre in the northern county of Finnmark – one of Norway's oldest centres after operating for 21 years – the mood is more coloured by the fact that it is one of the finest summer days so far, with temperatures reaching more than 20 degrees despite the fact we are 500 kilometres north-east of Kiruna in Swedish Lapland. 
"No other municipality in Norway has more refugees per capita than us. The asylum centre hosts 240 people, but many of those who are granted asylum settle inside the municipality too," says Per Yngve Christensen, who runs Oscarsgata Reception Centre, a private company running the asylum centre in a former hospital in the middle of the town.
One in five people have refugee background
Vadsø municipality hosts 6,000 immigrants – 5,000 in Vadsø town proper. One in five people here have refugee background if you count those living at the asylum centre.
"If you count the people who work with housing for refugees in the municipality, asylum seekers provide more jobs than any other business in the municipality. We're talking about 60 to 70 jobs," says Per Yngve Christensen.
"When new people start working here I tell them that if you haven't had the chance to see the rest of the world, you can do it here."
The composition of asylum seekers at the centre reflects the national makeup of refugees in Norway. Just now they are mainly from Somalia, Eritrea and Afghanistan. 
"But a few years ago we had 100 Columbians here. We had salsa every day."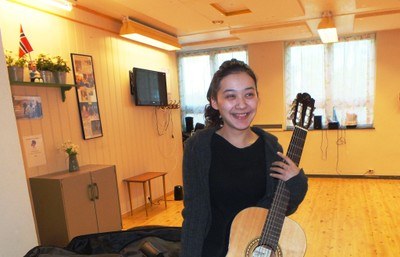 In one of the communal rooms we meet Aynur Naman from the Muslim Uyghur minority in western China's Xinjiang Uyghur autonomous region. She has been in Vadsø for six months and spends her time learning to play the guitar.
"I enjoy Vadsø, but I hope I am granted asylum soon," she says.
OECD: Immigrants good for the economy
According to the OECD's annual International Migration Outlook 2013, many European countries are now debating whether immigrants represent a positive or negative contribution to the economy. The latest opinion polls show 50 percent of people in European countries and Canada believe immigrants contribute less in tax than what they receive in health and welfare services. 
"There are fears that immigration might put further pressure on the public purse at a time when fiscal consolidation is at the forefront of policy agendas," reads the introduction to the OECD report.
"These fears go well beyond anti-immigration parties and risk jeopardising efforts to adapt migration policies to the new economic and demographic challenges that many OECD countries will have to face over the coming decades."
According to the OECD there is, however, no reason to fear immigration as a risk to welfare. Immigration's effect on BNP in any country is rarely more than 0.5 percent, in a positive or negative direction.
"One can be confident that, with the growing focus on skilled labour migration during the past two decades, recent immigrants are more likely to be net fiscal contributors," writes the OECD.
Statistics Norway sceptical to the OECD figures
Countries with high numbers of labour immigration, like Norway, see a more positive effect of immigration than countries where refugees and family reunions dominate immigration. According to OECD economist Thomas Liebeg, who spoke to the Norwegian daily Aftenposten, the average contribution from immigrant households to the Norwegian taxman is €4,505. The contribution from Norwegian households with no immigrant background is somewhat higher at €5,055 a year.
Statistics Norway gets very different figures when looking 85 years into the future.
"I am not surprised by OECD's positive figures. Their calculations resemble earlier calculations for Norway, where only the effect of recent years has been taken into consideration. It would be very strange and very worrying if the years we have just put behind us did not show positive numbers for immigrants as a whole," says Erling Holmøy, one of the authors of the Statistics Norway report.
"We have had many people in their most productive age coming to Norway, finding jobs in a tight labour market. A lot of them have found work at once, without taking further education, they have few children, they don't use the health service much and don't collect much in terms of social benefits."
Less oil wealth per person
But immigrants grow old and in a country like Norway where income from oil means all citizens pay less tax than they otherwise would have, more immigrants means less oil wealth per person.
Statistics Norway has protested against the interpretation that their figures show the personal cost per immigrant. This is about both the person and children who are subsequently born.
The two researchers also underline that it is challenging to estimate population data when immigration is an increasingly important factor – not only how many people are born or die. Another report from Statistics Norway shows the number of immigrants from eastern European EU countries will increase the most in Norway, from 80,000 in 2010 to 730,000 people in 2100.
If you could go back to 1928 and try to predict the composition of Norway's population in 2013, it becomes clear how uncertain these prognosis can be. That period of time saw a world war and the birth of the EU. Perhaps the largest future immigrant group will come from China, like Aynur Naman?