The health of banking staff has deteriorated since the 2008 Icelandic banking crash. Those who lost their jobs and found new ones are doing better than those who stayed in their original jobs. The number of bank workers visiting health clinics doubled between 2008 and 2012.
Banking staff who witnessed colleagues loosing their jobs while keeping their own are doing less well than those who were made redundant and later found new jobs. Those who have been forced to go through major changes in the workplace are also doing very badly. They are anxious, feel serious concern and suffer from lack of sleep and depression. 
These are the results from doctoral student Ásta Snorradóttir's research into Icelandic bank workers' health in 2008 and 2011.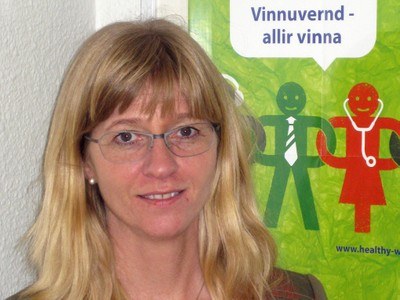 A large majority of the banking staff are women who have face-to-face contact with customers. The women are on average older and have a lower education compared to male staff. Staff with a higher education are mainly men. 
Banking staff with university degrees felt insecure at the beginning of the crisis because most of those being made redundant had a university education. Those with a higher education now feel less insecure because the banking sector has regained a certain balance. But people with a lower education are concerned and still worried about loosing their jobs. 
Men have suffered less than women. Ásta Snorradóttir says her study shows female banking staff have been doing badly both in 2008 and 2011. She says more men than women got new jobs quickly. 
Friðbert Traustason is the chairman of The Confederation of Icelandic Bank and Finance Employees, SSF. His figures show banking staff's health has deteriorated in recent years. 
The number of bank workers who have visited health clinics has doubled between 2008 and 2012. The number of SSF members who have received psychological treatment has increased by 50 percent in the same period. The number of members who have seen a physiotherapist has also increased by around 50 percent. Performance targets have increased. Banks now expect staff to finish their work tasks during normal working hours - they are not allowed to work overtime. 
Friðbert Traustason says there are fewer banking staff today than in 1992-1993, while the workload has increased considerably. This leads to extra stress for those who are left when colleagues loose their jobs. 
"They ask themselves: who not me? And that creates stress and a feeling of guilt which can be hard to handle," says Traustason.
Friðbert Traustason is critical of the government which talks about protecting women's jobs. He says these are primarily jobs in the health and education sectors, not finance. 
"The government is not defending women's jobs in the financial sector. This is strange since banking staff after all have slightly better wages than women working in the health sector and in schools," says Friðbert Traustason. 
There have also been cuts in municipal budgets. Doctoral student Hjördís Friðbertsdóttir at the University of Iceland has looked at the health among municipal workers and says they too are doing less well than before.
"Sick leave has increased since the crash, but the conscientious turn up to work even when they are ill. They don't want to increase the pressure on colleagues," says Hjördís Friðbertsdóttir.