Three public authorities in Sweden are co-operating to encourage Swedish employers to make it easier for their employees to combine work with parenthood. As part of a larger campaign, they are now sending out a jigsaw to 6.500 employers, with the question: "Work and family - How easy is it to make the pieces fit at your place?"

The Swedish equal opportunities law says employers must help their employees combine work with family life. In spite of that it looks like employers are more hostile than ever to working parents. The worst development within gender discrimination at work is to be found in attitudes towards pregnant women, according to the Equal Opportunities Ombudsman (JämO).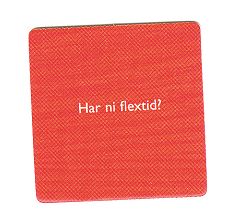 "How people look after their children is a private question of existential proportions. But it is also a question for society. Freedom of choice is of the essence. We do have freedom of choice. Women and men can in theory decide for themselves what they want to do. But in practical terms there are obstacles preventing people from taking parental leave, which you might expect them to do," says the Equal Opportunities Ombudsman, Claes Borgström.
That is why JämO, the County Administrations and the National Social Insurance Office in Stockholm have taken the initiative for "ChildrenANDwork", where they all work with tasks concerning parenthood and professional life. The National Social Insurance Office, for instance, will encourage all new fathers to take advantage of as much parental leave as possible. But the project goes wider. It also looks at what happens after parental leave is over. How do women and men combine work and family life? And how are employers given incentives to follow the law, and to help their employees with this?
"With parenthood comes parental leave, and our quest is to influence attitudes, patterns and other factors which make up real obstacles," says Claes Borgström.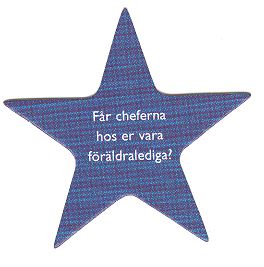 They started by finding good examples 53 businesses, which had been praised for their good work on equal opportunities, were asked what they were doing to help their employees combine children and work. 39 of them answered, and their experiences were very positive.
Half of them said the co-workers had become happier. They saw an increase in comfort and work morale, and the work environment improved. Some answered the workers had become better  motivated, that personnel costs had gone down, along with both short and long-term leave. Many of the employers questioned also felt their work to make parenthood easier gave them the competitive edge in the fight for desirable manpower. It was also easier for them to hold on to co-workers and to recruit new leaders internally. These findings were also confirmed by a survey done by the trade union JUSEK, which represents lawyers and some other employee groups. They concluded one in every three academics chooses employer in light of how they help making it easier to combine work and family life. 40 per cent of female academics choose their employer based on that.
Being a prosperous worker is dependent on having support from leaders. "The work for equal  opportunities needs to be active and not 'superficial', and that demands the 'correct' attitude from leaders", writes one of the survey participants.
Another says it is important for progress to actively identify the opinions and needs of the employees.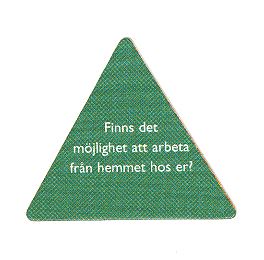 The survey presents many concrete proposals for easing the lives of new parents. Paid parental leave is important to get parents to take the leave they are entitled to. It is also easier for people to return to work if they are kept informed about what is happening there while they are at home with the children. Flexible working hours, the opportunity to work from home and that pay is adjusted to the current level when people return after staying at home, are all important measures.
Part two of the project will be to gather the conclusions and the good examples, and distribute them with a jigsaw entitled "Work and family - How easy is it to make the pieces fit at your place?" At the same time, JämO will investigate 40 employers to see what measures they are implementing in this context.