Electric planes might do more than reduce CO2 emissions. They could also open up a new category of commuting with new, shorter routes. Electric planes would also bring new jobs to manufacturing and at smaller airfields.
Nordregio recently published a report about which routes would be best suited for electric planes. There are 186 airfields in the Nordic region. The first generation of electric planes will have a reach of no more than 200 kilometres, which opens opportunities to establish 1,000 different routes between two airports.
However, when they mapped the most favourable air routes, Nordregio disregarded many of these for various reasons. They focus on routes from rural to urban areas. 
The research centre has also dropped air routes where passengers could travel by train in less than two and a half hours. French authorities have already banned such domestic routes on environmental grounds.  
Finally, Nordregio did not include air routes that are already being flown by traditional fossil fuel planes, as well as routes that are so short that hardly any time is being saved. Another factor is whether there are enough people in an area around an airport to maintain an air route. 
What is left then, is 203 air routes in the Nordics where electric planes would bring big time savings – defined as being 1.5 times quicker than travelling the same route by car or public transport. Several air routes go over water, especially in the so-called Kvarken area – the narrow area in the Baltic Sea between Umeå and Vaasa.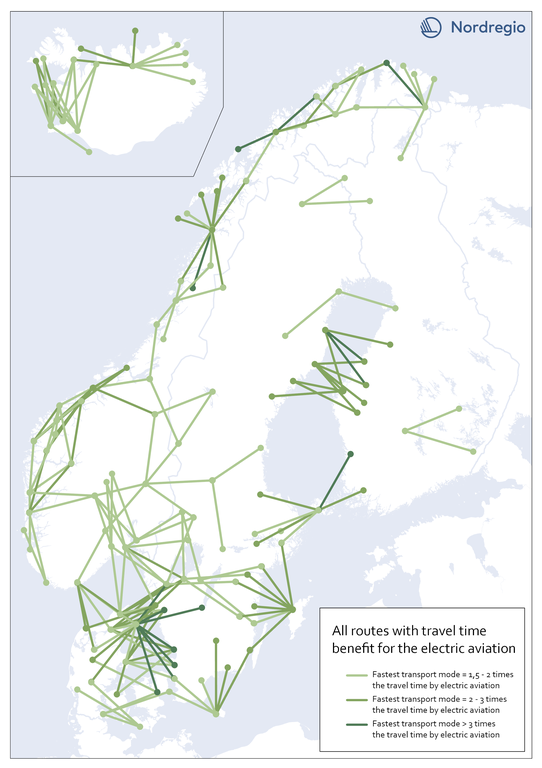 The deeper the green colour on the map, the more time is saved by flying electric. Source: Nordregio.
"There is already close cooperation between the labour markets in the Kvarken area, and the demand for labour is expected to increase. Northvolt's battery factory in Skellefteå is one example where Finnish labour will be crucial. 
"Earlier studies, like to so-called FAIR project, have concluded that electric planes represent the cheapest way of increasing accessibility to labour markets in the Kvarken area," writes the report's author Tove Lundberg.
The FAIR project she talks about resulted in a report written by Professor Lars Westin from Umeå University in 2021. It provides a historic overview of how the Nordic countries' air routes are shaped like the spokes of a wheel, where the capital cities are the hub and there are nearly no cross-connections.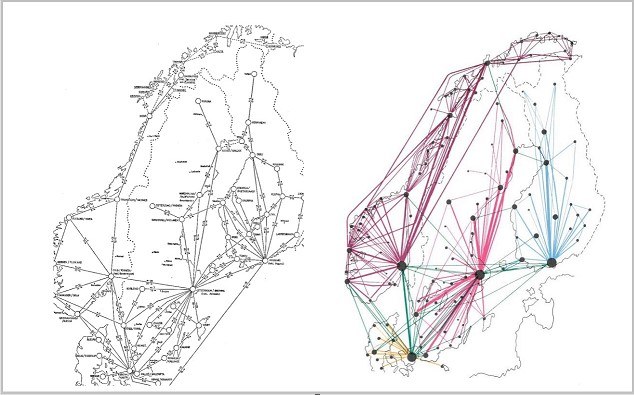 Air routes in the 50s compared to the 90s. Nearly all air traffic goes to and from capital city airports. Electric planes could break this pattern. Source: The Kvarken Council
"Any attempt to try to reestablish, develop and broaden a regional airline network in the Kvarken region will be met by fierce competition from the dominating hub and spoke-oriented airline networks that have been established on a national level," points out Lars Westin.
If the different countries manage to coordinate their aviation policies and rules, it should nevertheless be possible to establish a cross-connection between Oulu in Finland, Umeå in Sweden and Bodø in Norway, he thinks. But it will not be easy.
"The well-established capital-centric air traffic connections might over time have led to business going in that direction, while the desire to establish new regional markets and inform people about these might not be big enough. 
"Since air traffic according to Swedish law is not part of the official regional aviation policy, there are also no public funds available to develop regional air connections."
In Norway, meanwhile, regional routes are part of aviation policy and the state subsidises a number of air connections with smaller aircraft. Early this year, the government presented a new national aviation strategy.
There are 37 small and medium-sized Norwegian airports. Together they serve no more than seven per cent of the total aviation volume. Although Norway, as an EEA member, must follow the same rules for aviation as the EU, these rules allow one player to have a monopoly on certain routes which can then receive state support.
This must, however, happen through an open tender process. From 1 April this year, the size of the support has been nearly 900 million Norwegian kroner (€76.7m) a year.
Thanks to the regional aviation support for around 50 connections, 90 per cent of Norwegians have access to an airport that is no more than a 90 minutes drive from their municipal centre. This means most people in mainland Norway can make a return day trip to Oslo.
"Norway's airport infrastructure means the country can be a good testing ground for zero and low-emission planes" the aviation strategy states.
The government's aim is that such planes can begin operating on the subsidised routes from 2028 if technological developments allow. 
It is still too early to say what kind of electric aircraft will be best suited for the job. 
"The first thing that will be evident about these aircraft is that they will look dramatically different from what we know today," write the authors of the book Fundamentals of Electric Aircraft. 
One technology that is being used on hangar ships is so-called VTOL aircraft, short for vertical take-off and landing. The aircraft are a type of hybrid between a plane and a helicopter. According to the authors, more than 70 projects around the world are currently developing electric VTOL planes. This means airfields would not have to be much bigger than a helicopter landing pad. 
A more conventionally-looking electric aircraft has been developed by the Swedish company Heart Aerospace, headquartered in Gothenburg. Their ES-30 model is set to launch in 2028. The aircraft can carry 30 passengers and needs a 1,100 metres long landing strip. It has a battery range of 200 kilometres, but a hybrid version can travel up to 800 kilometres carrying 25 passengers.
In March this year, the company signed a deal with the government of Åland to provide ES-30 aircraft as part of a plan to develop sustainable air services for the Baltic Sea group of islands. 
"Åland has had a positive population trend for the past 50 years and continues to grow each year. As an island community our flight connections are vital to us, but so is our environment. That is why quiet, zero-emission electric flights are highly interesting to us," said Fredrik Karlström, Minister for Trade and Industry in the Government of Åland.