The majority of Copenhagen's political parties recently agreed to assess how a new line on the city's metro system could be run to Malmö in Sweden. A decision is yet to be taken on another permanent link between the two countries – there are several alternatives.
Copenhagen got its driver-less metro system in 2002. For now, it consists of four lines. The city's politicians have now decided to launch an environmental impact assessment for another metro line, called M5. A possible future link to Malmö will also be assessed, which would make M5 an Öresundsmetro. 
The next step in this process is a consultation process and negotiations with central government. Late this spring, the Copenhagen City Council will take the final and formal decision to launch the assessment.  
Several proposals
The Öresundsmetro is not the first proposal for a permanent link between Denmark and Sweden. Two other cities in Skåne County have proposed a new link between Skåne and Danish Zealand:
National inquiry before decision
It is still not clear which proposal the Danish and Swedish governments will agree on. What is clear is that the Swedish Transport Administration will investigate more than one proposal for another permanent link between Denmark and Sweden, based on a commission from the Swedish government's National Plan for Transport Infrastructure 2022-2033.
It says that it is a priority to investigate the "Capacity and redundancy for transport across Öresund, including a further in-depth study of the Helsingborg-Helsingör connection".
"We will probably present the results of the assessment in the summer or autumn of 2025 as part of the proposed new national transport plan for the coming planning period," Peter Bernström, head of social planning at the Swedish Transport Authority, tells the Nordic Labour Journal. 
He confirms that the authority will assess several alternatives for a permanent link as well as look closer at a study of a possible at a Helsingborg-Helsingör link between Denmark and Sweden.
That study was a strategic analysis aimed at "creating a basis for continued political dialogue and possible decisions on further assessments with the goal of establishing a permanent connection between Helsingör and Helsingborg", and was carried out by the Danish Road Directorate, the Danish Housing and Planning Authority and the Swedish Transport Administration. It was published in 2021. 
So how do the various proposals for a permanent link compare?


Europaspåret (The European Track) between

Landskrona and Copenhagen – a 19-kilometre-long train tunnel, possibly also a road tunnel. Estimated cost: 52 billion Swedish kronor (€4.55bn) for the railway part, 28 billion Swedish kronor (€2.5bn) for the road part. Source:

Europaspåret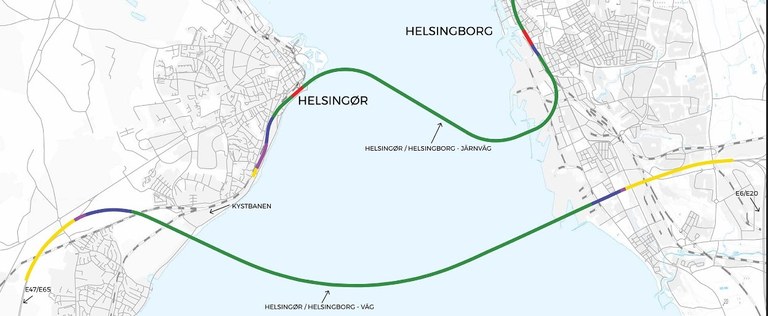 A permanent link between

Helsingborg and Helsingør – a 10-kilometre-long passenger train link including a 7-kilometre-long tunnel, plus a 16-kilometre-long motorway link including a 12-kilometre-long tunnel. Estimated cost: 57 billion Swedish kronor (€4.9bn). Source:

The HH Group