In Iceland, plans for a new public transport system to connect the capital region's population is being met with both excitement and criticism. Some 250,000 people live in the Capital Area (Reykjavik and the five municipalities in the region), which is roughly two-thirds of the country's entire population.
In 2015, a 25-year regional plan for the Icelandic Capital Area was issued to address expected growth in population and jobs – focused on central areas and along the sustainable corridors. That means growing inwards rather than outwards.
A major part of that plan is a new high-quality public transport system, which has been called Borgarlína (City Line in English). These are long buses driving mostly in designated lanes which will run frequently and connect the area's hotspots. It will be a massive upgrade from the current public transport system.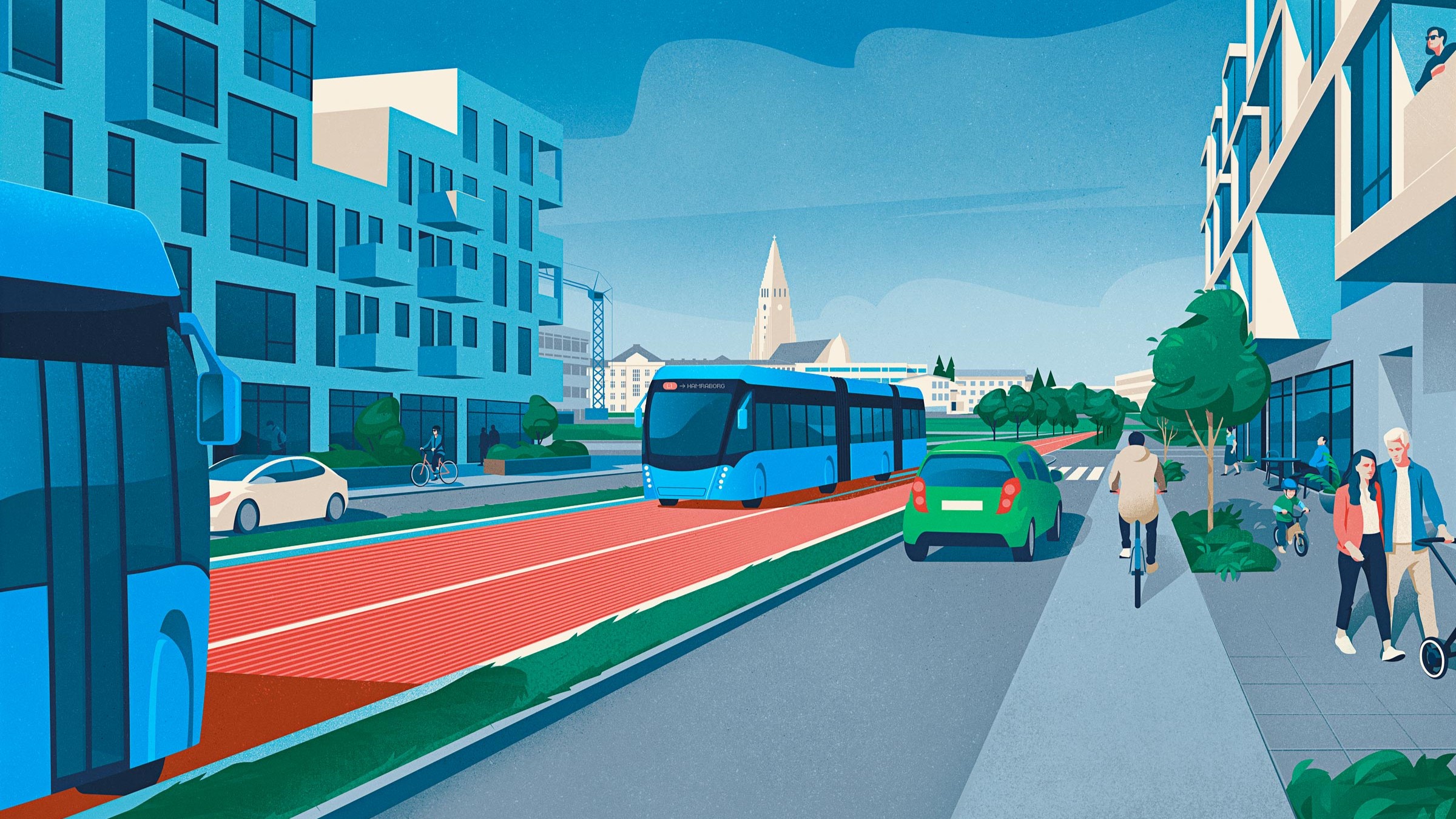 At the core of the Reykjavik public transport plan is a Bus Rapid Transfer-system, where busses have their own lanes.
Thorsteinn Hermannsson is the director of development at Transport for the Capital Area (Betri samgöngur) – a publicly owned company that supervises transport construction in the capital area. To explain the purpose of Borgarlína, it is necessary to look back in time, he says.
"The capital area has grown fast over the past decade, not only the population but also the area itself. And that has increased car dependency. Around 75 per cent of rides in the capital area are by car, which is unusually high in Europe. 
"In the 1962 regional plan there is this sentence: 'Until every adult has a car, we need public transport.' So cars were considered the solution back then, and we have organised our lives and our urban development around that. So you can say that the capital area is basically similar to an American urban area in the distribution of housing and jobs, and how we travel between places."
Hermannsson says that Borgarlína is not only a transport system but also a green urban development catalyst. That is part of the sustainability and economic efficiency which is the main goal of the regional plan.
"Borgarlína will be the new backbone of the public transport system that connects the so-called hotspots in the region."
Inspired by Norway and Sweden
The preparation is in accordance with a transport agreement between the state and the municipalities, signed in 2019. Hermannsson says that agreement was based on examples from Norway and Sweden.
"The state and the municipalities agreed on the planning, investing, and financing of transport infrastructure for the next 15 years. Borgarlína is a part of that." 
Hermannsson says similar agreements were made in Oslo and Bergen in 1985, and in Gothenburg in 2013. 
Borgarlína itself will connect the largest urban areas, explains Hermannsson.

Busses come in different sizes. The smallest of the Volvo busses above is 12 metres long and can carry 100 people. The largest is 30 metres long and can carry 300 people – the same as a wide-body aircraft. Illustration: Volvo
"It is based on the third generation Bus Rapid Transfer (BRT) system. The buses will be 18 to 24 meters long and will run every seven and a half minutes, mostly in designated lanes. There will be high-quality stations and mobility hubs where there is access for everyone, space for keeping bikes and real-time transport information. This should make you feel like you're on a train station abroad." 
And speaking of trains, which Iceland does not have, Hermannsson says BRT is financially more efficient. 
"It was decided to have this compromise instead of building a train system from scratch. But it is possible that some of these routes can become train routes in the future. We are not there yet, but the design allows for that possibility."
And there are more options.
"In the future, 18 to 24-meter-long buses every seven and a half minutes could change to a self-driving bus every two minutes. And then it is better not to have rails. That also applies to the BRT of course, that when you don't use rails, you don't need a designated lane all the way. The train system would also cost three times more than the bus lanes," says Hermannsson, who adds that he himself is a big fan of trains. 
Not only transport but urban development
In addition to this, the municipalities have agreed to take the proximity to public transport into account when choosing building sites.
"That is the old way of doing things. Cities were previously built around public transport and Reykjavik is no exception to that rule. So Borgarlína is not only about strengthening public transport and changing people's transport habits for environmental reasons. This is simply urban development. And the state joins us in this so it can coordinate with us from the very beginning."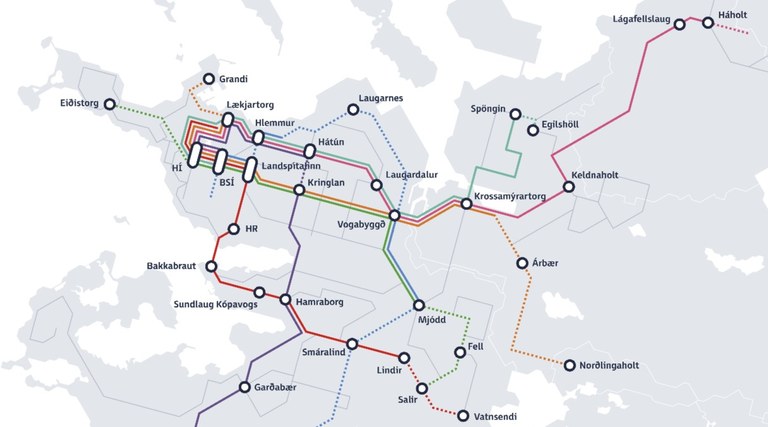 Borgarlína will give people living outside of Reykjavik the chance to travel rapidly in and out of the city. According to Cowi, the consultancy firm behind the traffic system plan, public transport only represents four per cent of Reykjavik's traffic today. Map: Borgarlína
These plans have been controversial. Critics point out the cost – an estimated 70 billion ISK (€470 million). Also, some of the designated bus lanes will be existing car lanes, so there are worries that this might slow down car traffic. 
Hermannsson says that lanes will be exclusively used by BRTs where this is considered a better solution. 
"We need increased transport capacity. A bigger population does not necessarily mean that more cars are needed but we clearly need to move people between places. An 18-meter bus in a designated lane has far more capacity than 110 cars in a queue in that same lane. 
"But this will no doubt affect car traffic, for example at crossings where the buses have priority, and the cars will have to wait a bit longer. We are not hiding the fact that this will decrease car space in some places. But I would say that we are giving people more choice so that fewer have to own a car." 
In terms of the costs, Hermannsson says that transport is always expensive. 
"The majority of transport financing still goes on roads, 45 per cent. Borgarlína is not the biggest part, so we are still using great sums of money on transportation for cars. We are going for a mixed solution, so even though driving will be more difficult in some places, it will be much easier in other places at the same time." 
More practical solutions needed
Hermannsson says it is clear that in the long run, societies cannot be based on every adult owning a car. 
"Here it might have worked if the population hadn't exceeded 150,000. But that is not the case, and the population is still growing rapidly. And every car that is added to the streets delays the traffic already there. 
"That is why we must seek a more practical solution, not to mention a more climate-friendly one. And also a cheaper one, because it's much cheaper for society when 30 to 100 people ride together on a bus like this than if they ride in 80 to 100 cars. This should eventually be a win-win situation for everyone." 
Hermannsson points out that in other Nordic cities, new public transport systems have been built or are being prepared – for example in Odense, Arhus, Bergen and Stavanger. 
"And everywhere the purpose is the same; better use of land and a good backbone in the public transport system. And that will connect to the existing bus system." 
The first route of Borgarlína will be ready at the end of 2026 or the beginning of 2027 and will be 14.5 km long. Six more routes are planned to be ready by 2034.
"When all this is ready, we will have a public transport system that is comparable with the systems in other Nordic countries if we do it properly. But then we can't lower our demands in order to save money. If we deliver on the promise of a bus every seven and a half minutes, then we will be equal to the other Nordics."
However, it is likely that by then the other Nordic cities will have reached the next level of public transport. 
"We are now trying to increase the percentage of public transport from 5 to 10-12 per cent. But when we reach that, other cities might have reached 25 per cent. So we will still be 10-20 years behind them. But hopefully, we will get closer and closer as the years go by."