Journalism plays a crucial role in how the Nordic countries face current and future challenges. What, where, when, how and not least why must be reported by independent media employing well-informed journalists. The keywords for the Nordic Journalist Centre are knowledge sharing and networks.
Finally, the message many had been waiting for. The Helsinki Treatment – the cooperation agreement between Denmark, Finland, Iceland, Norway and Sweden – might be updated. One reason is the changed security situation, the Nordic Council of Ministers said on 27 June.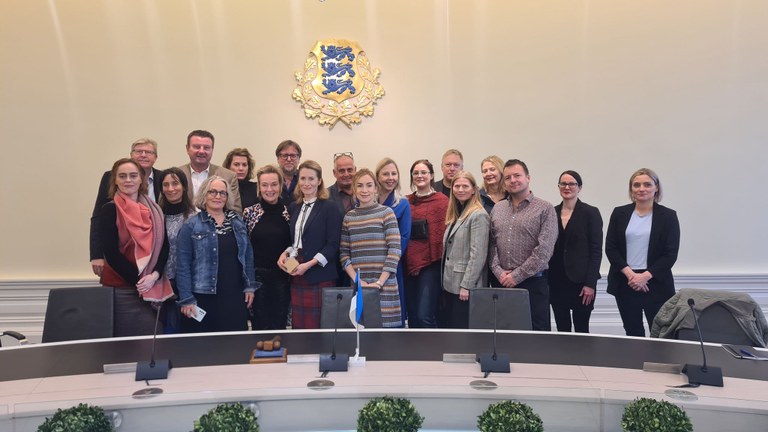 A group of journalists from NJC visiting the Estonian Priome Minister Kaja Kallas in Tallinn. Photo: NJC
The day before, the Nordic Labour Journal meets John Frølich. He is the leader of the Nordic Journalist Centre, NJC, and one of those who look forward to a revised treaty.
"We find ourselves in a completely new geopolitical situation, this is not least true for Sweden and Finland. But the Nordic Council of Ministers does not seriously discuss security policy. That is why the Helsinki Treaty must be revised as soon as possible. If not, the Council risks becoming irrelevant."
John Frølich believes the Helsinki Treaty can be used to improve coordination between the Nordic countries in as many areas as possible.
"If the Treaty is revised, which I hope and believe it will, journalists will contribute with reporting to create debate around the changes," he says.
Focus on changeability and bridge-building
NJC is based in Danish Aarhus, Jylland, and for the past 65 years, the organisation has worked to strengthen journalism and the media through further education, courses and networking. It is a not-for-profit organisation based at DMJX – the Danish School of Media and Journalism.   
"You find us at the department for research and development, which is appropriate since the NJC is interested in changes to the surrounding world. This informs our activities, says John Frølich.
The NJC operates in the Nordics and also in the neighbouring areas of North-West Russia and the three Baltic states. Because of the war in Ukraine, the NJC no longer operates inside Russia proper, however. Instead, there are now several projects supporting Russian journalists in exile, like in the Baltics where the NJC has helped develop Russian language media. 
"It is extremely important that these media are independent and can be a counterweight for the Russian-speaking minorities in countries where Russian TV is being shown every day. It is more urgent than ever to keep countering Russian media in Russian," says John Frølich.
He points out that the NJC does more than provide economic support for the operations in the Baltics. It is also not a question of "we" teaching "them" how to do journalism.
"They already know how. This is about an exchange where journalists in the Baltic states can help provide answers to how the Baltic Sea can remain a peaceful area despite bordering on Russia," he says.
Networking is extremely important here, not least in terms of looking to the future, believes John Frølich.
"The younger generation is going to be crucial for a future, peaceful Russia," he says.
A project where the NJC has matched Russian exile journalists with Nordic media houses is one concrete example of network exchange.
"We have managed to create a win-win project which satisfies not only Russian journalists. Several editors have told us the project was so beneficial to them that they would happily participate again," says John Frølich.
One successful example is Nikita Vasilenko, a Russian journalist who got a job at the Sydsvenskan newspaper.
Bridges everywhere
But the majority of the NJC's activities are in the Nordic region. Since its inception in 1957, the centre has offered Nordic journalists further education. An annual event is the so-called Aarhuskursen (the Aarhus course). 
This year's theme is the Arctic and the new Nordic reality, and this autumn the course starts with a visit to Tromsø, this year's Arctic capital, before moving on to Oslo and Brussels. Participants will be updated on the Arctic area with a focus on security and foreign policy and the green and digital transition.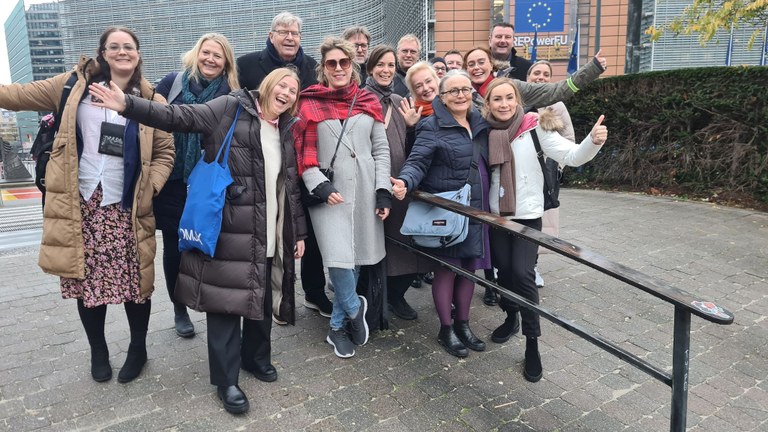 A group of course participants visiting Brussels. Photo: NJC
These are big and topical issues, says John Frølich who points out that Aarhuskursen, like the other courses, provides an extra dimension beyond the annual topic.
"When you meet colleagues from other Nordic countries who tell you about their experiences, your own perspective widens. Nordic media often have different angles on issues like climate and environment for instance," he says and tells us that several Aarhus groups still meet for reunions in various places in the Nordics.
One of these is the group that was formed as far back as 1977.
"They call themselves "The Nordic Pentecostals" since they first gathered during Pentecost in 1977. Since then, they have met at least once every year."
And it is an advantage, believes John Frølich, to have personal journalist contacts when you need to do research or find people to interview in a different Nordic country. This author agrees – having contacted colleagues in neighbouring countries herself before writing various articles for this publication.
"At the NJC we strongly believe that we can develop journalism across the Nordics. Together we are stronger," he says.
The vision
We return to where we started – how John Frølich sees the future of the Nordic region. One of his two answers included the Helsinki Treaty. The other covers the common vision that the Nordic countries agreed on in 2019.
The Nordic Region will become the most sustainable and integrated region in the world by 2030.
"Creating the world's most integrated region by 2030 means both changes and sacrifice. It means that Nordic citizens must be aware of which decisions are being made and why. Journalists who know something about the Nordics and the region's relationship to the rest of the world have an important job that helps provide transparency and contributes to the development of our democratic societies," says John Frølich.
He also believes that the Nordic coordination ministers play an important role and should therefore be given far more influence on policy in their respective countries than they have today, in order to coordinate joint measures.
"If the vision is to be realised, the countries have to coordinate their efforts in areas such as environmental policy and the removing of existing border barriers* that are hindering the free movement across national borders. And governments, together with the coordination ministers, must discuss how we renew our welfare societies," says John Frølich.
At the same time, there are areas where coordination on a Nordic level is difficult. John Frølich mentions refugee and asylum policies, where Denmark currently has an opt-out from EU rules.
Integration with obstacles
In addition to removing border obstacles in order to realise the Nordic Vision 2030, other areas have clear potential for improvement. Here's an example from John Frølich's everyday life:
"I can book and pay for a train ticket from Copenhagen to Berlin from my computer. But I cannot do the same when I want to take the train to Kalmar [in South-East Sweden]," he says. 
"When I need to travel there, I have to physically visit the Copenhagen Central Station or another train station to purchase my ticket."
The Nordic Labour Journal has looked at Swedish, Norwegian and Finnish train operators. It is the same story there. With a few exceptions, it is not possible to buy train tickets online for destinations in neighbouring Nordic countries.
The Swedish state train operation's press service tells the Nordic Labour Journal in an email that there are currently no plans for a joint Nordic ticket system for train travel.
But! Interest in the Nordic region is increasing
"Media outlets are again employing Nordic correspondents," says John Frølich. Media houses are very aware of what they invest in, so he believes this is positive proof there is a growing interest in Nordic topics from their readers.
John Frølich mentions that more and more people choose to watch television series from neighbouring countries too.
The BBC has also launched "BBC Nordic" which aims to bring more British series to the Nordic region by launching them simultaneously in the Nordic countries.
"They see the Nordic region as having a shared culture and common values. We have a shared interest in certain forms of entertainment, such as English series," he says.
As a fourth example, John Frølich mentions the publication Altinget which was originally published in Danish, but now has a Swedish edition written in Stockholm and a Norwegian edition written in Oslo.
From challenge to challenge
In terms of the NJC's financial situation and its future activities, things remain uncertain. The Nordic Council of Ministers' grant system is undergoing radical changes.
"What things will look like in 2024, we really don't know. But it goes without saying that the entire Nordic region, including the Nordic Council of Ministers, is interested in the development of journalism in the Nordics. Nordic media and Nordic journalists have much to learn from each other," says John Frølich.
*Editor's note:
Regarding the border barriers, which affect commuting between Nordic countries: Over 100 such barriers have been identified. That is according to Sandra Forsén, senior adviser at the Nordic Council of Ministers, interviewed in "Norden," a supplement in Dagens Nyheter on June 19 produced by the Nordic Council of Ministers ahead of this year's Almedalsvecka.