To strengthen democratic conversation culture through the exchange of ideas and by seeking understanding between people of diverse opinions. That is the purpose of the Latvian LAMPA festival, which has grown bigger each year since its inception in 2015.
Blue pennants are fluttering in the wind. People of all ages are flocking to the castle park with its inviting lake and the dips between small, rounded hills. 
The sun is shining and many visitors are seeking shade on benches, tables and chairs under the trees. They watch the action and quench their thirst with free water out of paper cups or eat food from one of the many food stalls. It is Saturday, the second and last day of this year's LAMPA festival – the ninth of its kind.
"I am an influencer and here to participate in a debate on women's right to decide whether they want to have children," says my lunch companion. She is expecting her second child herself.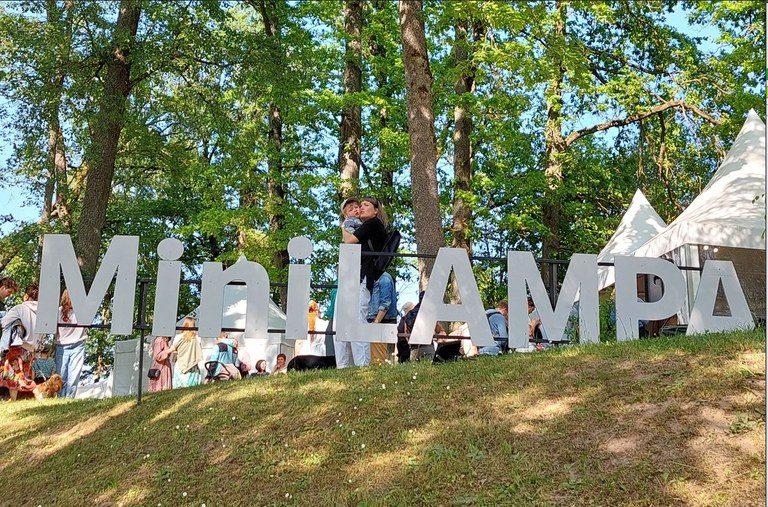 There is also a MiniLampa for small children, and their parents. Photo: Fayme Alm.
"In Latvia, there is a lot of pressure for women to have children. I believe it should be up to the women themselves to decide whether they want to become mothers or not," she continues.
I do not have time to get her name before she leaves her lunch half eaten to hurry to the debate. It will be held in Latvian like most of the events here, a language I do not speak. So I settle on shouting "Good luck" after her.
A new history
This is a festival of conversation in Cēsis in Latvia, some 90 kilometres northeast of Riga. The town has beautiful buildings and hosts the ruins of a medieval castle from where half of the Baltics were governed for a while. Cēsis became a member of the Hanseatic League in the 13th century, and throughout history, the town has been the victim of violent attacks. The Swedes captured it twice – in 1626 and in 1701 according to my guidebook.
Today, a new history is being written. LAMPA offers debates, conversations, workshops, theatre plays, radio programmes and more. Altogether there are 323 activities. All are welcoming and all events are free. 
"Freedom, democracy, good governance, a European way of living. That is what LAMPA wants to convey. The Baltics' role in protecting the EU's external borders is about more than military security. It is also about society and its resilience, it is about our democracy," Ieva Morica tells the Nordic Labour Journal. 
She is the executive director of the DOTS Foundation for an Open Society, the organisation that created the LAMPA Conversation Festival.
"At DOTS we heard about the 2014 Folkemødet in Bornholm in Denmark and had the chance to brainstorm with Zakia Elvang, a Danish democracy activist. We also looked at the Arvamusfestival in Estonia and how that worked. After that, we began creating our own festival which became LAMPA. Since 2015, we have held a festival every year," says Ieva Morica. 
Lampa simply means lamp in English – an object that provides light. DOTS realised they would not be able to organise annual festivals on their own so they partnered up with Swedbank in Latvia, Cēsis municipality, the creative digital agency Armadillo, the communications agency Deep White and Change Agency Spark in Denmark.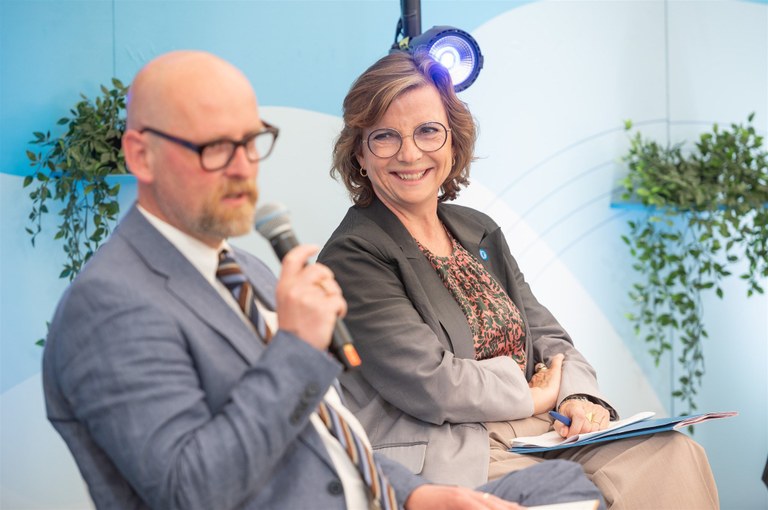 Karen Ellemann, General Secretary of the Nordic Council of Ministers, participated in one of the many events at LAMPA. Here with the moderator. Photo: Nordic Office in Riga.
"And of course, we have a lot of volunteers working with the festivals. Without them the festival wouldn't exist," says Ieva Morica.
Meeting places in various formats
Visitors meet the volunteers all of the time – friendly people everywhere who can be asked for help. They move around the festival area which is filled with smaller spaces, stages, tents, paper cones with programmes and maps. There are manned information desks too. On the fringes of the festival area are wash basins and portaloos. 
The well-organised nature of the festival means it feels accessible and safe. The Nordic Labour Journal bumps into two police officers and they can confirm this.
"So far it has been quiet. Just like last year when there were no incidents whatsoever," they say and wander off. I am not allowed to take their photograph. Which I accept and respect.
The Nordic region is represented
One of the tents is called Ziemeļsala, which means Nordic island. This is where the Nordic Council of Ministers hosts its events.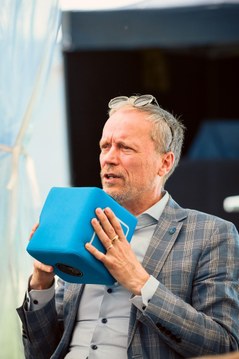 "It is exciting for us to be here. LAMPA is a festival of conversations and that is what we are here to do – to participate in conversations that aim to create understanding between people of different opinions," says Stefan Eriksson, head of the Nordic Council of Ministers' Riga office. In 2021, they also opened a smaller branch in Daugavpils in Eastern Latvia.
The Nordic Council of Ministers has participated at LAMPA every year since Stefan Eriksson took up his current post in 2017 when he went on leave from the Swedish for Foreign Affairs.
He highlights the mutual interests between the Nordics and the Baltic states and the desire to exchange ideas and experiences.
"In the 1990s we were focusing on transferring knowledge to the countries that were about to create new societies. Nowadays it is more of an equal cooperation. There is generally a lot of interest from both sides to learn from each other. It is less about exporting Nordic solutions to the Baltics," says Stefan Eriksson.
The Baltics look to the Nordics as a role model to learn from, not to copy. It is about using the experiences from there and adapting them where possible, he says and mentions that the Nordic Council of Ministers has certain resources set aside for cooperation although it cannot donate money to different projects in the Baltic countries in the same way that it can within the Nordic region.
"The Nordic Council of Ministers creates preconditions and can sometimes contribute economically in order to execute Nordic-Baltic projects when there is a clear Nordic interest involved," says Stefan Eriksson.
The Nordics have not forgotten about the Baltics, but now take it for granted that the Baltic countries are already integrated with the European community, he believes.
"There has been this idea that the EU takes care of all problems. I think this is about to change. The regional level is also important and that is why physical presence is important. The war in Ukraine has reminded us of how exposed the Baltics are, and there is renewed interest in connecting more closely with the region," says Stefan Eriksson.
Nordic values are worth spreading
Back to Cēsis. Karen Ellemann, the Secretary General of the Nordic Council of Ministers, has just left the stage where she discussed the future perspectives of Nordic-Baltic cooperation after 2022 with Gints Jegermanis, ambassador and expert at the Latvian Institute of International Affairs, Hilmar Hilmarsson, professor at the University of Akureyri in Iceland and Daria Krivonos, a futurist and CEO of the Copenhagen Institute for Futures Studies.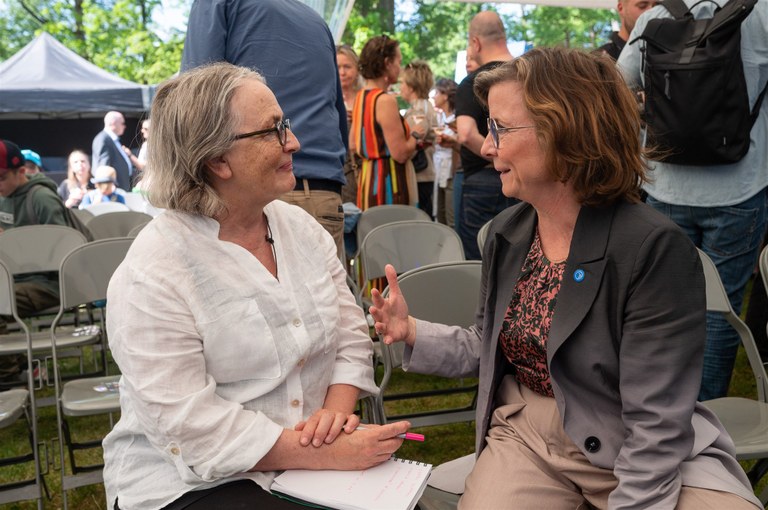 Nordic Labour Journal's Fayme Alm interviews Karen Ellemann. Photo: Nordic Office in Riga. 
There is no doubt Karen Ellemann believes in the Nordic countries' democratic values and that she would like to further anchor them in cooperation with the Baltic states. 
"I am impressed with this event and with the fact that there are so many people who are interested in social issues. It is important to create a framework where you can also discuss difficult issues, like we did here during the seminar Women in War for instance," she tells the Nordic Labour Journal.
Karen Elleman also highlights the importance of meetings within NB8, Nordic-Baltic Eight, a regional cooperation between Denmark, Estonia, Finland, Iceland Latvia, Lithuania, Norway and Sweden. Like LAMPA, NB8 focuses on protecting democratic values.
Many visitors and many proposed events
The first year the festival was held, the organisers had hoped for 2,000 visitors. 3,500 came. Today there are more than 20,000. That is how many had been attracted by the programme which was put together with the help of the audience themselves. There are many events on the programme.
"Anyone can propose their idea or concept. The core group then considers the proposals. This year we only had space for one-third of all the proposed events. The festival must not become too big, but we are of course happy about this great interest. It shows that people want to contribute," says Ieva Morica.
She says the festival has undergone several changes, some of which take time, while others happen without any planning.
"Themes that were not popular the first time they were proposed became popular in a later year. So the programme mirrors the current hot topics in Latvian society. We in the core group always try to remain one step ahead in order to create an even better festival next year," says Ieva Morica.
Active network creates ripples
LAMPA is part of the Democracy Festivals Associations, a network of democracy festival organisers in Europe which was set up in 2018. 
"The first year it was important for us to be able to create our platform and shape our programme. Now we can continue to develop by being equal partners with the other members. The network allows us to learn from each other and share our experiences," says Ieva Morica.
Mia Stuhre, executive manager for the Swedish Almedalen democracy festival, writes in an email to the Nordic Labour Journal:
"LAMPA, being a relatively new festival, remains a fantastic role model to us. We have adapted their rulebook*, for instance. They are brave and focus on developing creative meeting spaces." 
About Almedalsveckan in English: https://www.almedalsveckan.info/english