Many well-educated Ukrainian women who have fled with their children to Lithuania struggle to find skilled work. Now, with the support from the Nordic Council of Ministers and others, women are getting the knowledge and tools they need to rebuild their country once the war ends.
Kira Lebedenko runs a cyber security business with eight employees in Ukraine. Right now she operates it out of the Lithuanian capital of Vilnius. She had to flee here with her children at very short notice when the war in Ukraine broke out.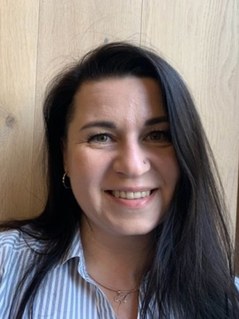 "I am now running the company in Ukraine via my computer in my apartment here in Vilnius, which I have rented for myself and my children. Most of my colleagues stayed in Ukraine and operate from home there. This works great. But I was about to go mad from sitting in the flat all the time, so I applied for a side job as a salesperson in order to get some colleagues," she says.
Kira Lebedenko is over-qualified for the sales job, she explains. But Lithuania is a small country that does not even come close to being able to offer relevant work to the many relatively well-educated Ukrainian women who have arrived here since the war started. Right now, Lithuania is hosting around 80,000 Ukrainian women and children – a large number in a country with only 2.8 million citizens and no tradition for receiving refugees. 
"I and many other Ukrainian women here in Lithuania are struggling to find work that matches our qualifications. I have chosen to work with telephone sales, calling private customers, only to get into a workplace and to get some colleagues, even though as a business owner I am used to working with sales on a far more strategic and business-to-business level," she says. 
Important Nordic knowledge
It is a big task for Lithuania to construct a system for receiving and integrating refugees from Ukraine. The country has received far more Ukrainian refugees than its Baltic neighbours Estonia and Lithuania, explains Helén Nilsson, Director of the Nordic Council of Ministers Office in Lithuania. It supports a project that introduces Lithuanian authorities and Ukrainian refugees to how the Nordic countries have been working with integration. 
"There is enormous solidarity with Ukraine in Lithuania. Many Lithuanians have opened their homes and schools. But this is also a fairly young nation with hardly any experience of welcoming refugees. That means the Nordics have a lot of relevant knowledge to share," says Helén Nilsson.
The Nordic Council of Ministers' office is in Vilnius. Ukrainian flags are easy to spot everywhere you go in the city, including outside the office of Helén Nilsson and her colleagues in the centre.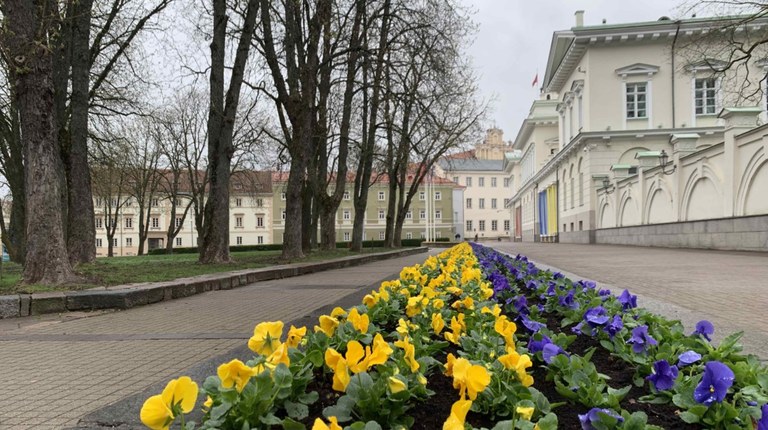 Ukrainian colours in the flowerbed in this Vilnius park.
Blue and yellow Ukrainian flags are flying side-by-side with flags adorned with five white swans, symbolising the five Nordic countries and the Nordic cooperation.
Helén Nilsson welcomes us in her office on the first floor, where a map of the Nordics hangs prominently on one wall. The office has been here since 1991, shortly after Lithuania gained independence. Its aim is to represent the Nordic region in Lithuania and to further Nordic-Lithuanian cooperation and the sharing of knowledge.
Hélen Nilsson has been the Director here for the past five and a half years. She was about to start a project for exchanging experiences between the Nordics and Lithuania about immigration just as the war broke out in Ukraine in February 2022. She had to throw her plans out and start again to make sure the project would also benefit the many refugees from Ukraine who started pouring in.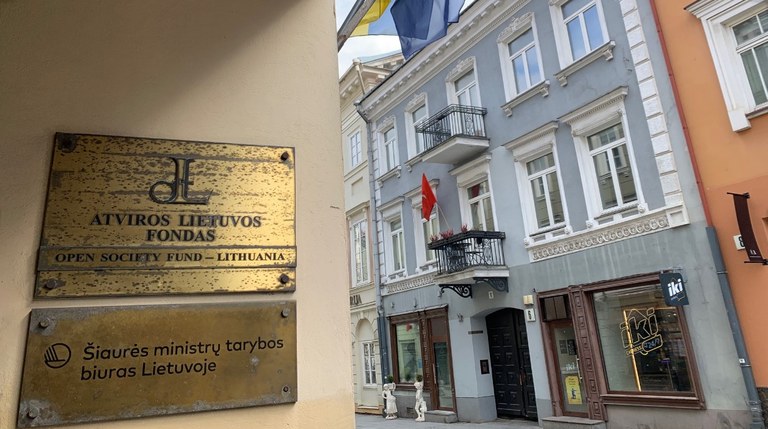 The Ukrainian flag flies next to the Nordic one outside the Nordic Council of Ministers' Lithuania office.
"So now, the project focuses a lot on the integration of women and children from Ukraine through conferences and study visits to the Nordic countries that have a lot of experience in creating efficient integration. I am, in fact, very proud of this project. It is a really good example of Nordic-Baltic cooperation where we learn from each other about good ways of achieving integration," says Helén Nilsson.
Lessons for a post-war Ukraine
Ukrainian Kira Lebedenko is one of the project participants. She just swapped her job in sales with a position at the Lithuanian refugee agency and with her new workplace she went on a study trip to Finland, organised by the Nordic Council of Ministers' Lithuania office.
"I had no idea there were refugees in a Nordic country like Finland, and during the study trip there, I gained some really useful information about integration that I can use in Ukraine after the war. We will have to build bridges between the Ukrainians who had to flee and those who stayed. Then there is the Russian-speaking part of the population who will also need to be integrated. It will be difficult and it helps a lot to learn from Nordic experiences," says Kira Lebedenko.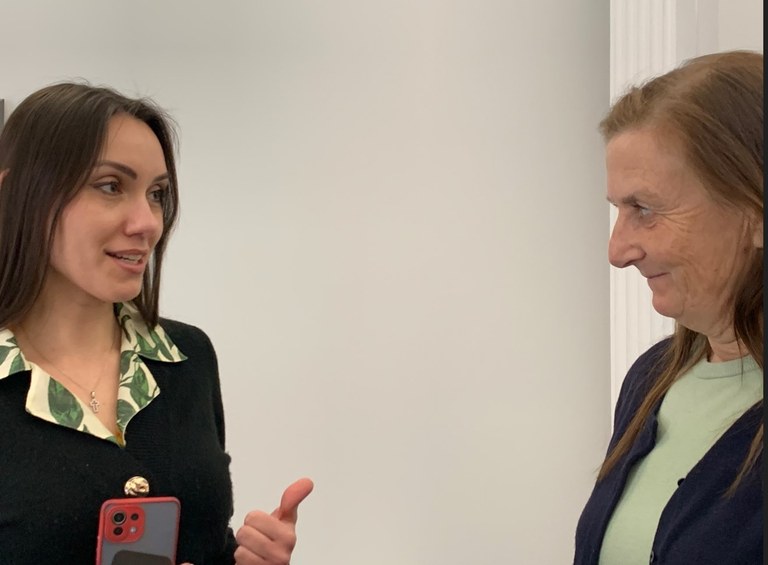 Valentyna Ryvlina og Helén Nilsson.
The war has also impacted several other Nordic programmes in Lithuania, explains Helén Nilsson. Her office will run several smaller art projects allowing Ukrainian women to apply for grants for art projects that promote Ukrainian art in Lithuania. 
The art projects are run by the office's Ukrainian intern, Valentyna Ryvlina, in cooperation with several colleagues. Ryvlina is a refugee from Ukraine who applied for and got the job when the Nordic Council of Ministers' Vilnius office established an internship post aimed at giving a Ukrainian refugee access to the Lithuanian jobs market.
"I had an exciting job as a lecturer at the university in my home city and had just defended a thesis on communication and modern art when Russian troops entered Ukraine. My husband and I decided that I and our three children should flee for the children's sake. They are teenagers and could not get to school because of the war. Here in Lithuania, they go to school."
Her husband had to stay in Ukraine and she was on her own with three children in a country where she does not speak the language. She started learning Lithuanian and began giving lectures about Ukrainian and Lithuanian art. 
"I am passionate about promoting Ukrainian culture in the Baltic and Nordic regions – as my contribution to winning the war. At the same time, I want to help better integrate Ukrainian women into Lithuanian society. It is hard for us to get integrated even though we are highly motivated and many of us are well-educated."
The Lithuanian language is quite hard to learn. Valentyna Ryvlina speaks many languages and has also taken Lithuanian classes. But she has so far not found a class that suits her level. 
"If you don't speak Lithuanian, you only get vocational and often badly paid jobs like cleaning, and many Ukrainian women have to accept these jobs even if they have an education." 
Many Lithuanians and Ukrainians also speak Russian. But for Ukrainian refugees, speaking Russian is a sensitive matter because of the war, and being in exile makes it ever more important to protect your own language, explains Valentyna Ryvlina. 
She and many other Ukrainian refugee women in Lithuania also face the added job challenge of being on their own with no family network.
"It is difficult to find a job which also allows me to drop off and pick up my children from school," says Valentyna Ryvlina.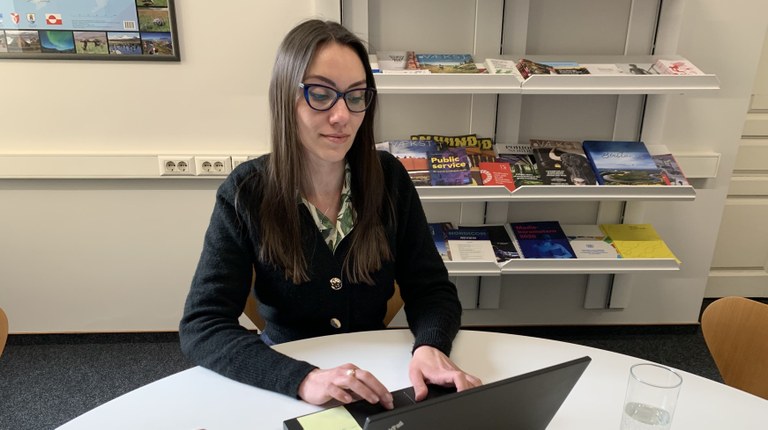 Valentyna Ryvlina works with promoting Ukrainian culture.
Svitlana Zaluzhna also fled Ukraine with her three children. She was an activist in Ukraine and worked with social and cultural projects benefiting especially Ukrainian families. She has brought these experiences to Lithuania, where she is now the CEO of Ukreate Hub, a network of Ukrainian civil society activists in Vilnius. One of the things they offer is a space for refugee women from Ukraine who want to use their time in exile to build their own businesses.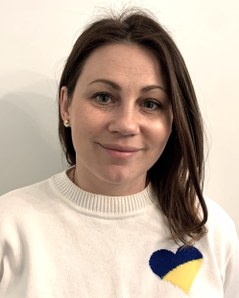 "We have created a space where the women can work with entrepreneurship and build networks with others, which will improve their and their children's lives while they are here. They can then take their entrepreneurial experiences back to Ukraine when the war is over. By then, there will be a great need for entrepreneurs who can help rebuild society," says Svitlana Zaluzhna. 
The Nordic Council of Ministers' office in Lithuania co-hosts various events like panel debates together with Ukreate Hub. There is also a social entrepreneurship project in the pipeline. 
The exile university
The Nordic Council of Ministers in Lithuanian has also supported the setting up of the European Humanities University (EHU) which is aimed at students from Belarus and Ukraine. The Council also supports EHU through grants for students from those countries. Because of the war, this support has been increased. EHU gets most of its funding from the EU, Lithuania and Sweden.
17-year-old Yelyzaveta Pukas from Ukraine is one of EHU's students. She is studying global politics and economy and moved to Lithuania with her mother and her cat, while her father remained in Ukraine.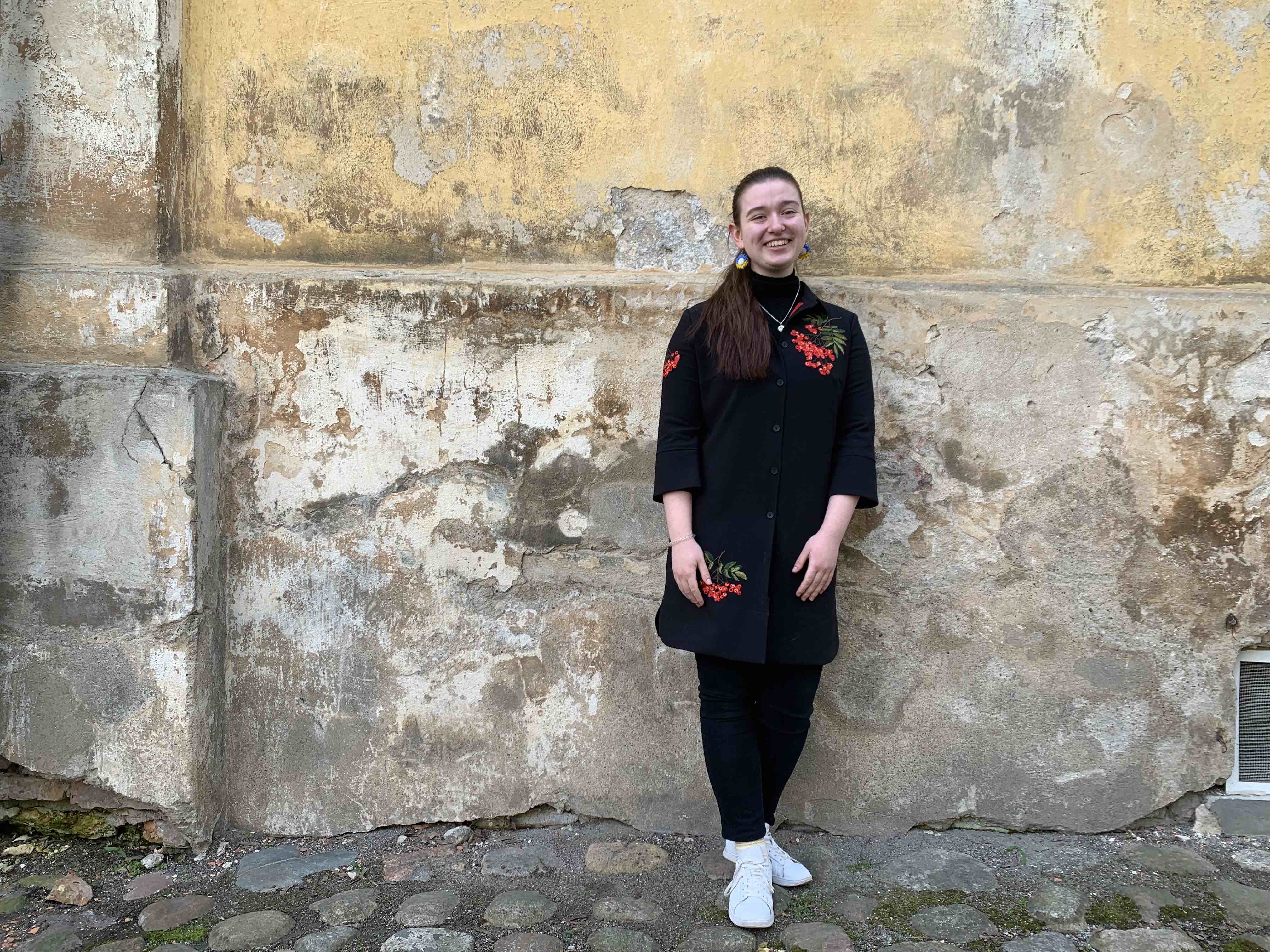 Student Yelyzaveta Pukas dreams of returning home to Ukraine.
"As a student in Ukraine, I only would have had access to online lectures and there were air raid sirens every day, so it was difficult. Here I have a more predictable student life. I dream about returning home when the war ends, and hope with all my heart that I and my studies can help create a good society when the war one day is over."