A dramatic fall from 92 to 77 female points – that is the result in the Nordic Labour Journal's gender equality barometer 2023. It measures whether a man or a woman holds 24 positions of power in the five Nordic countries. 100 points for both genders would mean full equality.

The main reasons behind the fall are changes in Sweden's political landscape plus the resignation of Iceland's LO president. The changes in the other countries were minor. Denmark did get a new government last year, but Mette Frederiksen is still Prime Minister and several female government ministers carried on, albeit in other ministries. 

Sweden, however, has seen a change in political leadership. Only two people in Ulf Kristersson's government have ministerial experience; Minister for Foreign Affairs Tobias Billström and Minister of Finance Elisabeth Svantesson. 
The gender equality barometer includes 13 government minister positions. Since this is a Nordic barometer, we have chosen the 12 ministers who participate in the Nordic Council of Ministers plus the defence minister post. 
The latter has yet to have its own council of ministers, but this is probably only a question of time if Finland and Sweden become Nato members.
Magdalena Andersson's government, the first ever in Sweden to be led by a woman, had 23 ministers. 12 were women. That gives a female quota of 52 per cent. Ulf Kristersson's government has 25 ministers and 12 are women. This gives a 48 per cent female quota.
The difference may seem small, but in the NLJ's gender equality barometer, Magdalena Andersson's government scored 12 points while Ulf Kristersson's only score 6. 
The barometer adjusts points according to how much power different government ministers have, and the amount of attention they get. The post of Prime Minister is therefore worth 5 points, the Minister of Finance gets 3 points and the Minister for Foreign Affairs gets 2 points. The other ministerial posts get one point each. 
In the Andersson government, both the Prime Minister and Minister for Foreign Affairs were women and there were also six other female ministers who qualified for points. That brought the total to 13 points. In Ulf Kristersson's government, the Minister of Finance is a woman but only three other minister posts qualify for points. The result – more than a 50 per cent cut in political points to Sweden, down to 6 points.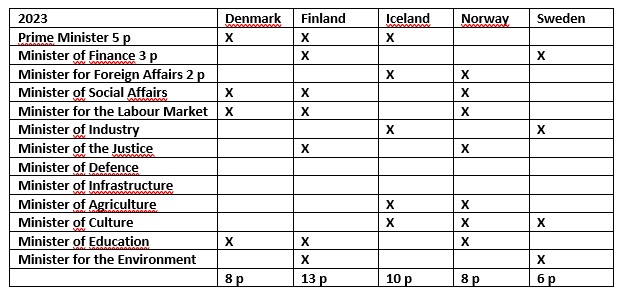 This is what it will look like on March 8, 2023 (if nothing unexpected happens in the next few days).
Ebba Busch is the Minister for Energy, Business and Industry. The new government was severely criticised for shutting down the Ministry of the Environment. That portfolio was instead moved to the Ministry of Climate and Enterprise. But we give one point to Romina Pourmokhtari as Minister for the Environment. Parisa Liljestrand also gets one point as Minister of Culture.
Compared to 2022, there are no differences in the leadership of the largest trade union confederations, or in that of the employers' organisation. We also count five symbolically powerful positions, and Sweden has lost one as Antje Jackelén retired after five years as Sweden's first female archbishop. This means Sweden this year gets a total of 12 points compared to 20 in 2022. 
On 15 December 2022 in Denmark, Mette Frederiksen formed her second government, this time with a larger coalition comprising the Social Democratic Party, the Liberal Party and the Moderates.
Ane Halsboe-Jørgensen moved from culture to employment and Pernille Rosenkrantz Theil moved from education to social affairs – where she took over from a man while Ane Halsboe Jörgensen got a male replacement, which equalised the points. 
Meanwhile, Trine Bramsen left her somewhat unusual posts as Minister for Transport and Gender Equality. Thomas Danielsen took over as Minister for Transport while Marie Bjerre became Minister for Gender Equality.  Finally, a man instead of Lea Wermelin became Minister for the Environment. All in all, this resulted in the loss of two political points for Denmark.
Mette Frederiksen's second government has eight women, while her first one had six female government ministers. The number of ministers has increased from 20 to 23, which means the female quota did not increase that much – from 30 per cent to 34.7 per cent.
Denmark loses two points from labour market power positions. The barometer awards 4 points to the LO President and 2 points each for the leaders of the confederations of professionals and academics. 
Denmark stands out from the other Nordic countries, however, because Danish LO merged with the confederation of professionals, FTF, on 1 January 2019 and became the Danish Trade Union Confederation, FH. 
Since the new organisation has the same number of members as LO and FTF, we have chosen to give out six points so that FH President Lizette Risgaard – who came from LO – gets 4 points and her deputy, who came from FTF, gets two points. That position was held by Bente Sorgenfrey until 3 November 2022. She chose to retire and Morten Skov Christiansen took the helm.  
He is now responsible for trade union cooperation with the Nordics and the EU. As a result, Denmark lost two points in the barometer. 
Sometimes circumstances can lead to surprising challenges. Last year it was Jens Stoltenberg, who everybody thought would be the new head of Norway's Central Bank, but he stayed on instead as Nato Secretary General. That meant his intended deputy Ida Wolden Bache became head of the Central Bank instead.
Lasat year, Denmark got its first-ever female commissioner of the Danish Police. Lene Frank held the position for six months, after being appointed on 22 August 2022 when the former commissioner Thorkild Fogde was being investigated for his role when Denmark culled nearly all of its minks because of the corona pandemic.
The criticism of Fogde was based on assumptions that he knew there was no legal basis for the cull yet he still used police resources to carry it out. The investigation of his role in the matter cleared Fogde and he was reinstated as police commissioner on 10 February. 

As NLJ has mentioned before, the President of the Icelandic Confederation of Labour (ASÍ) Drífa Snædal stepped down on 10 August last year. Kristján Snæbjarnarson took over as interim leader until the ASÍ annual congress in October. He said ahead of the congress that he had no intention to carry on as president.
The congress turnded turbulent, however, and the leaders from the three main confederations left negotiations: Ragnar Þór Ingólfsson, chairperson of the VR union, Sólveig Anna Jónsdóttir, chairperson of the Eflinger union, and Vilhjálmur Birgisson, chairperson of the Trade Union. A large number of congress participants from these unions also left the hall.
The battle within ASÍ is mainly about the three unions, which together represent more than half of the 113,000 professional members, being dissatisfied with the level of influence they have. Yet it is also about personal battles.
In that situation, it was decided to adjourn the congress until 2023. In April this year, a new date for resuming the congress will be announced. Kristján Snæbjarnarson continued as chairman because the circumstances that arose, according to him, were "unprecedented".
There have been major changes in Icelandic politics too, but so far mostly in the opinion polls.
Katrín Jakobsdóttir has been Prime Minister for five years now, but support for her party has fallen dramatically. The Left-Green Movement got a record-low 6.8 per cent in a Gallup poll from 31 January. When Jakobsdóttir won and became Prime Minister in 2017, her party took 16.9 per cent of the votes.
The January poll showed the Social Democratic Alliance as Iceland's largest party for the first time in 14 years with 25.3 per cent support. That is higher than the centre-right Independence Party, which only got 23.2 per cent.

In Norway the political winds blow in the opposite direction, where the Labour Party get record-low support in opinion polls. According to the latest one, the government party gets only 16.8 per cent.
The Norwegian Labour Party governs in coalition with the Centre Party and has struggled with increasing electricity and food prices, world crises and failing projects like the Follobanen railway tunnel running from Oslo to Ski. It cost 37.5 billion Norwegian kroner (€3.4bn) to build but had to close one week after opening because of electricity cable fires. 
There have not been any changes at all, however, in the positions that we measure. They are the same as on 8 March last year, and Norway still gets 17 points.

Finland has not seen big changes to positions of power either and remains at 13 points like last year. Government ministers make up all of these, and the Finnish government has the most women out of all the Nordic countries – 10 out of 19 – which is 53 per cent.
16 April might herald big changes to Finnish politics, when Finns go to the polls in parliamentary elections. If Sanna Marin must step down as Prime Minister she might end up in an even more important post. She is being talked about as a possible successor to EU Commission President Ursula von der Leyen, who came to power on 16 July 2019. She was elected for a five-year period, which means she is in post until 2024. 
According to Finnish media, the Socialists and Democrats in the EU Parliament want Sanna Marin as their candidate for the 2024 EU elections.  
"Marin's liberal values combined with a hard line against Russia are seen as a winning combination, possibly attracting support also from other parliamentary groups and from the Eastern and Western Member States," writes euractive.com.